We all know that playdough is fun to play with but did you know that edible playdough recipes are a thing, too? And even though you've probably told your children time and time again to NOT eat their playdough, these recipes are ones that they can actually nibble away on, should they choose to!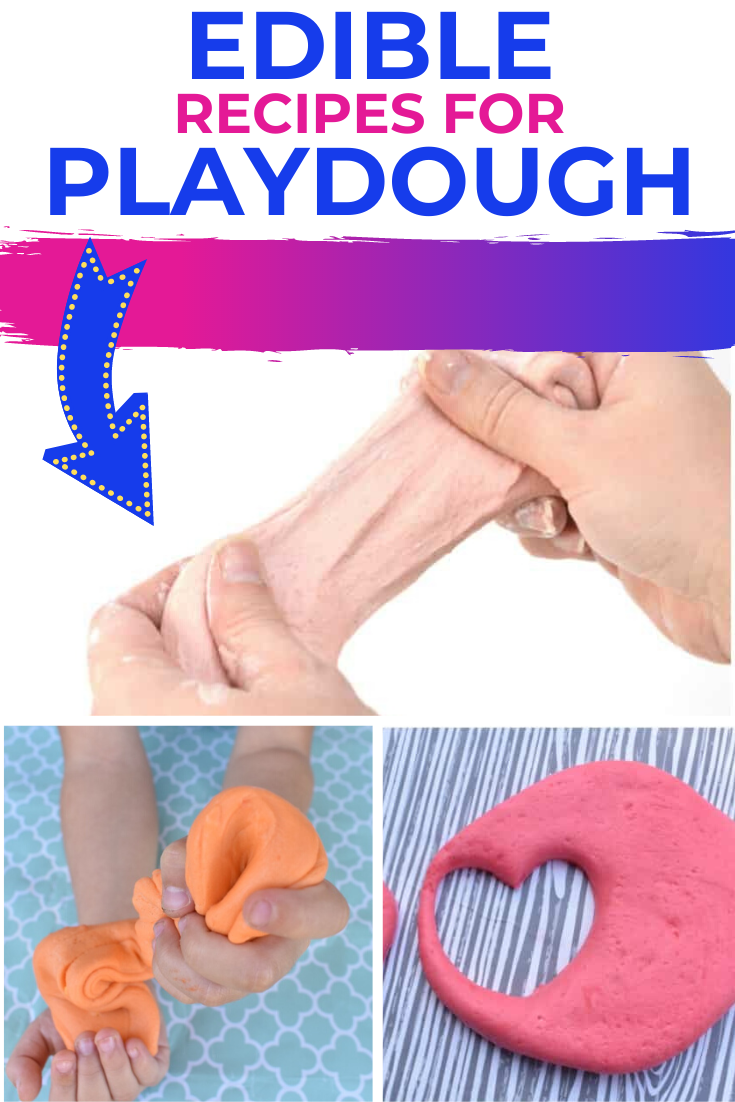 This post contains affiliate links, if you make a purchase I will earn a small commission at no cost to you.
Easy Edible Playdough Recipes The Kids Will LOVE
I'm the type of person that has a love/hate relationship with playdough but ONLY in the fact that I'm constantly telling the kids to keep it out of their mouth. So imagine how much relief I found when I realized that I could make my own edible playdough and let the kids have a snack if they wanted to.
The best part about these playdough recipes listed below is that they're a great way to let the kids use their senses. They can feel the playdough, smell the playdough, and taste the playdough to really understand the entire process.
If you have a kiddo who puts playdough in their mouth, you might as well make it tasty for them, right? Here are some super simple edible recipes that you can easily make up.
Playdough Recipes that are Tasty and Fun
Easy Edible Playdough Recipes The Kids Will LOVE
These simple playdough recipes are easy to make and are edible, too!
Is it really safe for kids to eat playdough?
If you're making a non-toxic playdough that doesn't have any harmful ingredients, there shouldn't be any real worries with the kids eating the playdough. But if you're worried, you can always talk to your doctor as well.
The recipes listed above shouldn't have anything in them that would be harmful if consumed. Just be certain to read through the ingredients like you would any recipe to verify.
How long will edible playdough last?
Since the kid are going to be tasting it and playing with it, I would say that after one use, you might want to call it good and toss whatever is left. Since these recipes are so simple to whip up, you can always make more at the drop of the hat again.
Why is playing with playdough good for kids?
We LOVE playing with playdough in our house because it allows us to be creative and have fun with our hands. I also really love playdough because it's simple to clean up and fun to use.
I'm not denying the fact that I'll sit right down with the kids and start building as well. Because we all know it's fun to roll out "snakes" and make mini snowmen no matter how old you are, right? I also challenge myself and the kids to see who can make the most perfect round ball..that's always a lot of fun and ends up in tons of giggling as well.
Playing with playdough helps us all to relax, have fun, and just be together using our imaginations.
Finally, make certain to try these this fun activity on How to make Glow in the Dark Bouncy Balls as well. Looking for some edible paint? Check out this edible chocolate paint from Sugar Spice and Glitter! It's so much fun to do!