This fun & Easy Valentine Peeps Playdough is the perfect Edible Valentine's day Playdough recipe. Your little one will have hours of fun playing safely with this taste safe playdough recipe.

Easy Valentine's Peeps Playdough- Edible Valentine's day Playdough recipe
My toddler sticks EVERYTHING in his mouth. Everything. I get it, he's exploring the world around him. However, it can make things a bit tricky when it comes to sensory fun. That's why I'm always looking for fun activities that are taste safe. This recipe checks off all the boxes when it comes to taste safe playdough recipe.
This fun recipe is easy to make and can be made in minutes for a fun sensory activity with your little ones. Most important you can make it using items you already have on hand.
We love taste safe and edible playdough recipes because with unpredictable kids these are definitley the best route to take.

This fun edible Valentine's day playdough is the perfect way to bring Valentine's Day and sensory fun together. They can see how the candy goes from one shape to another. They can play with it giving them pure satisfying fun.
Finally, they can use various cutters and roller to reshape it over and over.
This recipe is a winner and will be a huge hit in your home.
Read on to see how easy it is to make.
Valentine Heart Peeps Playdough
What you'll need to make Valentine's Day Playdough
4 Heart Peeps
8-10 Tbsp Flour
1 Tbsp Crisco

Directions for making Edible Valentine's day Playdough
Place peeps, 8 tablespoons of flour, and Crisco into a microwave safe bowl. (You can also use coconut oil if you don't want to use shortening)

Microwave for 30 seconds. Take out and mix. If dough is sticky, add a little more flour.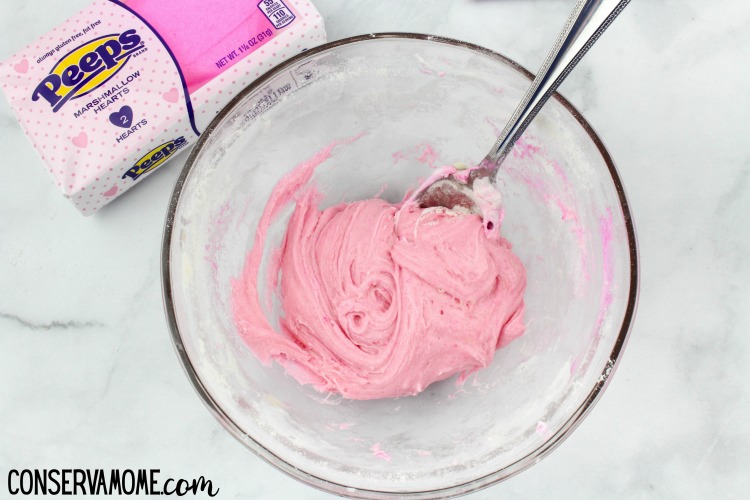 Take out of bowl and knead in hands for about a minute. Add more flour if it's sticking to your hands but not too much.

Now it's ready to play with, have fun! Bring out cookie cutters or letter cookie cutters so you can go over letters and numbers.


Looking for other Edible playdough recipes?
Check out my Peanut Butter Edible playdough and my Marshmallow playdough recipe.