Are you ready for the Halloween season and excited to get into the Halloween spirit? Then you need to check out this fun round-up of 30+ of The Best Halloween Snacks Around! This fun round-up is filled with everything needed for the perfect Halloween. So pull up your favorite Halloween movie and get ready to enjoy this fantastic and spooktacular list of the best Halloween snacks around!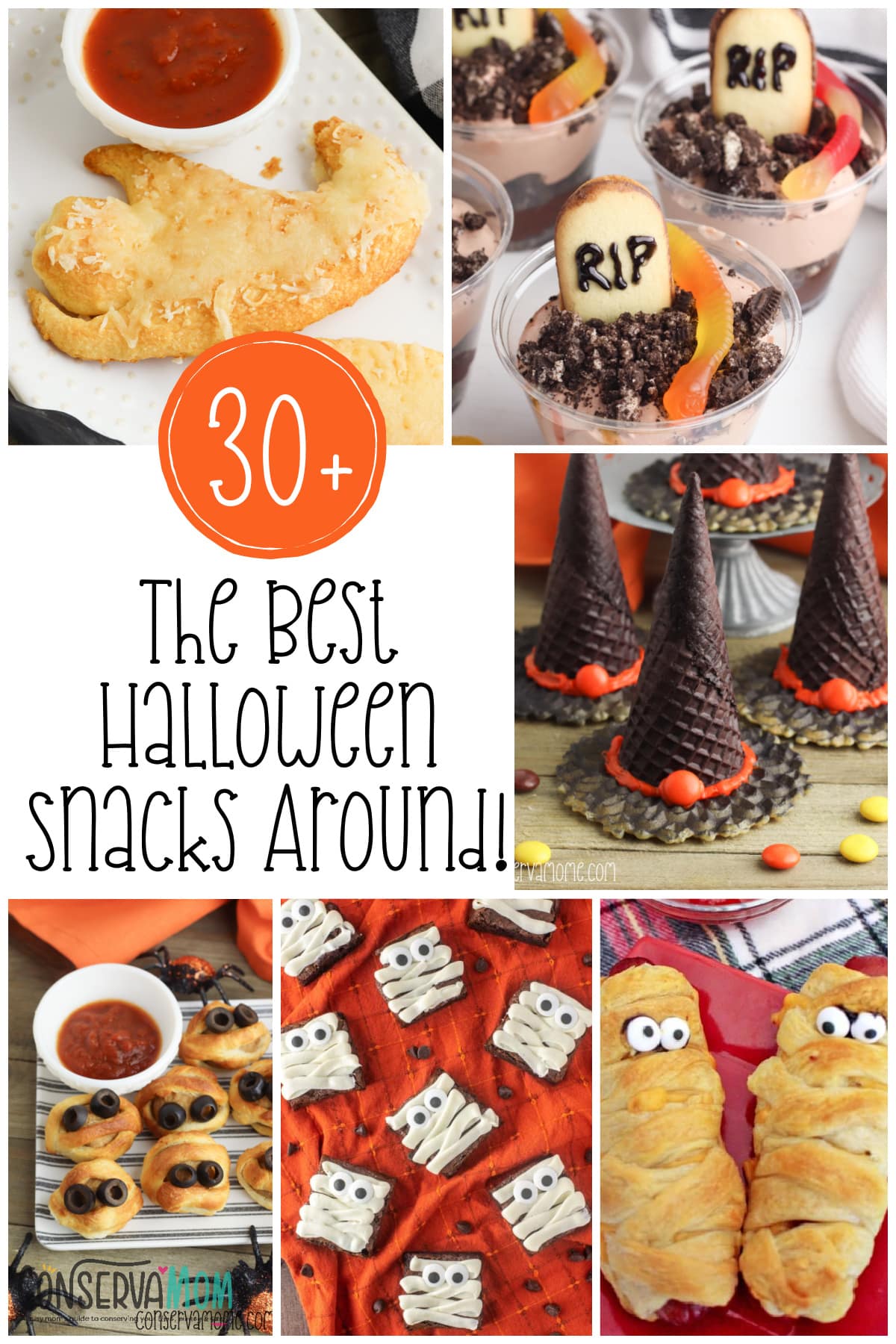 30+ of The Best Halloween Snacks Around!
There are so many fun ways to celebrate Halloween. I know that the most famous one is to go around from house to house asking for candy. However, there are some great snacks you can make to celebrate the fun. Whether it's for a party you're having a few days before or for Halloween parties at school there are some easy Halloween snacks you can make. I've put together some tasty snack ideas full of easy recipe fun that your kids will love. From sweet treats to spooky snacks you'll be amazed at the fun Halloween snacks you'll be able to put together for your next Halloween party.
These easy Halloween treats are going to be the best part of your Halloween night thanks to all the easy Halloween party snacks I have below. This will probably be your most delicious Halloween yet!
Halloween snack ideas for everyone!
There's nothing funner than this spooky season and I'm excited to put forth one great idea after the other! These spooktacular recipes will be perfect for the whole family. With so many choices to pick from how can you go wrong with the best Halloween treats around?
So whether you're celebrating the whole month of October or putting together a Halloween dinner party this amazing list will be perfect for the entire family. Keep reading to see some great party dips, school snacks, Halloween Snacks, and even some edible mummies. So whether you're looking for a graveyard taco dip or some Halloween candy bark, then head below for some fun!
The Best Halloween Snacks for a Spooktacular time
Whatever you chose you'll find the perfect Halloween appetizers for your next spooky Halloween event. So if you're ready for easy Halloween food ideas or the perfect Halloween party food read on to see all the amazing easy Halloween appetizers you will be able to make.
Looking for even more Halloween fun? Check out this list of recipes for candy apples you can make! Have leftover Candy corn? Grab some great recipes here!
The Best Halloween Snacks Around!
Halloween is right around the corner. Whether you're having a big Halloween party or will be brining in some snacks for your child's class you have come to the right place. Check out this fantastic round-up of the best Halloween snacks around!

Spooktacular Halloween Fun
Halloween really is a fun time of year and no matter what your party plans are this list will definitely make one of my favorite holidays a blast! There are so many seasonal treats to choose from and this will be the perfect way to find the recipe to bring to your next costume party. So whether you go with savory appetizers or some Halloween snack mix you won't go wrong!
Did you enjoy this list of festive treats? Then make sure and check out some other fun ideas like these easy Halloween dessert ideas. Love caramel apples? Then make sure and check this fun adult beverage Spiked caramel apple delight!