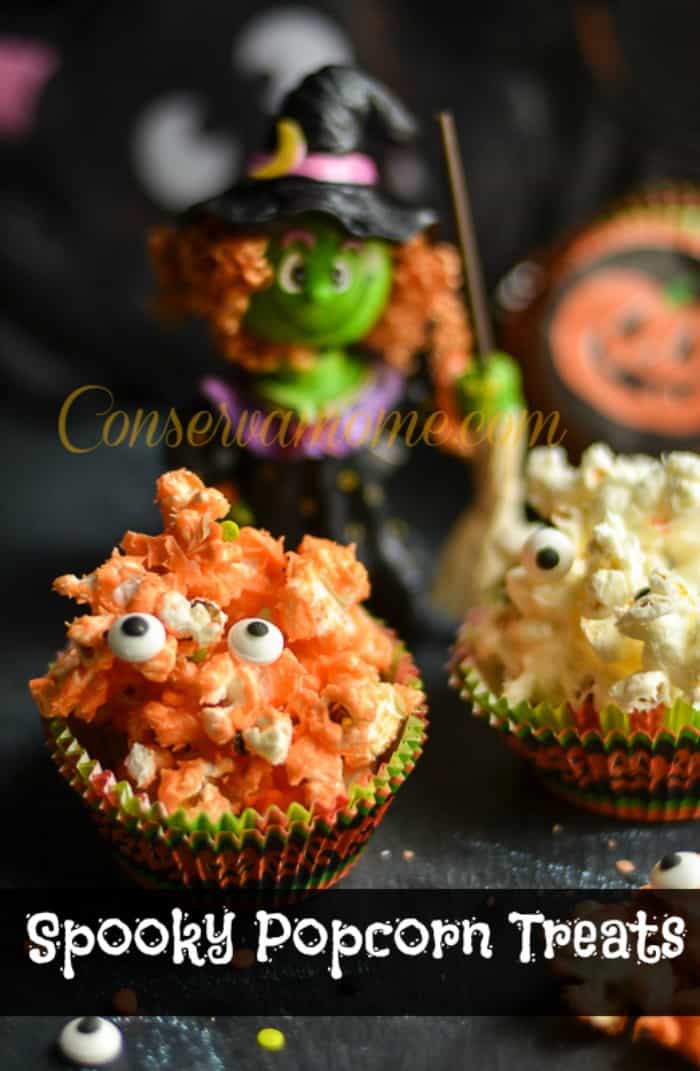 There's nothing more delicious than sweet and savory popcorn. Mixing the salty taste of popcorn with sweet candy is always a sure fire way to make little and big people smile.  Halloween is the perfect time to enjoy a delicious treat that is easy to make and includes delicious popcorn, candy, candy and sprinkles 🙂 So check out the delicious and easy recipe for Spooky Popcorn treats below. They will be a delicious experience for big and little goblins.
3 Cups of popcorn
1/2 Cup Orange Candy Melt
1/2 Cup White Candy Melt
1 tbsp + 1 tbsp Cake Mix (use vanilla or funfetti), divided
Sprinkles – as much as you want
Candy eyeballs
Line a cookie sheet with a parchment paper and set aside.
Melt the orange and white candy melts in separate bowls following the package instructions. Stir and scrape as required between microwave time.
Sprinkle 1 tbsp of cake mix to each bowl. Stir in gently.
Add the popcorn to the melted candy, stir and toss gently to coat.
Spread the candy coated popcorn in a single layer on the parchment paper lined cookie sheet.
Scatter the sprinkles and gently place the googly candy eyeballs
Stick it in the refrigerator for about 30 minutes or till it sets.
Serve in cute halloweeny cups.
This is such a fun treat that all will love! Enjoy!