These delicious Mini Pumpkin Hand Pies Recipe will be a huge hit this fall. These sweet little Pumpkin Pie Pops filled with a delicious pumpkin filling have a homemade caramel drizzle everyone will love. An easy fall dessert idea that looks complex, yet couldn't be easier to make.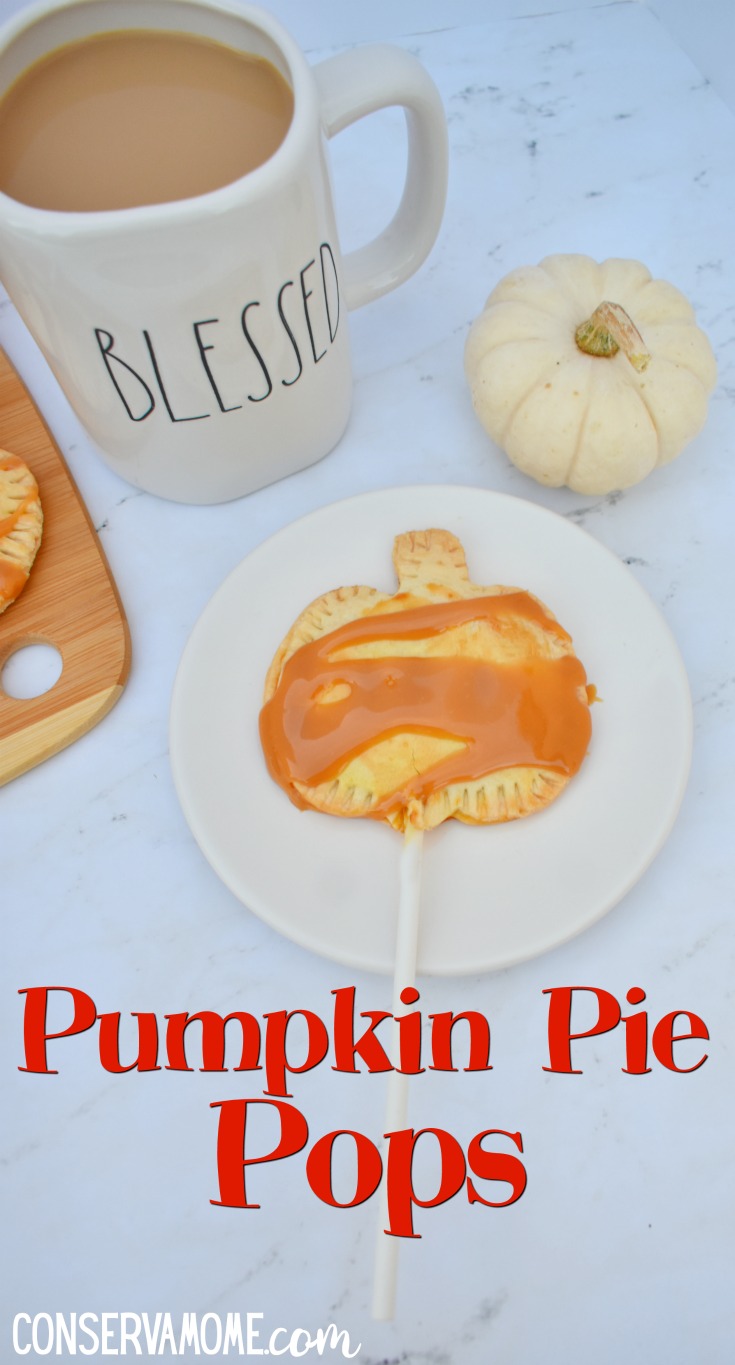 Mini Pumpkin Hand Pies Recipe
October is here which means Fall has arrived. I'm not going to lie this is probably my favorite culinary time of the year. I fully throw myself into the whole Pumpkin Spice craze.
It's like an unspoken love I have with Pumpkins and all things fall. Because let's face it, there's so much to love about fall. From the delicious pumpkin spice recipes to the Fall Decor There's so much fun going on during fall.
Not to mention the perfect weather that's slowly preparing you for horrid winter. The gorgeous brisk weather that allows you to keep windows open and enjoying the gorgeous beauty around you.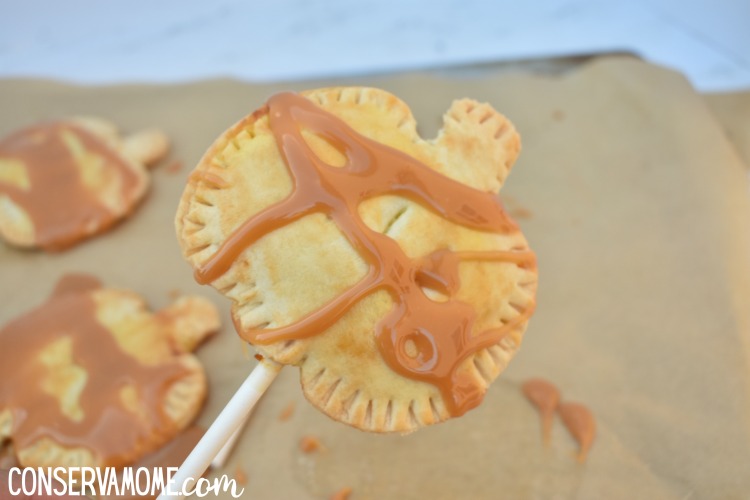 Pumpkin recipes are some of my favorites during the fall. I'm not sure if it's the combination of flavors or just my love of all things pumpkin. I even enjoy it as savory treat from pumpkin bisques to pumpkin ravioli.They even say pumpkin spice is actually good for you.
Easy Fall Dessert Recipe
Either way,That's why I love this recipe. It's full of everything that makes Fall so perfect. Inside you have a delicious pumpkin mixture wrapped by buttery flakiness. Then it's finished off by some rich caramel. I mean how can you resist?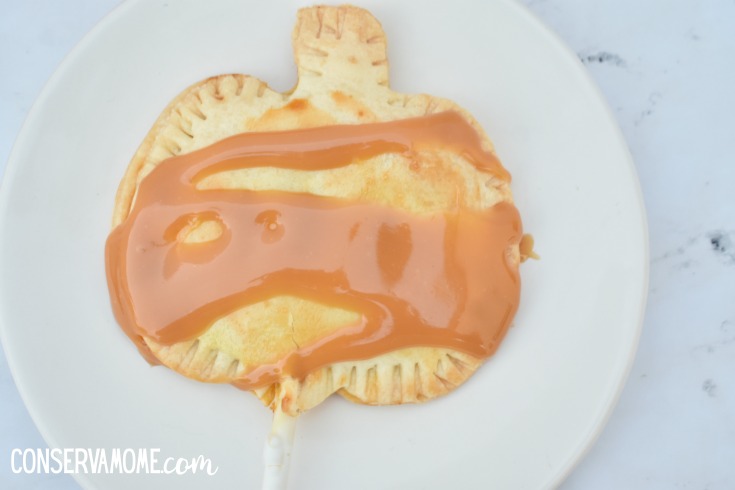 I've made this recipe a few times for my kids and everytime its a huge hit. It's probably one of the few times they're quite, just savoring and enjoying each bite.
You can definitley use your own pie crust recipe but let's face it, when time is of the essence a good store bought brand will do just fine. As for the pumpkin spice in this recipe, I just found out how hard it is to get in other countries. A good substitution is
1 1/2

tablespoons

ground cinnamon

1

teaspoons

ground ginger

1/2

teaspoon

ground allspice

1

teaspoons

ground nutmeg

1/2

teaspoon

ground cloves
This will make more than you need but you can keep for later.
Finally, Thanks to the beauty of a this adorable cookie cutter you can make them all look adorable. But a simple circle cookie cutter will do the same job.
Either way this recipe is actually super easy to make and will be a huge hit whenever you make it.
What you'll need to make Pumpkin Hand pies:
2 Premade Pie crusts (1 Package)
4 " cookie cutter. I used this one.
For filling:
1 cup Pumpkin puree
half a cup of Brown sugar
2 Teaspoons of Pumpkin Pie Spice
1 Tsp of Vanilla
For Caramel Drizzle:
15-20 caramels
1 Tablespoon of Heavy Whipping cream
For pops (optional)
6″ lollipop sticks
Preheat oven to 350 degrees.
How to make Pumpkin Pie Pops
Combine the pumpkin puree, brown sugar, pumpkin pie spice & Vanilla Extract in a small bowl and mix well. Set aside.
Roll Pie crusts flat with a rolling pin. Use a pumpkin cookie cutter to cut out the pumpkin shapes.
On a parchment lined baking sheet or a silicone baking mat, set out half of the pumpkin shapes.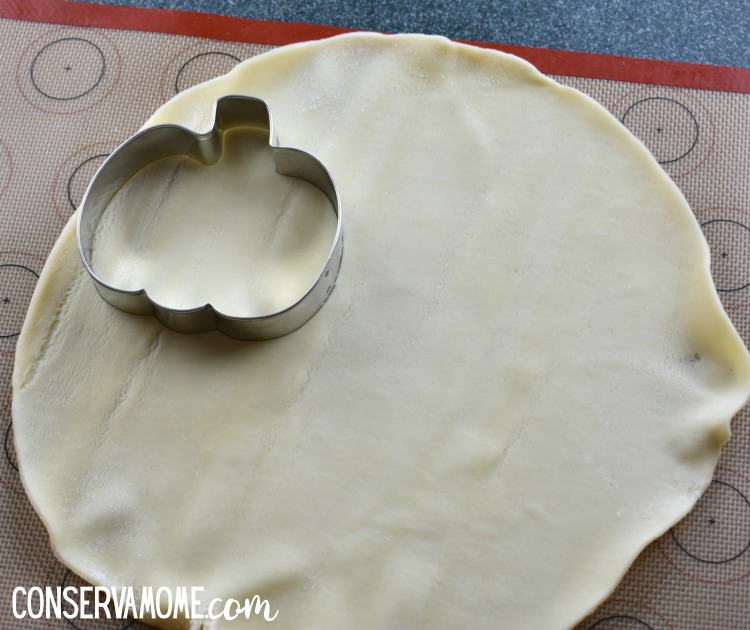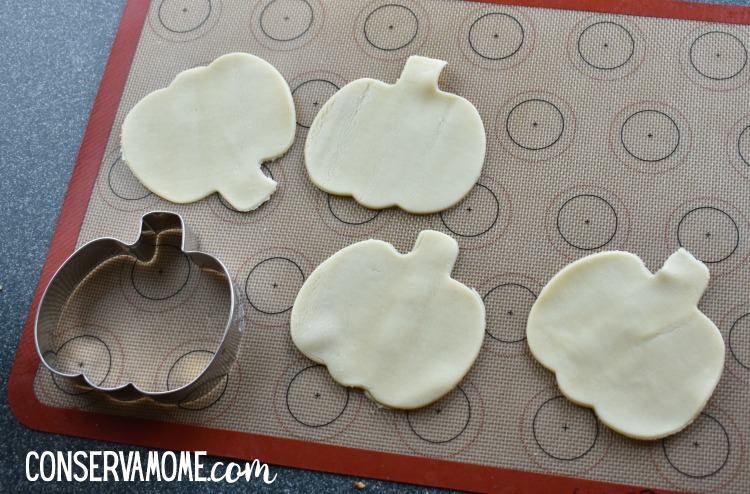 Brush the beaten egg over top of each of the entire pumpkin shapes.
Add a small spoonful of pumpkin mixture to the center of the shape,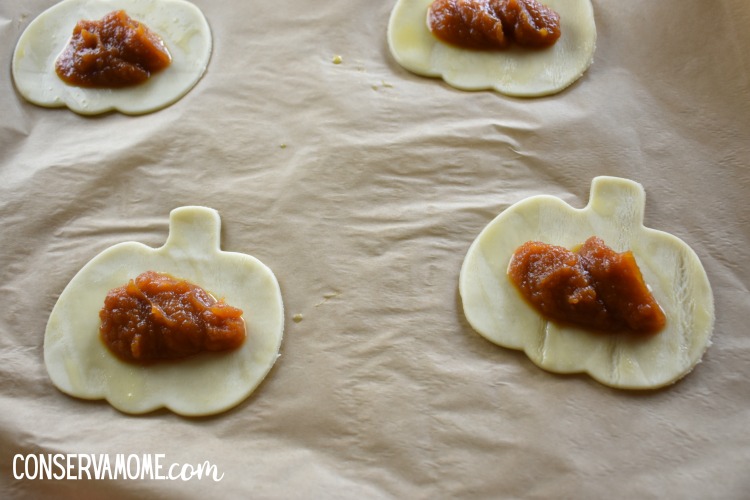 being sure to leave at least half an inch of space around the outer edges of the pumpkin shape to seal it closed.
Gently press the lollipop stick into the pie mixture and dough,There should be at least 1 inch of lollipop stick pressed into the dough.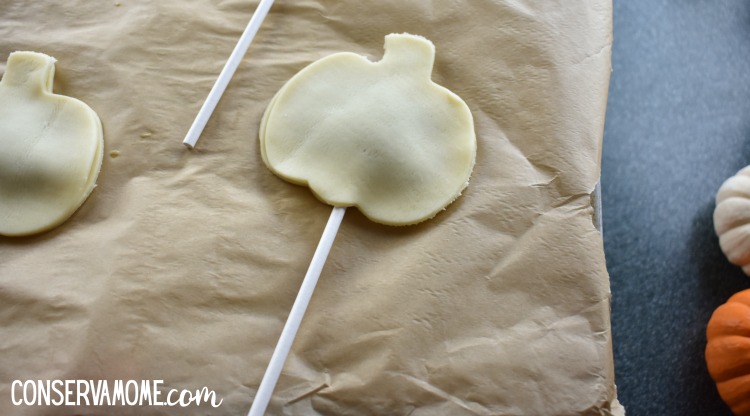 Line up the other half of the pumpkin shapes on top of the bottom pumpkin shape and the pumpkin mixture.
crimp the edges closed slightly with your fingers.
Using a fork, crimp around the edges of the pumpkin shape to seal it completely.
Brush the top of the pumpkins with the beaten egg.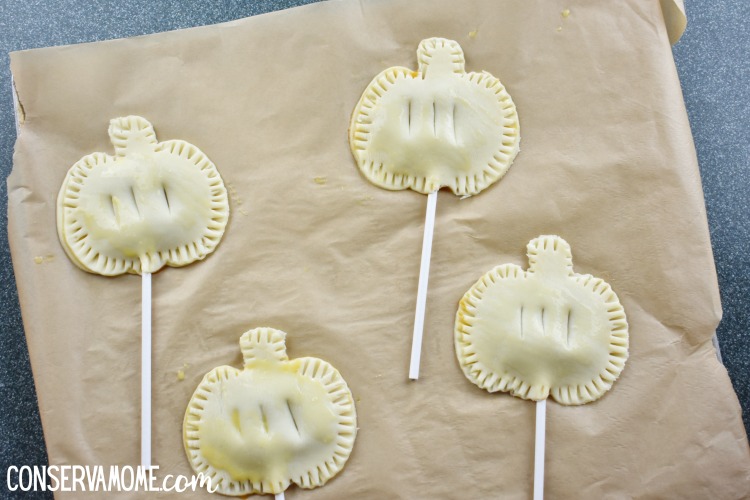 Bake at 350F for 20 to 25 minutes until golden brown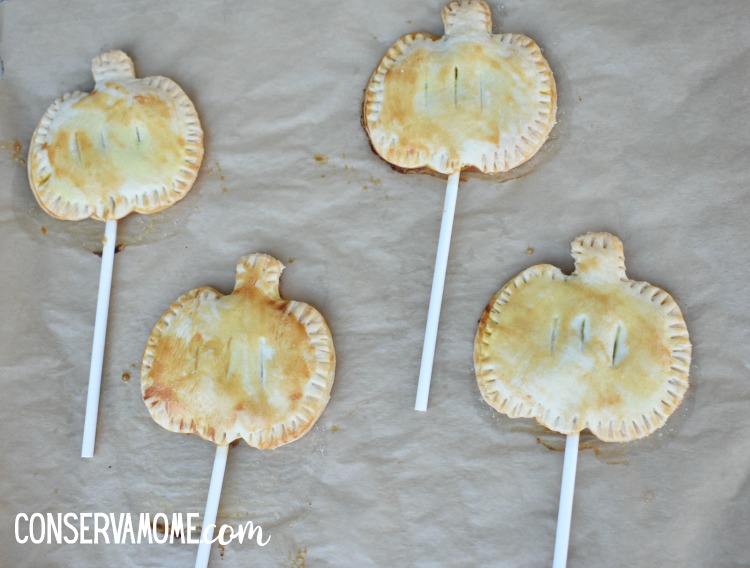 Combine the caramels and heavy whipping cream and microwave for about 35 seconds. Mix well, microwave longer if necessary until it becomes a sauce.
Drizzle over pies.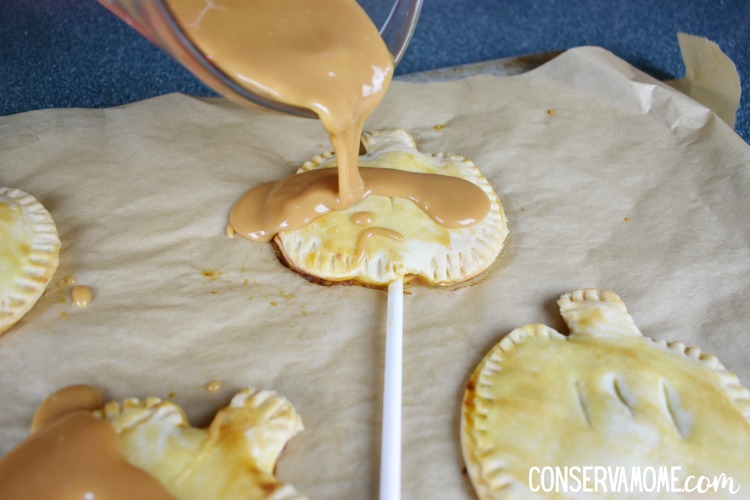 and Enjoy!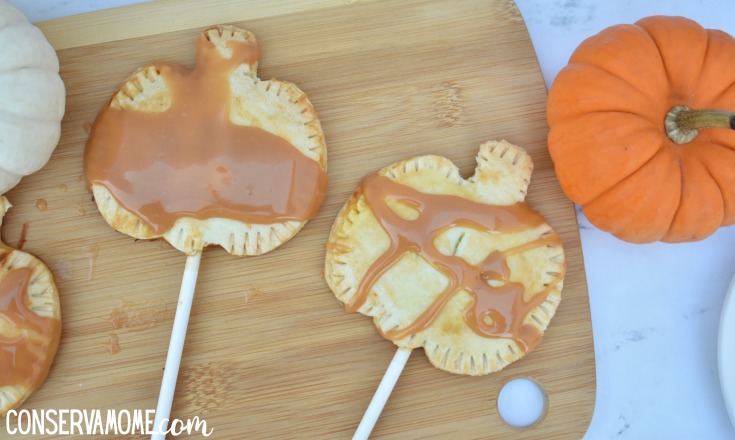 I'm telling you, these pies are heaven.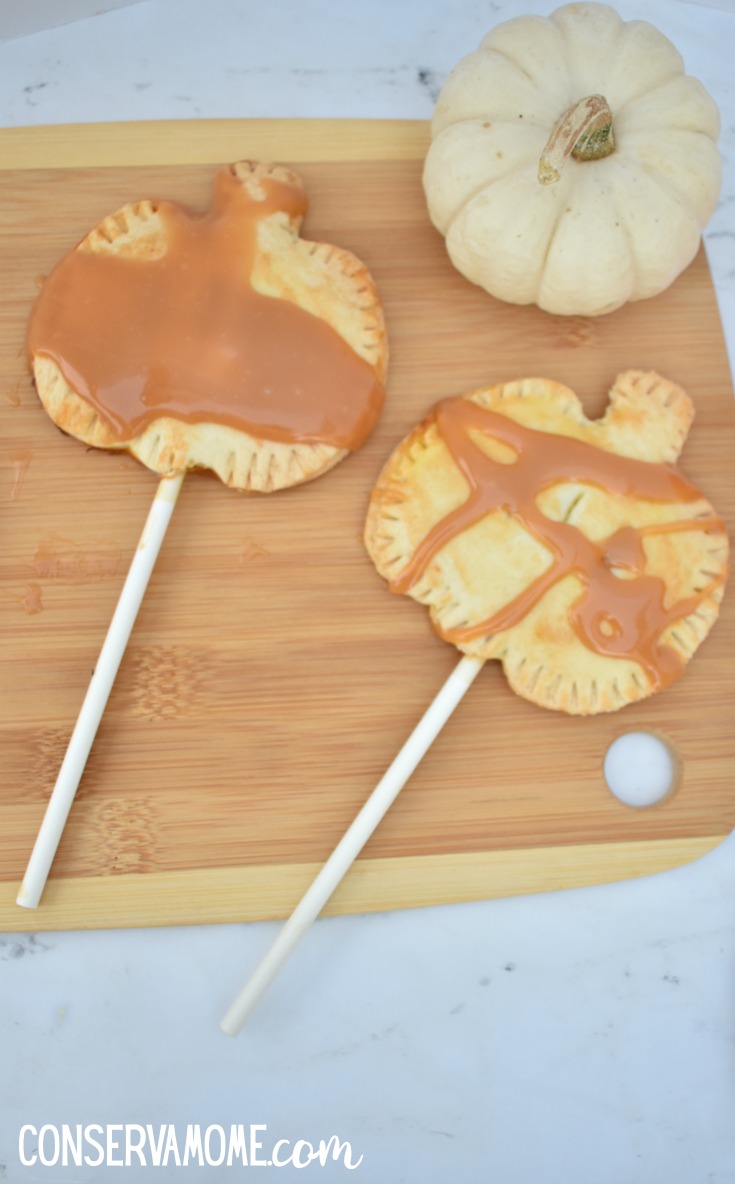 You will be able to make 7 by re rolling the pie crust up a few times. These are rich and delicious and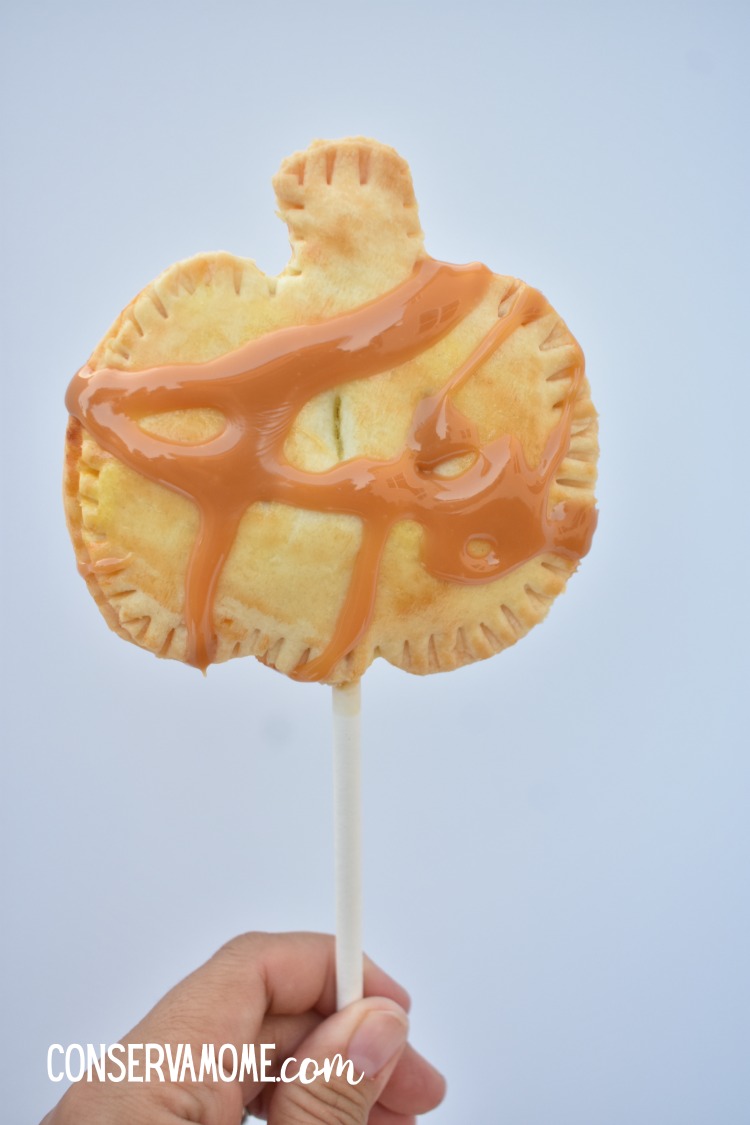 Make sure and pin this recipe for later:
This recipe will be a huge hit. I promise. Most important it's the perfect harmony of flavors for fall delight and an easy fall Dessert idea. Looking for sweets on a stick? Check out these Falltastic Candy Apple recipes.