Are you looking for the Best Gift Picks for 2019, then you've come to the right place. Keep reading to find out what my favorite Holiday gift picks are for 2019. Some links may be affiliate links. As an Amazon Associate, I earn from qualifying purchases. I received some of these products in exchange for my honest review. However all opinions are 100% mine.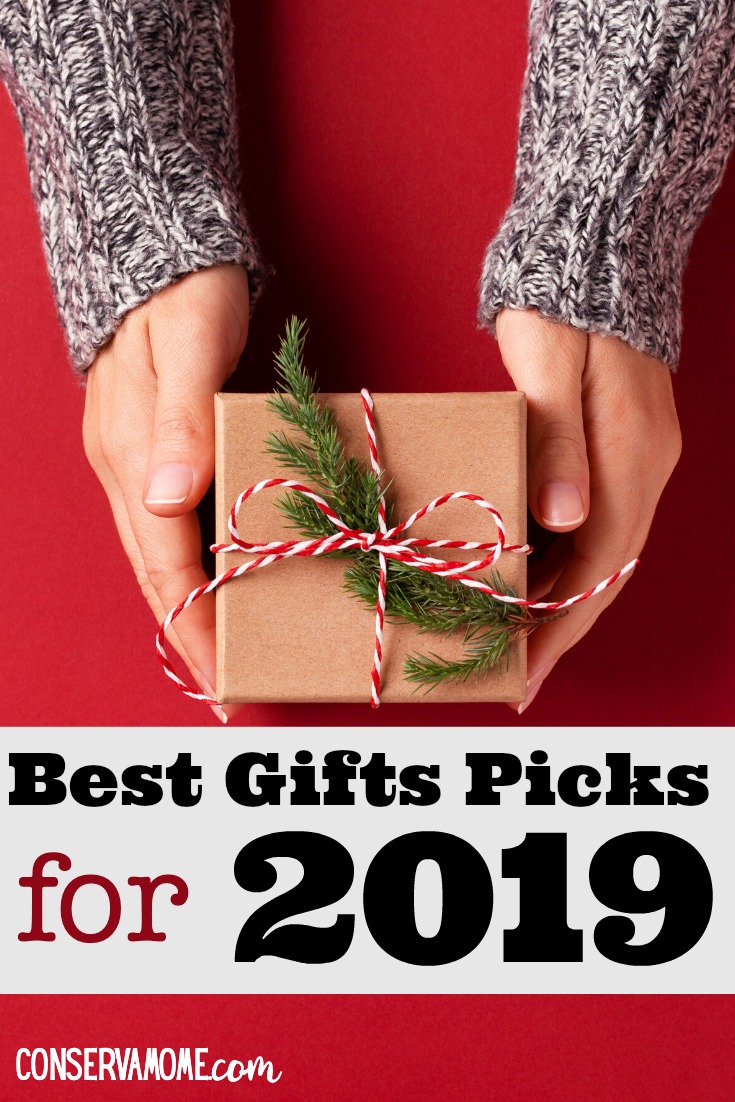 Best Gift Picks for 2019
The holidays are almost here which means it's time to start checking off those special people off your list. I always love this time of year. Not so much for what I get but what I give. It's always exciting to find that special gift for people in your life. Those gifts you want others to enjoy as much as you did picking out.
Because my list is long and extensive I do make it a point to have things squared away before the holiday season really hits. With 6 kids going from store to store isn't a luxury either. That's why I've gone high and low to find some amazing products for everyone.
You'll be able to scratch everyone off your list from your kids to your Aunt Susan's dog. Everyone will be covered thanks to all the fantastic products I've found or tested on this list just for you.
So grab some hot cocoa, some christmas cookies and your favorite PJs and kick back and enjoy all the great gift ideas below.
You'll find gifts on the following categories:
Best Stocking Stuffers
Best Gifts For little ones
Best Gifts for Kids
Best Gifts For teens
Gifts for Women
Gifts for Men
Gifts for Pets
So read on to check out the Best Gift picks for 2019
Best Stocking Stuffers for 2019
We all love a little something in our stockings. Check out my top picks for Best stocking stuffers for 2019. Some are tiny and perfect for a stocking and others are a little bigger but just right for that extra little something you want to give a loved one. Read on to check out my top picks!

Keep your love ones hydrated with these gorgeous water bottles that are not only trendy but great for the environment.

Do you have someone that loves honey in your life? Then do I have the stocking stuffer for them.  SMOOTH, CREAMY & DELICIOUS is what you'll find with Three peaks Honey. The Highest Quality Pure Manuka Honey from New Zealand with unmatched Taste and Texture. Just Sweet enough, with a Smooth, Creamy Texture.

Enjoy daily by the spoonful or combine with your favorite food or drink

·         THE WORLD'S FINEST MANUKA HONEY – Three Peaks Honey is from a UNESCO Heritage Site, The Tongariro National Park. Our Beekeepers Work in Harmony with Nature so that only the Highest Quality Makes the Three Peaks Manuka Honey Grade

·         NATURAL REMEDY & SUPER FOOD – Customers use Raw Manuka Honey to Support Respiratory & Digestive Health, Relieve Coughs & Sore Throats, Accelerate Healing, and Promote Wellbeing

·         CERTIFIED UMF 10+ / MGO 263+ - 100% PURE & AUTHENTIC – Sourced, and Packaged in New Zealand, this Premium Manuka honey is Independently Certified by Stringent NZ UMF Honey Association for Purity & Quality Standards, Ensuring the Authenticity of our New Zealand Manuka Honey

Photo Credit: www.munchkin.com

Looking for a gift with a cause? Then check out the Gorgeous new Miracle® 360° Wild Love Sippy Cups from Munchkin. Munchkin, is helping families spark these discussions and play their own role in conservation with a new line of their #1-selling 360° Miracle Cups, "Wild Love," supporting animal welfare efforts.

 The cups feature threatened species, including the orca, red fox, polar bear and African elephant, along with child-friendly information about the risks these animals and their habitats face. Each purchase of a "Wild Love" cup supports Munchkin's partnerships with two integral animal conservation groups, the International Fund for Animal Welfare (IFAW) and The Whale Sanctuary Project.

Photo Credit: www.gosili.com

Most places are doing away with plastic straws and paper straws self combust while you use them. So why not go with the next best thing? Silicone straws. goSili reusable straw and tin are the perfect stocking stuffer!

Silistraw with Travel Case - Silicone Reusable Straw (Standard Size)Time to make a change! Perfect for on the go. This reusable eco-friendly silicone straw comes with a travel case and is the perfect solution when on the go. Never be without your straw again! The portable travel case fits right in your pocket, backpack, purse or bag. Smaller than a pack of gum, cheaper than a tin of mints, lasts longer than both and better for the environment! Easy to use and clean, both the straw and carry case are dishwasher safe.

·        100% European-grade silicone

·        BPA, BPS, phthalate, PVC, and lead free

·        Comes with aluminum travel / case

·        Includes one straw

·        Dishwasher safe

·        Straws are 8" in length with an opening of .5cm

Get these over at goSili and check out all the other fantastic silicone products gosili carries!

Photo Credit: www.axe.com

AXE, the #1 men's fragrance brand in the world*, introduces two new lines, ICE CHILL and FRESCO.

AXE ICE CHILL– AXE reminds guys that they're hotter when they're chill.

AXE ICE CHILL Body Spray and Antiperspirant Stick helps guys stay chill with a cool fragrance blend of
frozen lemon and eucalyptus.
AXE ICE CHILL 2-in-1 Shampoo + Conditioner is infused with the cool fragrance of spearmint to provide
extreme cooling to help guys stay chill.
AXE ICE CHILLIN' Body Wash instantly cools the body with its iced mint and lemon fragrance, keeping
guys chill and fresh for up to 8 hours.
AXE ICE CHILL Pocket Spray helps guys get instant fresh while on-the-go, making sure they are ready to take on the day no matter when or where.

Grab all of them or a fun gift pack and these will be the perfect stocking stuffers or gifts for the men in your life.

Photo Credit: www.penguinrandomhouse.com

A brand-new Crayons book from the #1 New York Times best-selling duo Drew Daywalt and Oliver Jeffers, just in time for the holidays. This special book has letters, games, ornaments, a poster, and even a pop-up Christmas tree!

'Tis the season for all of us to write our holiday wishlists. But everyone–even the crayons–know the best presents are the ones that you give. In this unique book, readers get to see how Duncan, the crayons, and their families celebrate the holidays.

With real, folded letters from the Crayons that you can pull from their envelopes and read, games, punch-out ornaments, a poster, and a pop-up tree, this book is the perfect gift for fans of The Day the Crayons Quit and The Day the Crayons Came Home.

My kids love to listen to music in the tub and this is the funnest way to do it.

My Audio Pet is a unique line of speakers that are designed to look like you and your kids' favorite animals. These fun-size speakers produce great sound and make for great stocking stuffers. There is a wide range of different animals to choose from, and two speakers can be paired together for a True Wireless Stereo effect. In addition to the original speaker, the Splash! line features waterproof speakers designed as adorable ocean-dwellers like "Rocktopod the Octopus" and "Narmony the Narwhal." These are perfect for making bathtime fun.

My Audio Pet will be holding a buy one get one 50% off sale from 11/28 to 12/3. Each order will come with a free "Funsie" plush speaker cover. This deal can be accessed on their website or on Amazon, so you can get your holiday shopping out of the way early, and save while you do it!

This is the perfect gift for the Rae Dunn Fan. These adorable 6 piece Magnet set will be the perfect stocking stuffer.

Handmade and safe for baby: the MAM Friends are an ideal first toy to help your child's development. Made of 100% natural rubber, their material is pleasantly soft to the touch. Their bright colours and different shapes help to develop baby's senses.

These Teething toys help with TEETHING SYMPTOMS IN BABIES 2+ MONTHS: Our MAM Friends teether is a durable and multi-textured teething toy designed to soothe aching gums and alleviate pain associated with teething.

·        STIMULATES SENSORY DEVELOPMENT: Variety of colors, shapes and textures on the teether works to stimulate baby's senses and help develop hand-eye coordination and fine motor skills.

·        HANDMADE FROM NATURAL RUBBER: MAM Friends teething toys are handcrafted from our natural rubber hevea trees in Thailand and made from 100% baby safe, BPA-free materials.

·        EASY TO HOLD: Lightweight, flexible and easy for small hands to hold and use by themselves. Other baby teething toys do not contain teething rings to hold onto, making it harder for babies to grip the teether and keep it in their hands.

·           A FRIEND FOR EVERY STAGE: MAM Friends teething toys have bright designs and fun personalities, providing baby with both comfort and companionship. Each teether is a different size and shape in order to address baby's needs throughout every stage of development.

The Mandalorian Desert Sunset Group Art | We hope you've come well-prepared because you're now entering the wild outer reaches of the Star Wars universe; welcome to Zazzle's officially licensed store for The Mandalorian! Some years have passed since the fall of the Empire, but order has yet to be fully restored to a ravaged galaxy. As the New Republic attempts to pick up the pieces, we follow the story of a lone Mandalorian gunfighter operating in the sparsely populated but chaotic Outer Rim territories. Clad in the iconic armor of his warrior ancestors, this mysterious character will encounter all the scum and villainy inhabiting the fringes of the galaxy. Along the way you'll meet the likes of Greef Carga, the leader of a bounty hunters' guild; the former Rebel shock trooper, Cara Dune; a familiar-looking android named IG-11; and many more!

Children will have a blast as they crack open their jumbo sea shell carrying case to find three Lil' Shuckie oyster shells, a magic sand package, and 60 baby filler pearls to complete a bracelet!

Use the shucking tool to open the mini oyster shells and discover stretchy slime and gorgeous pearls inside. The play value continues as kids can collect all 24 pearls, from "common" to "ultra-rare"; to make bracelets swap, or collect!

Super sketchy glitzy slime is inside of each Lil' Shuckie oyster! Perfect Slime kit and craft for every slimmer in your life

These are not your Mother's Rubber Ducks!  These ducks are free of any opening; they are mold-free due to our unique hole-less design that does not allow moisture from collecting inside the duck. Rubber ducks are the perfect collectible for a water or land. Wild Republic has over 30 different unique designs that can be used to educate children on animals of the world and even has holiday themed ducks including a snowman, Santa and reindeer.

Photo Credit: www.penguinrandomhouse.com

Welcome to Bobby's, where powerhouse flavors rule the day. In his most personal cookbook yet, Bobby shares over 165 bold, approachable recipes he cooks at home for family and friends, along with his well-earned secrets for executing them perfectly.

Everyday favorites–from pan-seared meats and hearty pastas to shareable platters of roasted vegetables, bountiful salads, and casual, homey desserts–go bigger and bolder with Bobby's signature pull-no-punches cooking style. Expect crowd-pleasing classics taken to the next level with exciting flavors, such as Spanish-style shrimp and grits, pumpkin pancakes with apple cider syrup, and sticky-savory-sweet Korean BBQ chicken.

Riff on go-to dishes just as Bobby does with his master recipes for essentials, along with creative variations that take the base recipe in a range of directions to suit your mood, such as crispy bacon glazed with pomegranate molasses, deviled eggs topped with fried oysters, and mussels steamed in a heady green curry broth. With Bobby by your side, cooking at home just got a lot more exciting.

Kids will enjoy chilling out in the kitchen while wearing this charming apron adorned with snowflakes and Olaf, everyone's favorite snowman from "Disney Frozen" and "Disney Frozen 2." Made of cotton twill, the hand-screened apron protects against spills, splatters and other messes, allowing parents to "let it go."

Photo Credit: books.disney.com

What if Anna and Elsa never knew each other?

As the future Queen of Arendelle, Princess Elsa's life is full of expectation and responsibility—not to mention, questions. What type of ruler will she be? When will she have to pick a suitor? And why has she always harbored the feeling that some critical piece of herself is missing?

Following the unexpected death of her parents, Elsa is forced to answer those questions sooner than she'd hoped, becoming the sole ruler of her kingdom and growing lonelier than ever. But when mysterious powers begin to reveal themselves, Elsa starts to remember fragments of her childhood that seem to have been erased—pieces that include a very familiar-looking girl. Determined to fill the void she has always felt, Elsa must take a harrowing journey across her icy kingdom to undo a terrible curse . . . and find the missing Princess of Arendelle.
Top Gift Picks for for Little Ones 2019
Younger ones will enjoy this fun list of products that are perfect for gift giving. From babies to preschoolers these gifts are the perfect gift for under the tree. Read on to check out my Top Gift picks for little ones in 2019
Best Picks for Kids 2019
Here is a great selection of the Best Picks for Kids. There's a gift for every kido on your list!
Best Gift Picks for Teens 2019
These gifts are the perfect choice for the Teens in your life. Read on to see what you get the people in your life who want it all yet are probably the hardest to please. So read on to check out my Best Gift Picks for Teens in your life.
Best Gift Picks for Women 2019
Looking for the perfect gift for the woman in your life. I've got gift options for all price ranges and styles. These gifts were all hand picked by myself because of their pure awesomeness.
Best Gifts Picks for Men 2019
Here are the top picks for the men in your life. From fun to techy I've got them covered all!
Best Gift Picks for Pets 2019
Do you or someone you know have a special furbaby in their lives? Then here's the perfect list of gifts to make their holiday season even better!

Photo Credit: Pedipets

Coordinate baby's shoes with pediped's pediPets fur baby collars and leashes, made from premium genuine leather. Designed with love for the whole family in mind.

These gloves are perfect for your fur babies.They're a great way to spend quality time with them while efficiently deshedding loose hair making sure you aren't neglecting your grooming duties.

NATURAL HAIRBALL REMEDY FOR CATS: Much like mother's milk, the juices in cat grass contain FOLIC ACID. Folic Acid assists in the production of hemoglobin, this protein moves oxygen in the blood. This is an essential vitamin in a cat's bodily function and acts as a digestive aid. FIBER - A high-fiber diet can help prevent the formation of hairballs. Cat grass provides an organic renewable resource of enjoyment and fiber for your cat. (and may save you a trip to the veterinarian).

Help your dog look stylish with this fun Lands' end flannel Dog Bandana!

Supports better sleep: Thanks to its round shape, our high-quality donut coddler puppy bed is ideal for pets who love to curl up! The raised rim creates a sense of security and provides head and neck support, while the super-soft filling offers joint and muscle pain relief

Out and about but want to show your dog baby some love? Then check out this fun Furbo Dog camera. Just plug, connect and keep an eye on your doggie.

Includes some great features:

1080p Full HD Camera & Night Vision: livestream video to monitor your pet on your phone with a 160-degree wide-angle view, day & night.

2-Way Audio & BARKING ALERT: Furbo's BARKING SENSOR detects when your dog is barking. It sends push notifications to your smartphone when it detects barking. Know what's going on at home and talk to calm them down via the app.

Fun TREAT TOSSING: TOSS a treat to your dogs via the free Furbo iOS/Android app. Fill it with your dogs' favorite treats & play a game of catch.

Easy 3-Step Setup: 1) plug in to a power outlet using its USB cord 2) download the Furbo app 3) connect to your home wifi.

Stable internet connection & Wifi signal are recommended for best performance.
What items did you like from this list most? Still can't find what you're looking for? You can always buy them experiences. There are ways to make the Holidays even more special like trips to Legoland for the kids, Six Flags for the older children and maybe even a visit to a nice Bed and Breakfast.
Either way there are so many fantastic options available for the special people on your list. The one big suggestion I can give is to make sure and start early.