This Caramel Pecan Apple Pie Cheesecake recipe incorporates the best of an apple pie and cheesecake all rolled into one delicious treat! This dessert is an explosion of flavors in every bite and will be a huge favorite wherever you serve it.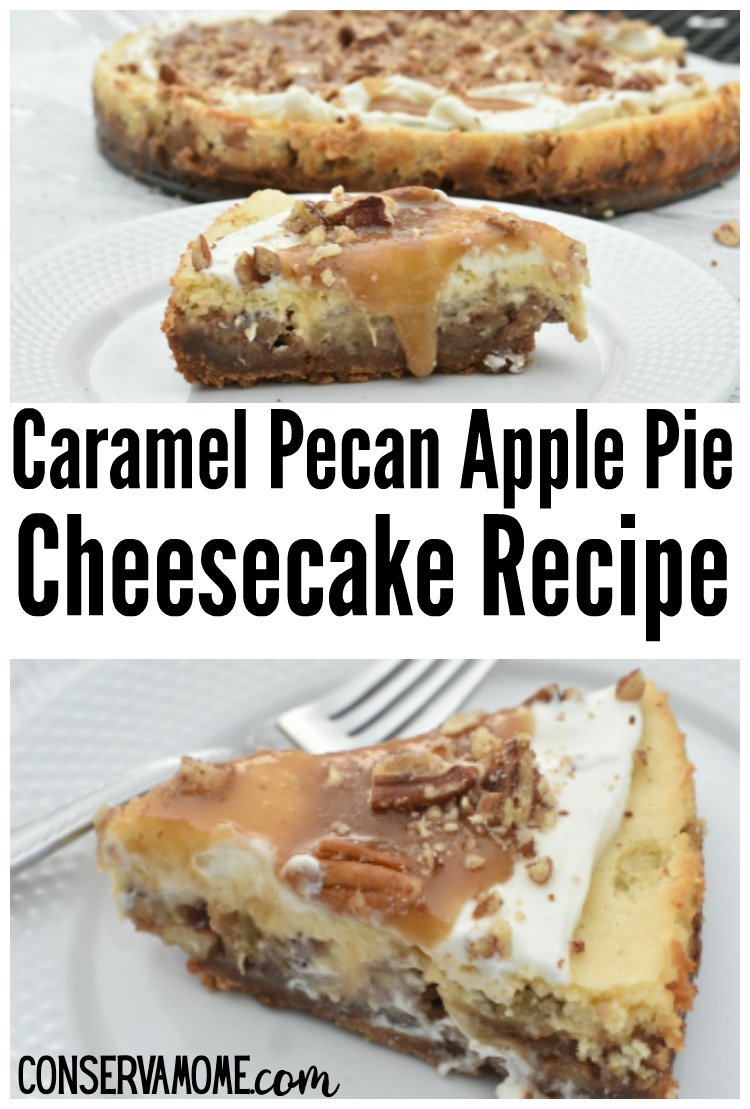 Caramel Pecan Apple Pie Cheesecake recipe
I love caramel apples and that's why I love this cheesecake! This Caramel Pecan Apple Pie Cheesecake recipe is truly one of my favorite desserts ever made. It has so many various layers of deliciousness that will blow your taste buds away. It is actually a pretty easy dessert to make but may take a bit of time to put together because of the various layers and refrigeration.
That being said you will be so blown away by the sheer deliciousness of this dessert. I promise that you will be blown away by each and every bite.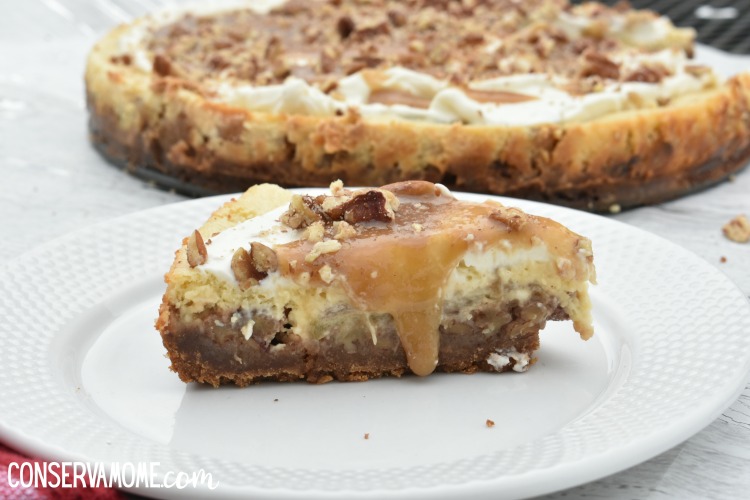 The bottom layer is a crunchy caramel pecan graham cracker followed by an apple pie layer. Finalized by a creamy cheesecake
This dessert is as heavenly as it sounds. It's very rich and even for those with a sweet tooth. One piece is more than enough.
However, when you do eat it you will be in bliss. This dessert has always been my go-to for special occasions. I've made it during holidays, special dinners, even when we've had the priests over for dinner, this is the dessert I go to.
I know that this dessert will be a hit.
How to make the Caramel Pecan Apple Pie Cheesecake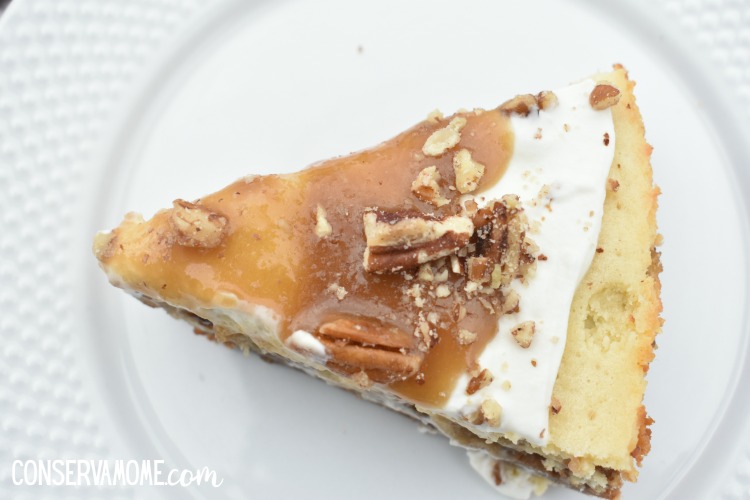 First you'll start off with the Caramel Layer.
8tbs of Unsalted Butter
1/2 cup Heavy whipping cream
1 cup packed light brown sugar
You can use store bought but this deliciousness is one of a kind and I highly recommend taking the homemade route.
To make the caramel sauce, combine the butter, heavy cream and brown sugar in a medium heavy-bottomed saucepan over medium-high heat. Bring the mixture to a boil, stirring constantly. Once it reaches a boil, lower the heat to medium and continue to boil until the mixture is thickened, about 8 minutes. Remove from heat and let cool.
Now for the Crust Layer
1½ cups graham cracker crumbs
3 tbsp. sugar
½ tsp. cinnamon
5 1/3 tbsp. unsalted butter, melted
½-¾ cup caramel* (recipe below)
1 cup chopped pecans
Preheat the oven to 375° F. Line the bottom of a 9-inch round springform pan with parchment paper. In a medium mixing bowl, combine the graham cracker crumbs, sugar, cinnamon and melted butter.
Toss with a fork until all the crumbs are moistened and the ingredients are evenly mixed. Transfer the mixture to the prepared springform pan and press the crumbs in an even layer over the pan bottom and about half to two-thirds of the way up the sides of the pan. Bake for 6-8 minutes, until golden in color. Let cool for about 10 minutes.
Pour a layer of caramel into the bottom of the crust and sprinkle evenly with the chopped pecans. Refrigerate the crust while you prepare the filling.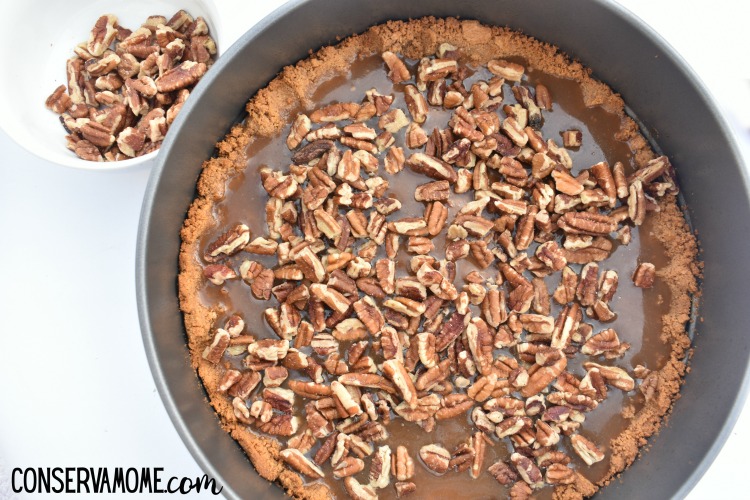 How to make the Apple pie filling
For the apple filling:
5 tbsp. unsalted butter
½ cup light brown sugar, tightly packed
¼ tsp. salt
1 tsp. cinnamon
5 Granny Smith apples, peeled, cored and thinly sliced ( I have a heavy hand so mine come out thicker than they should.lol)
Begin by melting the butter in a large skillet over medium heat. Mix in the brown sugar, salt and cinnamon and cook for 1 minute, until bubbling. Mix in the apple slices and toss well to coat. Cook over medium to medium-high heat until tender and most of the liquid has been reduced, about 15-20 minutes. Let cool for a few minutes and pour into the prepared pie shell. Set aside.
Reduce the heat of the oven to 350° F.
How to make the Cheesecake Layer
8 oz. cream cheese
1 tsp. vanilla extract
¼ cup sugar
1 large egg
1 tbsp. freshly squeezed lemon juice
Begin by combining the cream cheese and sugar in the bowl of an electric mixer and beat on medium speed until smooth, about 1 minute. Mix in the vanilla, egg and lemon juice until fully incorporated and smooth, 1-2 minutes. Spread the cheesecake filling into an even layer over the top of the cooked apples in the crust. Bake until a knife inserted in the center comes out clean, about 30 minutes. Remove from the oven, transfer to a wire rack and let cool to room temperature. Refrigerate for at least 4 hours.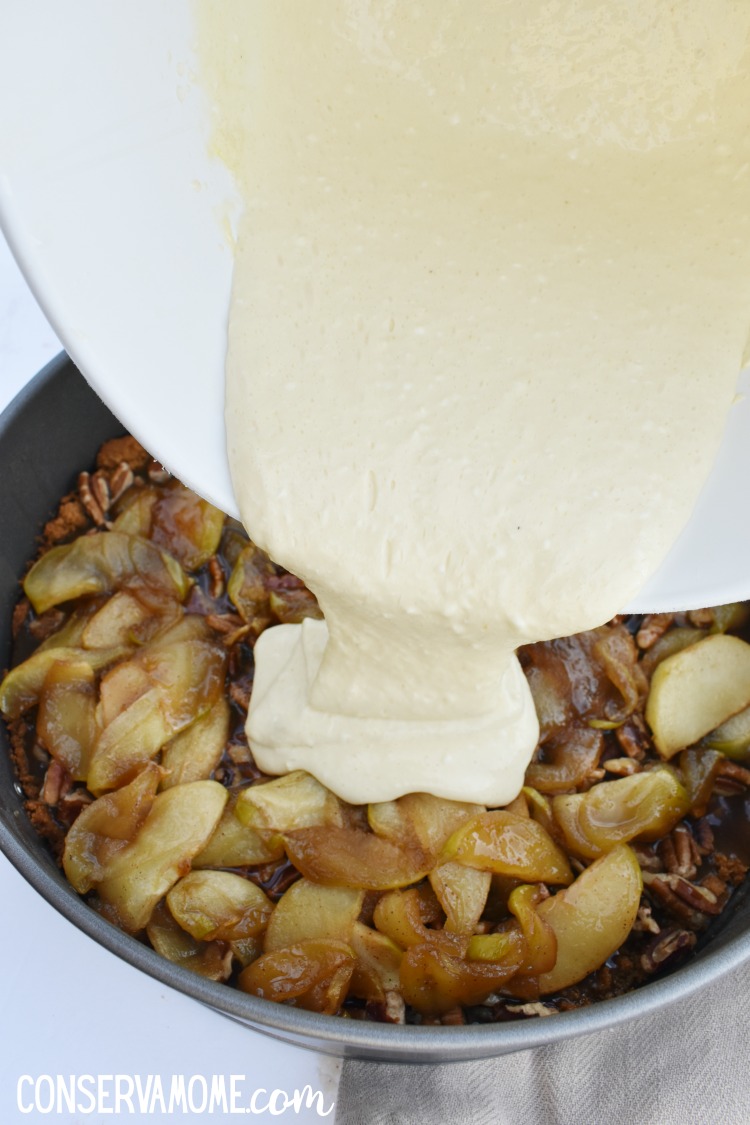 Finally the topping
For the topping:
¾ cup heavy cream
3-4 tbsp. confectioners' sugar
¼-½ cup caramel (you will probably have some left over from the first part)
Chopped pecans (or walnuts)
Carefully remove the sides of the springform pan. For the Topping, beat the heavy cream and confectioners' sugar on medium-high speed until stiff peaks form. Spread gently over the top of the chilled cheesecake layer.
Top with caramel sauce . Sprinkle with a handful of chopped nuts, if desired.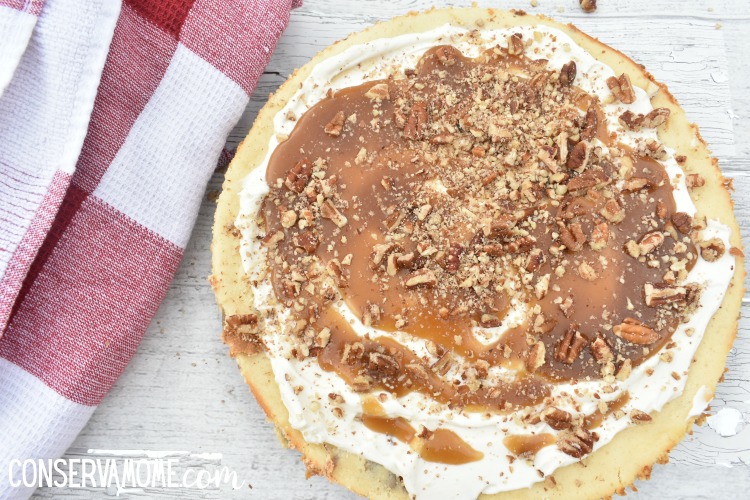 I'm telling you this Caramel apple pecan cheesecake is the master of all cheesecakes and will be a glorious addition to any meal.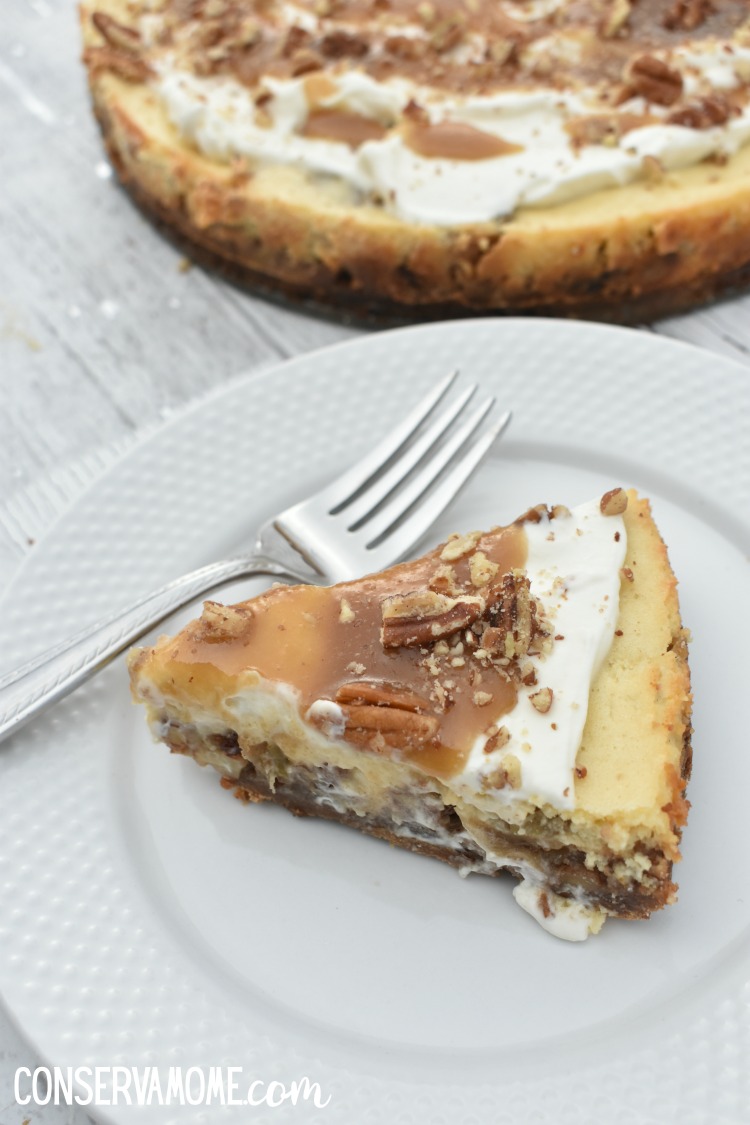 Make sure to share and pin this delicious recipe:
Looking for another caramel inspired dessert? Check out these Caramel apple pie bombs that are easy to make and full of a caramel deliciousness in every bite.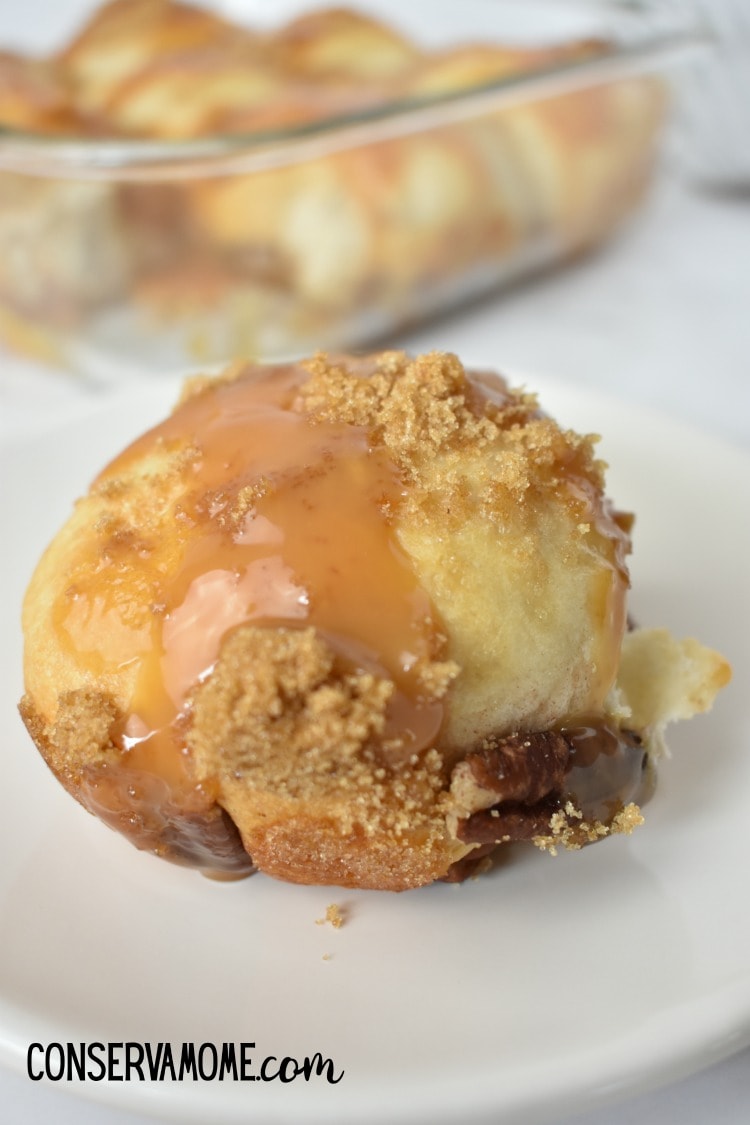 Save