Simplify your Thanksgiving Prep with these Thanksgiving Day Tips & Tricks + Printable Thanksgiving Day Menu.

No matter  how much I plan for Thanksgiving there are some things that either get left out or forgotten if I don't put them all in one place. That's why after 14 years of putting together Thanksgiving Meals I've put together this fun Menu printable for my readers to help them prepare for the big day! This Printable Thanksgiving Day Menu is a great way to get organized for the big day. Not only will it give you a place to figure out what delicious treats you'll serve but it also helps you plan the main event The Bird! Filling in the Weight, Day you will put in refrigerator to begin thawing and Time to Put in Oven will help ensure a delicious cooked bird.
Below are also some other great Thanksgiving Day tips & tricks for the big day!
Budget Friendly & Unique Thanksgiving Place Setting Ideas
And Looking for a Unique Dessert? Check out my Caramel Apple Pie Cheesecake Recipe. It's AMAZING and always a huge hit! .
How about a delicious and fun treat for the kids? This Turkey Sugar Cookie will be a huge hit with your little gobblers.
Looking for more recipes check out this fun round up of 13 Seriously Delicious Stuffing recipes & 15 Perfectly Delicious Pumpkin Pie recipes.
For the Menu, Just click on the picture and it will take you to a pdf copy you can easily print. Make sure and print two copies in case you mess up one or need to make a second shopping trip. I hope this helps you get organized on Thanksgiving.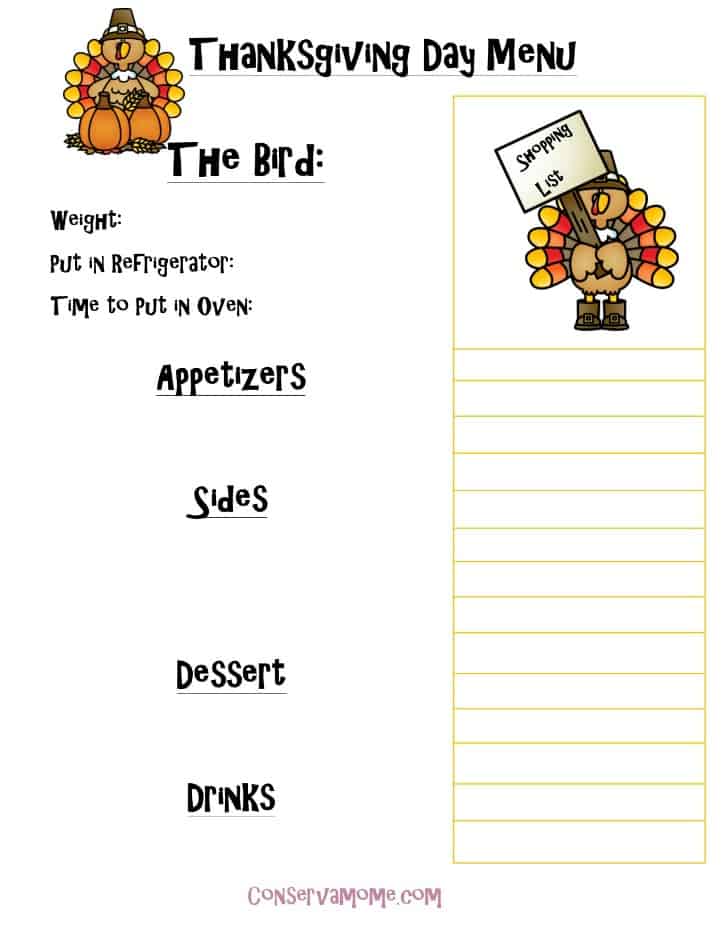 Thanksgiving day doesn't have to be an impossible task and quite fun to accomplish just use the above printable menu to help guide you and keep everything organized in one place.
So let out the pants and turn on the oven to some fun on Thanksgiving day!