Just because kids are home doesn't mean it has to be time spent in front of a screen. Check out 40 Screen Free Activities for Kids + Printable list to cross off while going on each adventure!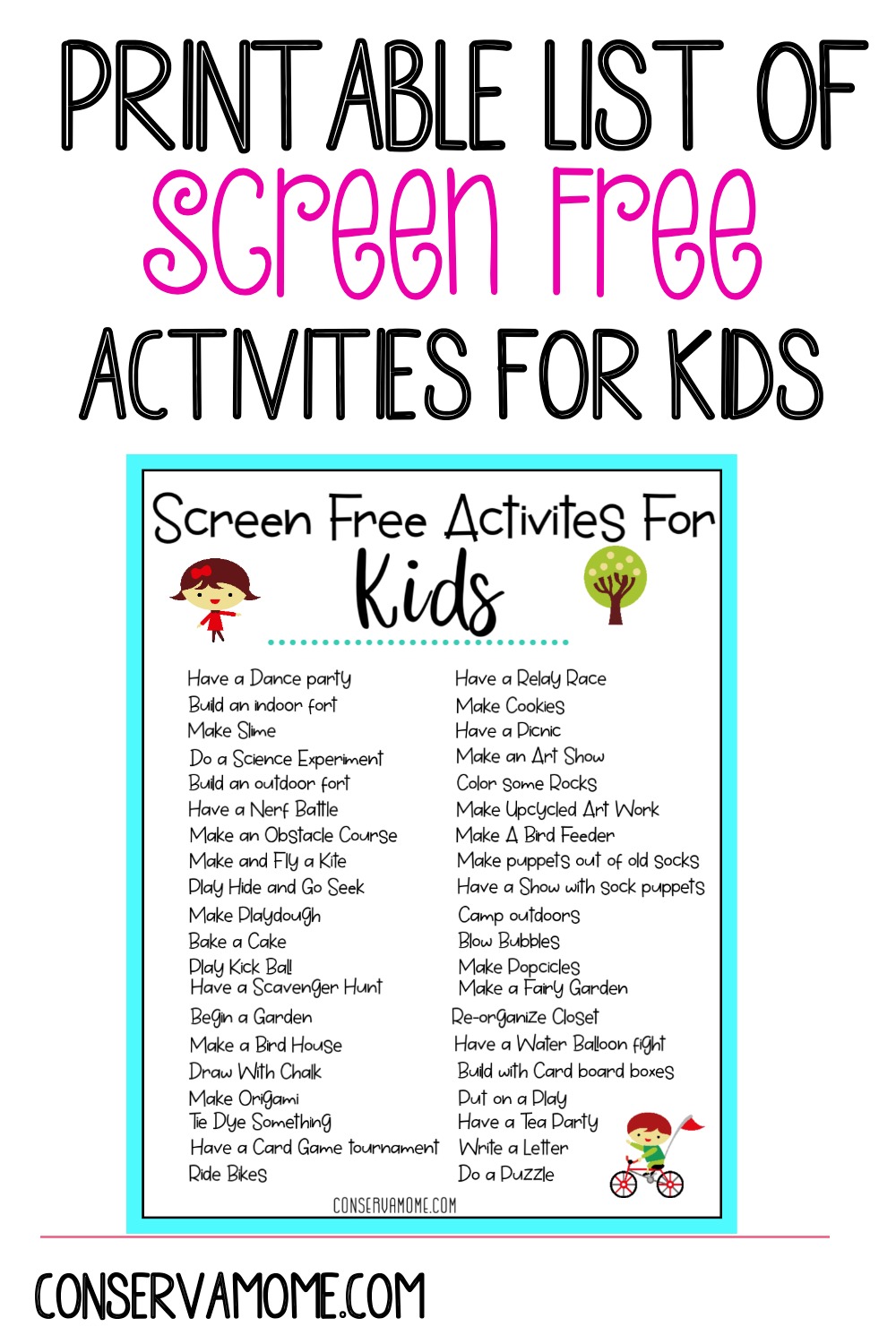 40 Screen Free Activities for Kids + Printable
Chances are at this point in time you've heard the words I'm bored more times than you can count. As a parent we're all in this together and probably at our whits end. So we can make a couple of decisions, we either keep suffering or make the best out of time spent with our kids. Parking them in front of a screen may be the easiest option, but is it really the best?
But what is one to do when you are stuck home and not really able to get out and have fun? Here are some fantastic Screen Free Activities for kids. I've put together a fun list and resources to help you get there!
Just read on to see 40 Screen free activities for kids:
Have a Dance party– Teach your kids your favorite moves. Break out some of the 80-90's music that made you who you are.
Build an indoor fort– This one is easily attainable with pillows and blankets. Go all the way by reading a scary story inside!
Make Slime– Kids LOVE Slime. Why not make some glitter slime,
Fluffy slime or even pudding slime!
Do a Science Experiment- There are so many amazing Science experiments you can make with kids with items around the house. Like this Xylophone water experiment from Sugar Spice and Glitter! There are also some great backyard Science Experiments you can do here.
Build an Outdoor Fort– Use twigs, bushes and more! The sky's the limit!
Have a Nerf Battle- Who doesn't love Nerf? Make teams and go for the fun.
Creative Screen free activities for kids
Make an Obstacle Course- There are so many ways to set up obstacle courses. Here's an obstacle course that will cool you down!
Make and Fly a Kite- Here's a cool one made out of garbage bags!
Play Hide and Go seek- Nuf Said..the game of all time. Step it up a notch and make it tag.
Make Play dough- Play dough is one of my favorite things to make. Here's a fun and unique play dough recipe, Peanut Butter Play dough is one of my favorites!
Bake a Cake- How about baking a cake from scratch? Make it even more unique by trying something different like this Mayonnaise chocolate cake from Sizzling eats!
Play Kick Ball- Who doesn't love kickball? Parents can school their kids in this game of the ages.
Have a Scavenger Hunt- Here's a fantastic one form Lindsey Blogs that will get you outdoors, a fun nature scavenger hunt.
Begin a Garden- Spring is here why not take advantage of it? You can create some fun Garden seed bombs or make your own Raised Garden.
Make a Birdhouse- Make a birdhouse for your feathered friends. Once you're done making one for them, make one for yourself like this edible birdhouse . Still, feeling crafty? Check out 7 Woodworking projects you can do with your kids!
Draw With Chalk- Kids love to draw with chalk! Maybe have them write a fun message or draw on the sidewalk. Don't have any sidewalk chalk? Make your own with this neat recipe.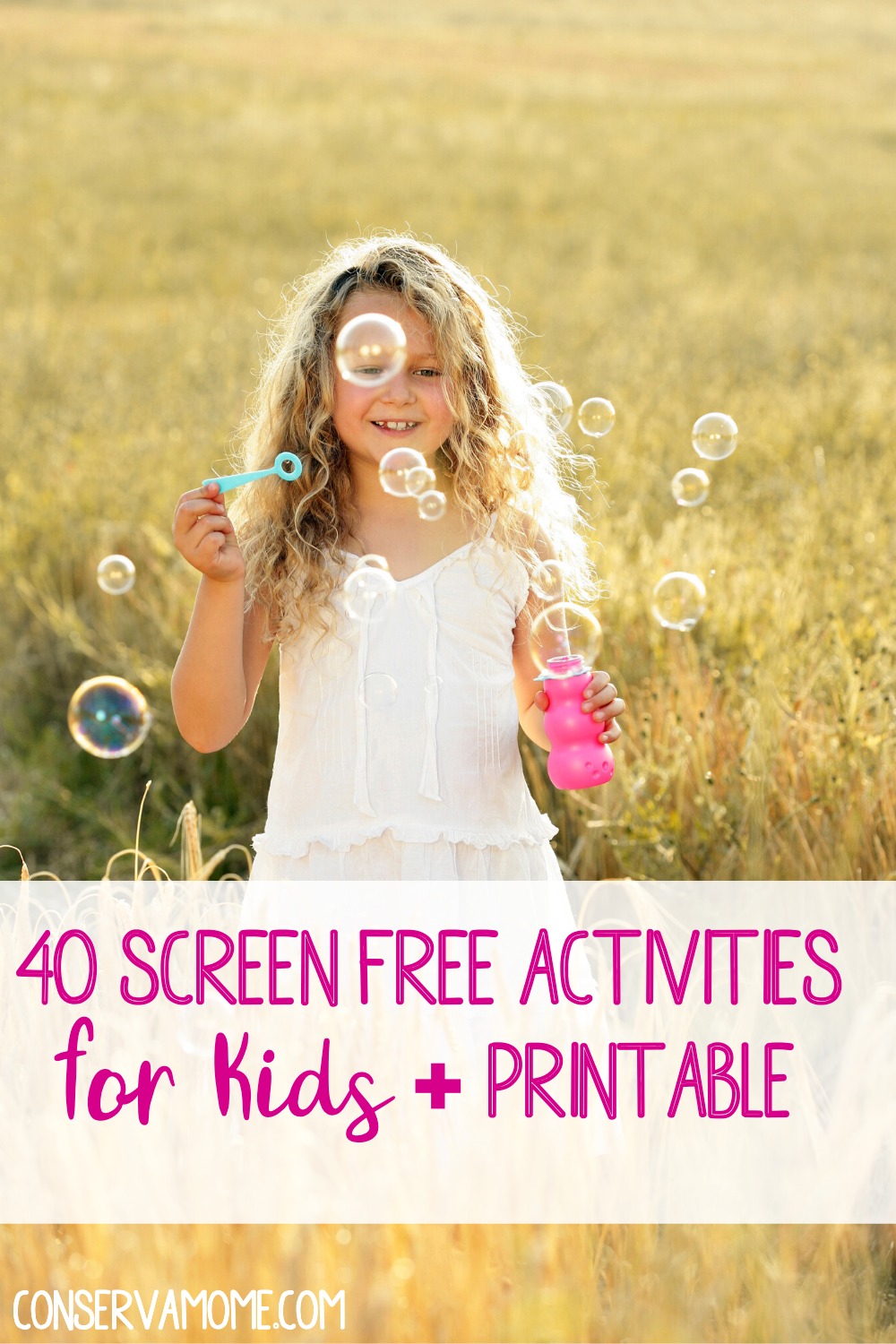 More Screen Free Activities for Kids
Make Origami- There are so many unique origami creations you can make like these 9 paper crafts from mama in the now
Tye Dye something- Don't have paints? Here's a fun way to tie dye with bleach!
Have a Card Game Tournament- Have a Goldfish or War Tournament. Winner takes all!
Ride Bikes- Go for a fun scenic bike ride. Don't forget to wear a helmet.
Have a Relay Race- They don't even have to be outdoors. Check out these 11 indoor and outdoor relay race ideas.
Make cookies- There are so many delicious cookies one can make. Like these delicious Red Velvet Cookies made with a box mix , unique brownie sundae cookies or these chocolate chip cookie bars.
Have a Picnic- There's nothing like a good old fashioned picnic.
Make an Art Show- Everyone in the family can create a masterpiece and then display it!
Even More Screen Free Activities for kids
Color some rocks- With so many rocks around you can create some amazing masterpieces! Check out 60 of the Best painted rocks Tutorials from Sustain my craft habit. They've got rocks for all levels.
Make a Bird Feeder- There's nothing more exciting than seeing beautiful birds enjoy some tasty treats. Here's a fun way to make a bird feeder that will bring all the birds from the block.
Create Upcycled Artwork- Use things around the house to make some Upcycled Crafts. You can make a ton of fun crafts using toilet paper rolls as well!
Make puppets out of old socks then have a show with the puppets-
You can find some easy Sock puppet tutorials here!
Camp outdoors- Sleep under the stars! Don't forget to make s'mores!
Blow Bubbles- Blowing bubbles isn't just fun but therapeutic. You can even make your own bubbles with this recipe!
Make Popsicles– Looking for some unique popsicle recipes? Check out these refreshing fruit popsicles.
Make a Fairy Garden- Fairy gardens are magical and can provide hours of fun. Here are 15 Magical Fairy Garden Ideas for you to get inspired with.
Activities for Kids
Re-Organize your Closet- Closets tend to take a life of their own. Organizing your closet is one way to get life back on track. Check out these 30 Best Closet organizing ideas. Done with your closet? Head to your pantry with these 20 Smart pantry organization ideas.
Have a water balloon Fight- You can go for a good old water balloon fight or check out some games you can have with water balloons.
Build with Cardboard boxes- Looking for some amazing inspiration? Check out these 26 of the Coolest Cardboard box creations. Don't have giant boxes? Check out these fantastic cereal box crafts !
Put on a Play- There are so many fun plays you can have the kids put together. Have them print one off online or have them write their own!
Have a Tea party- Make it even more creative with something fun like this fairy bread.
Write a Letter- There's nothing like snail mail! Want to get even more creative? Check out this gorgeous Paris Themed Stationary you can make.
Do a Puzzle- Don't have any here are some printable Star Wars fun.
Printable Screen Free Activities for kids
There are so many unique and fun ways to stay busy without having to resort to the screen.
These are just some of the fantastic Screen Free Activities for kids you can do! Here's the fun list. Make sure and print it here.