These fun Ocean Crafts will bring hours of fun to your little ones while they explore and create all things Under the sea w/ 15 Ocean Crafts for kids that they will love!
Ocean Crafts Kids Will Love
*This post contains affiliate links. That means that if you make a purchase after clicking on a link I may earn a small commission at no extra cost to you.
Undoubtedly, the ocean has a way of inspiring creativity. As a result of its colors and shapes there are so many ways to get inspiration from the ocean.
Growing up in Florida I took living by the ocean for granted. Whereas now I'm in a landlocked state, the ocean has taken on a whole new meaning. Its beauty is something that inspires me as an adult nonetheless children look to it's magical qualities.
Inspiration from the Ocean
Because of it's unknown behind the vast blue layer there is so much to be found beneath it all. Legends and stories have been written because of what lies beneath the big blue sea. Without a doubt some of the most magical experiences I've had in my life were experienced in the ocean. Like the time I went to the Island of Capri and the water was the bluest blue I had ever seen. If the water was so beautiful, I'm sure what we found inside was even more gorgeous.
Without a doubt, a fun way for kids to learn about the ocean and the importance of all the harmonious interactions in the ocean is through crafting. There are also some amazing books your kids can check out to bring the learning fun to a whole new level. Like the Smithsonian's Ocean Encyclopedia for kids
or the National Geographic Big Book of the Ocean.
There are few things more magical than a visit to the ocean from the calming beauty to all the amazing animals one can find while on a visit to the great blue sea like Florida's Treasure coast
A fun trip to an aquarium can inspire those that are landlocked but for those that want to experience the fun with their kids, Ocean Crafts are the way to go!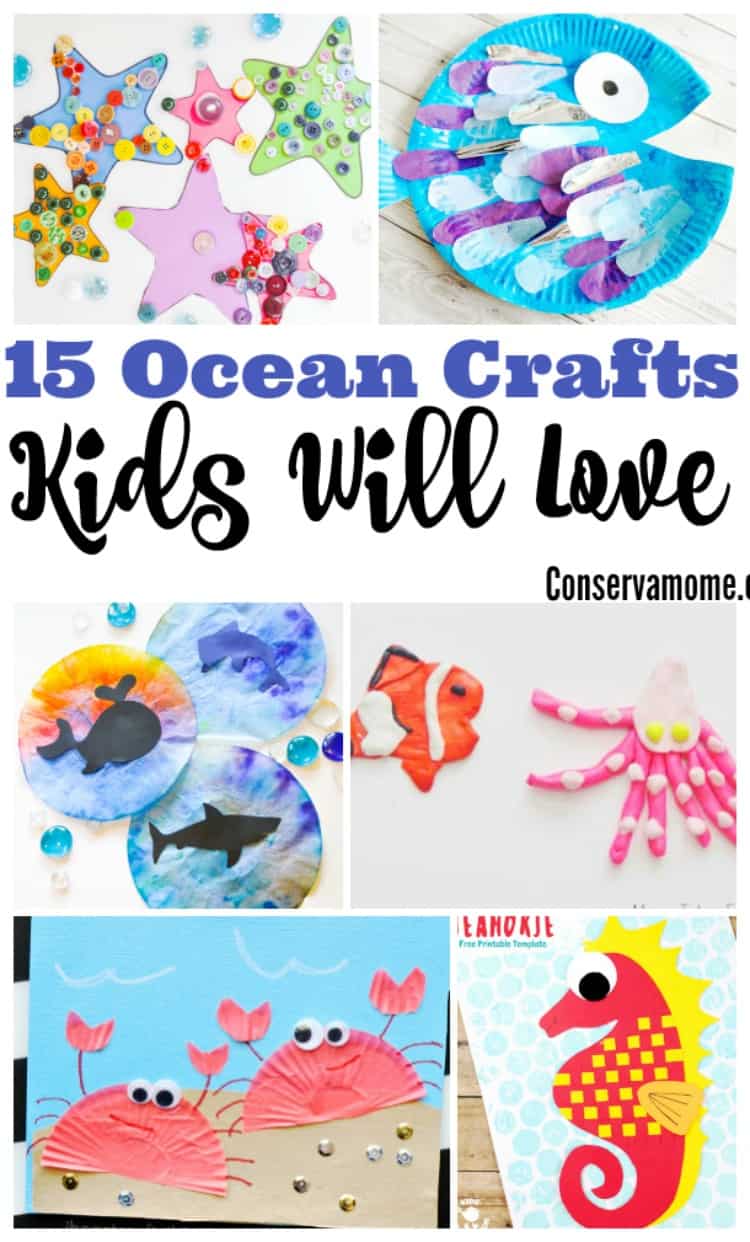 Ocean crafts for kids
Moreover, That's why I've put together a fun compilation of crafts that are ocean-themed.
These fun crafts are the perfect way to teach your little ones about the ocean in a fun and creative way. So head below and see all the fun crafts you can make that are Ocean themed.
15+ Ocean Crafts For Kids that they will love!
Bring the ocean home with some fun Ocean Crafts for kids that they will love. This fun round up of amazing crafts will bring tons of sea fun for your kids (little and big) this fun roundup will be a hit for anyone looking for oceans of fun!
Finally, Make sure and pin this fun post below so that your can share it with friends and family and come back to it again and again!