Riddles are always a fun way to get your brain going. They're great icebreakers and logic makers. Did you know they're even good for you? You heard right, riddles have health benefits. Here are some fun Tricky Riddles to make you think! Most important brain games will even help raise your IQ!
That's why I've made it a point to put together some fantastic riddles because A. They're just fun to read and B. Riddles are good for you!
So read on to check out some fantastic Tricky riddles to make you think.
Mom and Dad have four daughters, and each daughter has one brother. How many people are in the family?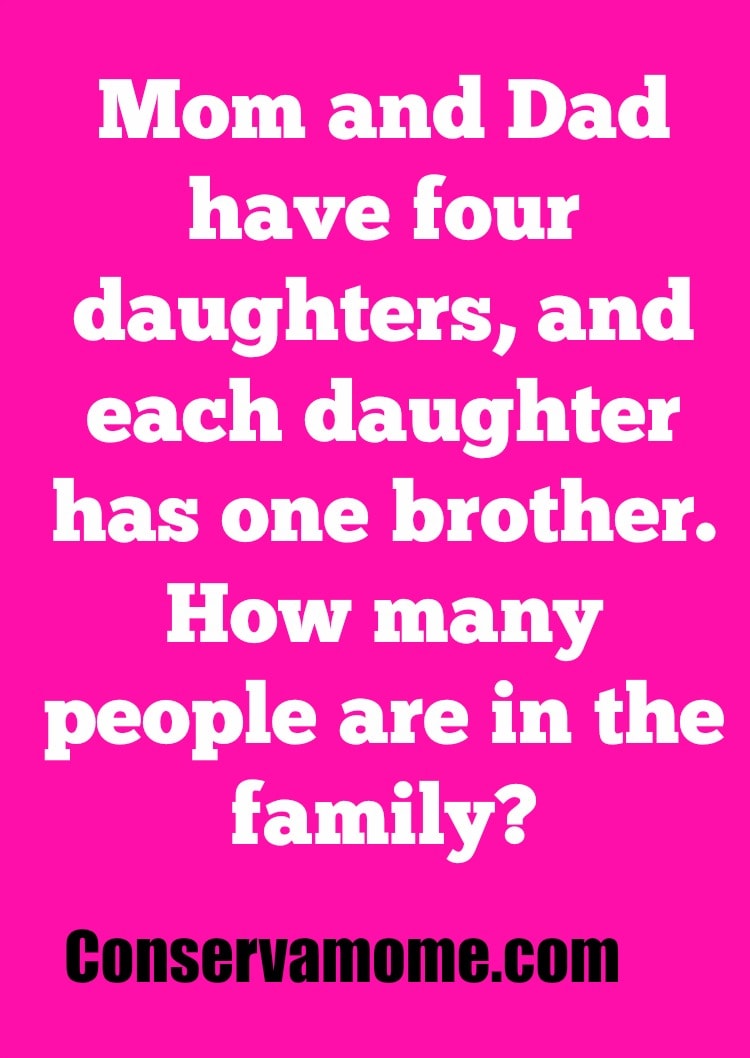 Here are some great riddles to get you going. Ready ? Set go? Let's see how many you can answer!
Tricky Riddles to make you think
Is always in front of you but cannot be seen?
Answer: Future
Which letter of the alphabet has the most water?
Answer: C
A cloud is my mother, the wind is my father, my son is the cool stream and my daughter is the fruit of the land. A rainbow is my bed, the earth my final resting place and I'm the torment of man. What am I?
Answer: Rain

I am taken from a mine, and shut up in a wooden case, from which I am never released and yet I am used by almost everybody. What am I?
Answer: Pencil lead

There was a competition where the contestants had to hold something. At the end of the event, the winner was a person who was physically disabled (he had no hands or feet)! What was it that the contestants have to hold?
Answer: Their breath.
Can you figure this one out?
Here's the answer to this Hard Brain Teaser
Why would a man living in New York not be buried in Chicago?
Answer: Because he is still living
The person who makes it has no need for it. He who purchases it does not use it. The person who does use it does not know they are. What is it?
Answer: A coffin.
What has to be broken before you can use it?
AnsweR: An egg

More tricky riddles
What starts with a P, ends with an E and has thousands of letters?
Answer: The Post Office
What gets wetter as it dries?
A towel
What begins with T ends with T and has T in it?
Answer: A teapot
The answer for the one above is simple: He was born in room 1955 🙂 Sometimes things aren't what they seem.
What has a face and two hands but no arms or legs?
Answer: A clock
What five-letter word becomes shorter when you add two letters to it?
Answer: Short
What word begins and ends with an E but only has one letter?
Answer: Envelope
What has a neck but no head?
Answer: A bottle
Why did the boy bury his flashlight?
Answer: Because the batteries died
How many letters are there in the English alphabet?
Answer: There are 18: 3 in the, 7 in English, and 8 in alphabet.
Which month has 28 days?
Answer: All of them, of course
Three men were in a boat. It capsized, but only two got their hair wet. Why?
Answer: One was bald
Here's another one: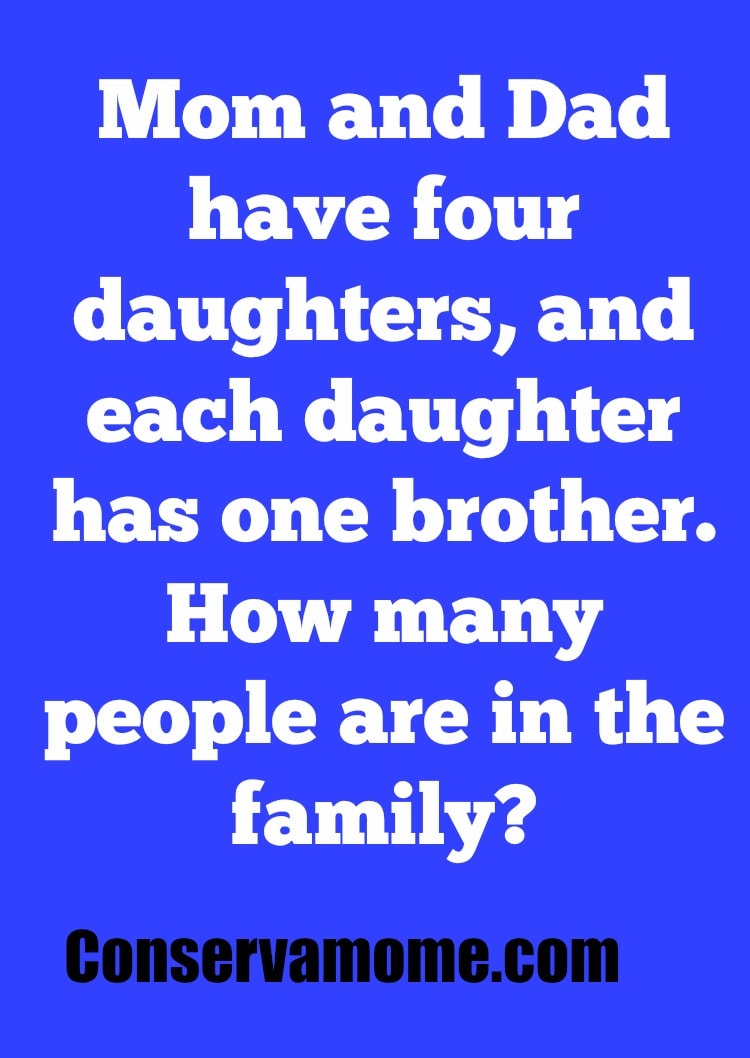 The answer: 7 Each daughter has one brother that means there's only 1 brother + 4 daughters= 5 + Mom and dad = 7!
Here's another riddle:
Can't figure out the answer? Head over here.
Looking for another fun riddle? Check this one out!
Can't figure out the answer? Head over here to see the answer to this and other fun riddles.
Looking for more fun riddles? Head over here and check this fun page full of riddles !
Save