Is your little one excited about sea life and all things found above and below the water? If so, they're going to love this Sea Life Spinner. It's an interactive approach that lets them change the scenery as many times as they want! This Sea Life Spinner is a Fun & Interactive Ocean Craft for Kids.

*This post contains affiliate links. That means that if you make a purchase after clicking on a link I may earn a small commission at no extra cost to you.
Sea Life Spinner
My kiddos talk about the sea all the time. And when you stop and think about the ocean and everything that lives in it, it's a really cool conversation to have. There are so many wonderful animals and live things that are deep down in the water that the mind can't even really comprehend it all.
This is why we loved this activity. It gave us a chance to talk about the ocean and figure out what we thought lived in it and why. We even talked about the difference in the sizes of sea life animals and what we thought that they ate.
A fun & Interactive Ocean Craft for kids
This craft is not only interactive but it's super simple to pair up with an ocean lesson as well. They'll be able to be creative and have fun coloring this craft and then show it off to the rest of the family when they're all done!
Supplies needed for this Sea Life Spinner
All the supplies that you need to have are listed below.
2 sheets of white cardstock
Markers and colored pencils
Scissors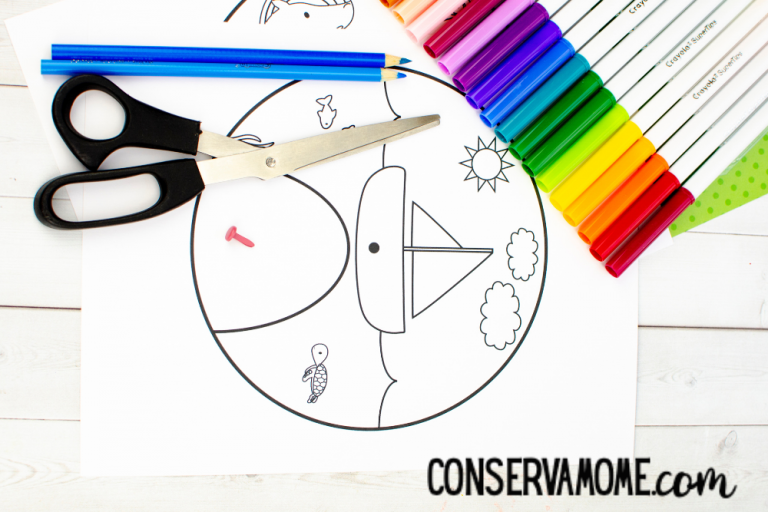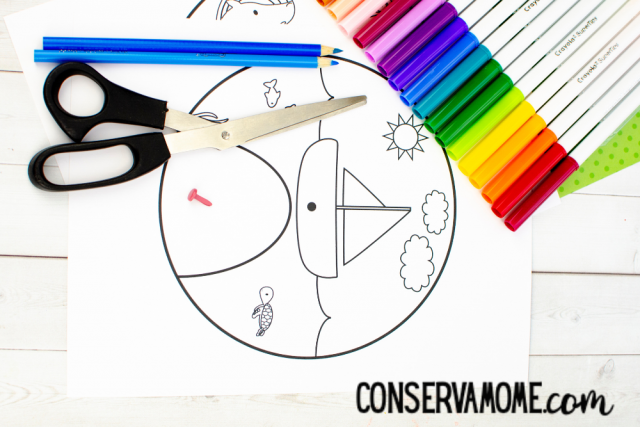 How to make this simple sea life spinner
First, print the template on white cardstock.
Now color both pages as you wish. I used colored pencils for the sky & ocean and markers for the rest.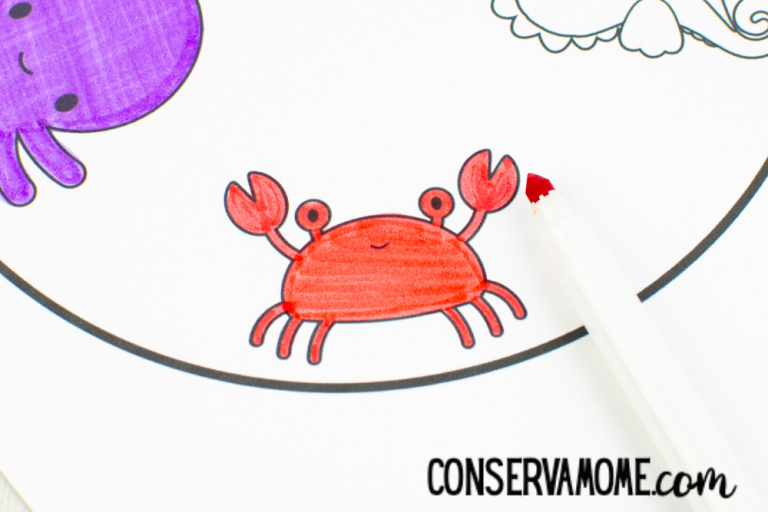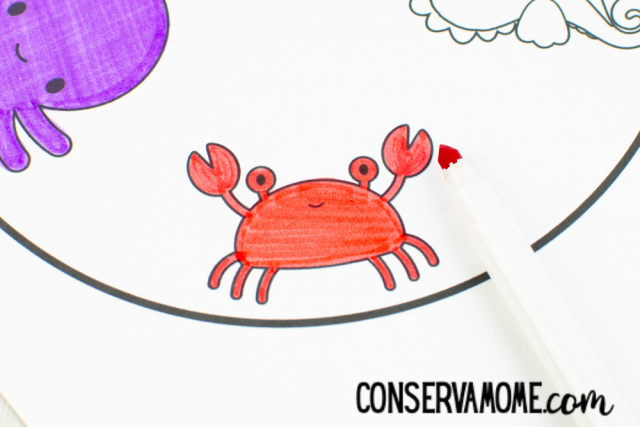 Next cut out both templates making sure to go around the curve on the template with the boat.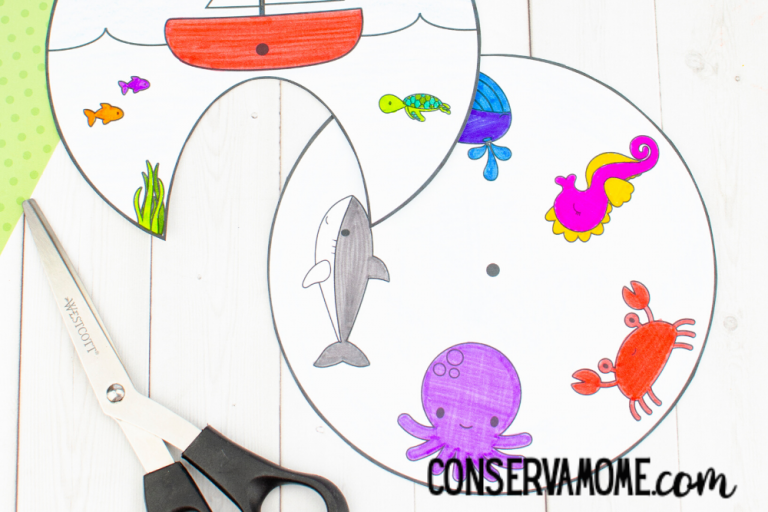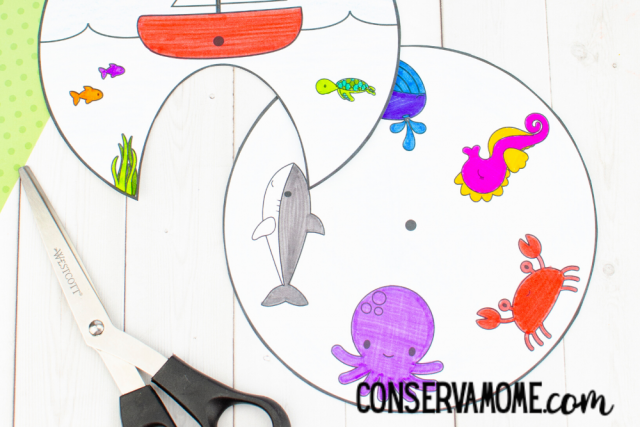 Poke a hole in both templates where you see the dot.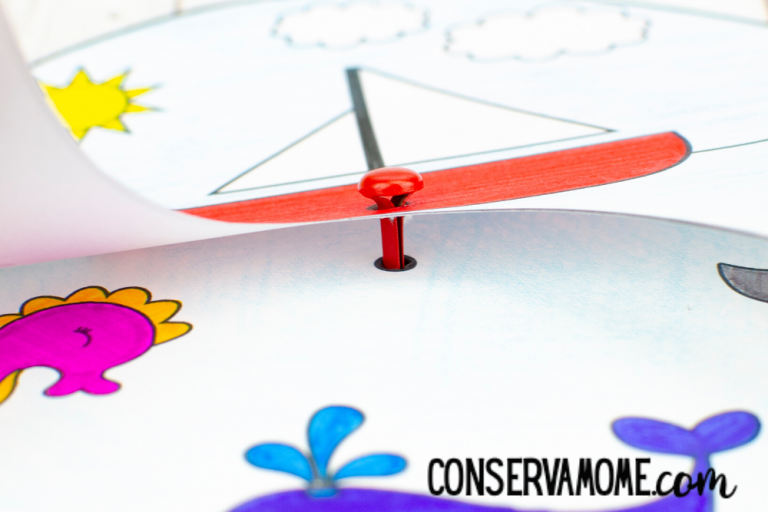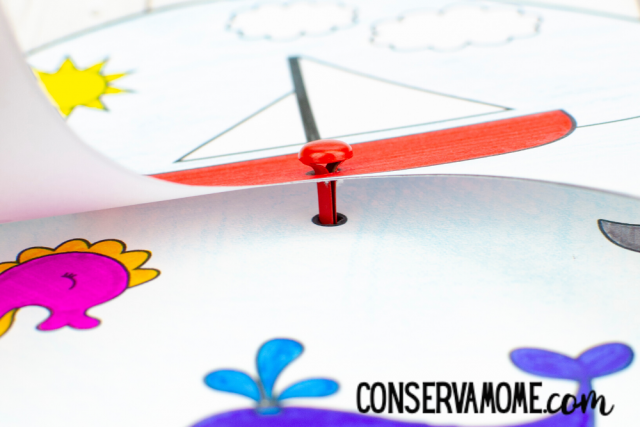 Then put the brass fastener through the boat first then through the animal template.
Secure at the back.
The ocean spinner is finished!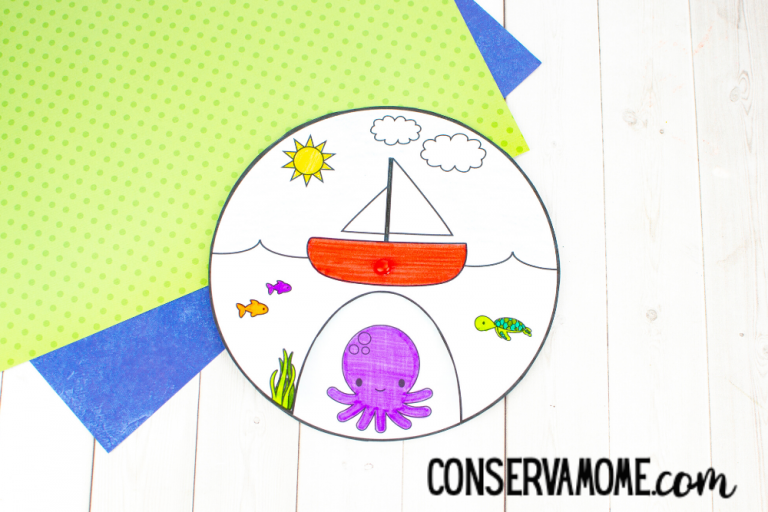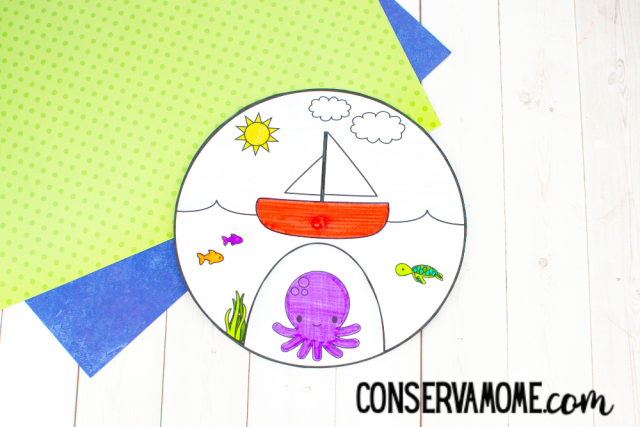 Tips for making this Sea Life Spinner
The kids are going to have a blast with this spinner but here are some simple tips to help.
Sit with them and help out with putting in the fastener. This is going to be the hardest part of the craft and your help is going to be needed.
Have fun with this sea life craft! There is so many things that you can add on to make this a wonderful learning lesson, too. Talk about all the animals listed and look up some fun facts online.
The more that you can use these types of moments as a teachable lesson, the better! The kids will love to dive into the ocean world and see what they can learn.
You can also check out some fun books like the ones below to go with this fun Ocean Craft lesson!
Do you love the idea of this sea life spinner? Make certain to check out our 15 Ocean Crafts For Kids that they will love! These would go perfectly with this sea craft!