Looking for some great fine motor activities for your little ones? Check out these great pumpkin fine motor activities to help your little one develop their fine motor skills using some fun pumpkin fine motor activities. These are perfect Fall Preschool Activities.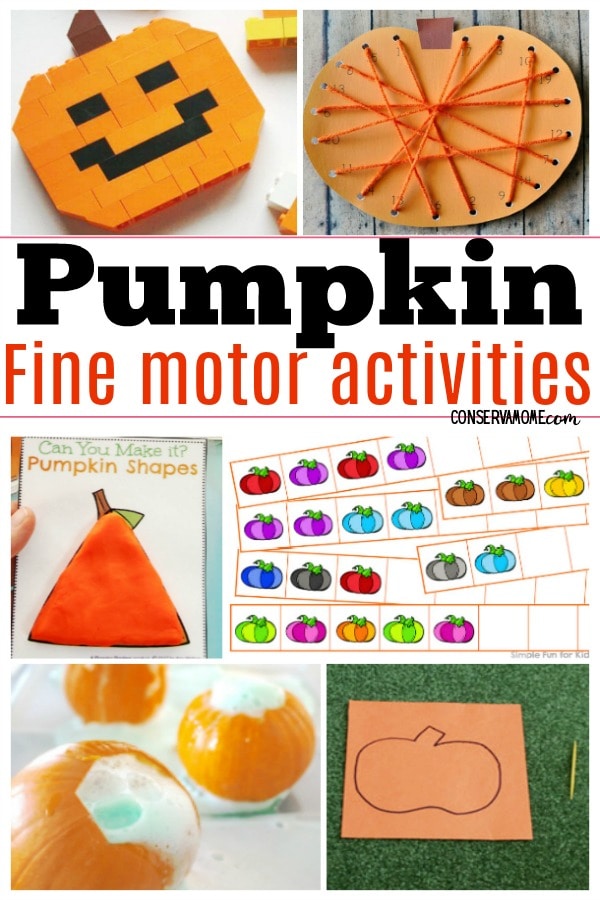 Perfect Fall Preschool Activities
It's incredibly important to work on Fine motor skills with little ones. They are achieved when children learn to use their smaller muscles, like muscles in the hands, fingers, and wrists. Children use their fine motor skills when writing, holding small items, buttoning clothing, turning pages, eating, cutting with scissors, and using computer keyboards.
These skills are necessary in helping them achieve their educational stepping stones. As a parent it's important for us to work on these skills. Thanks to these fun pumpkin fine motor activities this job just got easier.
Pumpkin Fine motor Activities
Lego Halloween Jack-o-Lantern Pumpkin – Little Bins For Little Hands
Colorful Pumpkin Patterns – Simple Fun For Kids
Preschool Pumpkin Activities – Planning Play Time
Mosaic Pumpkin Paper Plate Craft – Easy Peasy and Fun
Emoji Pumpkins – Mama in the Now
Pumpkin Lacing Activity – I Heart Crafty Things
Smash a Pumpkin with a Hammer – Powerful Mothering
Toothpick Pumpkin Punch – Pre-Kinders
Fine Motor Handprint Pumpkin Activity – Crafty Mama in Me
Simple Pumpkin Fine Motor Game – Little Bins For Little Hands
Beaded Pumpkin Craft – Glue Sticks and Gum Drops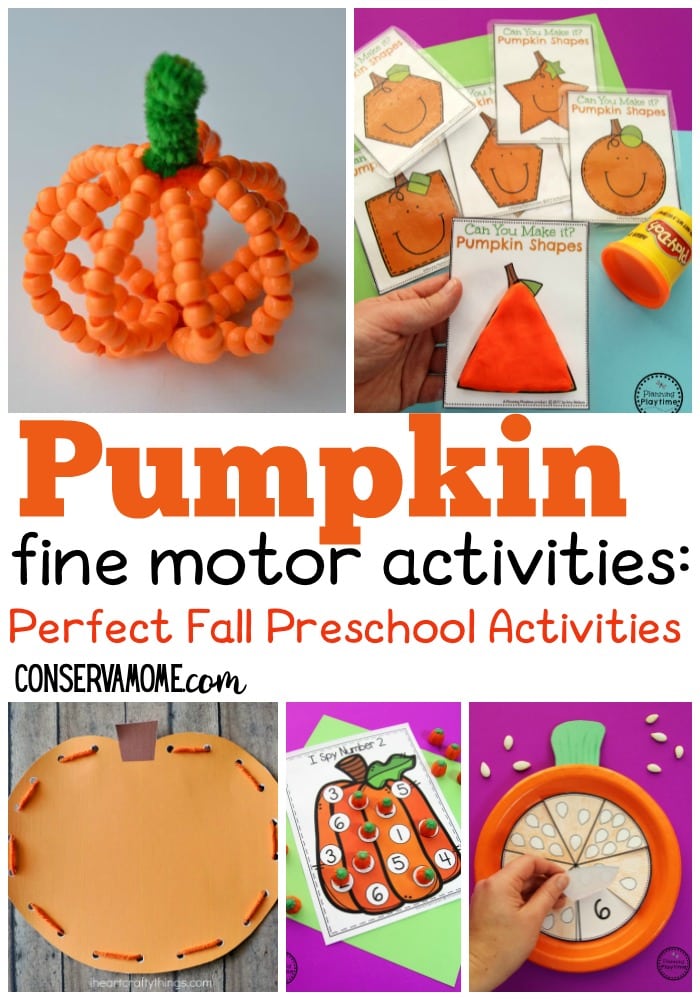 5 Little Pumpkins Fine Motor Activity – View From a Step Stool
Pumpkin Pre-Writing Activity – Modern Preschool
Washi Tape Pumpkin – Happy Toddler Play Time
Pumpkin Patch Fine Motor Counting Game – Frugal Fun 4 Boys
Printable Pumpkin Matching Sensory Bin – School Time Snippets
Fine Motor Jello Pumpkin Hunt – Craftulate
Pumpkin Theme Tracing Worksheets – Jdaniel4's Mom
Halloween Threading Pumpkins – Work it Mommy
Pumpkin Themed Play Dough Activity – Pink Oatmeal
Finally, How about making your own Pumpkin Play dough? Check out this fun and easy to make Pumpkin Play dough recipe
Looking for more fun fall activities for kids? Check out this delicious Fall Recipe they will love These Harvest Corn pops head over here to see how to make them!