Are you looking some a recipe to create delicious Patriotic Popsicles ? Look no further than these Star-Spangled Creamsicles. They're the perfect "cool" treat for the hot summer sun.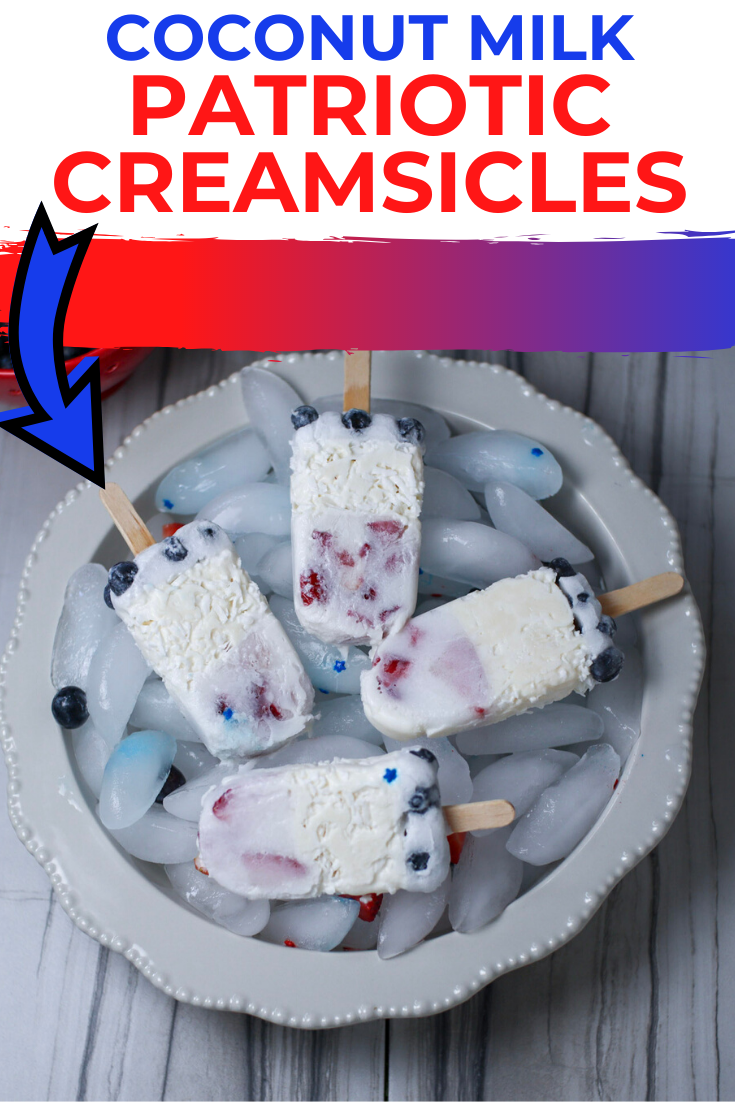 This post contains affiliate links. That means that if you make a purchase after clicking on a link I may earn a small commission at no extra cost to you.
Patriotic Popsicles – Delicious Star-Spangled Creamsicles
We love homemade popsicles in our house. So much so, that we pretty much have a favorite one for each different time of the year. Our other favorite summer popsicle recipe are these Fruit Popsicles With Coconut Water, which we just can't get enough of either.
But what we love most about this creamsicle recipe, is that it's really, really creamy and really fills you up. It's the same temperature as a popsicle but definitely tastes a lot more like ice cream than a popsicle does.
With the 4th of July coming up, we've already agreed that these are the treats that we're going to make and have on hand for our evening snack. Because sitting outside and watching the fireworks with a patriotic popsicle in hand sounds just about like the best night ever.
Ingredients needed to make these Patriotic Popsicles:
1 cup blueberries
1 cup strawberries
1/4 cup coconut flakes
2 cups of coconut milk
1 cup heavy whipping cream
1 tsp vanilla extract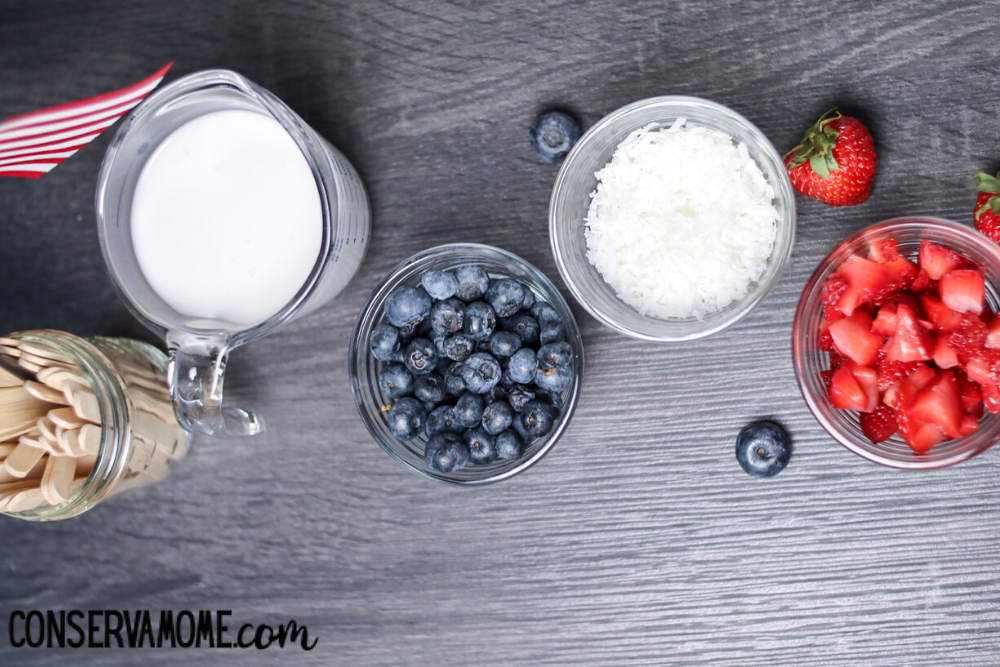 Direction to make homemade creamsicles
Wash and prepare the fruit. Dice strawberries.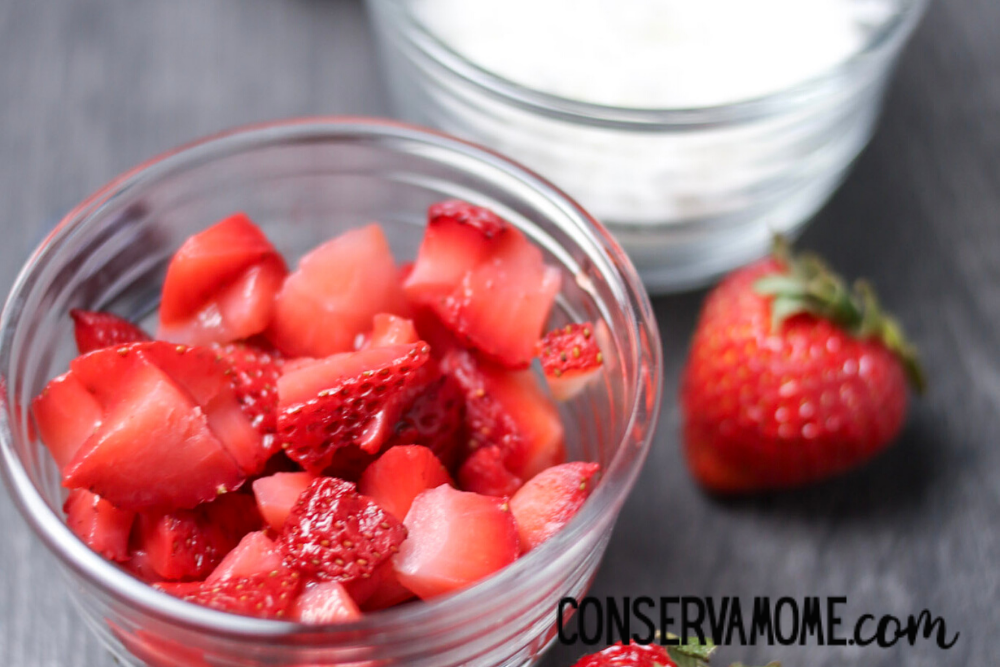 Add strawberries to the bottom of each popsicle mold.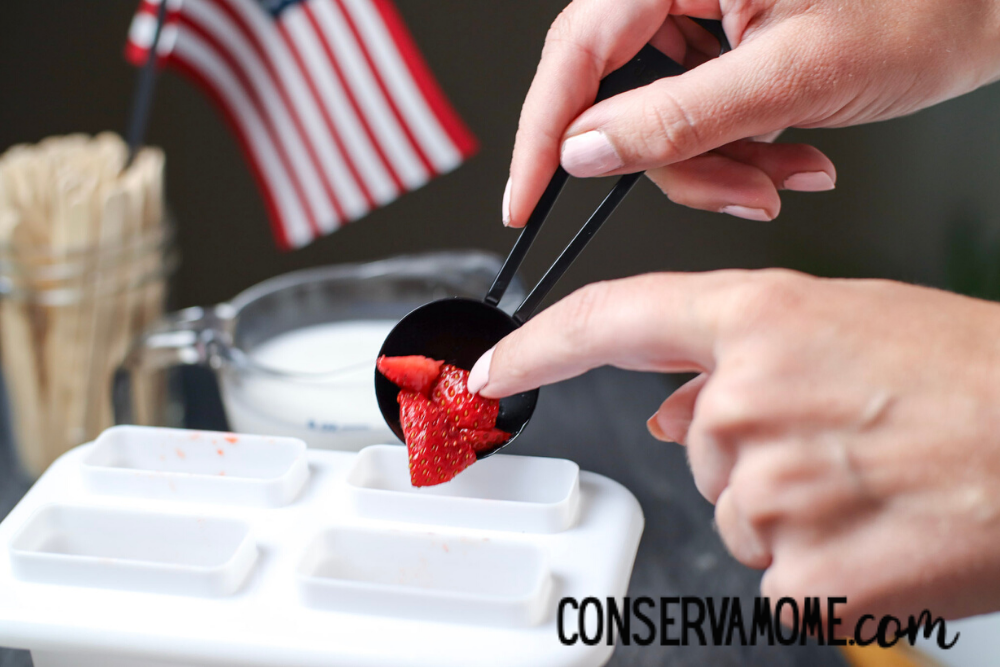 Pour coconut milk until about 1/3 full.
Place popsicles in the freezer for an hour and a half . Halfway through, cover with foil and poke popsicle sticks into each mold.
Take out of freezer, add coconut flakes to each.
In a small bowl, mix heavy whipping cream and vanilla extract. Pour into mold until about 2/3 full.
Place popsicle in freezer for an additional 1 1/2 hours.
Take out and add blueberries and coconut milk until full.
Place popsicle in the freezer for 1.5 hours.
Enjoy!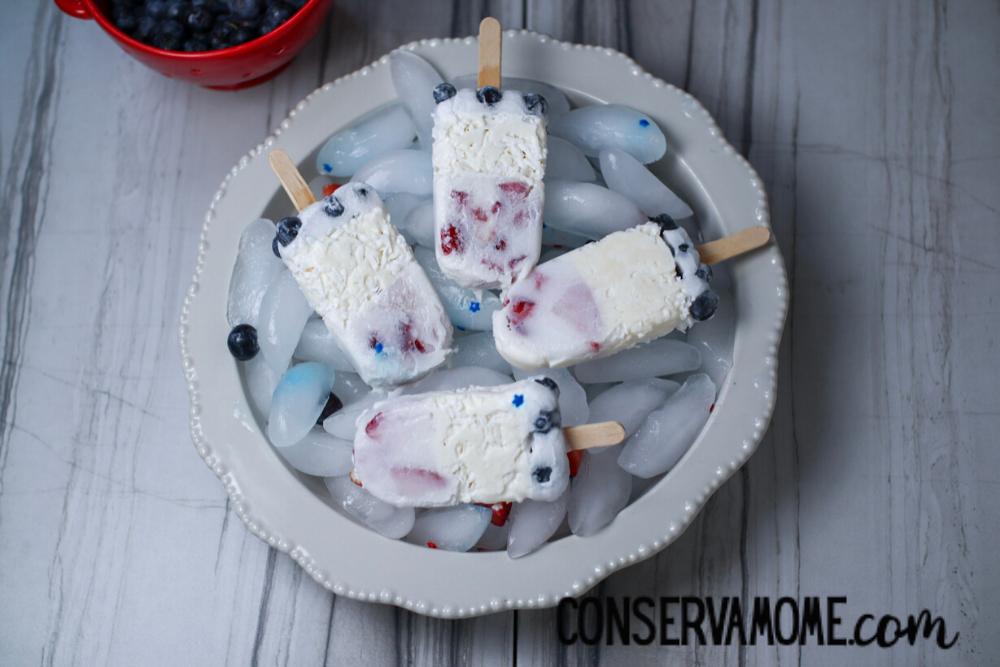 Can you use other fruit in this creamsicle recipe?
If you want to, sure! We like these two fruits because we always tend to have them on hand but you could easily use different types of berries and even some bananas as well.
As long as it's a softer fruit, you really shouldn't have any issues.
What makes this patriotic popsicle recipe stand out from other recipes?
The addition of the coconut milk is what makes this recipe really unique. Not only does it give it a milky and frothy look but it also adds just a tad bit of sweetness without going over the top.
You can also try this simple recipe with coconut water as well but the coloring isn't going to look the same once done.
Not sweet enough? Add a little agave to sweeten but the fruit should/coconut milk combo should give it enough of a sweetness to enjoy.
How long do these creamsicles take to freeze?
At a minimum, these creamsicles will take at least 1.5 hours to freeze. If they're not frozen at that point, just leave them in the freezer until they are frozen solid. And make certain to keep them in the freezer the whole time as well so that they're ready to eat!
Make certain to check out this fun Patriotic Popsicle Kids Craft Activity. It's the perfect way to use up those popsicle sticks!
Having a Fun 4th of July party? Check out these sparkly 4th of July Decorations! or include a fun patriotic tablescape
Finally, looking for another fun Summer recipe? Check out these Banan Pudding Popsicles!