Are you ready for a homemade popsicle recipe that everyone is going to love? These Fruit Popsicles with Coconut Water recipe are refreshing, natural, and sweet!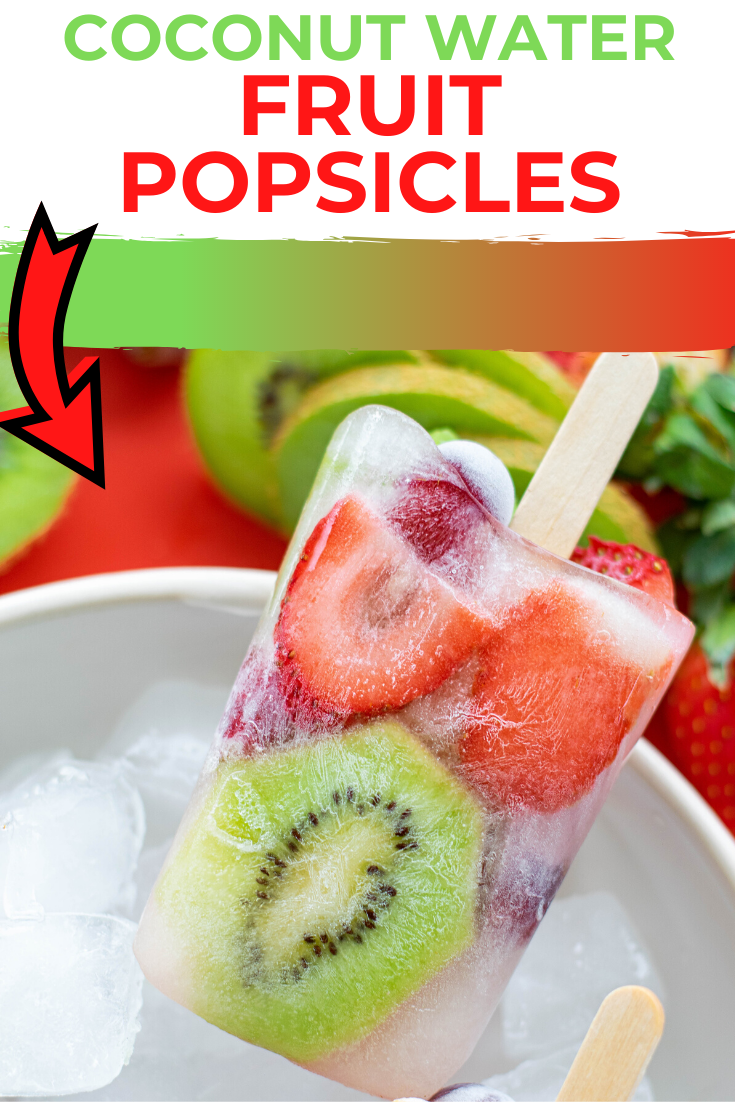 *This post contains affiliate links. That means that if you make a purchase after clicking on a link I may earn a small commission at no extra cost to you.
Fruit Popsicles With Coconut Water
I'm not gonna lie. While I had initially made this recipe up for the kids, I quickly realized that this one was too good for me to pass up on. And now that the hot months of summer are here, I've kicked my feet up a few times already and enjoyed a fruit popsicle or two on the porch.
Because when it comes to eating a healthy sweet treat that literally melts in your mouth, I can't recommend this one any higher. I love the cool temperature paired up with the texture of the fruit as it melts. And when I get to eat a piece of kiwi or strawberry after indulging in the frozen coconut water, it really is quite a wonderful taste and flavor.
If you're ready to have a homemade popsicle in the house that you won't feel bad for the kids eating (or yourself!), these coconut water popsicles are seriously the best!
Ingredients needed for Coconut Water Fruit Popsicles
Luckily the list of ingredients needed is short and sweet!
2 cups fresh coconut water

24 grapes

3 kiwis, sliced and peeled

8 strawberries, sliced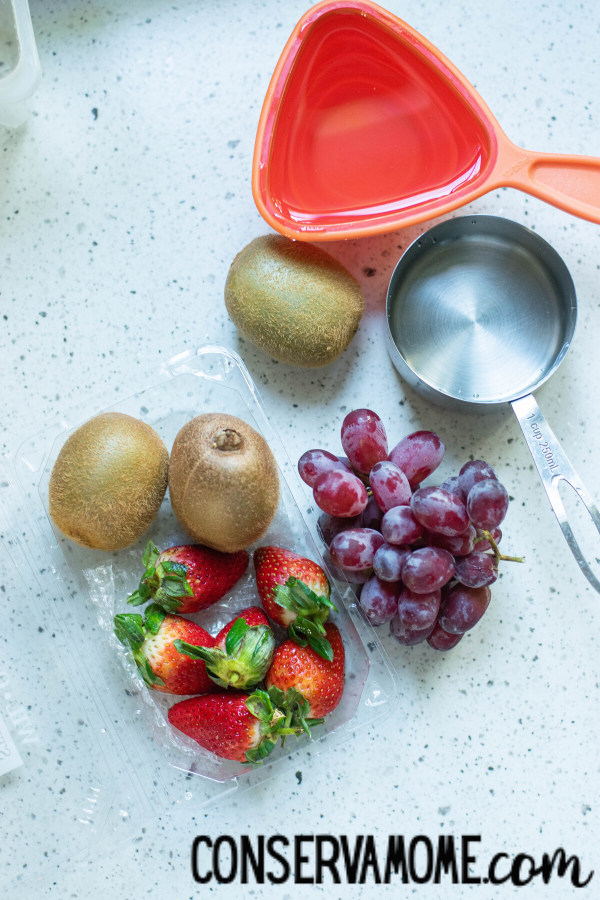 How To Make Fruit Popsicles with Coconut Water
Place kiwi and strawberries in the mold by pressing them against the 'wall' with your fingers.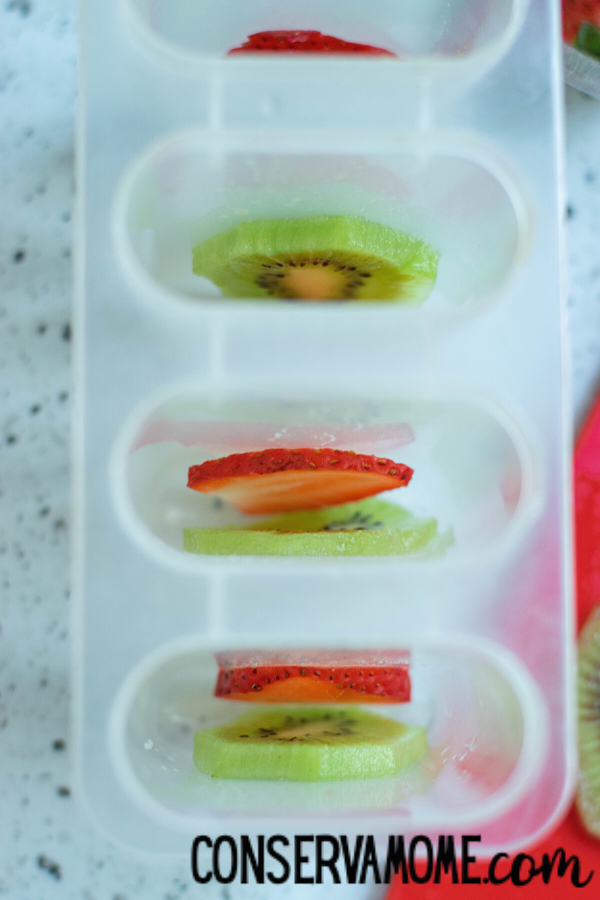 Add grapes in each mold then pour coconut water until the top.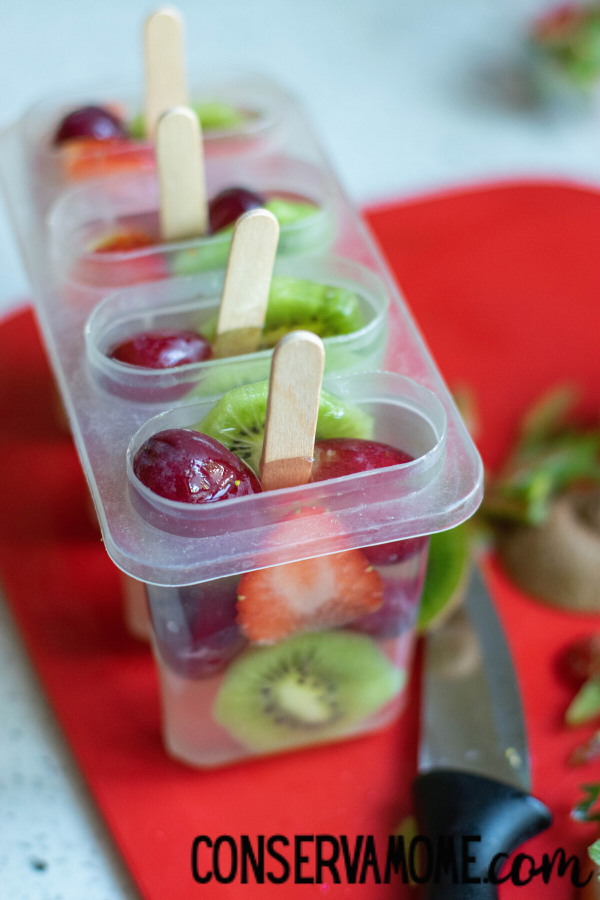 Place popsicle sticks in the middle of each mold.
Freeze for 8 hours.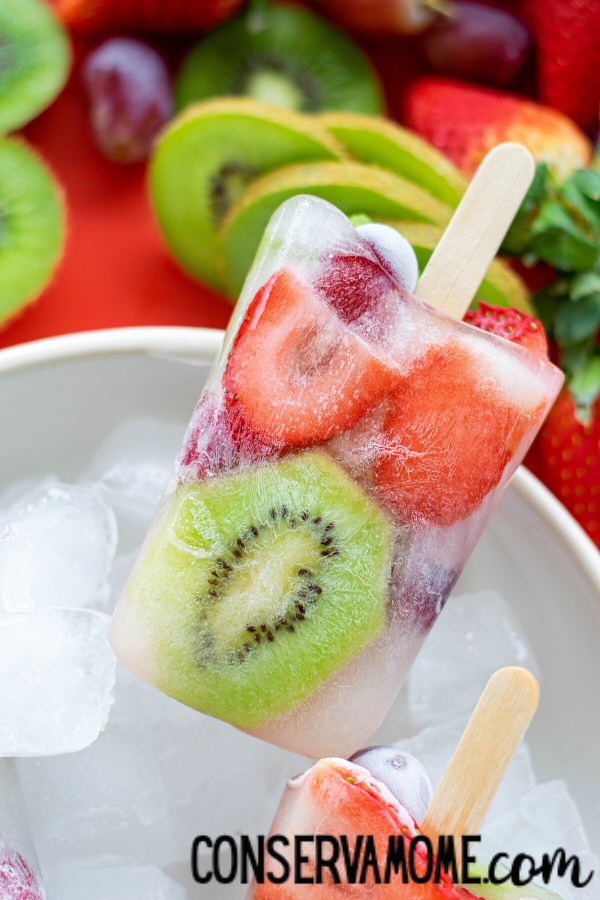 As you can tell, this fruit popsicle recipe is really quite simple to make! The hardest part is waiting for them to freeze so that you can enjoy it!
What other fruit can you add to these simple fruit popsicles?
That's totally up to you. As long as you're adding fruit that won't freeze and get hard (choking hazard!), you can literally add in whatever fruit that you want. Some great additions could be watermelon, cantaloupe, pineapple, and pitted cherries sliced in half.
If you love fruit, experiment with what you want to add. You'll be able to make a wide variety of popsicles just by changing out the fruit.
Is there a way to get these popsicles to freeze faster?
I wish that there was some magic trick because 8 hours can seem like an eternity when you're wanting to chow down on these popsicles. Unfortunately, there aren't any quick tricks for getting your popsicles to freeze any more quickly.
You could try to add frozen strawberries and kiwi to the tray and see if that helps at all, but I honestly have no idea if that would even be an effective method to try. (but if you do try it and it does work, make certain to come back and tell me so I can update the recipe and share our little potential hack with others!)
Make certain to check out our 15 Delicious & Refreshing Fruit Popsicle Recipes as well. Because when it comes to popsicles, you can never have too many to make!