Looking for a fun way to bring a little excitement to bathtime? Check out these super simple (and awesome!) DIY Galaxy Bath Bombs! These will bring out of this world fun to your bath time. Best of they are a fantastic gift idea.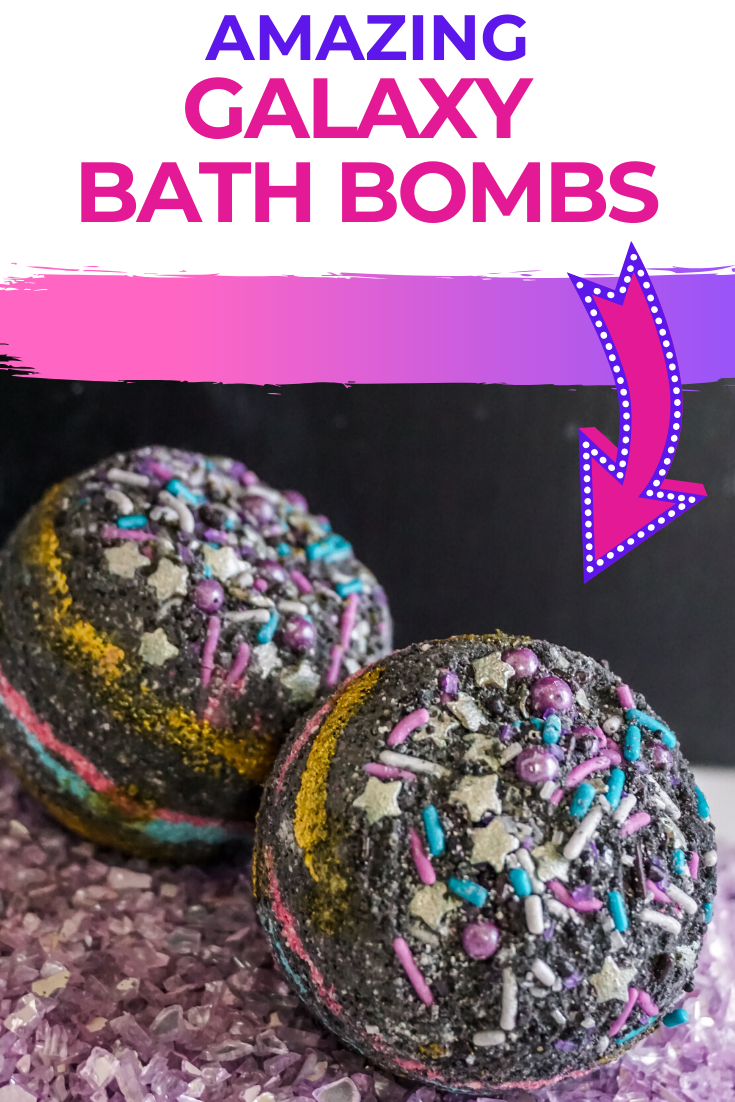 This post contains affiliate links. That means that if you make a purchase after clicking on a link I may earn a small commission at no extra cost to you.
Galaxy Bath Bombs
There's no denying that these simple DIY bath bombs are so much fun to look at. And just wait until they've dropped in the tub!
I love the dark colors of the bath bombs and the added sparkles and glitter really do take them over the top. When I tell the kids that they're going to have a bathtime experience that is "out of this world" fun, they are so excited to get to use these super cute Galaxy Bath Bombs. (and I might have snuck one back for me to use later, too!)
If you're looking for a simple beauty recipe that you can easily make at home, you're going to love the outcome of these! Just grab your list of supplies below to get started!
Supplies needed for Galaxy Bath Bombs
1 cup baking soda

1/2 cup citric acid

1/2 cup cornstarch

1/4 cup Epsom salts

2 tbsp melted coconut oil

1/2 tsp essential oil blend desired (or coconut and lemon extract, since that's what I wanted)

2 tsp witch hazel

1 tsp pink mica powder
1 tsp blue mica powder
1/2 cup charcoal

1/2 tsp alcohol
Tools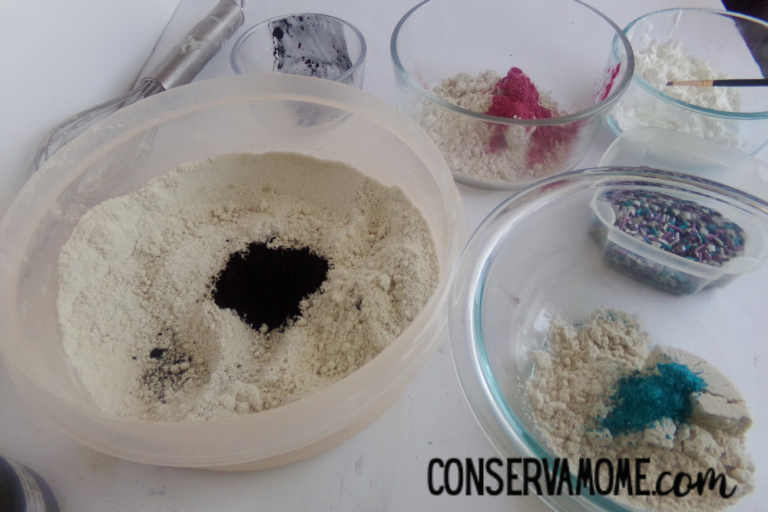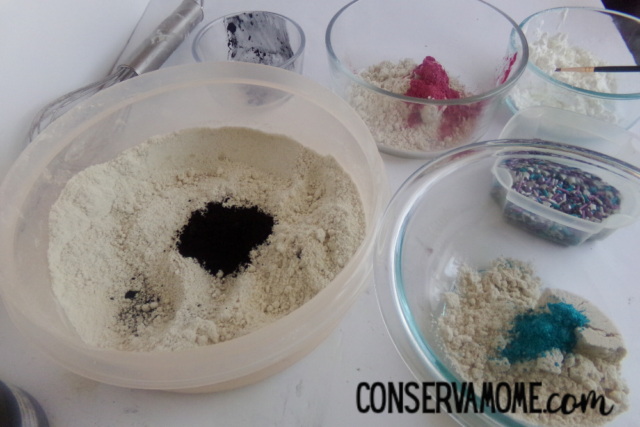 How to make DIY Galaxy Bath Bombs
Whisk together the baking soda, citric acid, cornstarch, and Epsom salts.
In a second bowl, combine the melted coconut oil, essential oil blend, and witch hazel together, mixing well.
Add liquid ingredients 1 tsp at a time to the dry ingredients, mixing it together slowly so as not to start the fizzy reaction.
Split out 1/2 cup of the mixture into two small bowls.
In the remaining larger portion of the bath bomb mixture, add in the charcoal and mix well.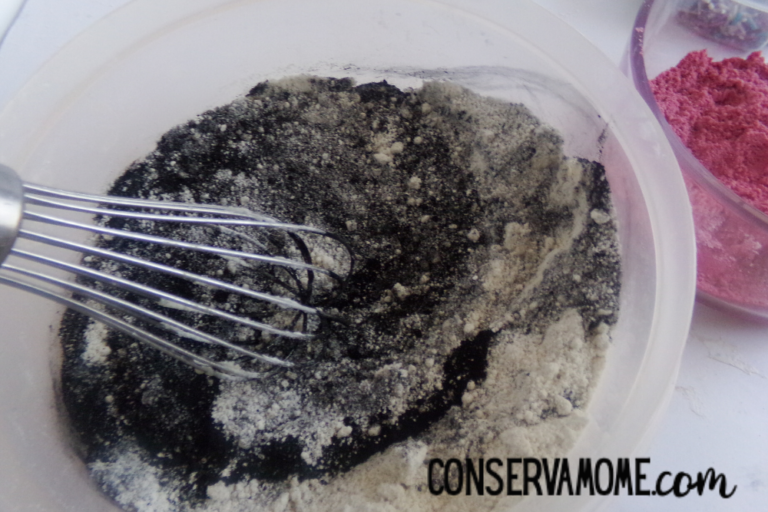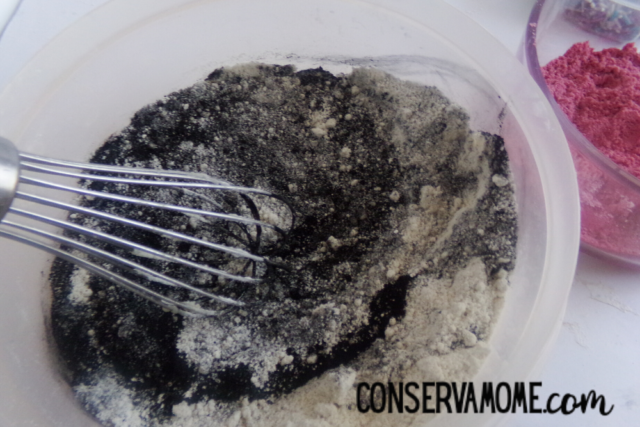 In one of these smaller bowls, add the blue mica powder and stir until the color is consistent throughout, then repeat with the pink mica powder in the second small bowl.
Dust the bottom of one side of the bath bomb mold with cornstarch. The sprinkle side tends to come out on its own, so do not bother to dust that side with cornstarch.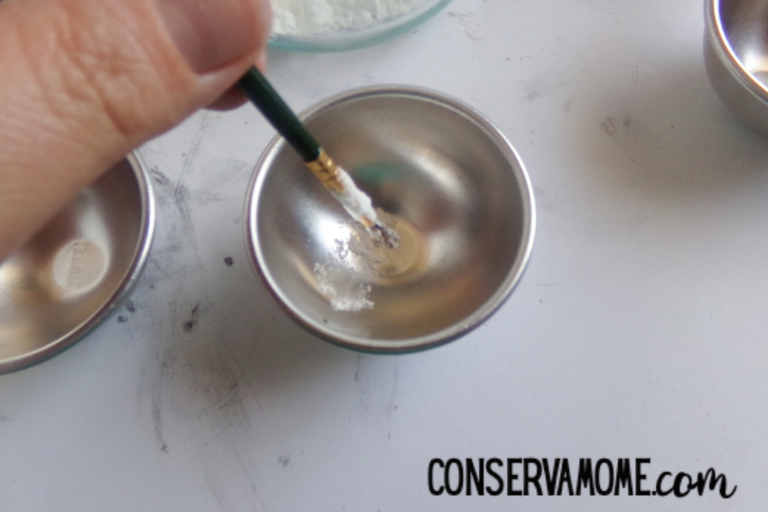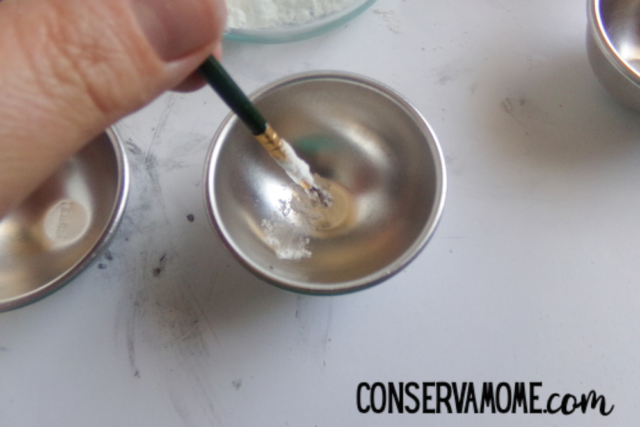 Place about 1 tsp of sprinkles in the non-dusted side of the bath bomb mold.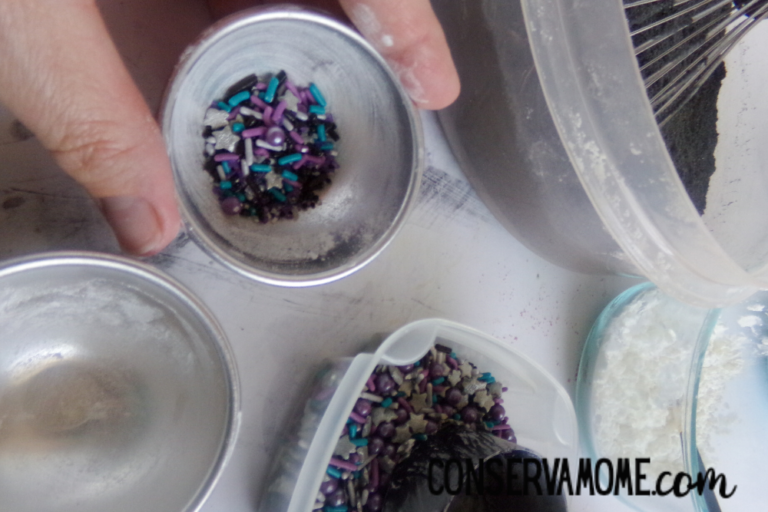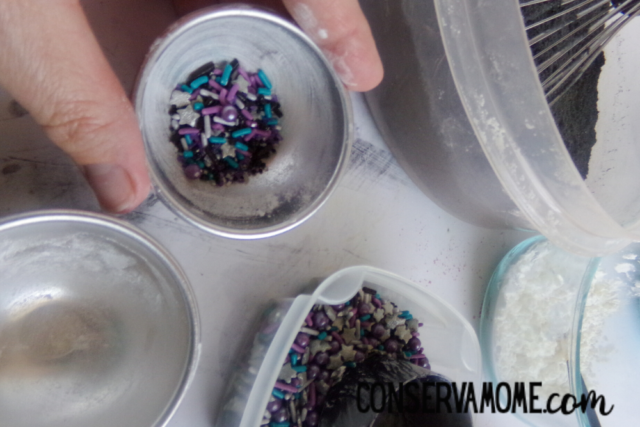 Immediately pack the bath bomb mold with the sprinkles full of the white mixture about 2/3 full, followed by a tsp portion of blue mixture spread across the base, then another tsp of white bath bomb mixture to top off the mold.
In the other cornstarch-dusted side of the bath bomb mold, pack it with the black bath bomb mixture about 2/3 full, followed by a tsp portion of pink mixture spread across the base, then another tsp of white bath bomb mixture to top off the mold.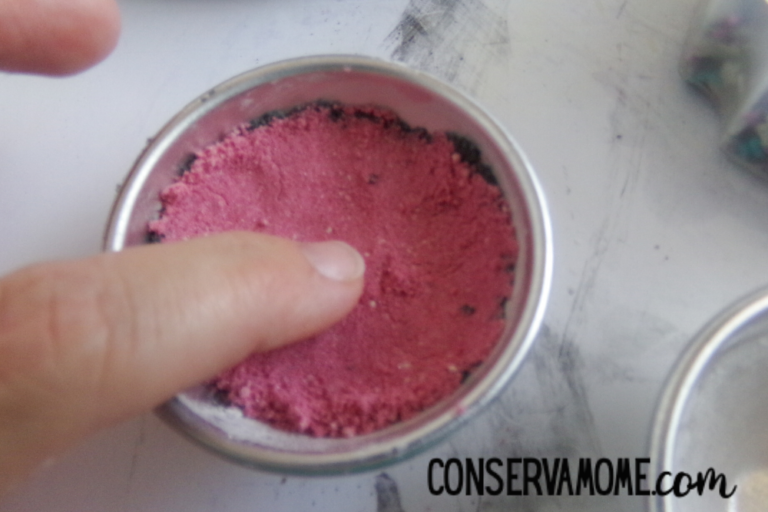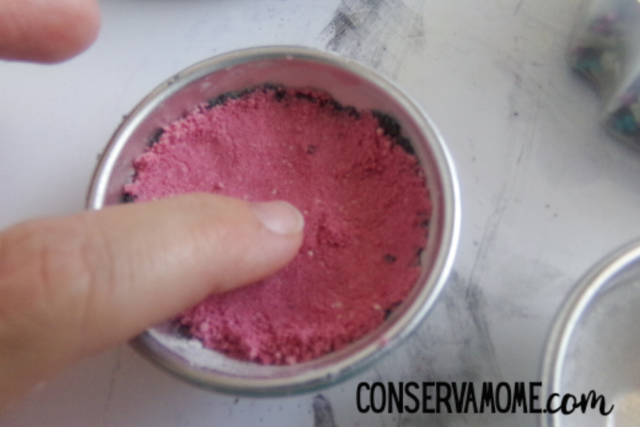 Pack extra black bath bomb mold between the two molds, then press the two sides together, grinding and pressing them to force the two together.
Allow the bath bombs to rest in the mold for up to 24 hours before gently tapping the side of the mold to release the bombs.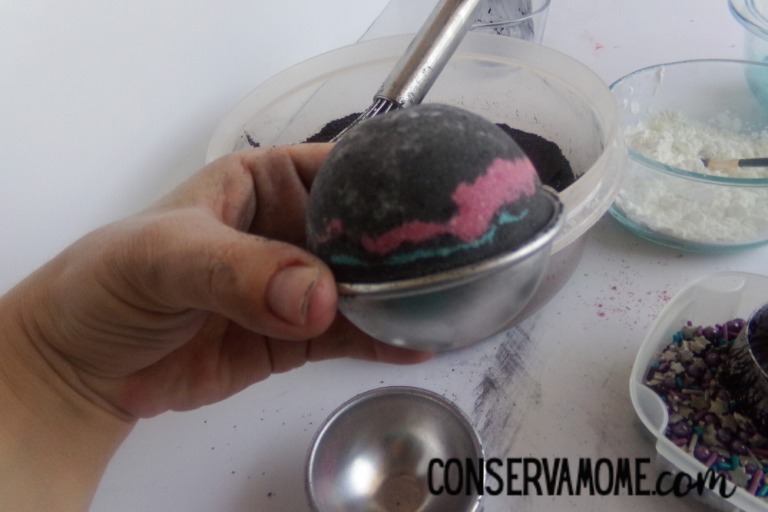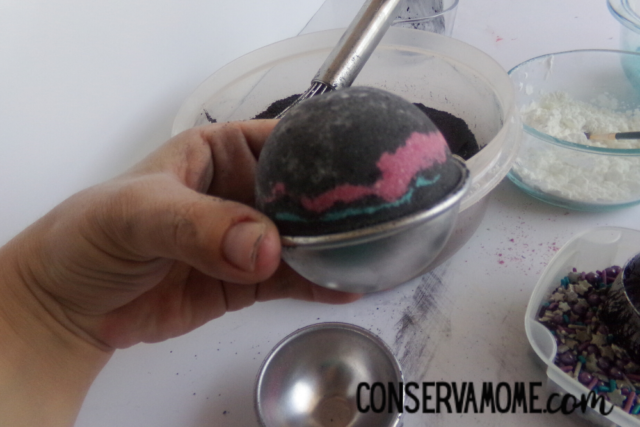 To add the gold stripe in the center of the bath bombs, combine the edible gold glitter and alcohol together, then apply a stripe of this glitter to the centerline of each bath bomb with a paintbrush.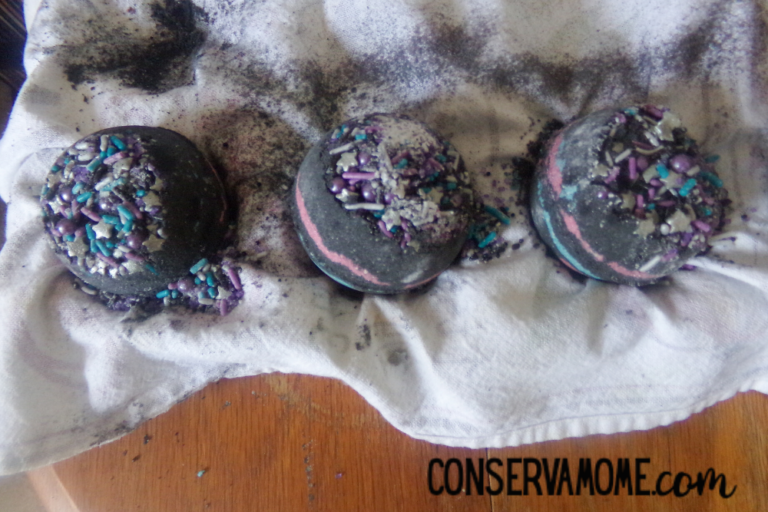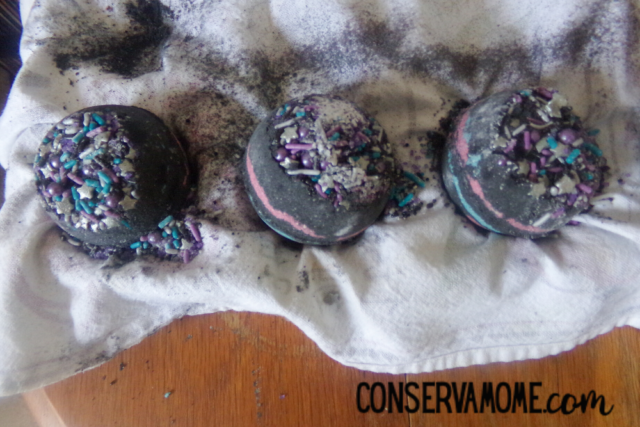 A fun Bath bomb recipe
Use your bath bombs immediately or store them in an airtight container until you're ready to use it! These are so cool they can be a fun gift idea as well!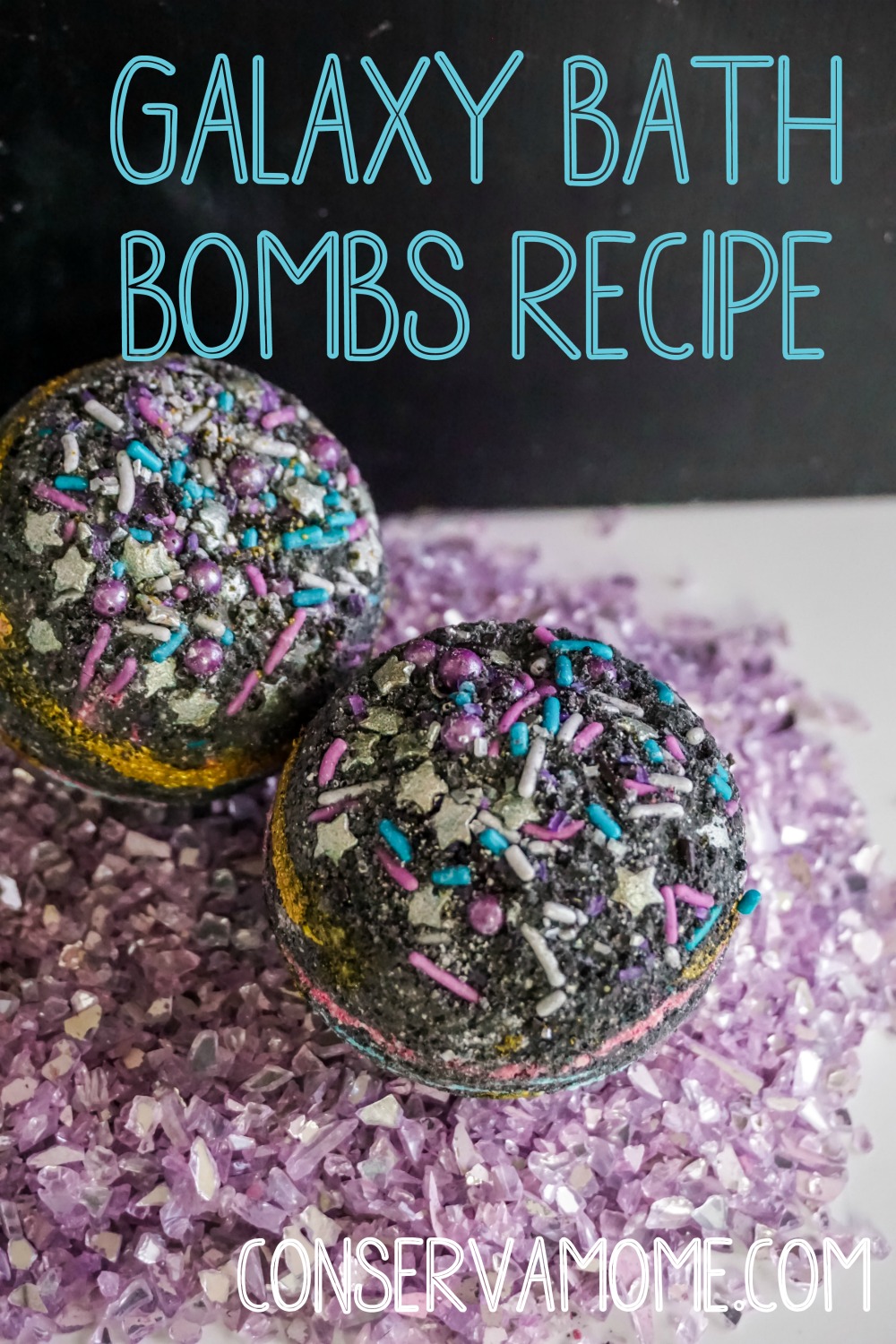 Make certain to check out these Lavender Scented Heart Bath Bombs as well. They're such a nice smell and a great way to relax! Or my Anxiety reducing bath bomb that is wildly popular!