Do you know a Bluey fan in your life? Then check out this fun and easy Bluey Toilet paper roll craft. All you have to do is print, color, cut, and glue!

*This post contains affiliate links. That means that if you make a purchase after clicking on a link I may earn a small commission at no extra cost to you
Bluey Toilet Paper Roll Craft
We are huge fans of Bluey in our home. Like REALLY BIG FANS. My kids love watching this show. To be honest with you I kind of love watching it too. The characters in this show are some of my favorite. Bluey really is a show that isn't just for kids but for parents as well. There's always a wonderful lesson to be learned from each episode. For those of you not familiar with Bluey, it is an Australian preschool animated television that has captivated the hearts of so many kids and adults around the world. That's why I came up with this fun and easy-to-make Bluey toilet paper roll craft!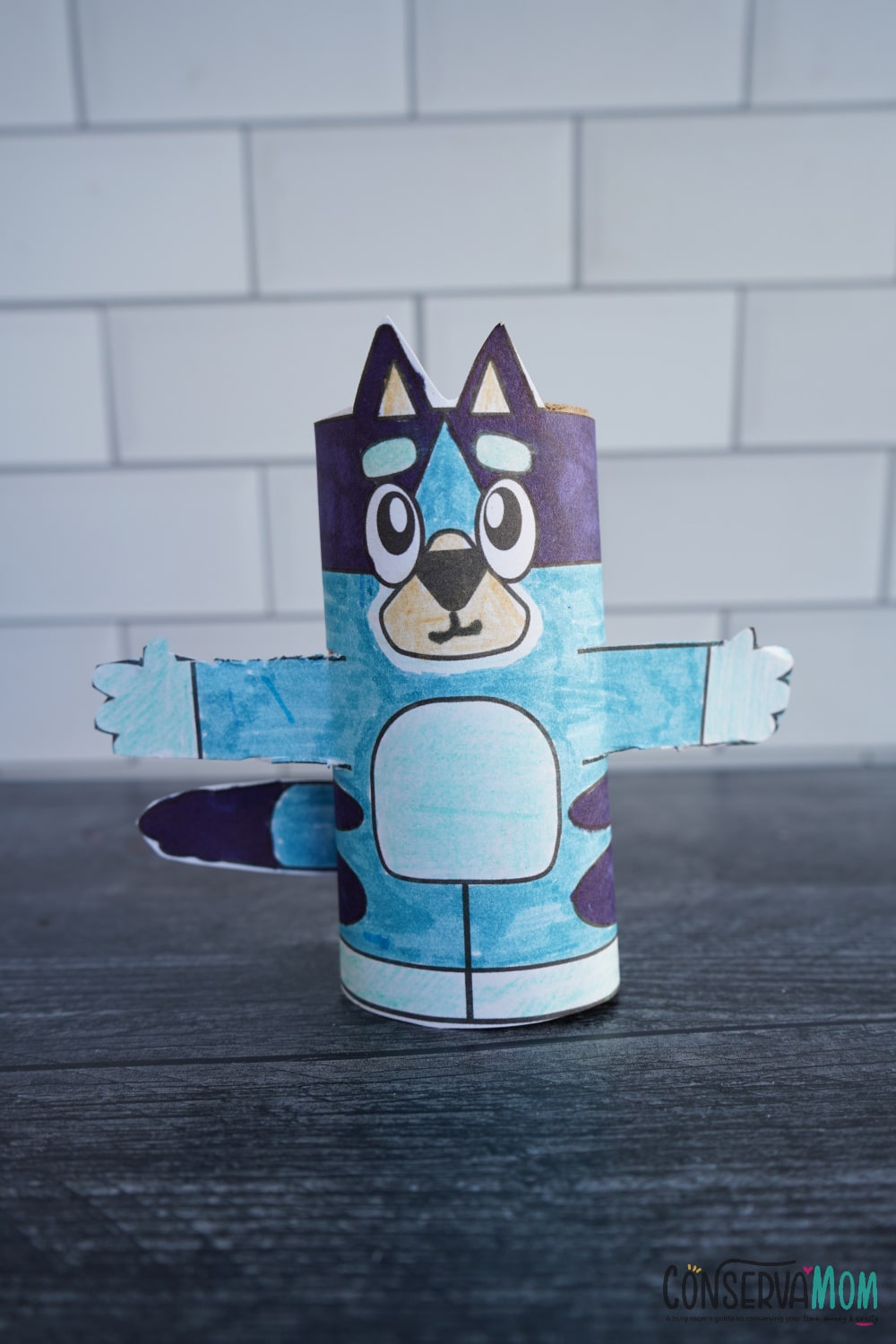 This is one show my kids LOVE to watch. They will watch the episodes over and over. Don't be shocked to see me watching them alongside them. Following along the adventures of little Bluey Heeler (A blue heeler pup, who's 6 years old), her sister Bingo Heeler, and a four-year-old (later five-year-old) a Red Heeler puppy. Her parents are Bandit Heeler, the Blue Heeler father of Bluey and Bingo who is an archaeologist, and Chilli Heeler / Mum the Red Heeler mother of Bluey and Bingo who works part-time in airport security.
The adventures are always fantastic and as a parent, you feel many to your core. Don't be surprised to even shed some tears in some episodes, I've done so in a few (Hello "Onesie" episodes! )
There are so many fun products out there for Bluey fans including the ones below you can grab on Amazon:
There are also some other fun Blue crafts like this DIY Bluey and Bingo cake.
What you'll need to make a Bluey Toilet paper roll craft
Scissors
Glue
How to make a Bluey Toilet paper roll craft
This craft is crazy easy to make because let's face it if you're a Bluey fan chances are your time is limited to what you can make because you have little kids. All you have to do is print the Bluey Toilet paper roll template
I suggest you use white cardstock.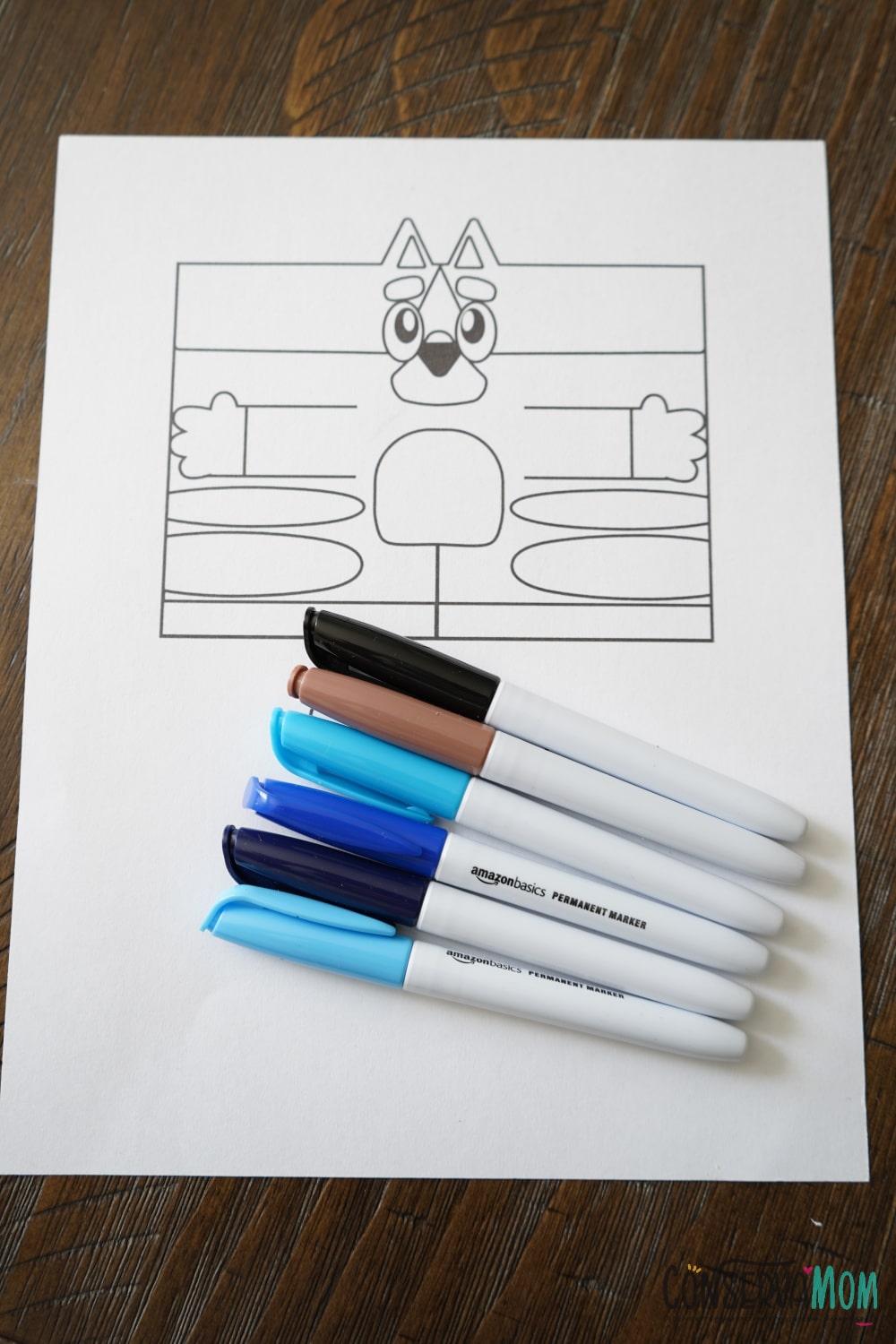 Then color. I used a mixture of markers and colored pencils to get the Bluey colors right. It was hard because she's got some particular blues in there that aren't easy to find. Especially to discriminating eyes like my 7-year-olds. 😀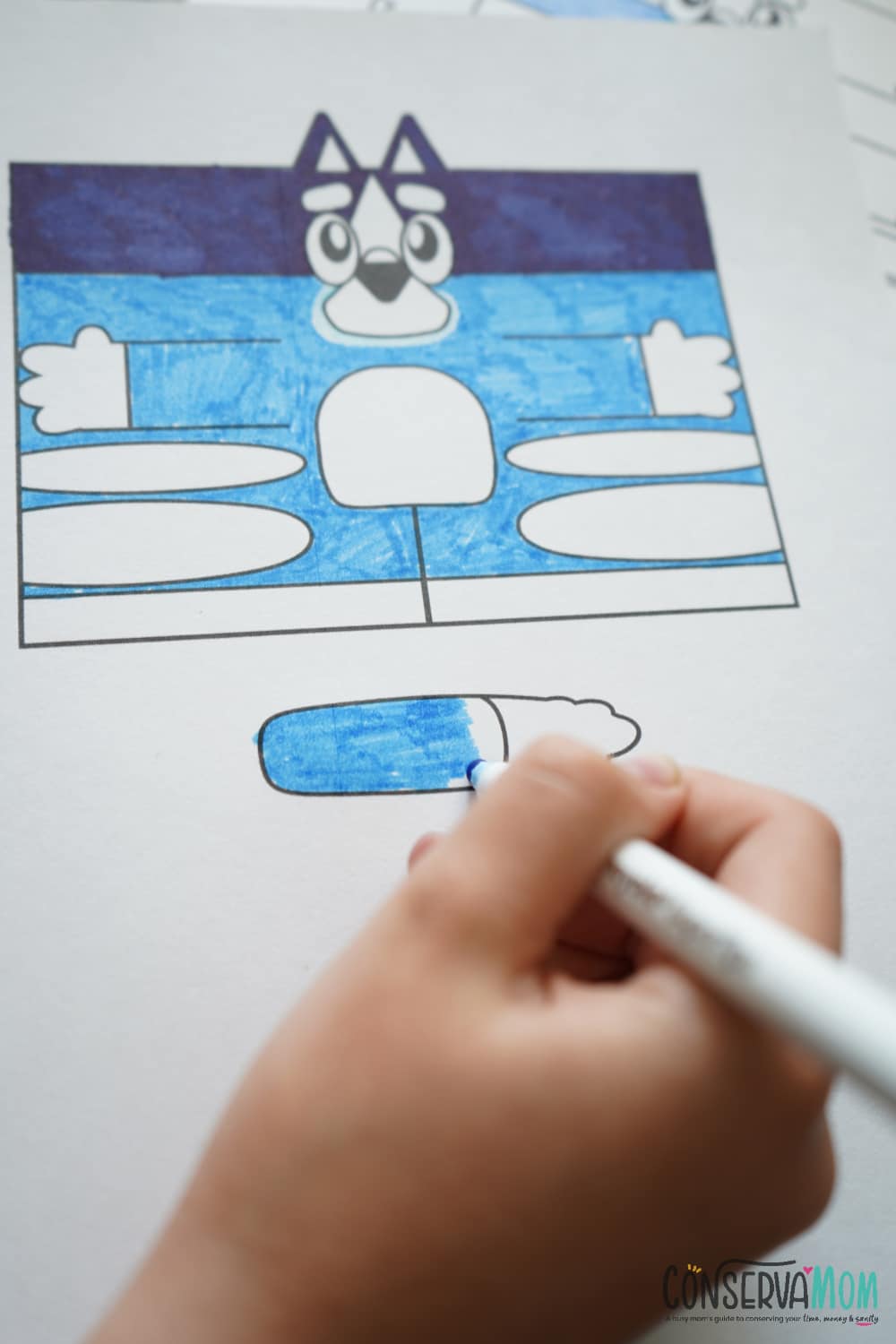 Then cut Bluey and the tail out.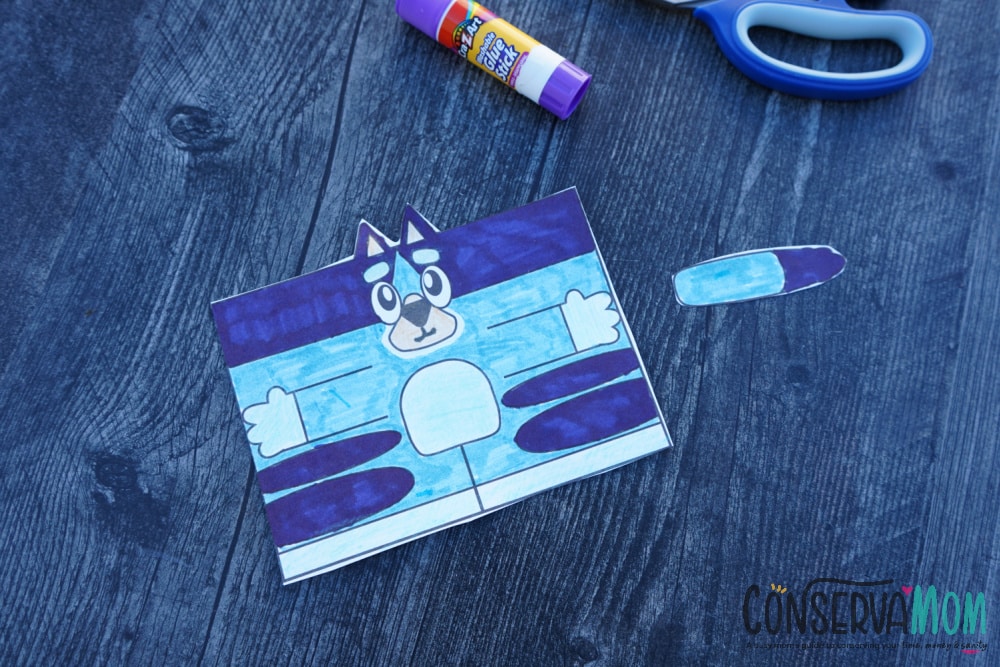 Then carefully cut the hands out so they stick out. This is a bit tricky especially on the right side because you still need to keep the one side attached as shown below.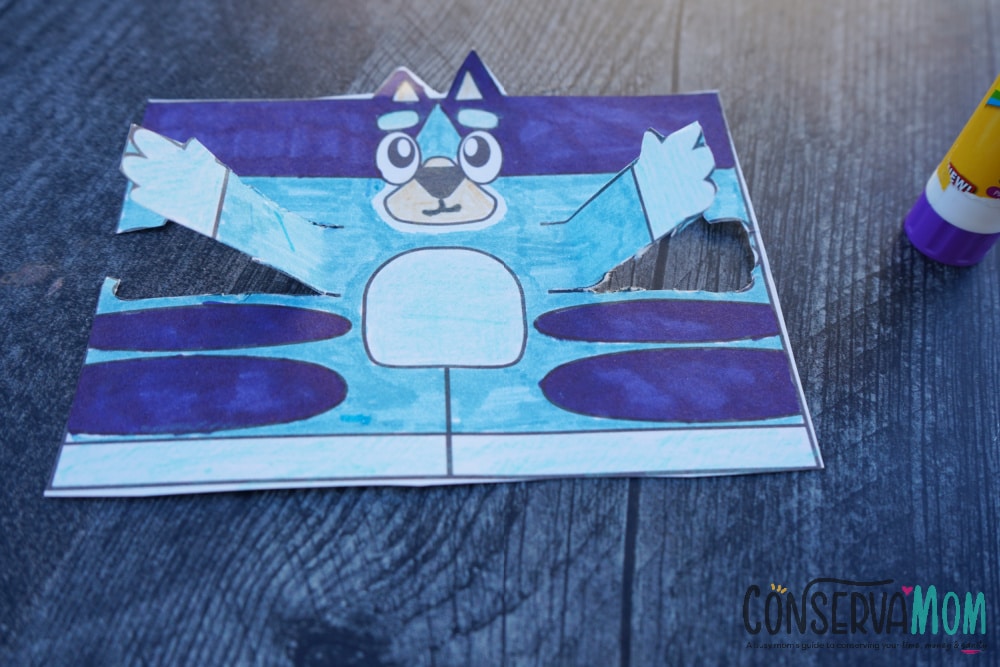 Finally, glue to toilet paper roll tube.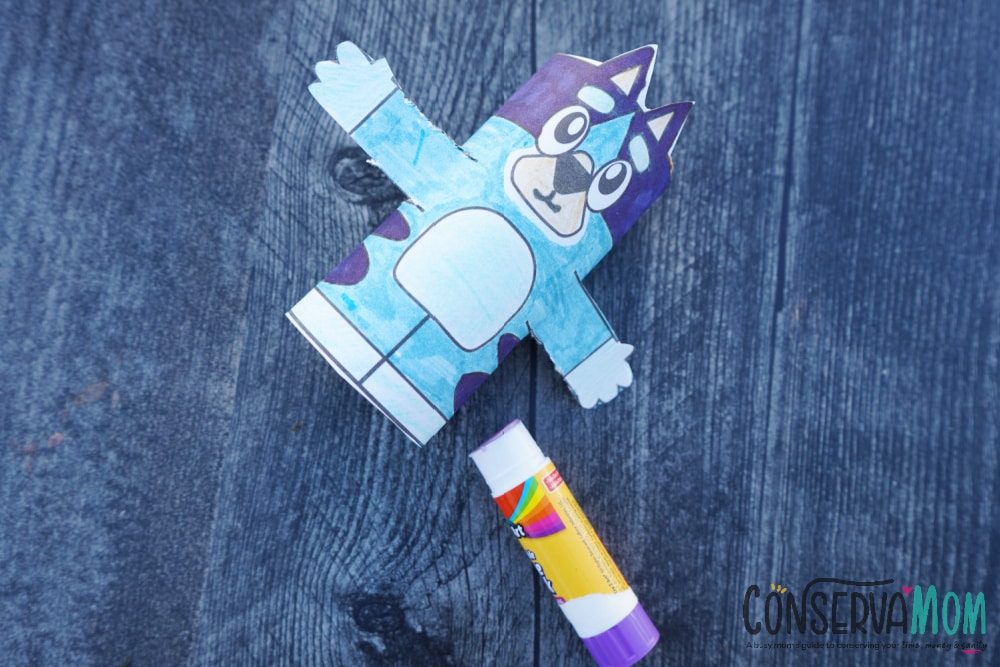 Glue tail to the back and you're all done!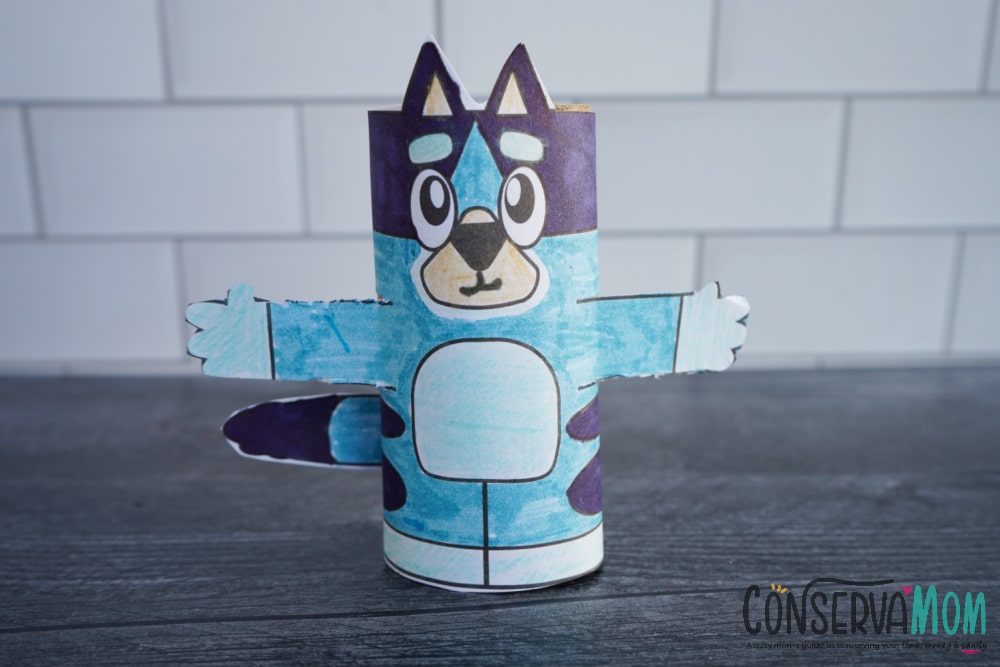 Isn't this the cutest craft? Best of all it's crazy easy to make! Do you love toilet paper roll crafts? Then check out some of these cool ones like my mermaid toilet paper roll craft, Dinosaur toilet paper roll craft, or this fun unicorn toilet paper roll craft!