Do you love Samoas Girl scout cookies? Here's a fun recipe to make using those delicious popular girl scout cookies, Samoas Truffles!

Samoas Truffles- A fun treat using Samoas Girl Scout Cookies
Girls Scout Cookie season is here which means you'll be getting these delicious cookies brought straight to your door! They usually go pretty quickly in our house but if you were to have a box left over, do I have a a recipe for you. You can also grab their copy cat version at Aldi's Supermarket that's just as delicious! So check out below how to make these delicious Samoas Truffles!
What you'll Need:
Yields: 1 dozen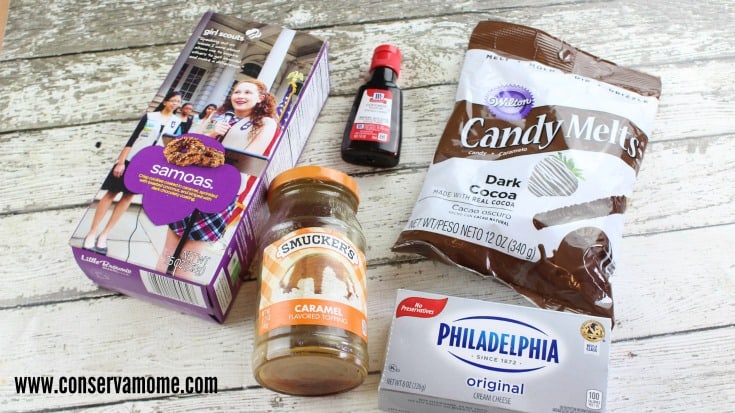 1 box Samoas Girl Scout cookies
4 oz. (1/2 brick) cream cheese – softened
1/4 cup caramel sauce (I used Smuckers ice cream topping)
12 oz Wilton dark cocoa candy melts
Optional – 1/4 teaspoon coconut extract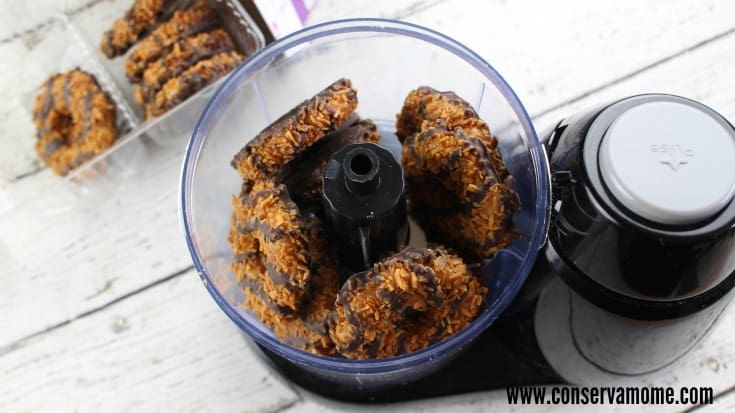 DIRECTIONS
1. Line a large cookie sheet with wax or parchment paper and set aside.
2. Place the cookies in a food processor and pulse into fine crumbs. Reserve 1/4 cup of the crumbs for later use and pour the remaining crumbs in a medium mixing bowl.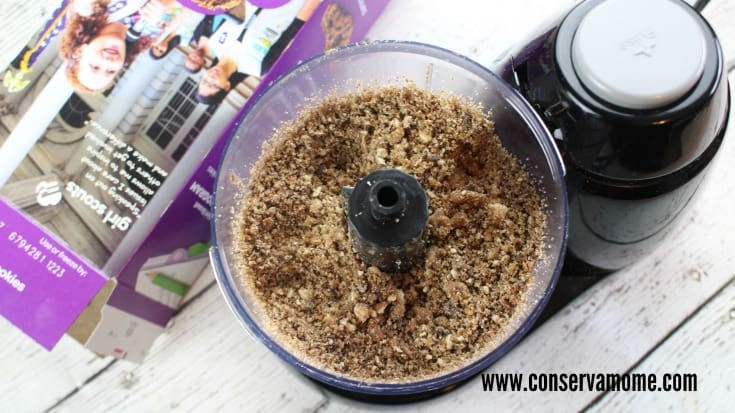 3. Add the softened cream cheese and coconut extract. Mix until all of the ingredients are well incorporated. (You may find it easier to just use your hands).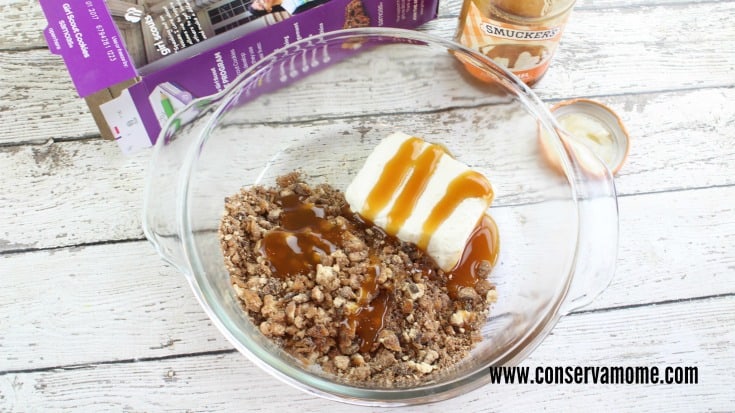 4. Cover and chill for 20 minutes for easier handling.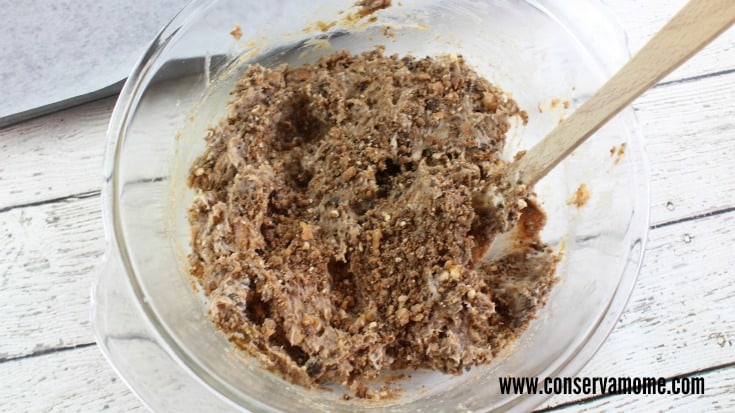 5. Roll the chilled truffle mixture into 1 inch balls and place on the lined cookie sheet.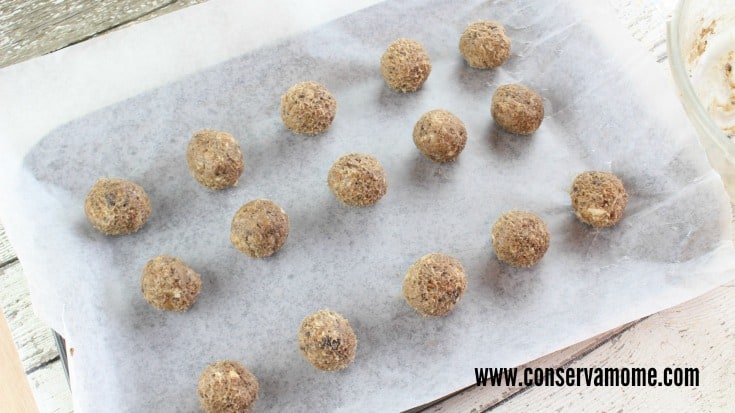 6. Freeze for 10 minutes.
7. Melt the dark cocoa candy melts in a double boiler or Wilton melting pot. For the double boiler, warm the candy melts under medium heat, stirring occasionally until melted and smooth.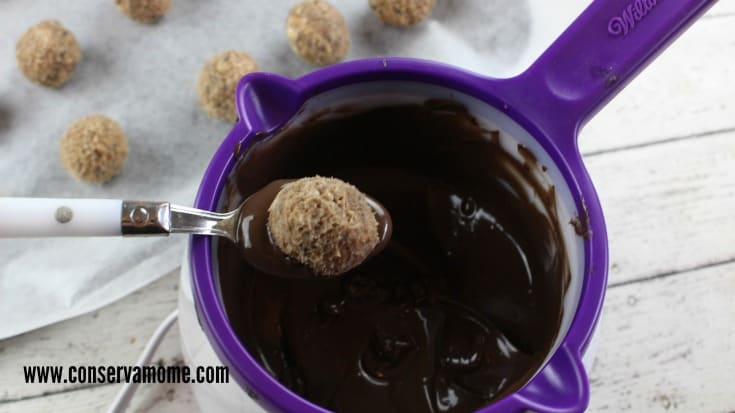 8. Dip each truffle ball into the melted chocolate (I used a toothpick and a spoon) and place back on the lined cookie sheet.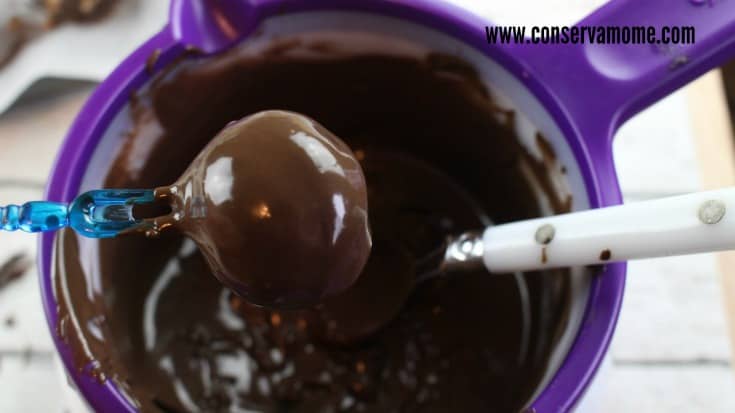 9. Immediately sprinkle the truffle ball with a teaspoon of reserved cookie crumbs. The chocolate hardens fast because the truffles where in the freezer. I ended up dipping one truffle at a time and sprinkling it with cookie crumbs before moving onto the next truffle.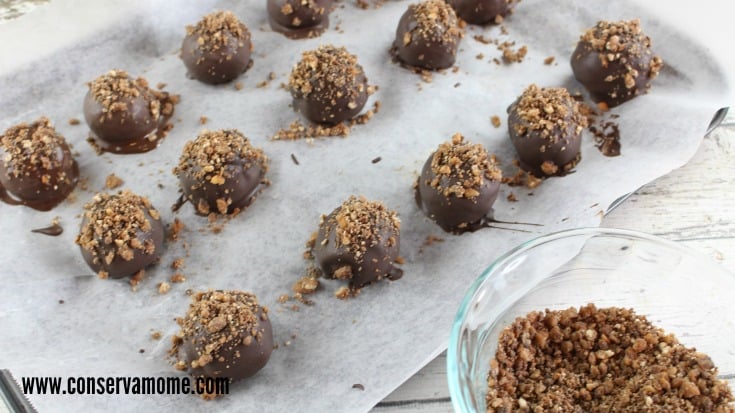 10. ENJOY!!
*Store in an airtight up to 1 week
Don't they look simply divine?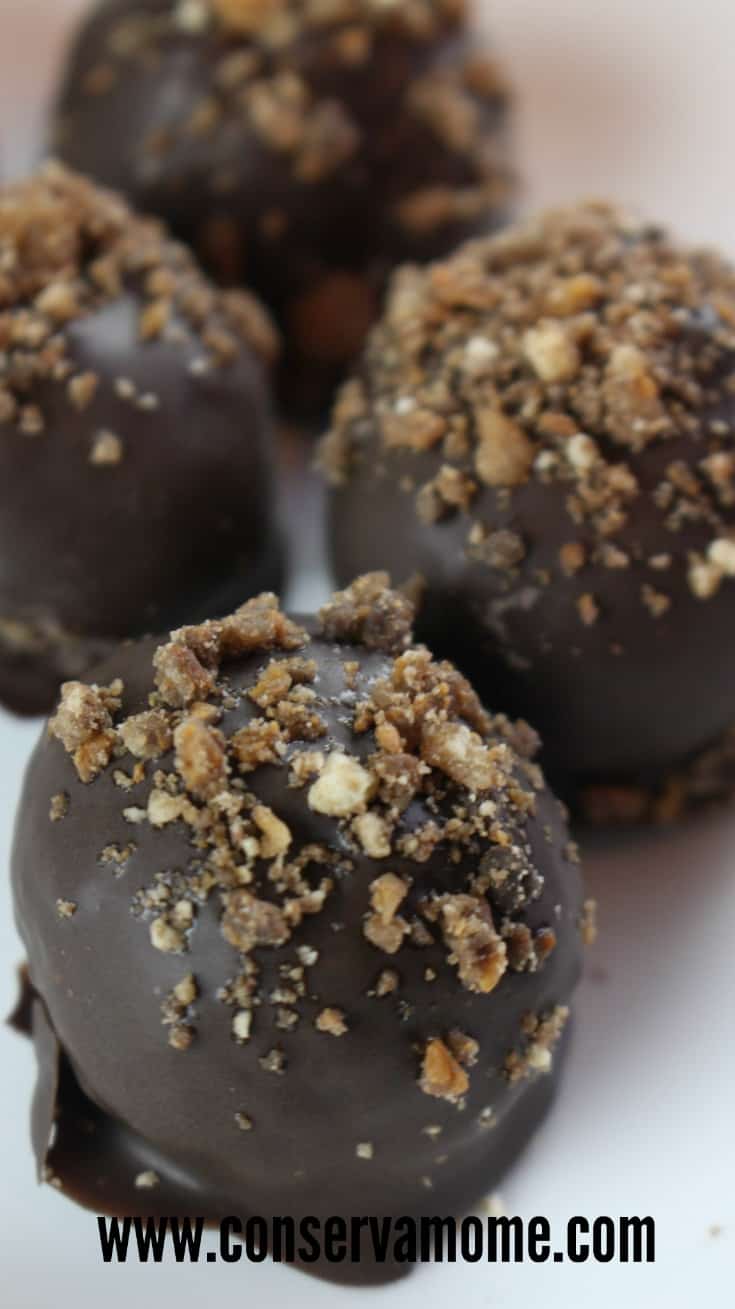 Look how yummy they are inside and out!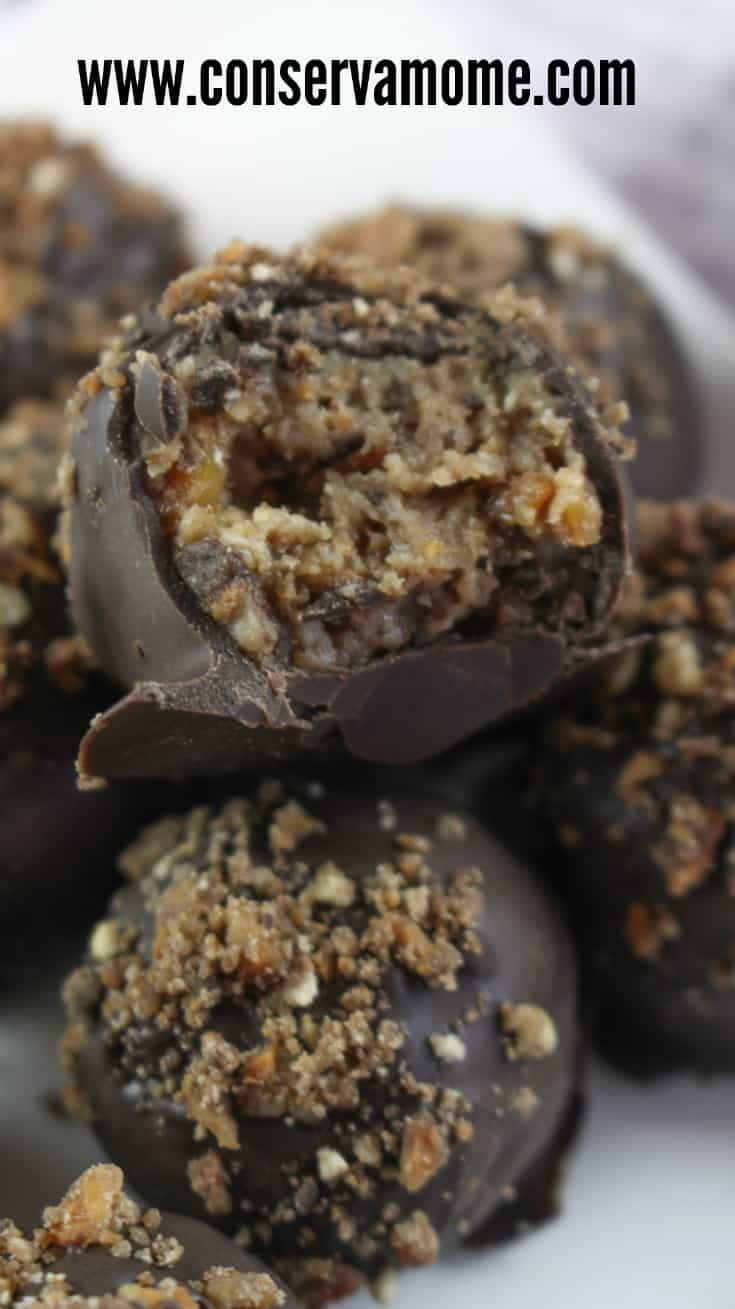 Yup….You'll probably have to make a double batch of these!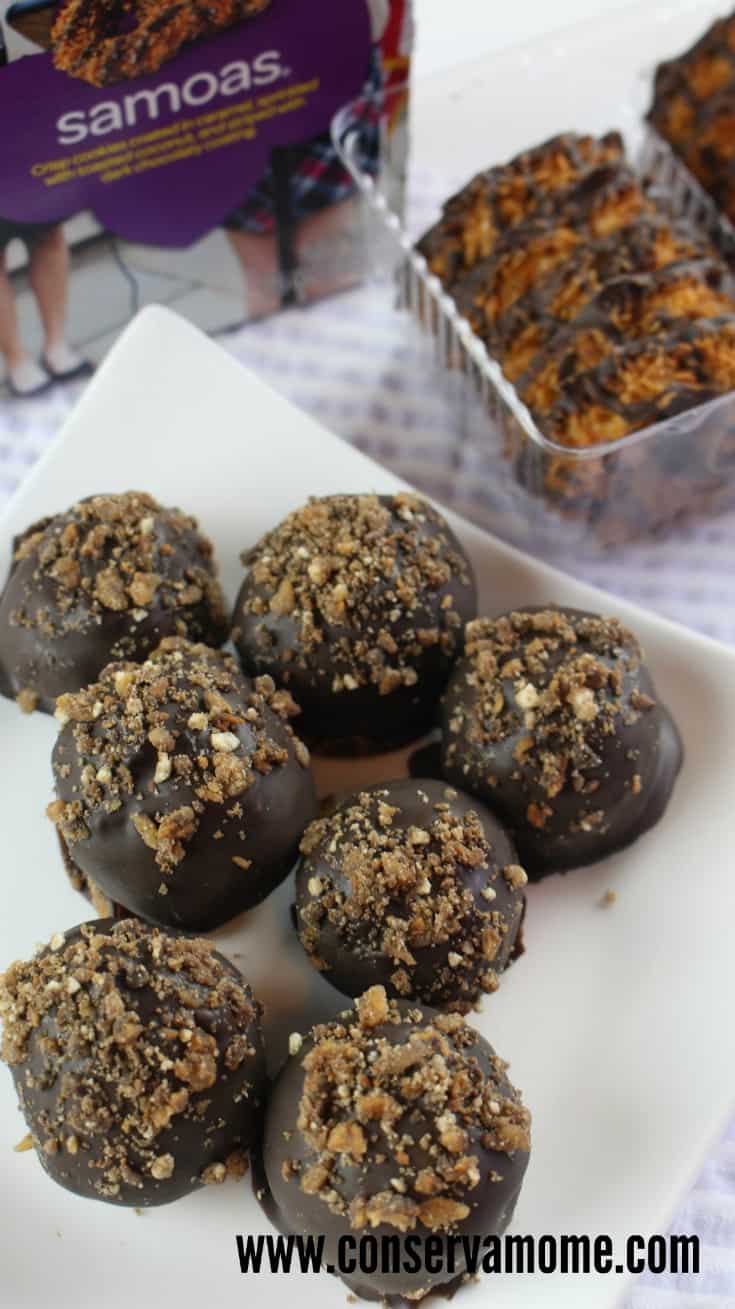 Make sure to share and repin this post.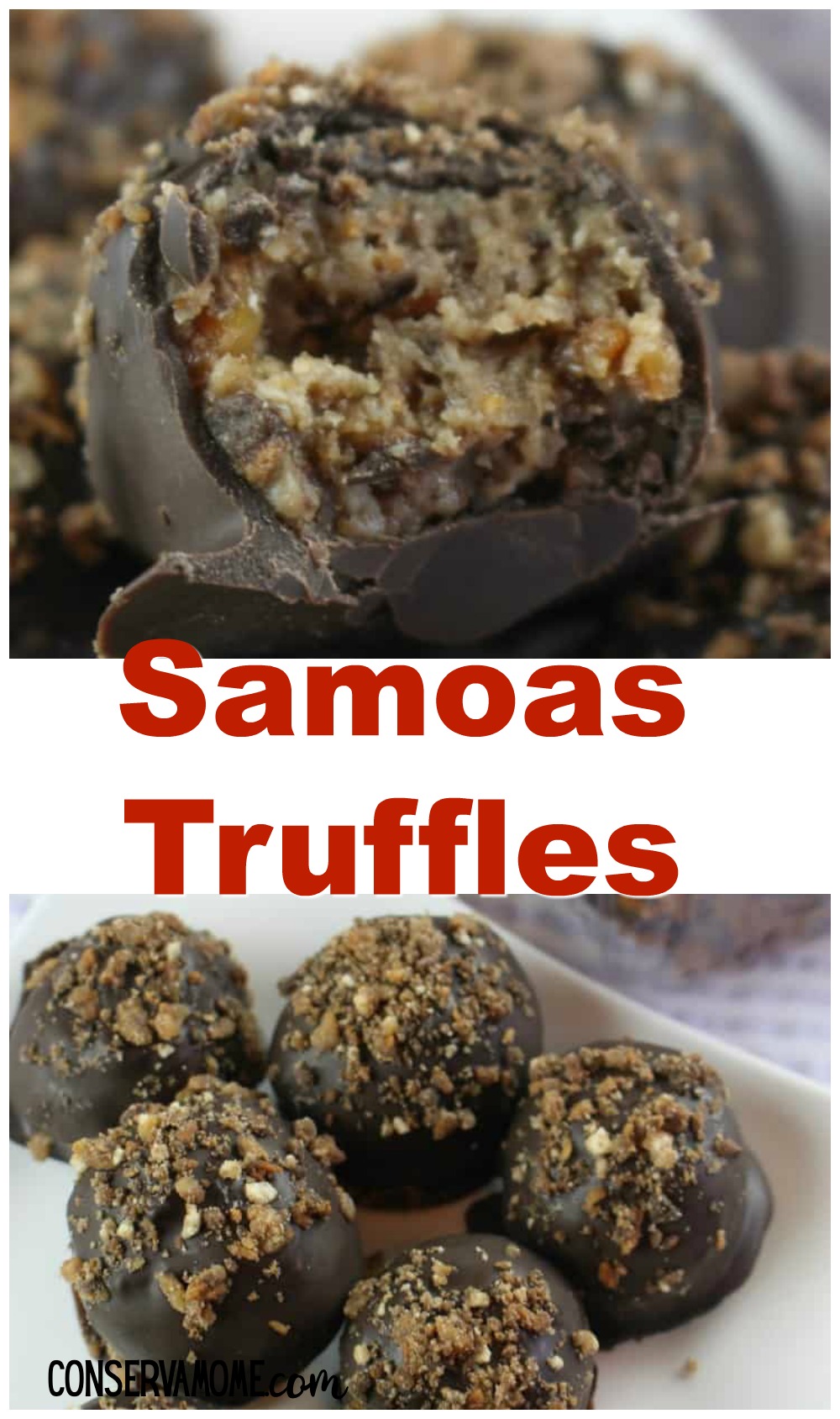 Looking for more delicious Girl Scout Cookie inspired treats? Check out these Thin Mints Brownies
Or how about this fun round up of 30 Samoas Treats to sweeten your day!