Hot chocolate bombs are all the rage! We love making them in our home. Find out How to make a Hot Chocolate Bomb with Marshmallows. These will be a delicious winter treat or gift idea perfect for winter time or anytime!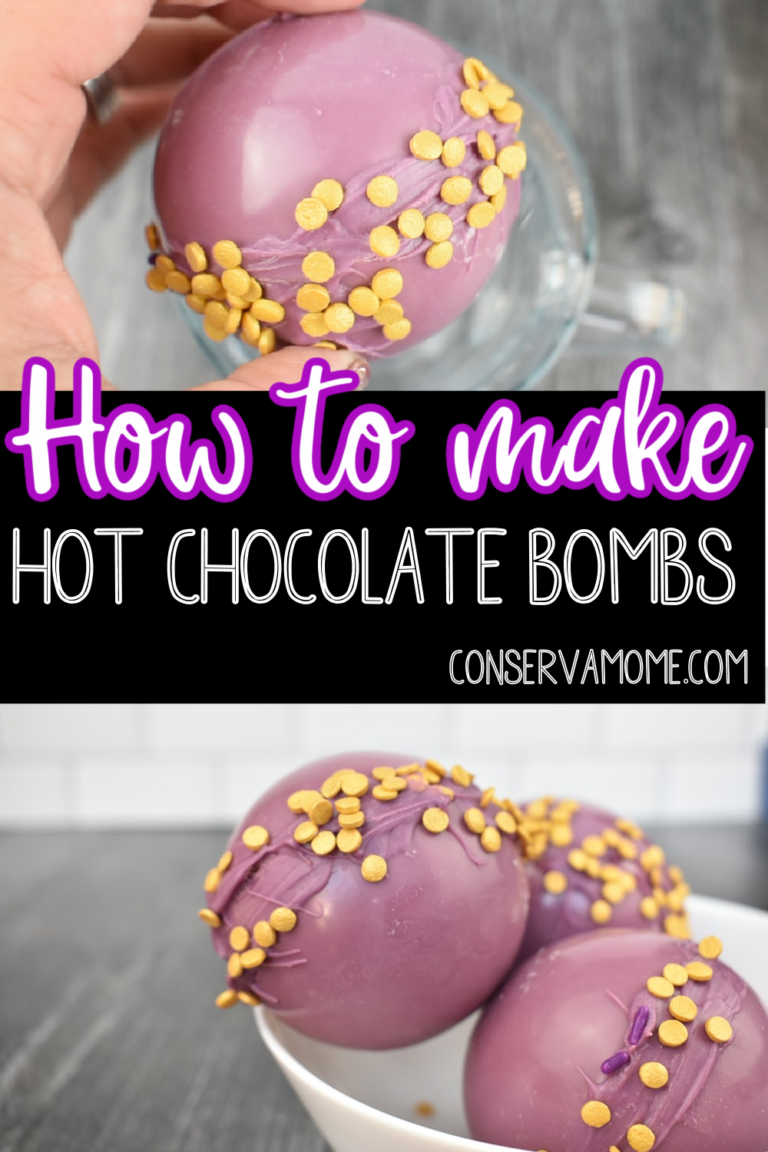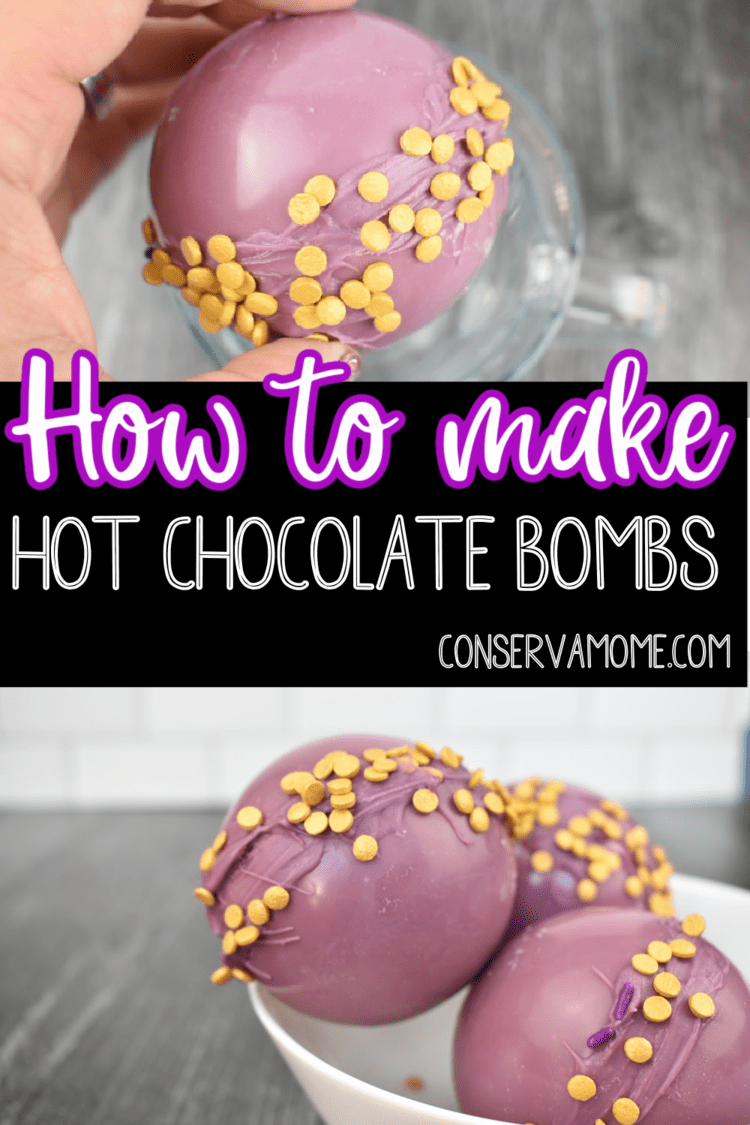 *This post contains affiliate links. That means that if you make a purchase after clicking on a link I may earn a small commission at no extra cost to you.
How to make a Hot Chocolate Bomb with Marshmallows
Hot chocolate is a giant favorite in our home. As you can see by some of the delicious recipes I've put on my page. Including my S'mores hot cocoa and Birthday Cake hot cocoa . My kids and I LOVE hot chocolate. When you factor in the fact that hot chocolate is actually good for you. Well why not add it to your life?
I think my love began when I was a little girl and it would get cold (like once a year) in Miami and we would head to my Uncle's restaurant and order Churros and hot chocolate. It was such a delicious treat that I still love as an adult.
Chances are you've seen those delicious and impressive hot chocolate bombs all over your feed. But how exactly do you make them? Well believe it or not they are super easy to make. I couldn't believe it! Best of all they're so amazing you'll fall in love with this warm drink that will hug your soul.
There are many ways to make these hot chocolate bombs. There are also a ton of different chocolates you can make. A few of my favorites are regular melting chocolate like Ghirardelli's or even regular chocolate chips. All you really need is a chocolate that will melt nicely and can be spread inside the silicone mold.
Below I'll give you the instructions to make the hot chocolate bomb you see in the picture but honestly you can add any variation, sprinkles and more! Like I said above you can even go up or down with the sweetness level
These beauties are so versatile and what I love is that you can make them your own with fun sprinkles and colors.
What you'll need to make Hot Chocolate Bombs
Small marshmallows
How to make hot chocolate bombs with marshmallows :
To begin melt the chocolate you'll be using. I use approximately half a bag of the lavender wilton melts. Some people prefer using baking or chocolate chips. However, if you want to do something unique the wafer work perfectly. It also melts perfectly for the bomb effect as well. The one thing you will keep in mind however is that they're VERY sweet. Like VERY. So if you want to go less sweet you might want to work with another chocolate type such as dark or milk chocolate.
To make the hot chocolate bomb outer shell you will need to get a mold similar to this.I tried using a smaller one and it works but they are harder to put together on the edges.
The hardest thing about making hot chocolate bombs is assembling but you can easily fix it thanks to the ease of working with chocolate.
To begin you will melt the chocolate enough where it will spread easily around the mold. Keep an eye on the chocolate when melting you don't want to go overboard and burn it. You will then use a spoon to spread the chocolate inside the mold. You will spread a layer inside each mold, make sure and get the edges because that's the part that will hold the two sides of the hot chocolate outer shell together. They are also the part that drips down most. Don't go too heavy because it will puddle at the bottom.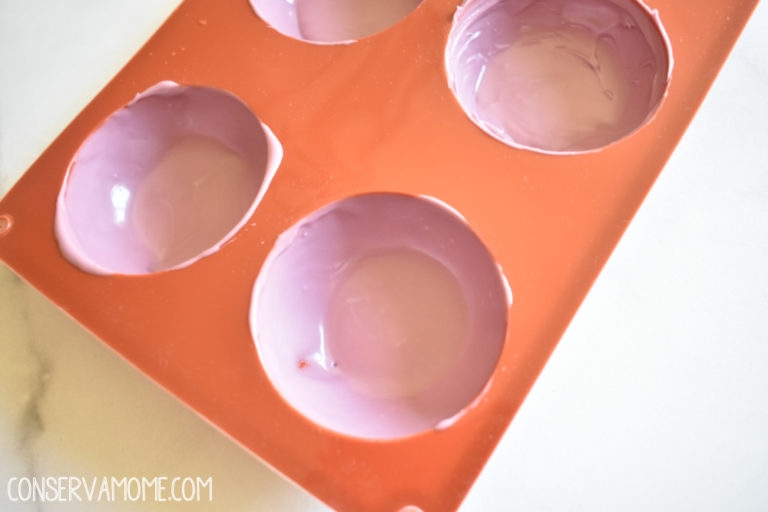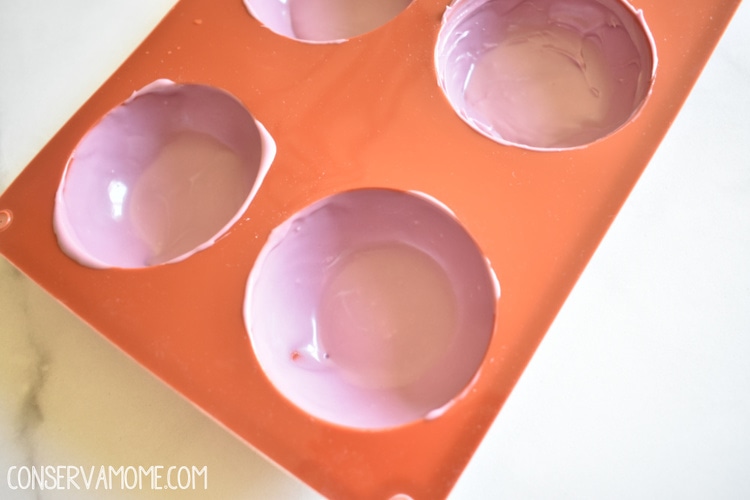 Place the mold in the refrigerator for 10-15 until it hardens. You will then repeat spreading the chocolate inside the mold again. Remember concentrate on the edges and any holes you see that need to be filled. This step is super important because if you don't do it you will have holes left. Leave in the refrigerator again for 10-15 more minutes.
Once they're ready pop them out of the mold. They will pop out easily just be careful once again with the edges.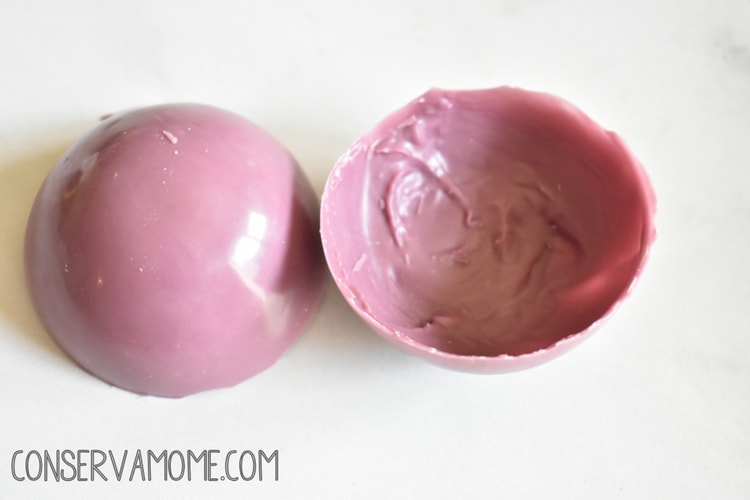 Melt a little bit of the chocolate and dip the edges into it to seal the two sides together.
You will then fill one side of the spheres with hot cocoa mix and marshmallows. You will fill it with hot chocolate about half way up the side of one of the spheres then add marshmallows. I love adding a lot!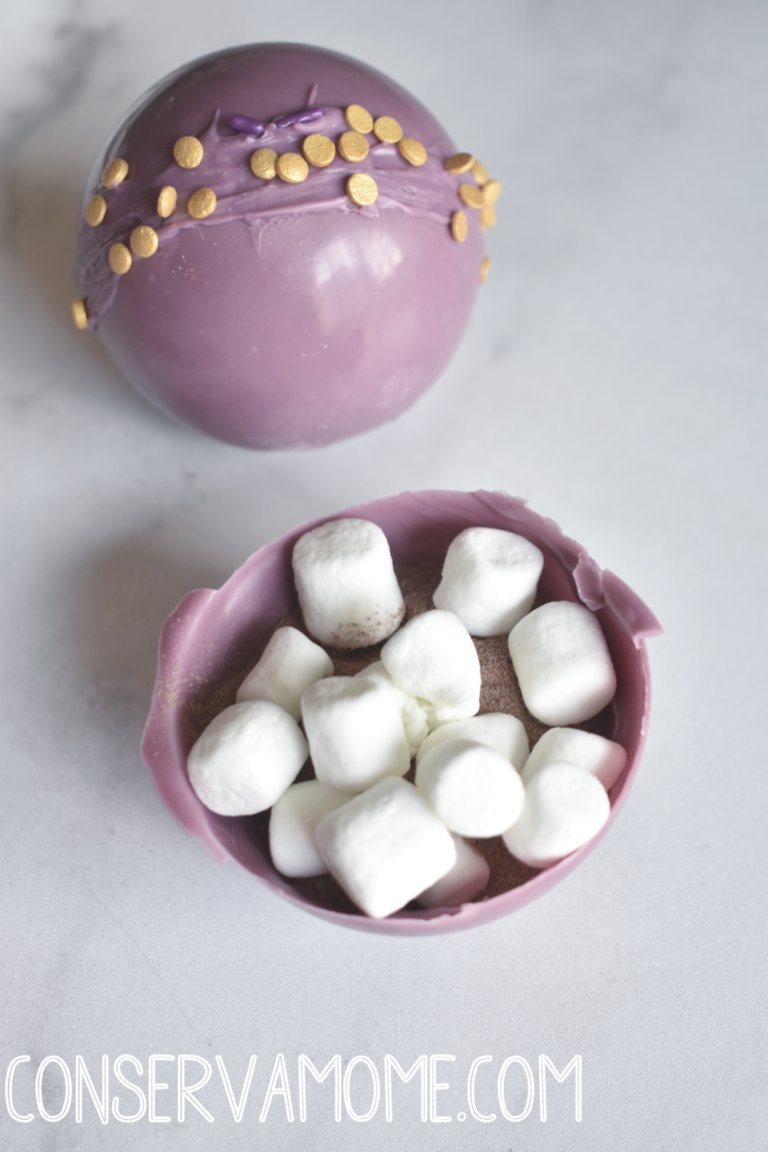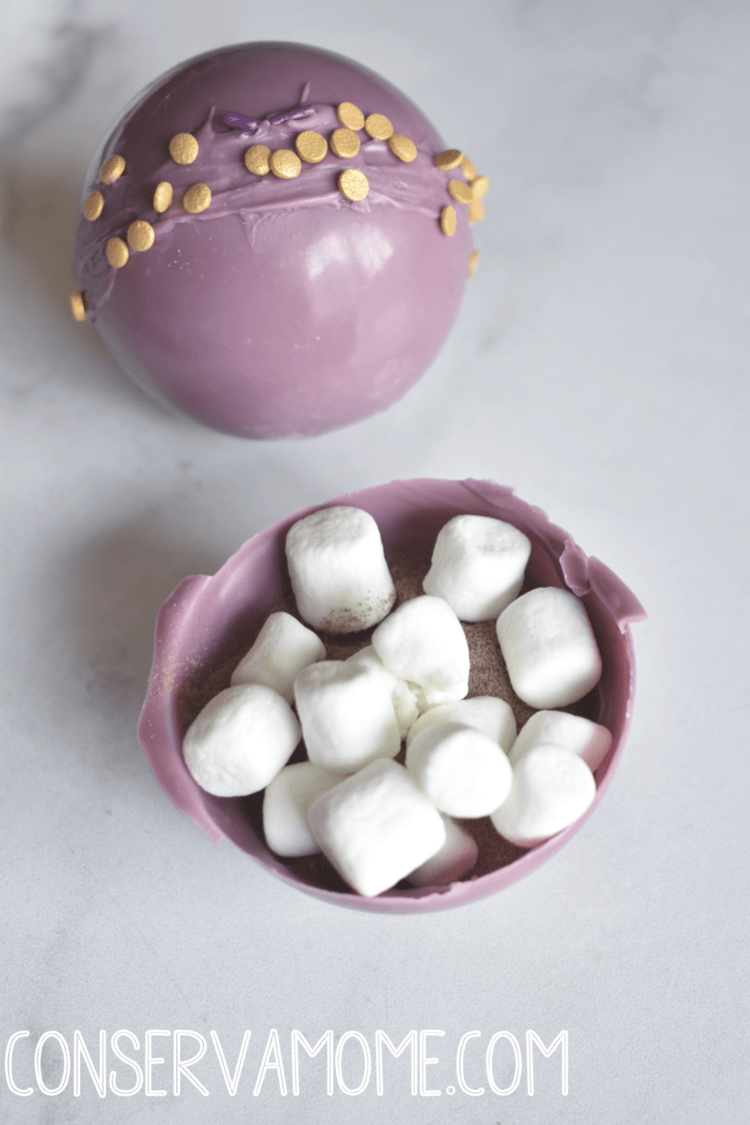 Dip the other shell that's empty into melted chocolate on a plate. It will act as the glue to seal the two sides together.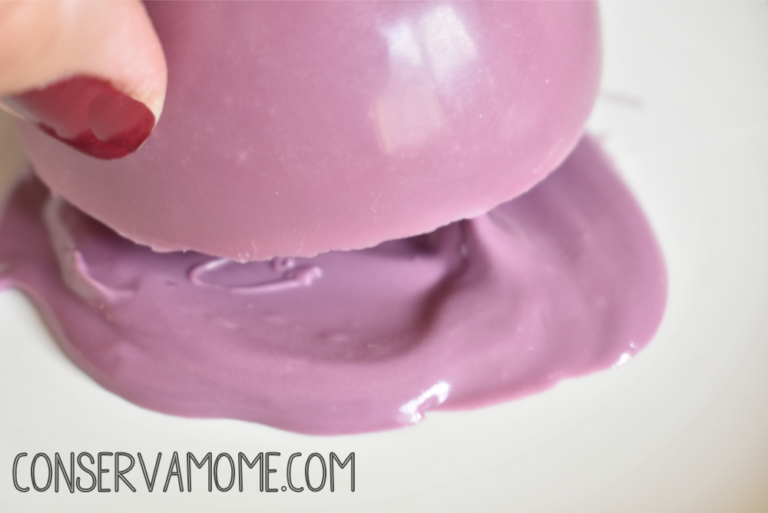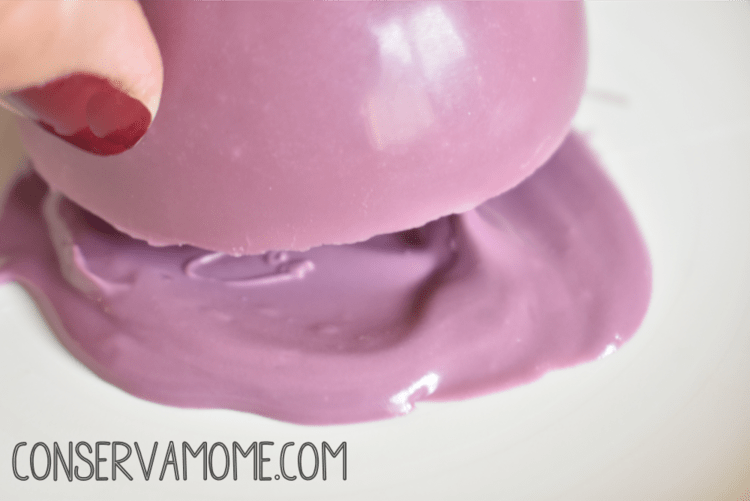 I then placed some of the melted chocolate around the middle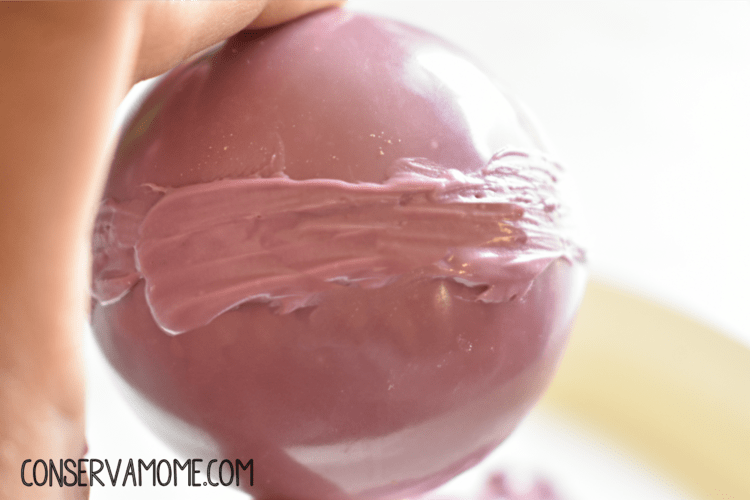 and added these fun gold candy sequins
Aren't they gorgeous? You can put them in a cellophane wrapper and give them as Christmas gifts. You can even add a nice gift tag to it.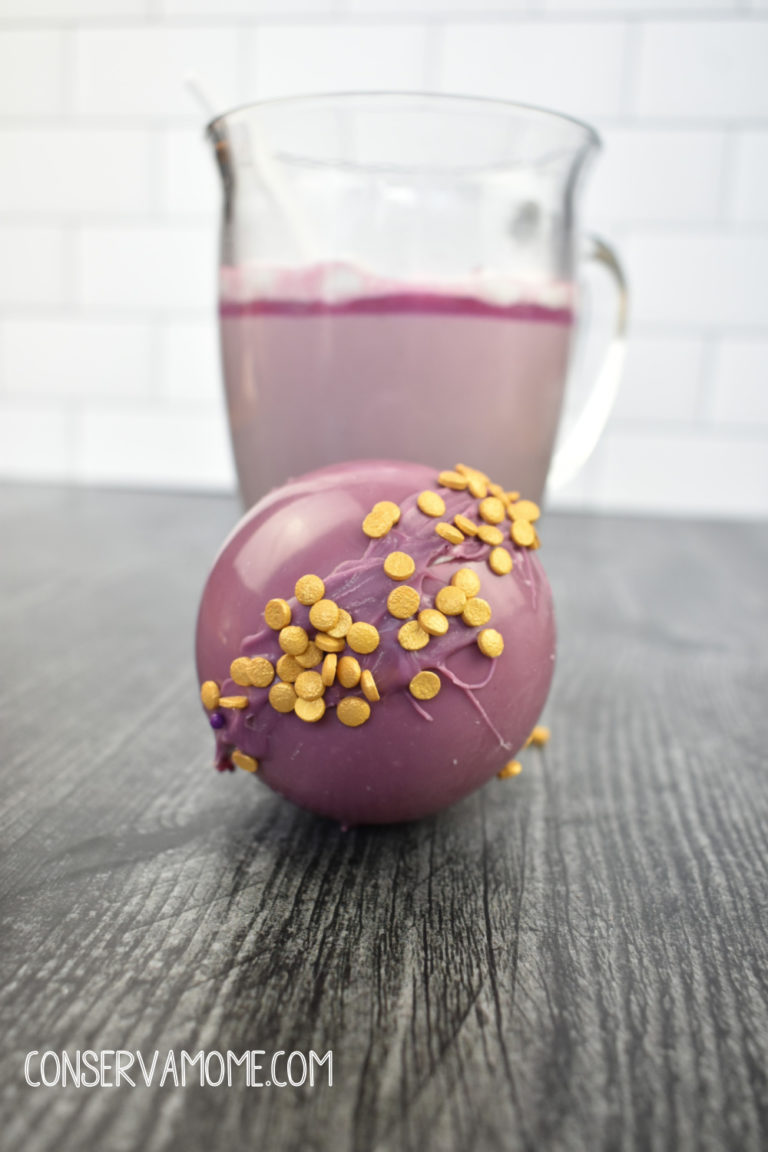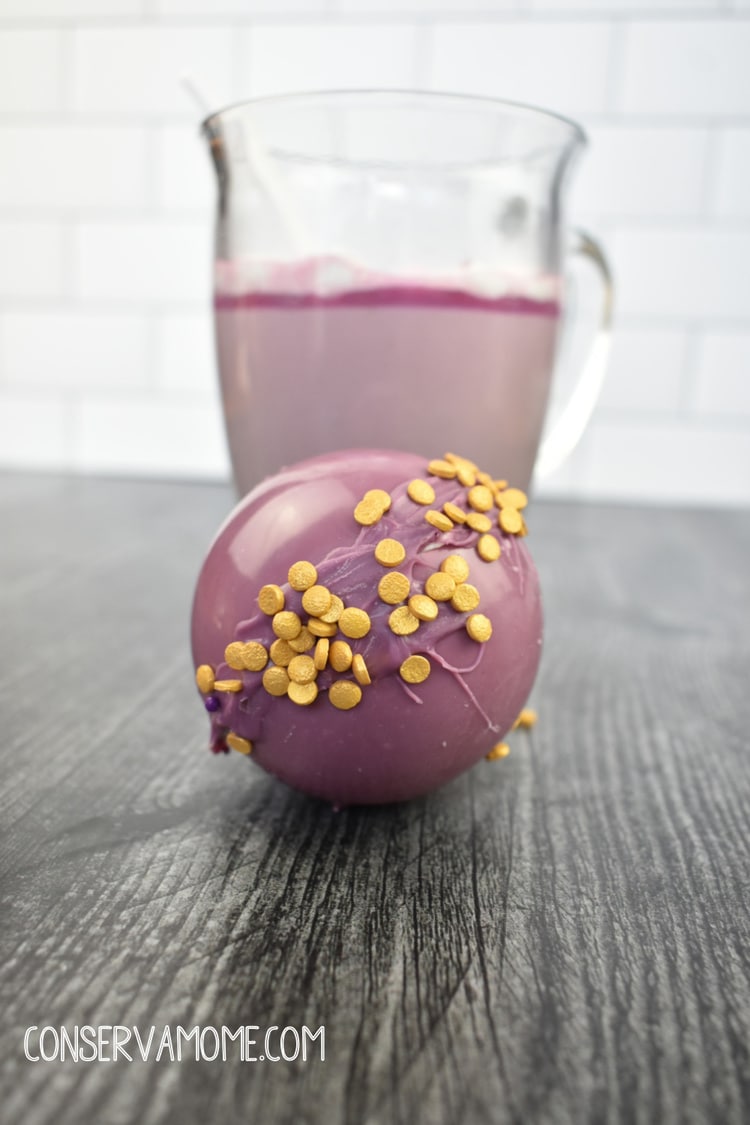 How to use hot chocolate bombs
This is probably the easiest part of all. When you place the bomb in a mug just pour hot milk over it. It shouldn't be boiling but close to it to melt the chocolate.
Let it cool and enjoy! Don't drink it right away because you will burn your mouth. That being said make sure it's nice and warm because well- it's hot chocolate.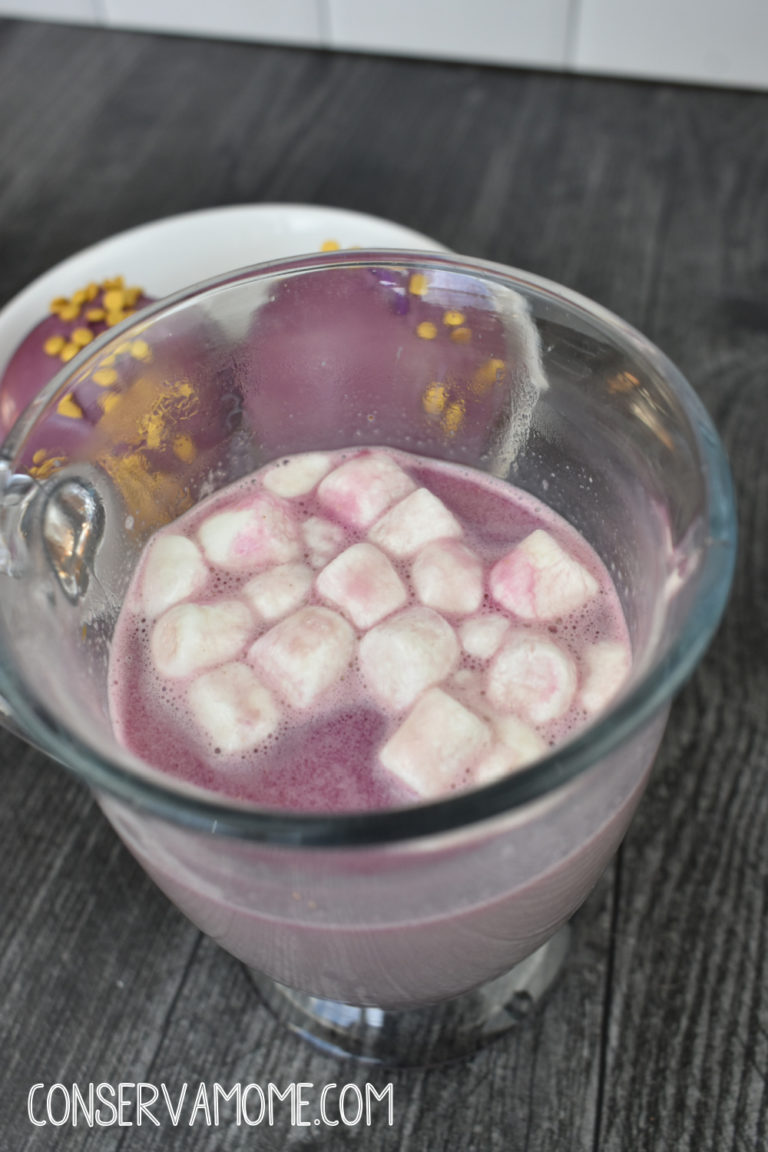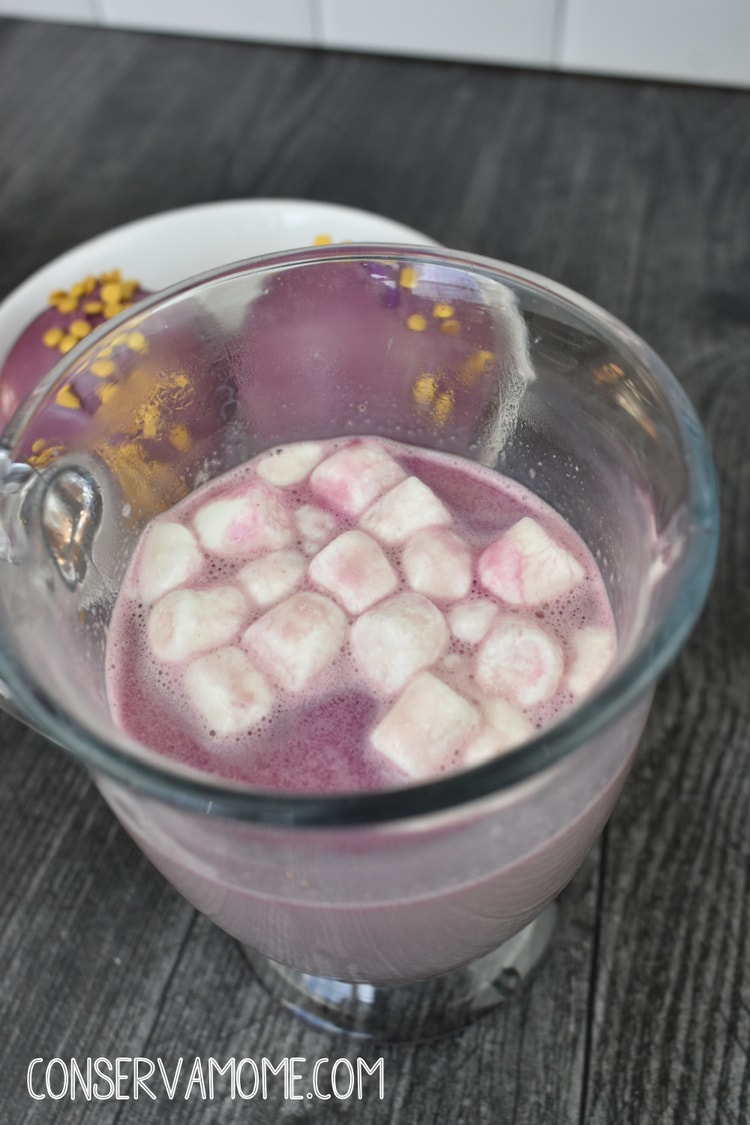 These are so fun to make and even funner to enjoy!
How can you make different variations of hot chocolate bombs?
There are many ways to change up your hot chocolate bombs like:
You can change the color of the candy melts
You can add different sprinkles
Change the kind of chocolate you use for the outer shell (Dark, White, Milk)
Add colorful marshmallows
There are so many great ways to change these delicious hot chocolate bombs. This is the perfect Winter activity to make with your family. I hope you enjoy them and the delicious variations!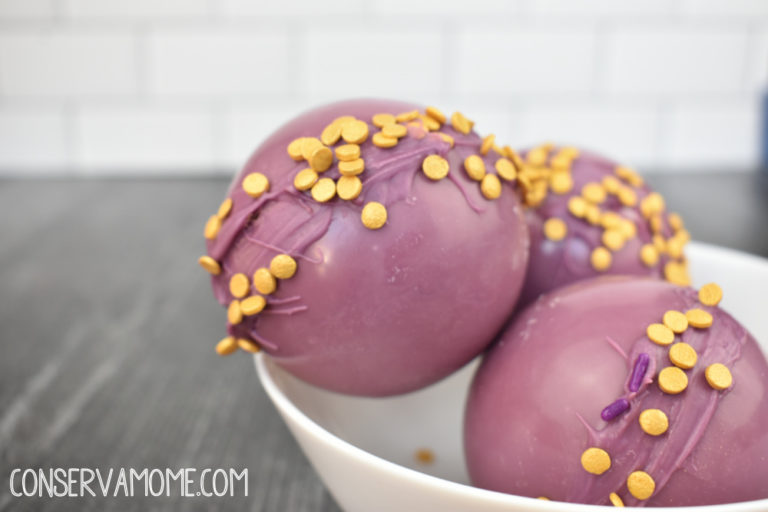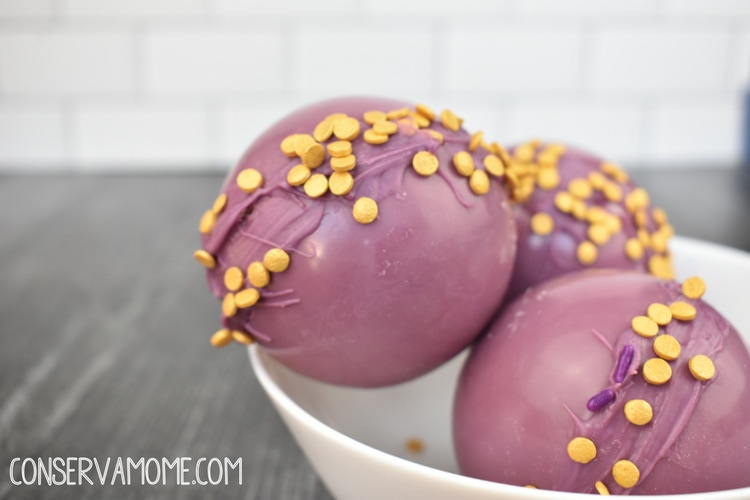 Don't forget to share this fun post so others can make them as well!