Looking for a special meal? Then this grilled lobster tail recipe is the perfect recipe for you. Check out some easy tips on how to grill a lobster tail. Follow them and you'll Get the Perfect grilled Lobster Tail Every time!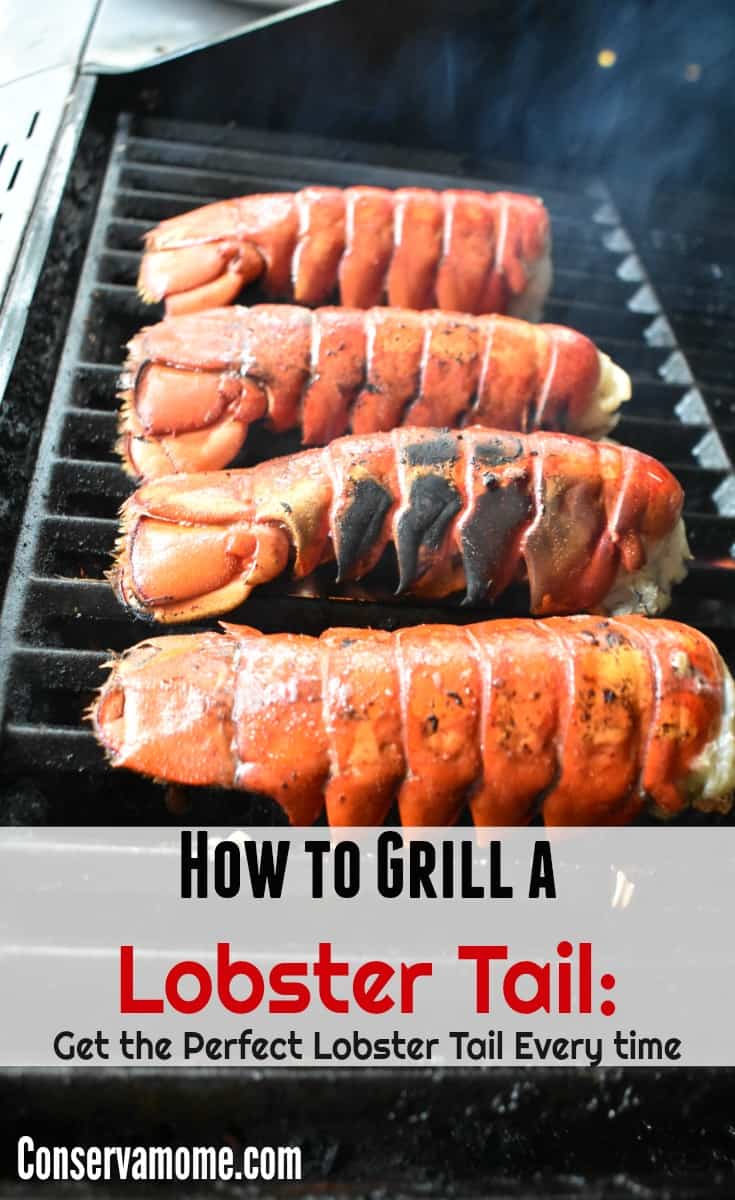 How to Grill a Lobster Tail
I've become the non-official/official griller in my home. My hubby still commandeers the big events and parties but if it's a small family dinner or lunch you'll catch me at the grill. This wasn't always the case! A few years back the very thought of grilling anything was scary. Lobster? out of the question.
That being said, ever since our time in New England eating lobster has become a wonderful and delicious norm. There were a lot of places that would sell Lobster tail for $4.99 a piece..hello awesome!
So it's no wonder stepping outside of my comfort circle became a must.
Finding the perfect lobster tail is actually pretty simple. Here are a few ways you can buy the best lobster tail. Although most places offer live lobsters you can easily find lobster tails at most retailers.
A Delicious way to eat Lobster
Most people will boil/steam lobsters and eat them that way. However,One of our favorite ways to eat this crustacean delicacy is grilled.
Although it's the most common way to eat lobster after you eat grilled lobster, chances are you'll never look at eating lobster the same way again.
Yes you heard it grilled. I know many people tend to think baked,boiled or even broiled is a good way and maybe during colder months they are a great option.
However, grilled really brings out some amazing flavors. Living in the North East I've come to appreciate how gorgeous summers are.
They're unlike anything you can imagine. Sure the locals complain about the heat (But I'm from Florida folks this is gorgeous).
On <most>evenings you get this nice breeze that makes grilling almost therapeutic. Couple that with a delicious cocktail like
this sea breeze cocktail and a spatula in hand the sky's the limit to what one can create.
An Easy Grilled lobster tail recipe
So with those tools in hand, I'm here to take away the fear of grilling a lobster.
Grilling a lobster is actually a super fast process and actually incredibly easy. I actually think it's easier than grilling its landlocked side kicks like chicken and pork.
What you need to grill the perfect lobster tail
½ stick butter, melted
Juice from ½ lemon
1 garlic clove, minced
⅛ tsp sea salt
⅛ Old Bay Seasoning
4 lobster tails
1 tbsp avocado oil
How to cook lobster tail on the grill
Before you begin you'll mix the butter, lemon, garlic, sea salt & Old bay seasoning. Set aside for later.
To begin you need the main stars ,the lobster tails. They may come frozen so just give them a bit to thaw out or run them under cold water before grilling. Make sure there's no ice on them when you go to grill them.
There are a lot of recipes that call for using cooking shears to cut through the top of the shell, but instead I cut down lengthwise through the centers of the softer bottom shells of the lobster tails.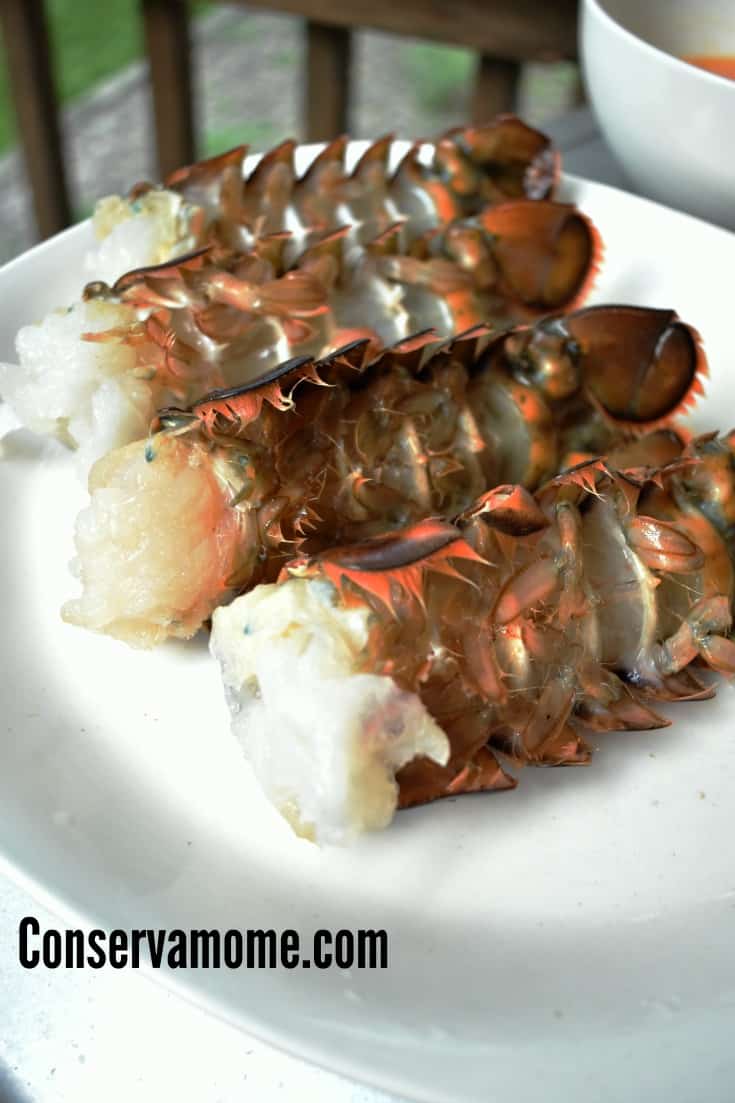 In other words you won't be cutting the outer hard shell but the softer inside with the legs.
The reason being that I like to add the butter mixture while it cooks and it gives it the perfect cuping action to just cook that delicious lobster meat.
To begin grilling the lobster, preheat grill to medium high heat.
Brush the cut side with avocado oil.
Place the tails cut side down on the heated grill for 5 minutes, until the top shells are bright red.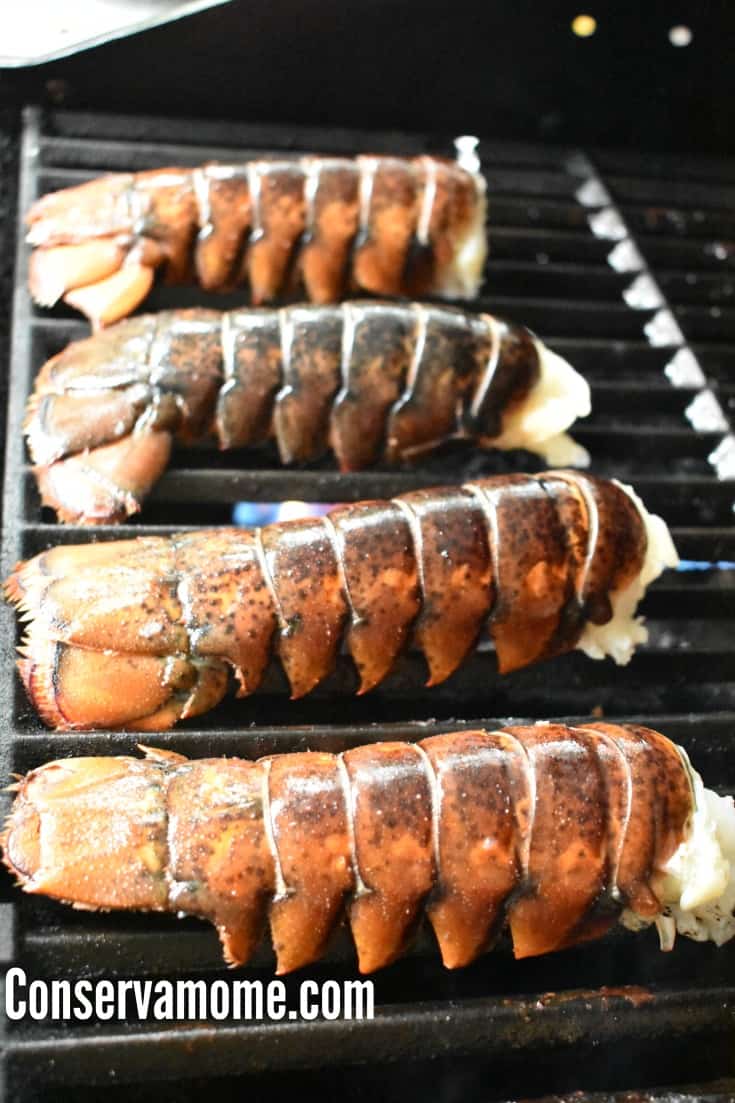 Flip the tails over and spoon the butter mixture on top of each tail. (see this is why I prefer cutting inside and not outside)
The lobster meat is almost cooking inside of the butter mixture making it amazing!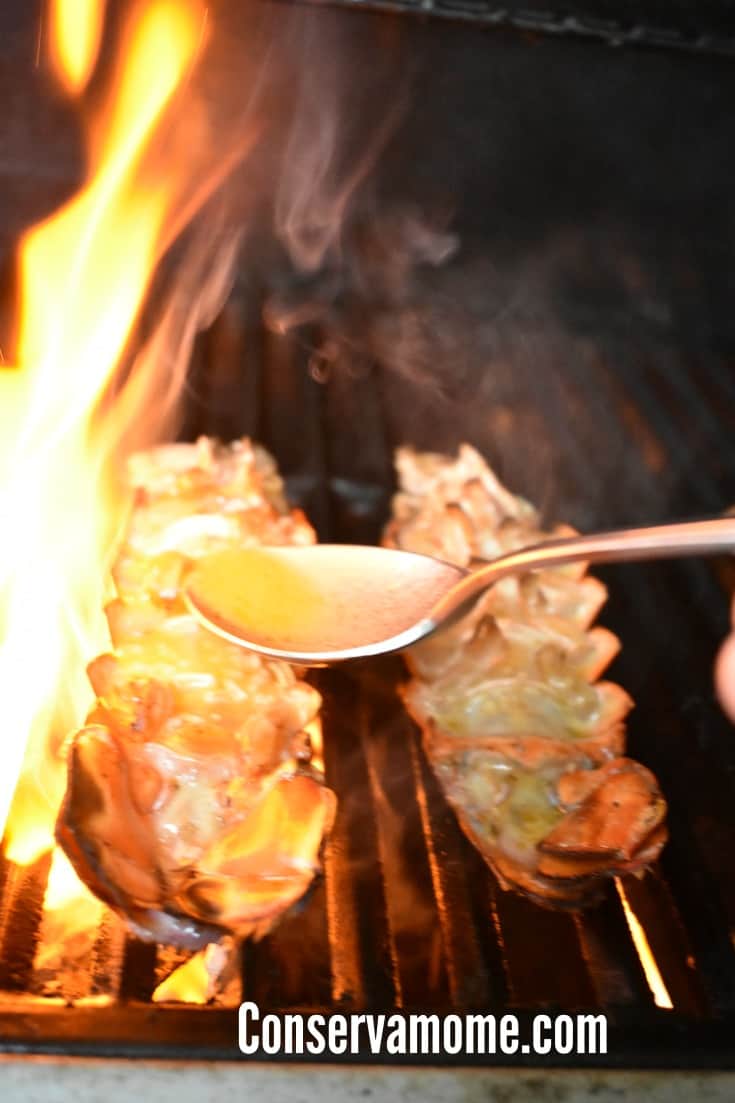 Perfect Grilled Lobster Tail
There are no words for the deliciousness this creates.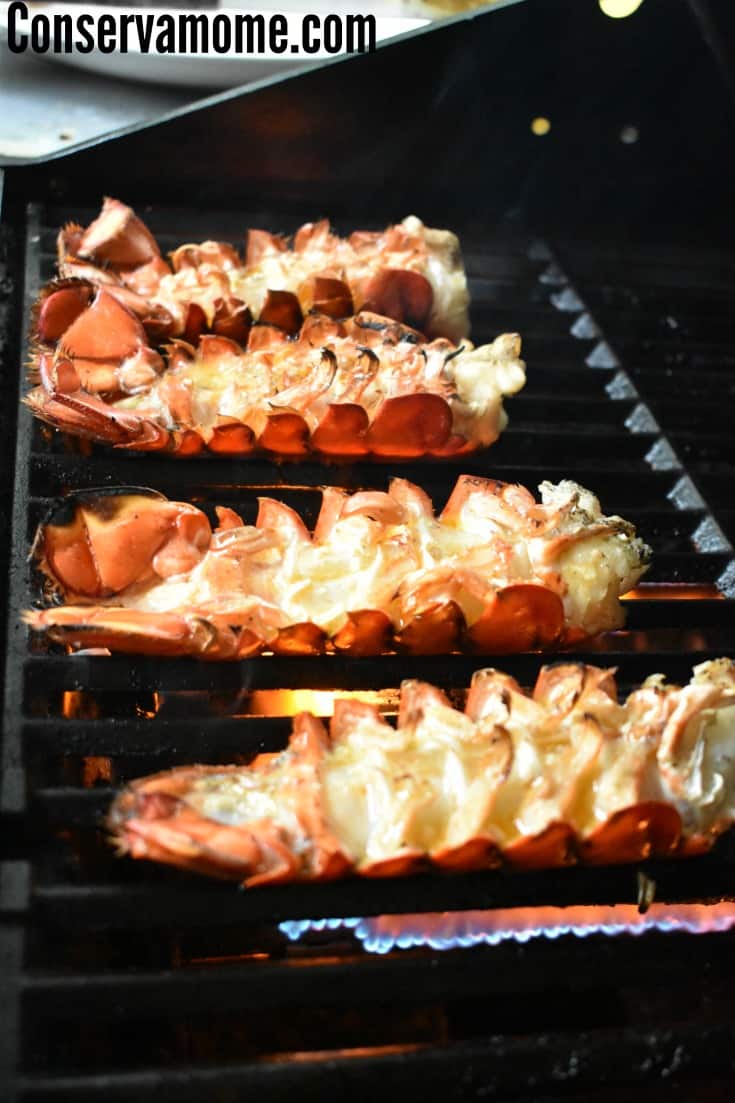 Grill for a few more minutes.
How do you know a lobster tail is done?
How Long to Grill Lobster Tails
These are some guidelines to help you when grilling a lobster tail.
6-7 oz. lobster tails: Grill for about 6-8 minutes.
8-10 oz. lobster tails: Grill for about 8-10 minutes
16-20 oz lobster tails: Grill for about 10-11 minutes
20-24 oz lobster tails: Grill for about 11-12 minutes
The outer shell may get charred a bit. That's ok. Just be be extra careful not to char the flesh side. The tail is done when the translucent raw meat turns opaque and the shell turns red.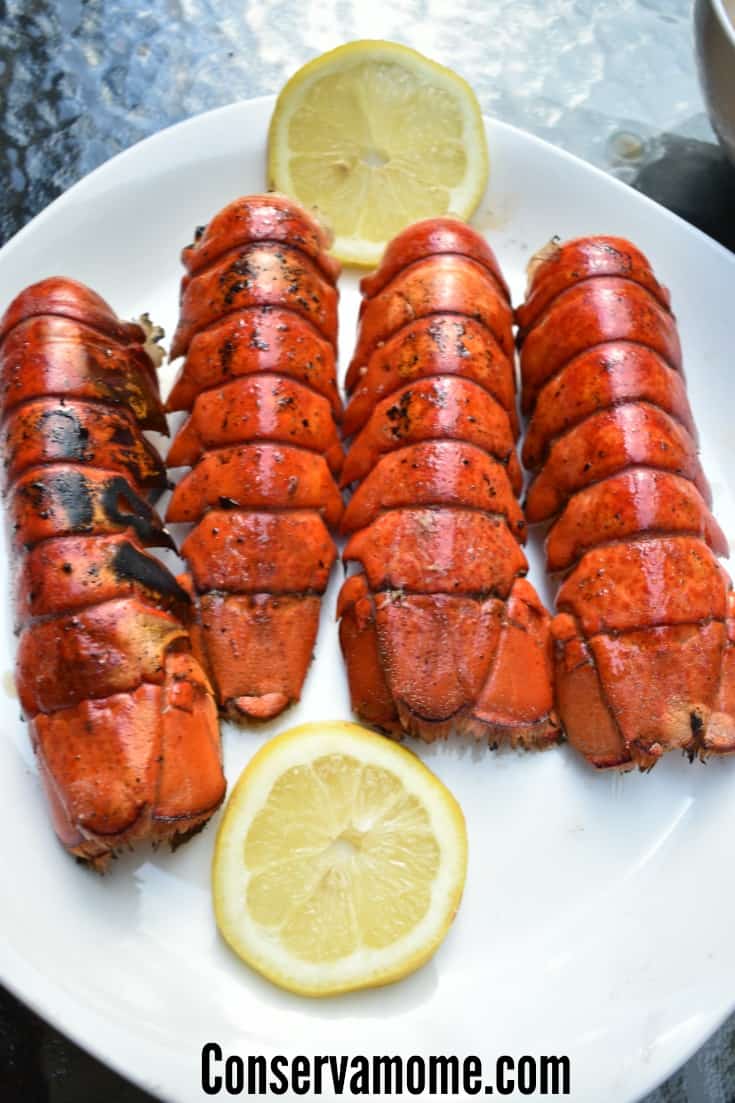 You may be tempted to overcook the lobster but don't because it will make the lobster tough and chewy. If done right you'll taste perfection. You really just need to gauge it on the shell and its redness.
This is so crazy easy to make and a delicious dish to enjoy all summer long.
So what are you waiting for? Check out this delicious dish for yourself and get to grilling!
Looking for some delicious sides you can include with this? Why not include my amazing and Easy Red Potato Salad or a delicious Asparagus and Corn salad.
End this delicious meal with a delicious dessert like these Mini No-Bake Raspberry Cheesecakes, No-Bake Kool-Aid Pie, 3 Ingredient Blackberry Dump Cake
Make sure to pin this delicious recipe below and share it with friends so they can try it themselves.
Serve this delicious recipe with Twice Baked potatoes