It's time to spoil dad! With these great Father's Day crafts kids can make, he just might have the best Father's Day, ever! With over 30+ fun crafts for kids, he'll have a ton of great keepsakes that he can keep and cherish for many years to come!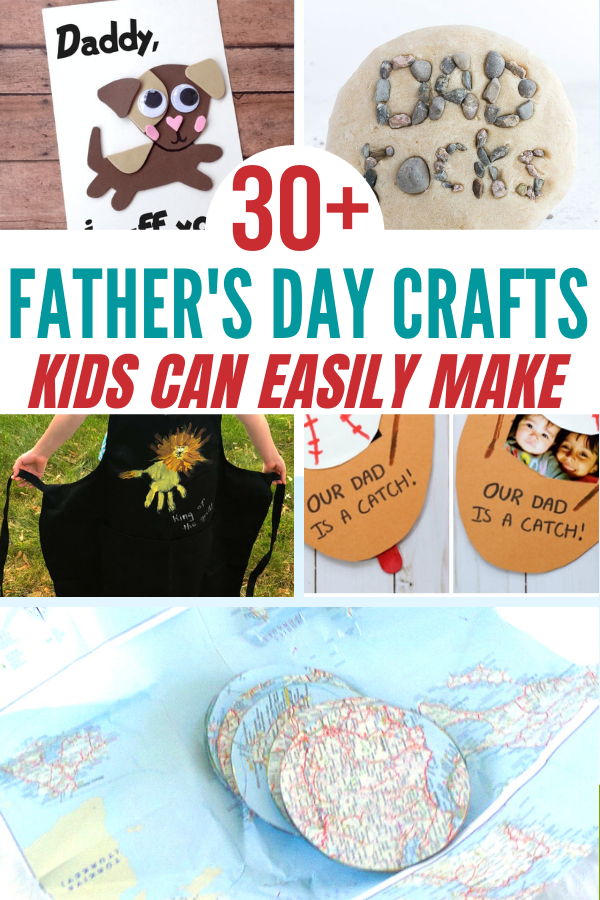 *This post contains affiliate links. That means that if you make a purchase after clicking on a link I may earn a small commission at no extra cost to you
Father's Day Crafts Kids Can Make
It's so much fun to spoil dad! With Father's Day happening once per year, now is the time to start preparing. Because who says that you can only make one gift for dad? You can easily let the kids create and go wild with all these fun choices.
Make certain to make him some sweet treats as well with this Candy Sushi Recipe as well. He's going to love being spoiled in a tasty and creative way!
The best way to spoil dad is to give him gifts from the heart! These are memories that are fun to make and even more fun to share with dad. Clear a spot on the fridge or on his desk for him to showcase all of these wonderful gift ideas! He's going to be proud and want to hang them up and show them off!
Father's Day Crafts Kids Can Make
These fun Father's Day crafts are simple and easy for kids. They'll love being able to show off their artistic creations and have a great gift for dad. Below are a ton of great ideas that any dad would love.

Looking for even more fun gift ideas for dad? Check out these Good Riddles for you to share to really stump dad on his day! You can even have the kids use DIY Sidewalk Foam Paint to paint a riddle on the driveway or to write a fun Happy Father's Day message for dad to see.
No matter what, have fun and be creative. Dad is certain to love anything and everything on his special day!
Make certain to share the pin below!