Looking for a delicious dip that will be a crowd favorite? Then check out this Easy instant pot beef enchilada dip Recipe. This is the perfect dip for a party, event or movie night. Read on to see how easy it is to make this Instant Pot enchilada dip recipe!

*This post contains affiliate links. That means that if you make a purchase after clicking on a link I may earn a small commission at no extra cost to you.
Easy Instant Pot Beef Enchilada Dip Recipe
One of my favorite recipes growing up was Enchiladas. As many of you know my mom is Mexican and so Mexican food was a big part of my life growing up. My mom's dad was an amazing cook. He loved it! I remember being little and heading next door to see what my grandfather was cooking that day. He always use to make some delicious meals that magically served our giant family (my mom has 15 brother's and sisters). Always making enough so that if any guests showed up there was enough for them as well.
I still remember helping him assemble enchiladas. It was a time consuming task that he made with love. To this day I can still taste the delicious enchiladas he use to make. Although most people make enchiladas with flour tortillas did you know in Mexico they are typically made with corn tortillas? However, as a busy mom of 6 there are some ways I've been able to bring the delicious flavors of enchiladas together without the time consuming job of rolling them each by hand with this delicious Beef enchilada dip.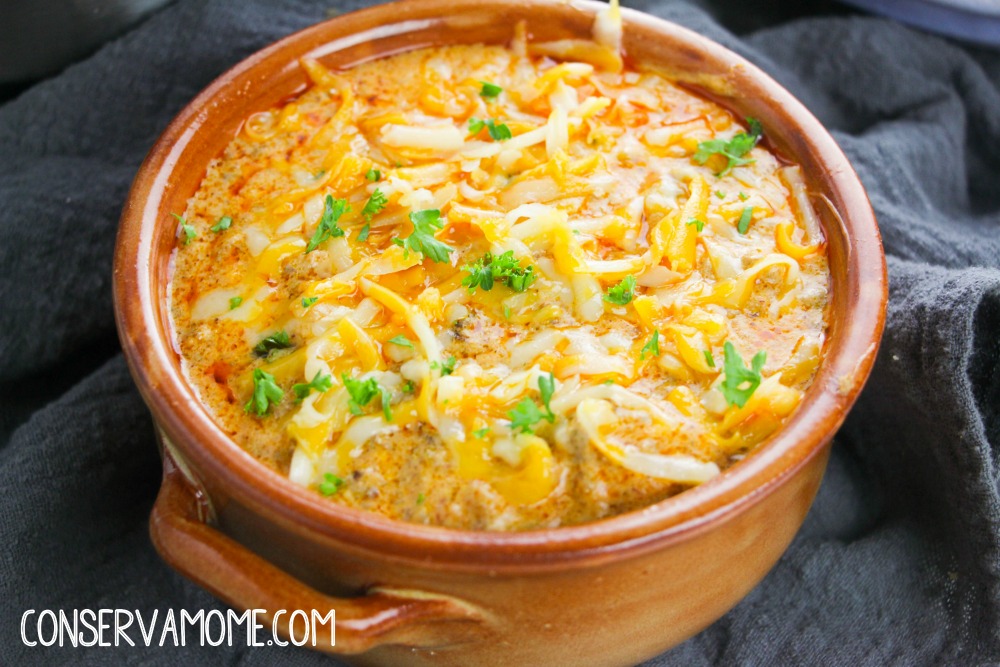 This dip grabs all the delicious flavors of enchiladas without all the work. Best of all it's a fun and delicious recipe you can make quickly and serve anywhere. All you need is your favorite tortilla chips.
Ingredients needed to make Beef Enchilada dip
1lb ground beef
1 Tablespoon butter and/or olive oil, optional
1 small onion, diced
2 cloves garlic, minced
1 1/2 cups cups red enchilada sauce, plus more to personal preference
8 oz cream cheese
1/2 cup queso fresco cheese
1 1/2 cup yellow shredded cheese
1-4oz can green chiles
2 teaspoon cumin
2 teaspoons chilli powder
Optional- Chopped Cilantro for garnish
How to make Instant pot beef enchilada dip Recipe
Set Instant Pot to Saute setting.
Place the ground beef in the Instant Pot and cook until well-browned.
Add the onion and garlic and cook until onion is translucent.
(The beef should give off enough fat to cook the onion and garlic, but if needed, add butter or oil.)
Turn off the IP and add the red enchilada sauce, cream cheese, queso, green chiles, cumin, chile powder and half of the shredded cheese.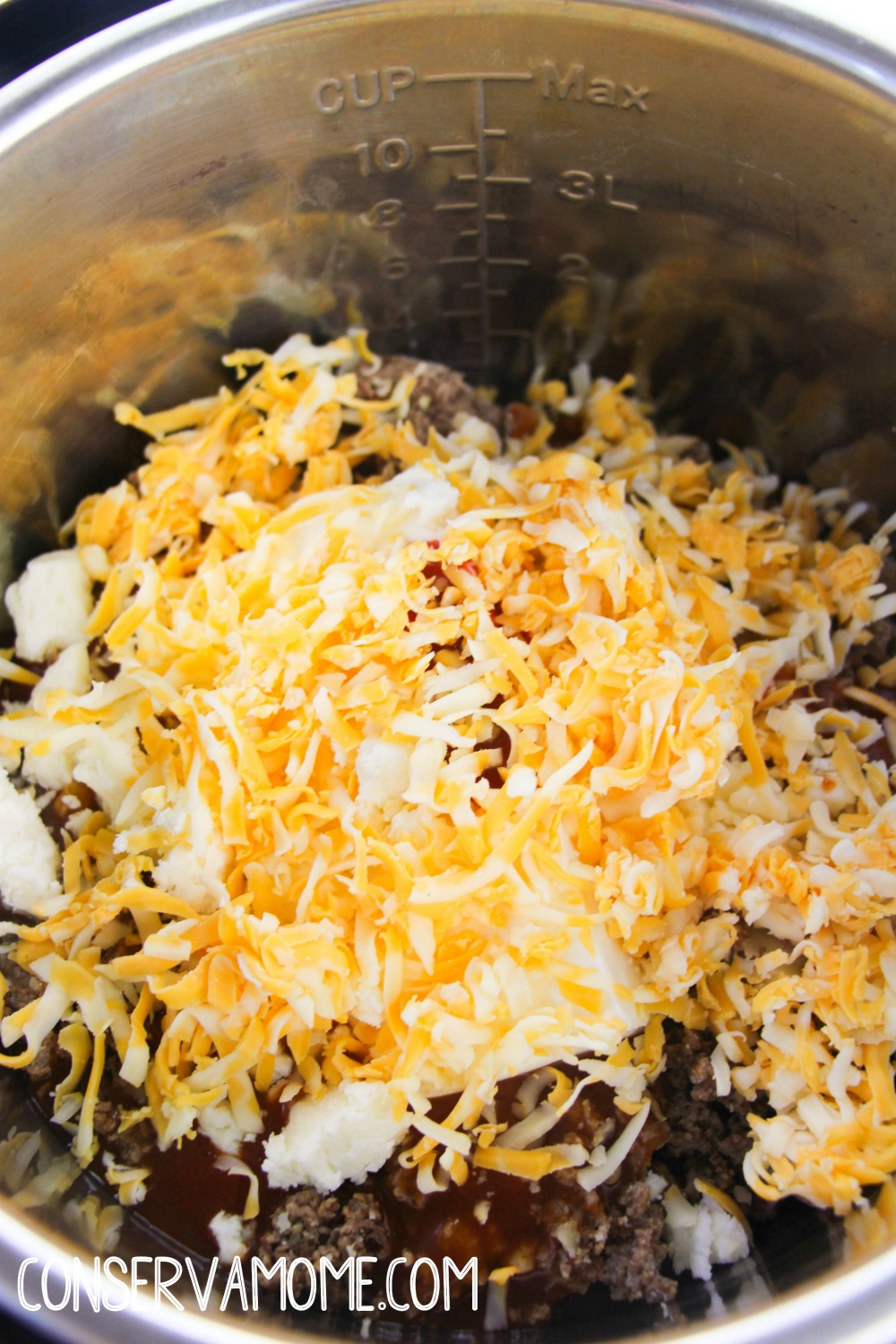 Secure the IP lid and select manual setting for 12 minutes.
Natural release.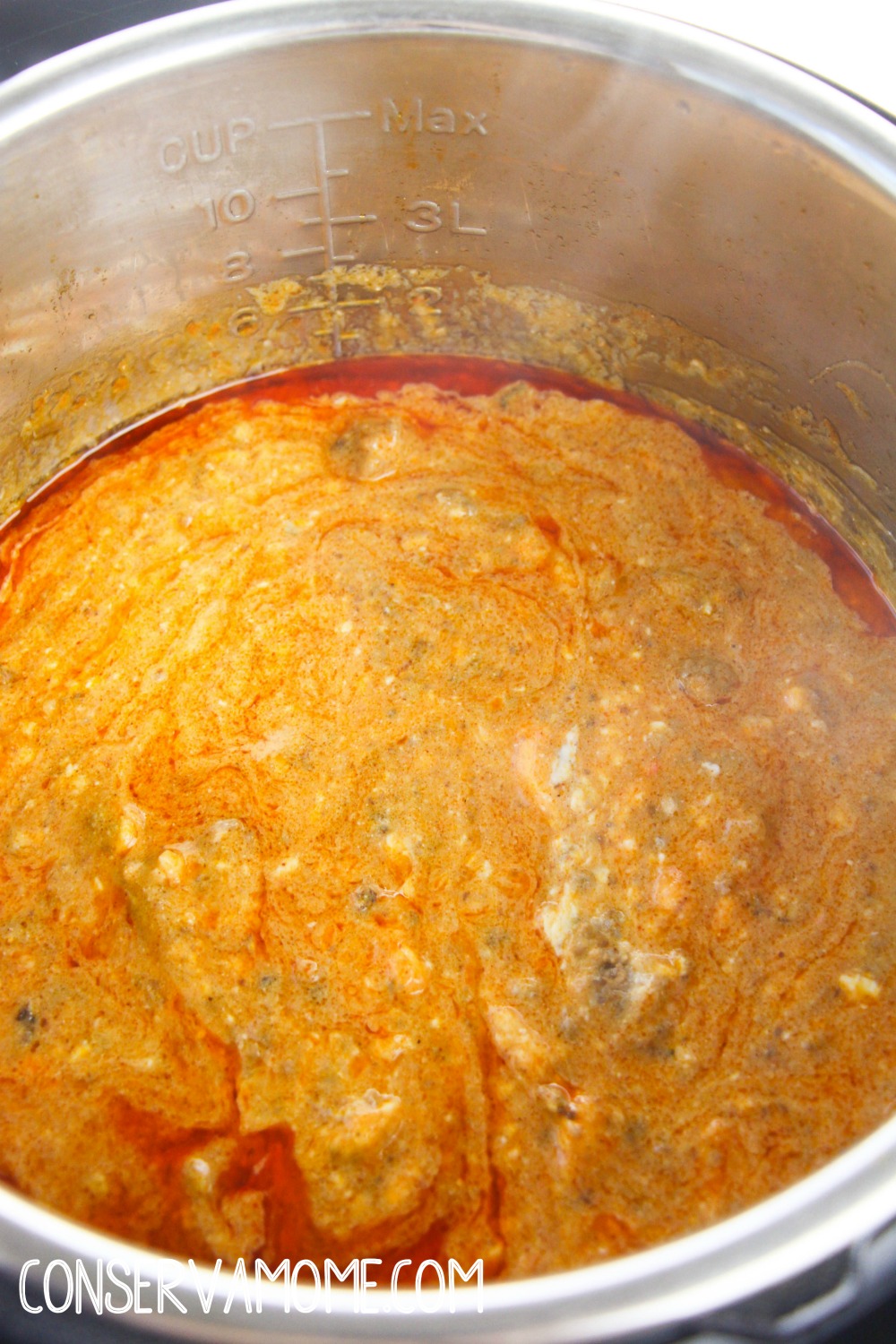 You can then taste it and adjust the amount of hot sauce.
Finally, Top with additional cheese for serving.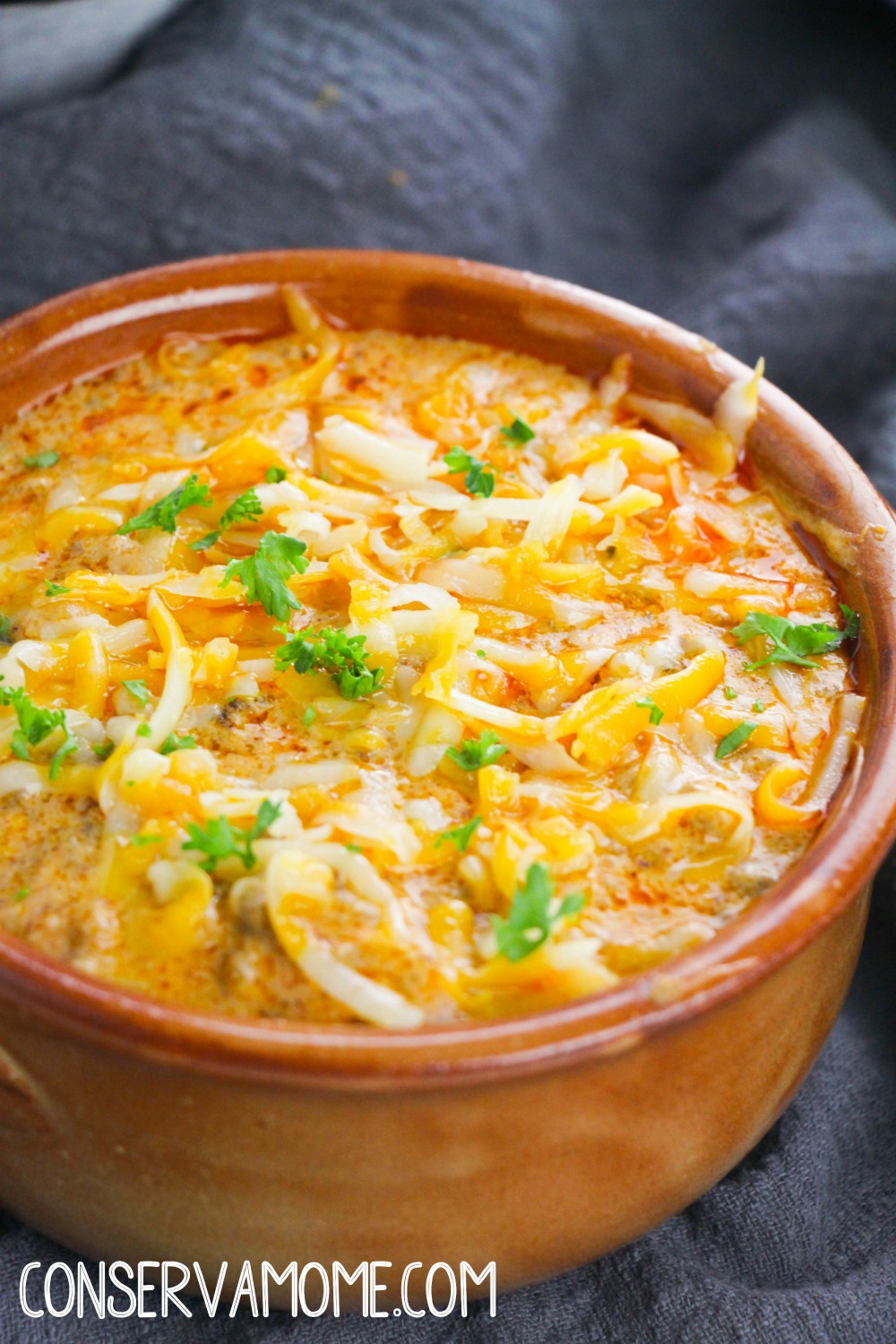 Serve with Tortilla chips and enjoy!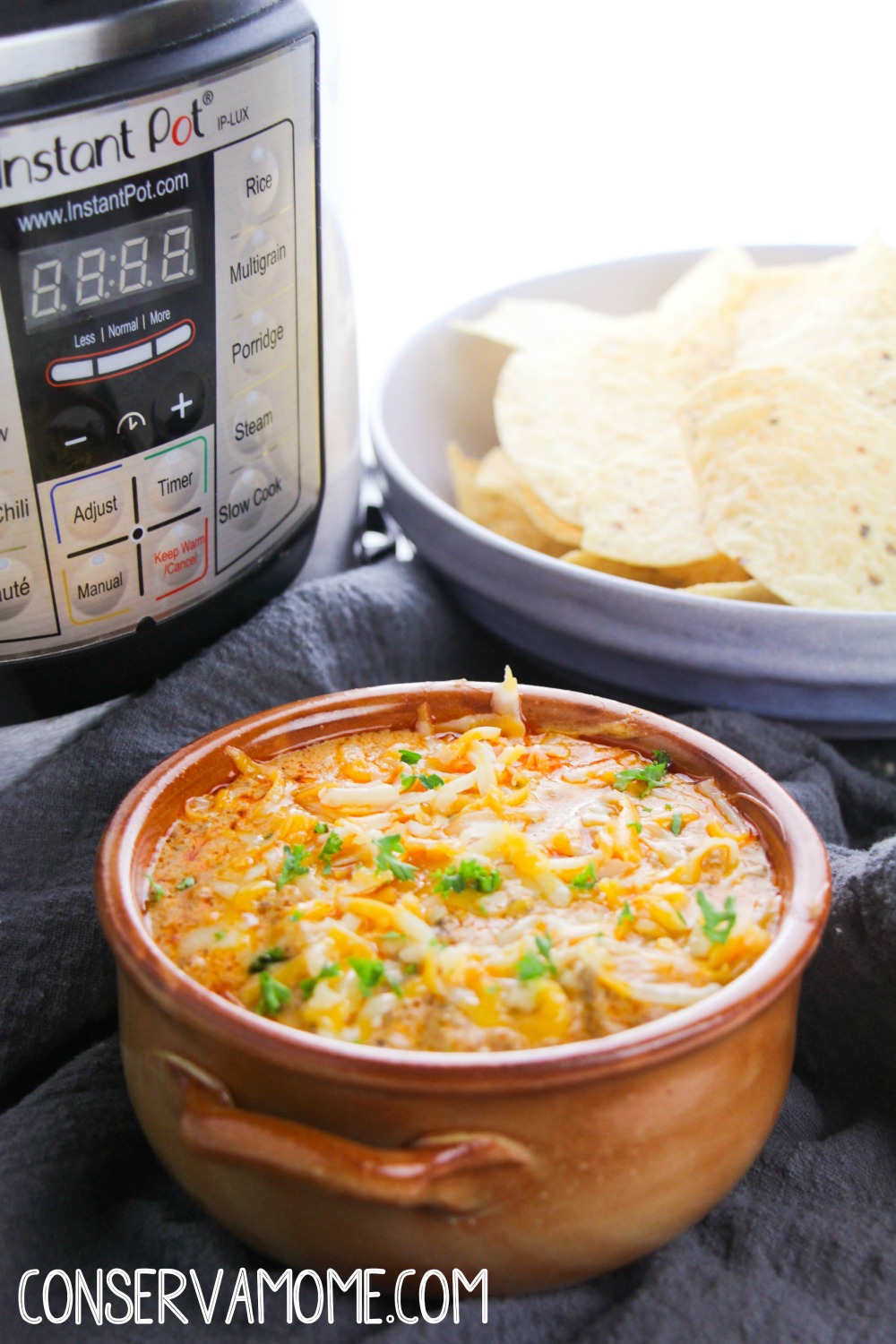 Tips for making Instant pot beef enchilada dip
If the sauce is too watery, you can set the IP to saute for a bit longer and cook it down.
You can also add a little extra queso fresco crumbled on top as well. ( I always have a lot on hand)
You can serve immediately or place in a mini warming crock pot to keep it nice and warm.
This recipe is truly delicious and an easy! Looking for a yummy dessert to go with it? Check out my Tres Leches dessert recipe. Want something to wash it down? Make this margarita recipe !
Don't forget to pin this recipe for later!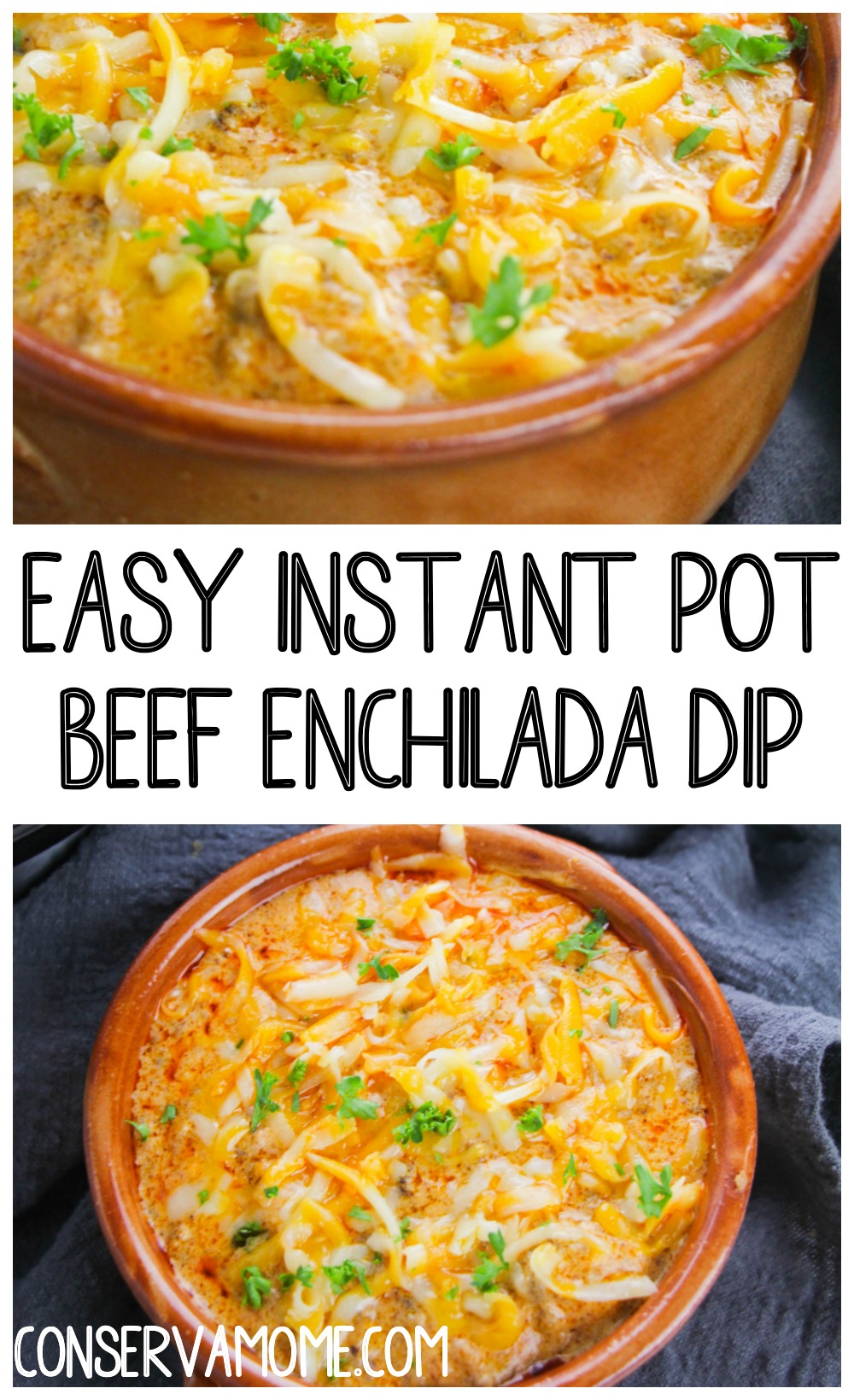 If you're serving this dip as part of a tailgate you can also make these adorbale Nutter Butter Football cookies
Need another few good dessert ideas like these No-Bake Cookie dough bars or Nutella Rice Krispie treats.