This delicious Cuban Flan Recipe or Flan Cubano is a huge hit wherever and whenever I take it. Find out how easy it is to make this Cuban dessert! This really an Easy Cuban Flan Recipe. Flan has its origins in Spain. But chances are if you visit any Latin American country, they have a variation of this rich dessert.
Easy Cuban Flan Recipe
"Cuban Flan" is a best-selling dessert at any Cuban Restaurant. It embodies all the sweetness that the Cuban palate loves with a custard texture that is pure heaven. It's one of those desserts you can't just have one bite of. It really is a unique symphony of flavors. Very similar to a creme brulee in that they have a custard flavoring but it's much firmer in texture. Making it a unique dessert recipe that people will love It's a very popular Cuban Recipe.
Best of all it's an easy Cuban dessert anyone can make!
You will see it refered to as a flan de leche as well.
This is a rich dessert so a small piece is more than enough. However, the fact that it looks so delicate yet the flavors are so intense, the mere thought of making it can be daunting for many. That being said it's the perfect accompaniment to any Cuban Food or Savory recipe.
I remember the first time I sat down to make a flan as an adult I made it for Christmas Eve (or Noche Buena as we call it). I was so nervous it just wouldn't turn out correctly. Sure, I had seen my grandmother make this recipe a million times, but there's something to be said about the love grandmothers bake into stuff. Sure this was one of my favorite recipes but would I be able to duplicate the delicious flavors I love?
Well, Once I made it through, I realized how easy it was and how anyone can make this delicious recipe. So if you've never tried it, I promise you will fall in love with it. If you love eating it but are scared to make it, I promise you, you'll love this recipe at how easy it is to make. Many recipes call for various ingredients like cream cheese, or heavy cream. This one is very simple and it's so crazy easy to make you'll wonder why you don't make more of it.
What is Cuban Flan?
For those of you not familiar with this dessert, it's literally a cooked custard that is then refrigerated. It is very sweet and rich but so delicious. I am part Mexican/Part Cuban so I can honestly say the Cuban version is so much better. Sorry, mom.
Why is Cuban Flan the best?
The Mexican one is a little more waterier in texture and not as thick. It is also not as sweet and rich. The Cuban Flan has a thick creamy custard flavor that is simply rich and the closest thing to a symphony of flavors you will find. Many people enjoy eating it with a side of Shaved coconut in syrup. Others that are purists love the flavor all on their own. I've even made a pumpkin flan around the holidays to add a nice variation.
This is such an addictive dessert filled with a creamy, custardy texture drizzled in a caramel sauce that will be a huge hit!
Cuban Flan is popular Cuban dessert!
It's the one Cuban dessert my kids can't get enough of and ask for quite often. My #3 will literally ask for this dessert as her birthday dinner. She still hasn't convinced me to make it just the dinner but honestly, I don't blame her. She's on the right path.
I remember growing up in Miami coming home from partying at South Beach with friends, and many nights when our metabolism was young and naive, we would stop and grab Cuban coffee and flan at one of our favorite Cuban restaurants in Miami La Palma.
This was heaven and the perfect cure for any heartbreak or the perfect ending to a magical night. This dessert really does it all.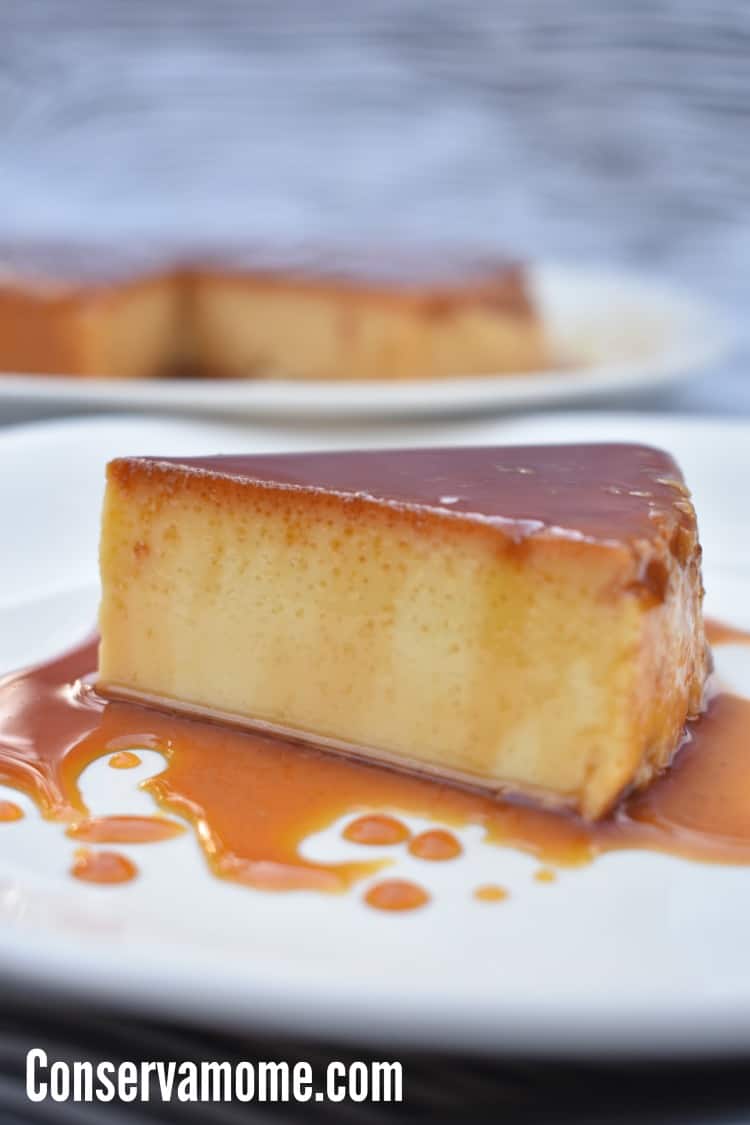 What does Cuban Flan Taste Like?
Cuban Flan tastes like a creamy caramel vanilla custard that is thick and delicious. It is soaked in a delicious caramel syrup that will complement this delicious dessert perfectly.
How to make Flan?
I've always felt like making flan is one of those recipes that remind me of riding a bike. You can make it for a while and know how to do it, then stop making it, and once you try it again and it all just flows.
The important thing with a flan recipe is how you beat the flan mixture. If you beat too much it will come out way too watery and thin, if you don't beat enough it will be lumpy. There's something about getting it right that may take some practice.
It took me years of watching my grandmother make this recipe then failing at it miserably the first few times to get it just right. That being said once you get the recipe just right once, it's a winner! The cooking time is important as well as every oven is different. So looking to the center of flan for guidance is a great way to know if it's ready.
That being said, you can never really go wrong with flan no matter how badly you mess it up.
Ready to try it for yourself? Read on to find out how to make this Traditional Cuban Flan recipe.
I've put a lot of love into this post and recipe because of how much it means to me, so if you have any questions on what's not working for you, please drop me I line, I promise to troubleshoot. This is a recipe that comes from the heart and I promise to help you make the most amazing flan ever.
So without further ado here's the Best Flan recipe you will find anywhere!
Traditional Cuban Flan recipe
What is Cuban Flan made of?
1 14 oz Can of Sweetened Condensed milk
(3) whole egg (s)
3 egg yolks
Cinnamon pinch
a teaspoon of vanilla extract
1 cup of Whole Fat Milk – you can also substitute this for a cup of evaporated milk
and a "flanera as my Grandmother called it You can find one here online. (A pie plate/ dish or cake pan can work as well)
1 cup of sugar for caramel glaze (or liquid caramel) you will caramelize on the stovetop inside the actual "flan pan" or cake pan on medium heat. You can also use small saucepan and pour into into the flan mold.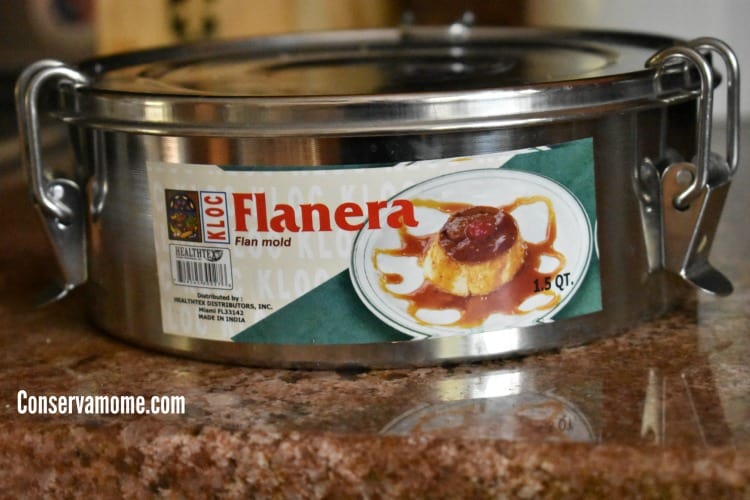 How to make a Cuban Flan recipe
This recipe is extremely easy to make and it actually has room for error. That being said the more times you make this the easier it will be to make.
Preheat oven to 350
How to make Flan recipe?
This is the Easiest Way to make flan. Best of all it actually has room for error. That being said the more times you make this the easier it will be to make. You also can't really mess it up if you follow the directions.
To begin:
Preheat oven to 350
How to make Caramel for Flan recipe
First thing, begin by caramelizing the pan. To caramelize just add a cup sugar over a medium-high heat stove and quickly lower to low heat or medium heat depending on your stove, and mix until it liquifies. It will create a caramel-like glaze. Don't do this over high heat or it will burn. Make sure and coat the bottom of the pan and sides of the flan pan with the caramel coating. See the picture of how it looks.
Here is the caramelized sugar in the pan. Some like it darker I like it on the lighter side. Be careful though, if it goes too dark it will have a burnt taste. If you're scared to caramelize the pan, this premade caramel is *almost* as good as the real thing. You can just coat the pan with this and use it instead of caramelizing the pan
Also note, you can also make the caramel in a separate pot, I just find it easier to do it in the actual flanera or flan mold.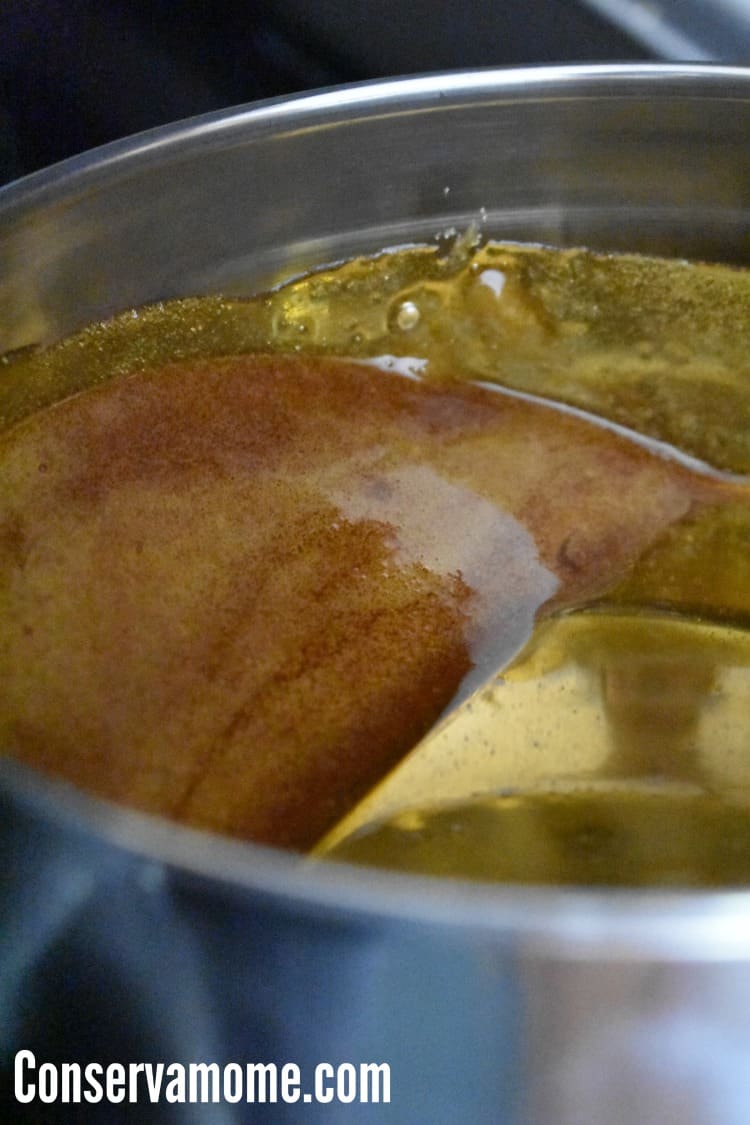 How to Make Flan
Mix the milks, and rest of the ingredients in a food processor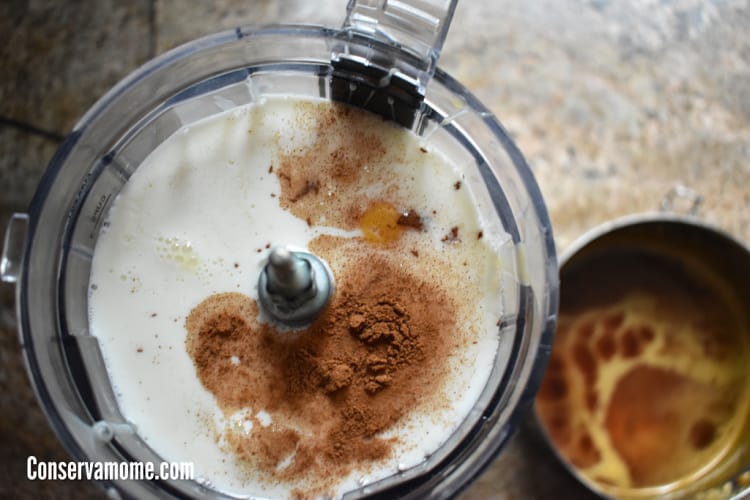 Pour the milk mixture into the "Flanera" or metal pan such as a round cake pan.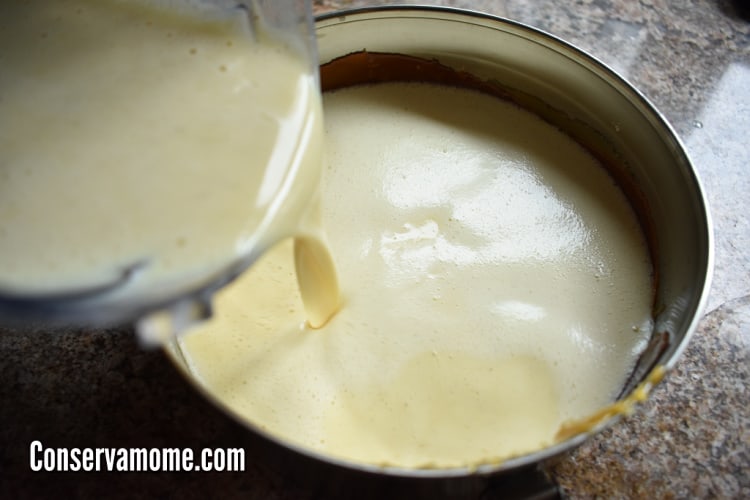 Then place in an ovenproof dish or pan
Cook at 350 for 1:25 in a bain marie (in a water bath)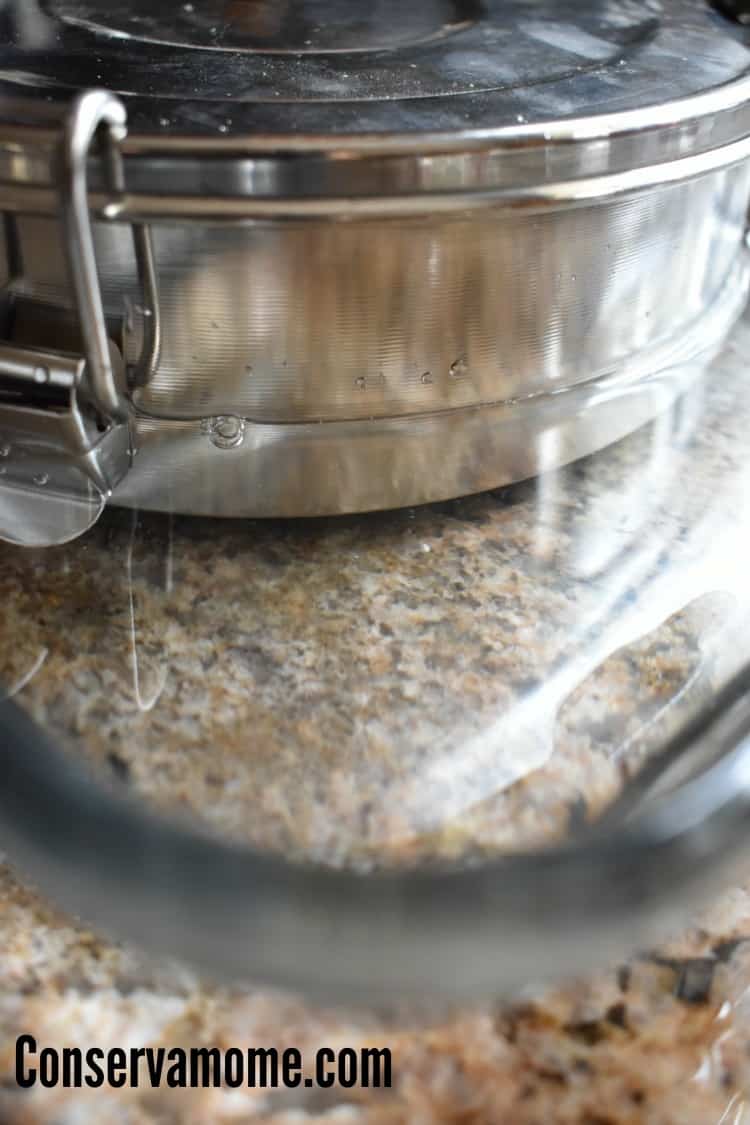 Let it cool completely to room temperature and place in refrigerator for at least 3 hours- overnight.
Once you have refrigerated for a few hours cut along the edge and flip over onto serving dish. The top of the flan will vary in color but will top will have a golden brown appearance.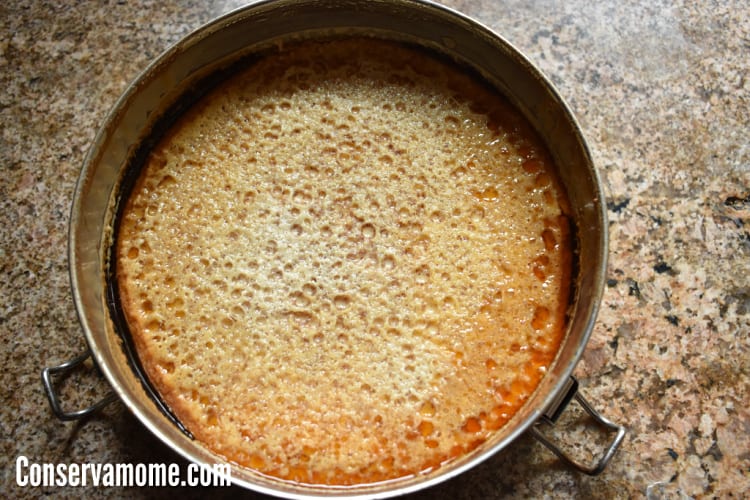 Once it's done cooking refrigerate for a few hours until cold and then cut along the edge using a sharp knife and flip over onto the serving dish.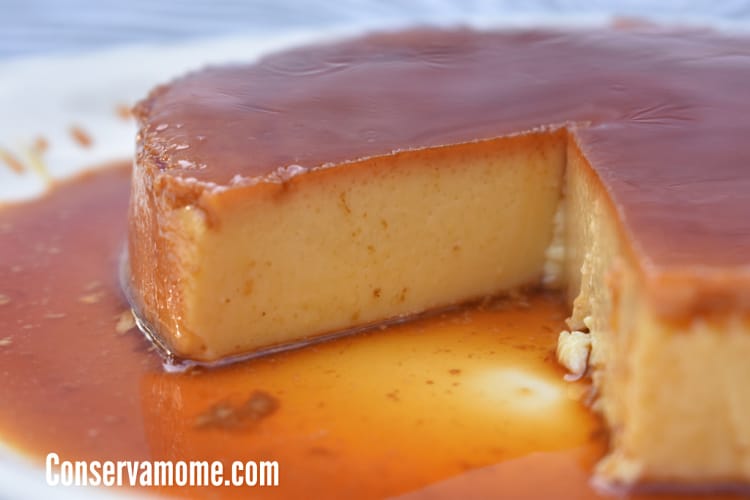 TADA!
Here is a video below showing how to make the Flan using a regular circular pan. I prefer the results of the flannera but this works just as well.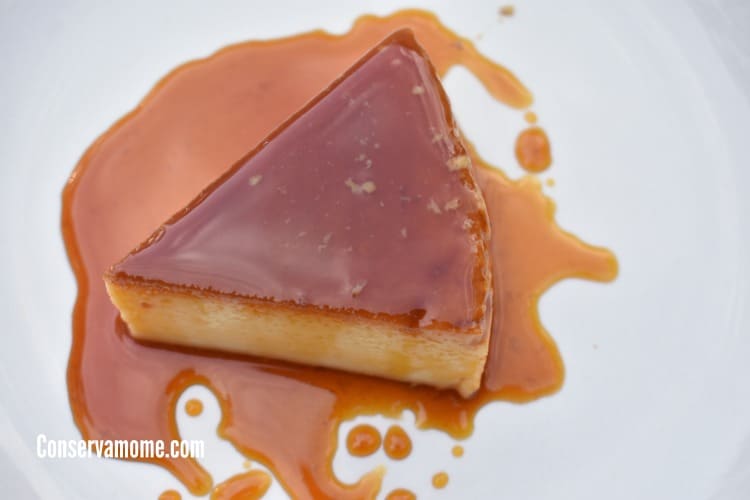 *You can use a pie dish or any other rounded cooking dish as long as it's covered on the top.
Is it necessary to cover my flan while it cooks?
It's actually super important because it keeps the vapor from the water bath from affecting the flan. Remember it's being cooked in a water bath so the water will evaporate. You don't want it to affect the texture of the dessert. If you don't have the flannera or need a bigger container to make it I always recommend covering it with foil. Hope it helps!
How long can you store flan?
I've refrigerated it up to about a week but honestly, it never lasts that long!
This is a rich dessert that is sure to be the hit at any party. Its intense and unique flavors make it an addictive treat! Don't say I didn't warn you!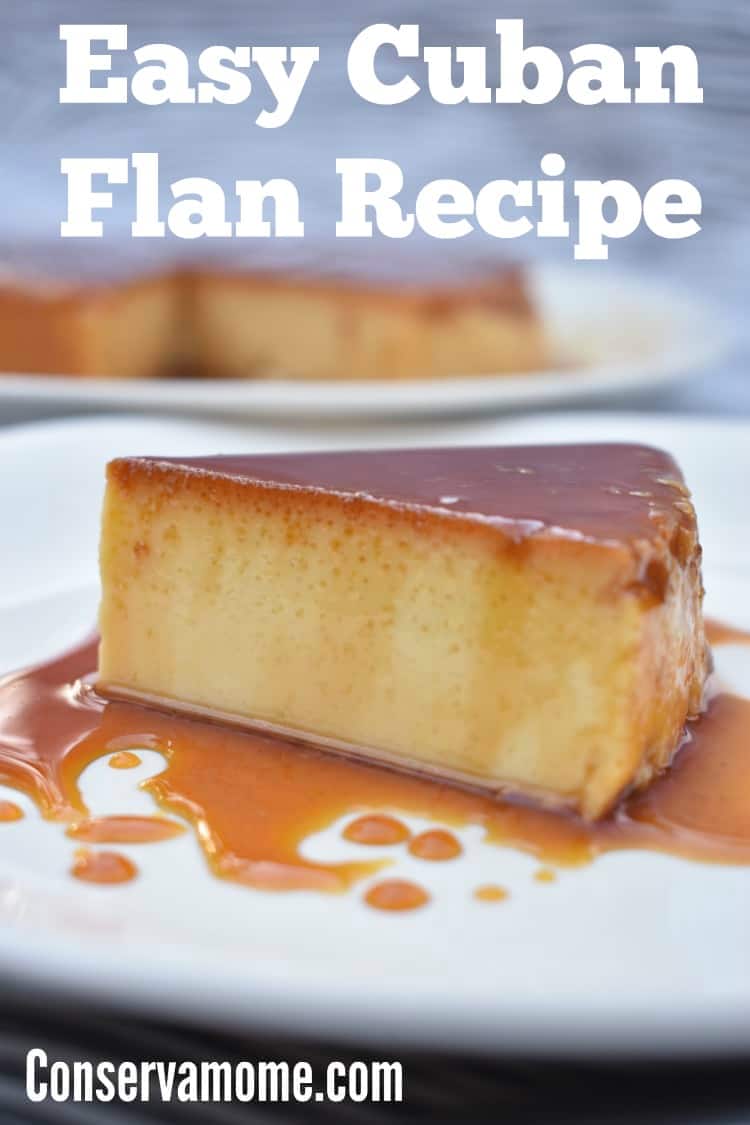 Looking for other great traditional Cuban Recipes? Check out my Pastelitos de Guayaba here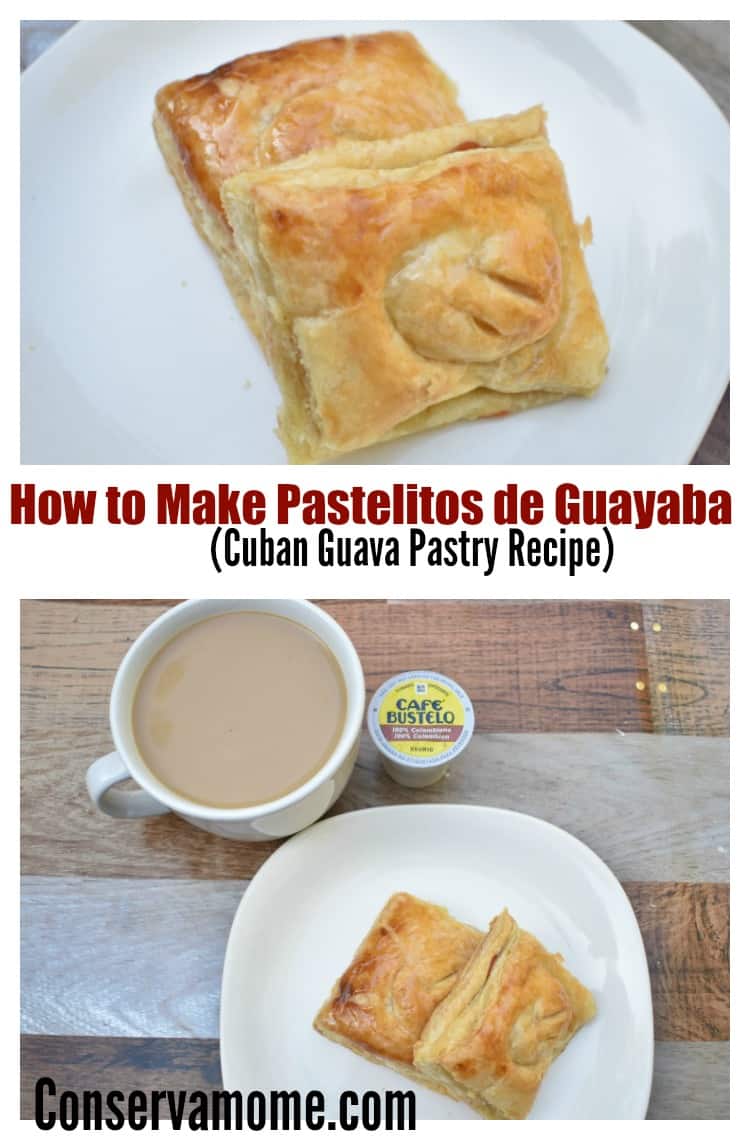 Want to go for a Cuban night? Try my Pressure Cooker Arroz Con Pollo recipe.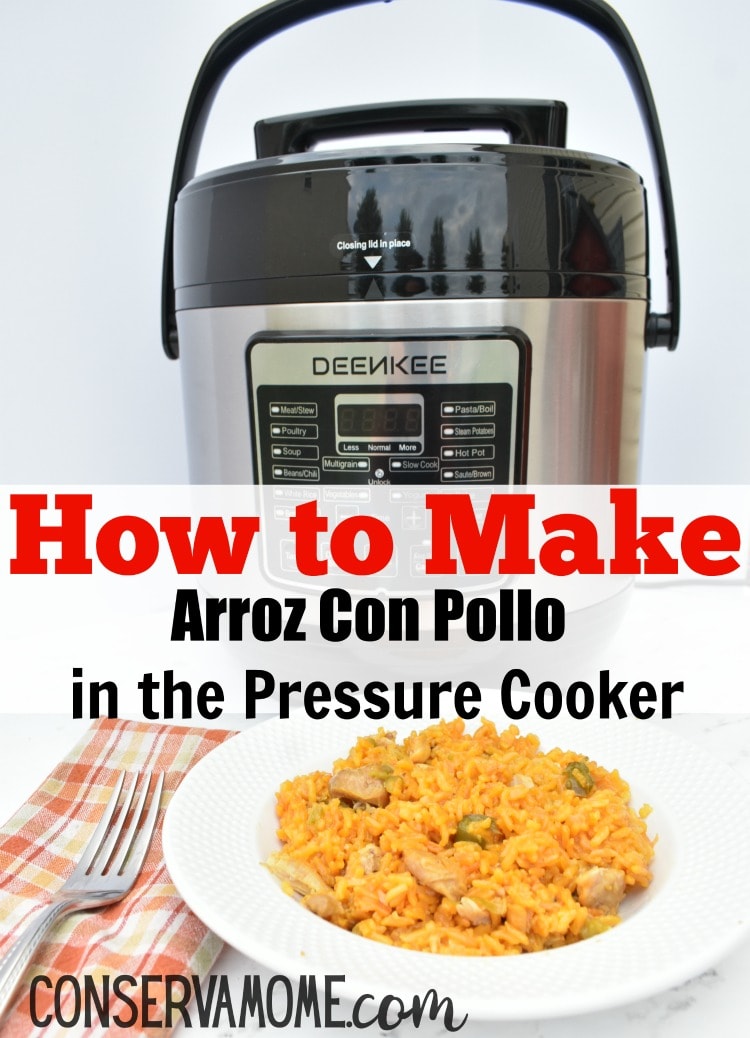 Yield: Amount of slices vary on how thick you cut the slices.
Cuban Flan Recipe (Flan Cubano)
Prep Time: 15 minutes

Cook Time: 1 hour 25 seconds

Additional Time: 3 hours

Total Time: 4 hours 15 minutes 25 seconds

This delicious and rich Cuban Flan Recipe is so easy to make and even tastier to try. Flan Cubano is a traditional recipe and the perfect cuban dessert.
Instructions
Preheat oven to 350
Begin by caramelizing the pan. To caramelize just add the sugar over a hot stove and mix until it liquifies. Make sure and coat the bottom of the pan and sides with the sugar glaze. See picture on how it looks.
Mix the milk, and rest of the ingredients in a food processor
Pour into the "Flan pan" with the caramelized sugar and cover flan with lid or foil.
Cook in a bain marie or in a water bath for around 1:25 - This may vary depending on your oven. You'll know it's ready if you insert a toothpick in and it comes out clean.
Refrigerate for at least 3+ hours. Once completely cool and solid run knife through the side and place a dish on top and flip over. See pictures for how to.
Notes
* You can use a pie dish or any other rounded dish just make sure and cover the flan when baking in water bath.
Recommended Products
As an Amazon Associate and member of other affiliate programs, I earn from qualifying purchases.
Nutrition Information:
Yield:
12
Serving Size:
1
Amount Per Serving: Calories: 164Total Fat: 4gSaturated Fat: 2gTrans Fat: 0gUnsaturated Fat: 2gCholesterol: 108mgSodium: 64mgCarbohydrates: 28gFiber: 0gSugar: 26gProtein: 5g

Data may not be accurate. This was calculated by Nutrionix. Conservamome.com is not held responsible for incorrect calculations.

Save