Crock Pot Arroz Con Pollo Recipe that will be the perfect addition to any recipe collection. Easy to make and delicious to eat.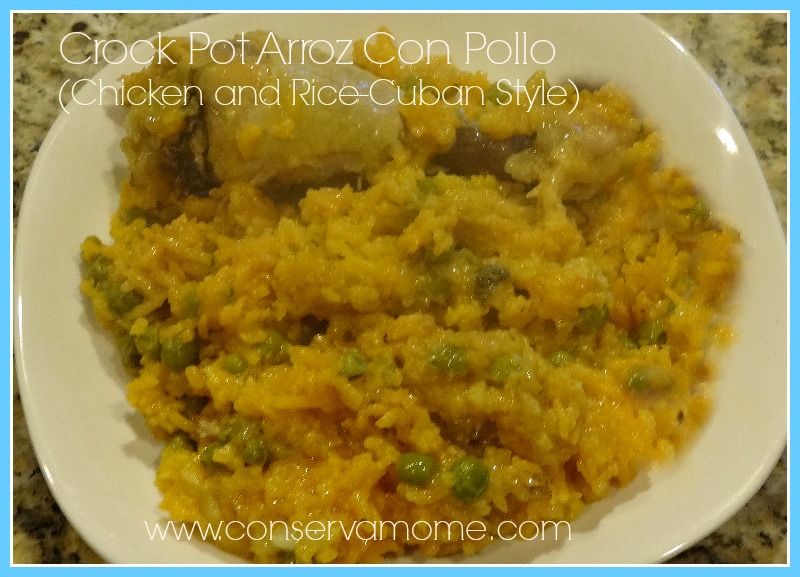 A classic Cuban Meal
Arroz con Pollo is a delicious meal that is hearty and the staple of any Cuban household(and variations pretty much exist all through Latin America). It is the perfect meal to try your skills at Cuban Food. Arroz con pollo (or chicken with rice) is an easy and hearty recipe that will make the perfect meal.
I remember growing up ,my grandmother would cook on this meal on Sunday afternoon for our family gatherings. Although there are many different tastes and styles to this meal, there is one general theme; tasty chicken and yellow rice.
There are many ways to enjoy Arroz Con Pollo
There are some who prefer their rice looser and dryer while others prefer it A la "chorrera"(roll your r's people!) (ie: soupier). The recipe I have here is a midway point due to the fact that I am using a crock pot and with that comes a little needed wiggle room with the water because, if you put too little your rice will burn or go crispy and that is a no-no! So yes this will be a mushier, stickier version than most but still delicioso (delicious!)
Having a busy schedule with 4 kids 7 and under that home school, are in Scouts, ballet and so much more I am always finding ways to tweak my family recipes to fit the crock pot.
So head below and check out how easy it is to make this delicious meal that will become a favorite in your home.
Ingredients(listed in order you put them into crock pot)
Olive oil-just put a bottom layer of it..very thin but enough to cover the bottom of crock pot.
1 Green Bell Pepper (chopped-I do it thin or my kids won't eat it)
1 onion(chopped thin as well)
2 cloves of garlic minced
1 package of frozen peas (some people prefer to leave this out..I like sneaking veggies in when I can)-Must be frozen when you pour it in!
6-8 various pieces of chicken (we love drumsticks so I just use those, but others like Thighs. Here's the key they must still be a little frozen. Not completely but with a little ice in the system)
2 Cups of white rice (or you can use yellow if you already have it)
4 1/2Cups of Water
1/2 a cup of beer
2 teaspons of salt
1/2 of Pepper
and Most important to give the Rice it's yellow color and this meal it's delicious flavor a Goya Sazon with Azafran. I have been been able to find this product from KS-Fl and even in a small grocery store in Pennsylvania. But, if you really can't find it click on the picture and you can get it at Amazon 🙂
*optional: You can add pimientos,capers, and green olives(1/2 a cup of each ill do)-My kids hate those so I forgo them but personally I love them in my Arroz con pollo!
Directions:
Because I was worried about rice drying out I added extra water which in turn makes this a bit on the stickier or Chorrera side meaning rice is wetter and "mushier" .
To begin cover the bottom with a thin layer of olive oil, throwing in the minced garlic, onion and green peppers. Then layer on top of that the frozen peas,semi-frozen chicken and rice.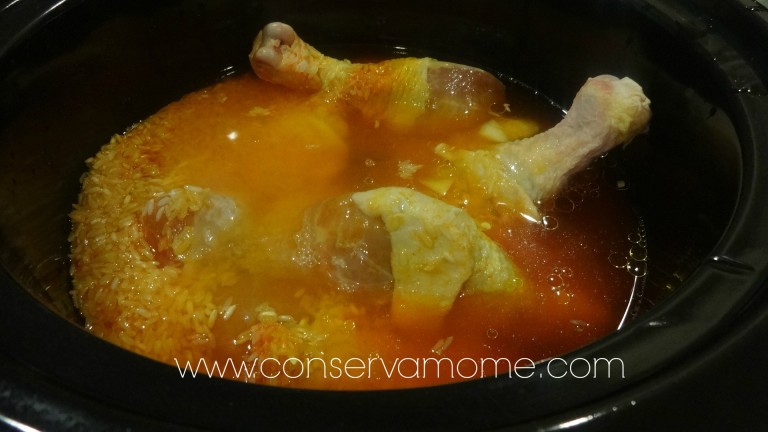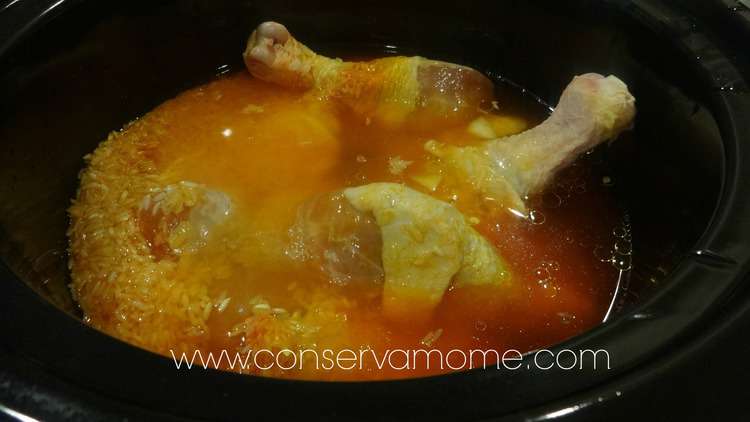 Add water and Goya seasoning packets(I used 4) along with salt and pepper with 1/2 cup of beer (we always used Budweiser but as you can see we were out and I used Pabst Blue Ribbon 🙂 -Hubby has an affinity for Retro beer.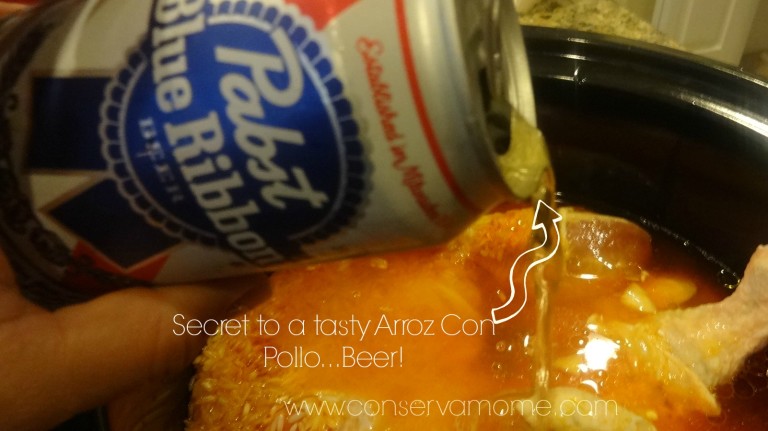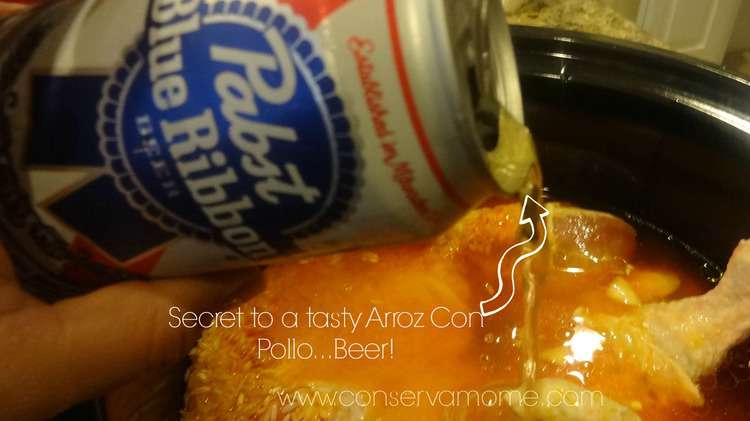 Now I played with the cooking time,But I did put it on high for 3 hours and then changing to warm for duration until dinner.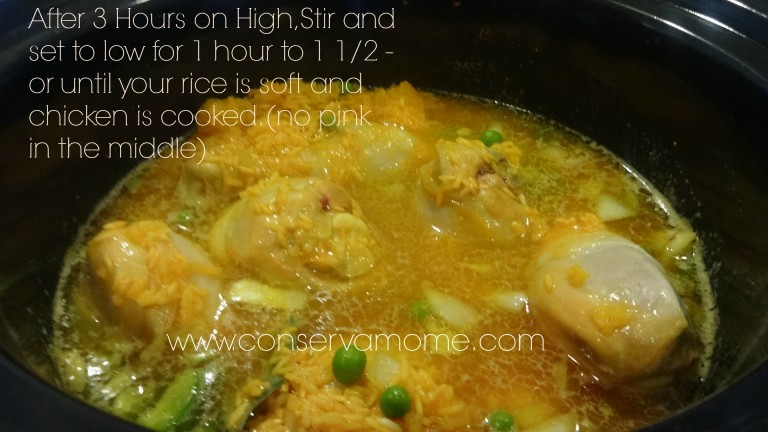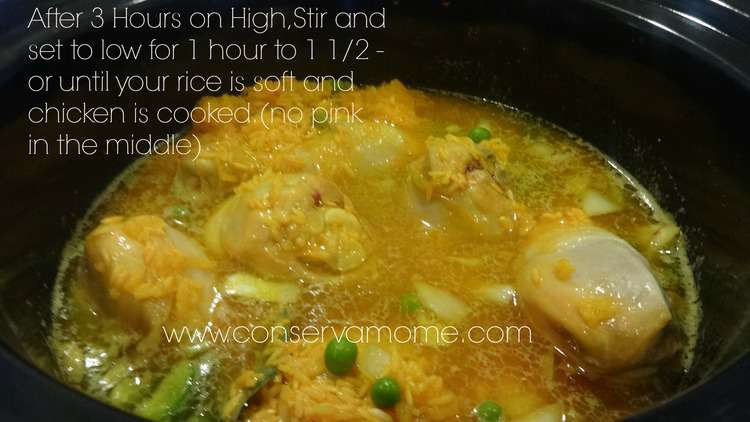 With any rice meal you could cook it for 5 hours on low if you can't do the high or don't have the time.. it should be fine.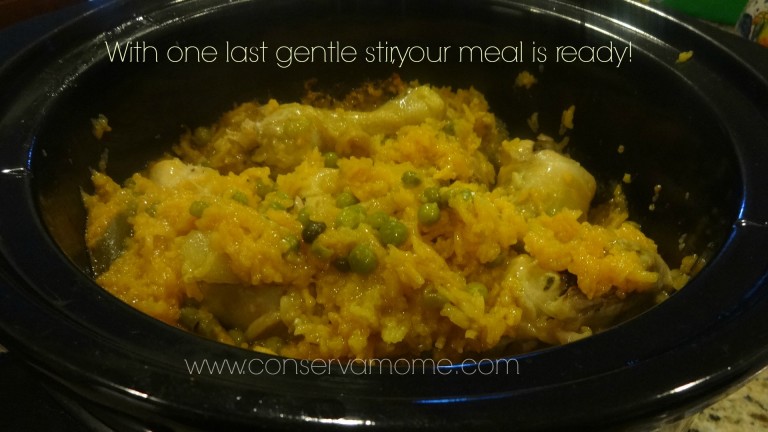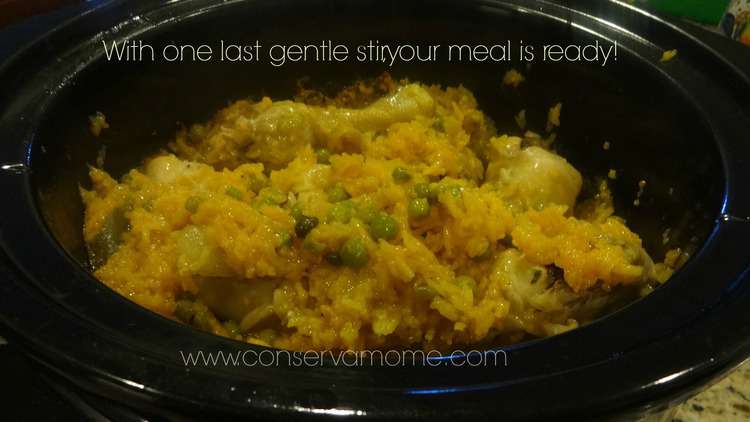 And Voila! Your meal is complete!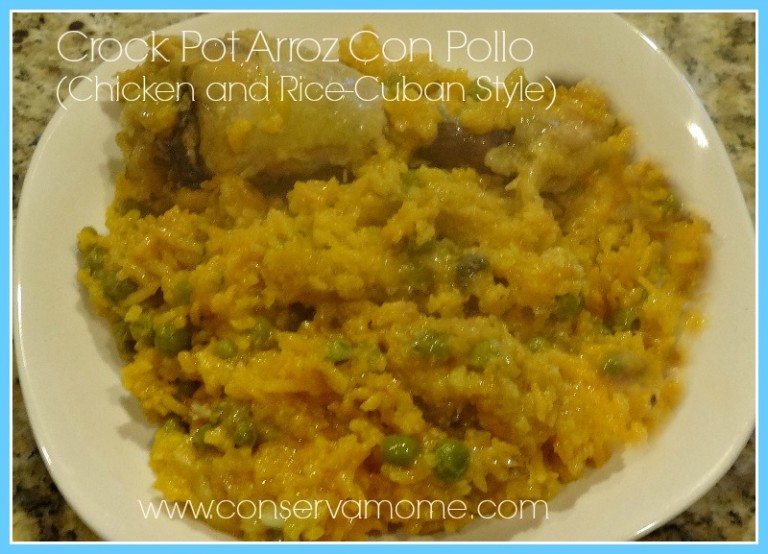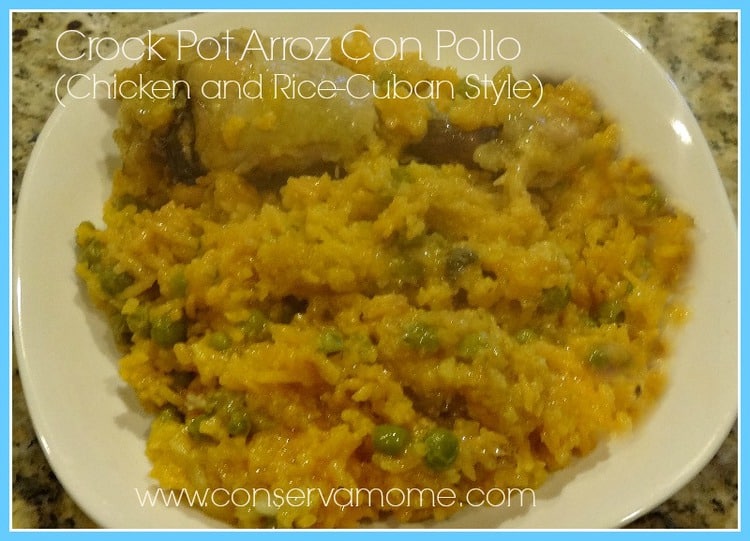 Note:
You can also follow these ingredients and steps to do it on the stove top(just satuee the olive oil, green peppers,onions and garlic-making a sofrito-the basis for all Cuban Cooking) then adding all the ingredients..don't stir the rice too much or it will become a mushy ball and bring the water ratio down a bit to 3 3/4 cups.
However, the fact I just set it and let it be for a few hours only to have dinner made when it was time was huge! Even my Aba(grandmother) would have been proud 🙂
Finally, Season to taste with salt and pepper, although I added to it at the end. I am dealing with kids so if I put too much of something my kids won't eat it. I have one who obviously takes after her father's side and thinks White bread is spicy.
Have fun with this meal, add a salad and some bread and heck, go crazy and add a flan at the end if you want! Throw in some mojiots and make it a party! With this easy meal you'll even have time to paint your nails and get dolled! 🙂
Buen Provecho! (Enjoy)
Save
Save
Save