This American Flag pie will be a hit wherever you bring it! This is definitely the perfect patriotic pie recipe! It's crazy easy to make and everyone will enjoy this delicious patriotic dessert. So whether it's Flag day, Memorial day, or July 4th bring this slab pie on!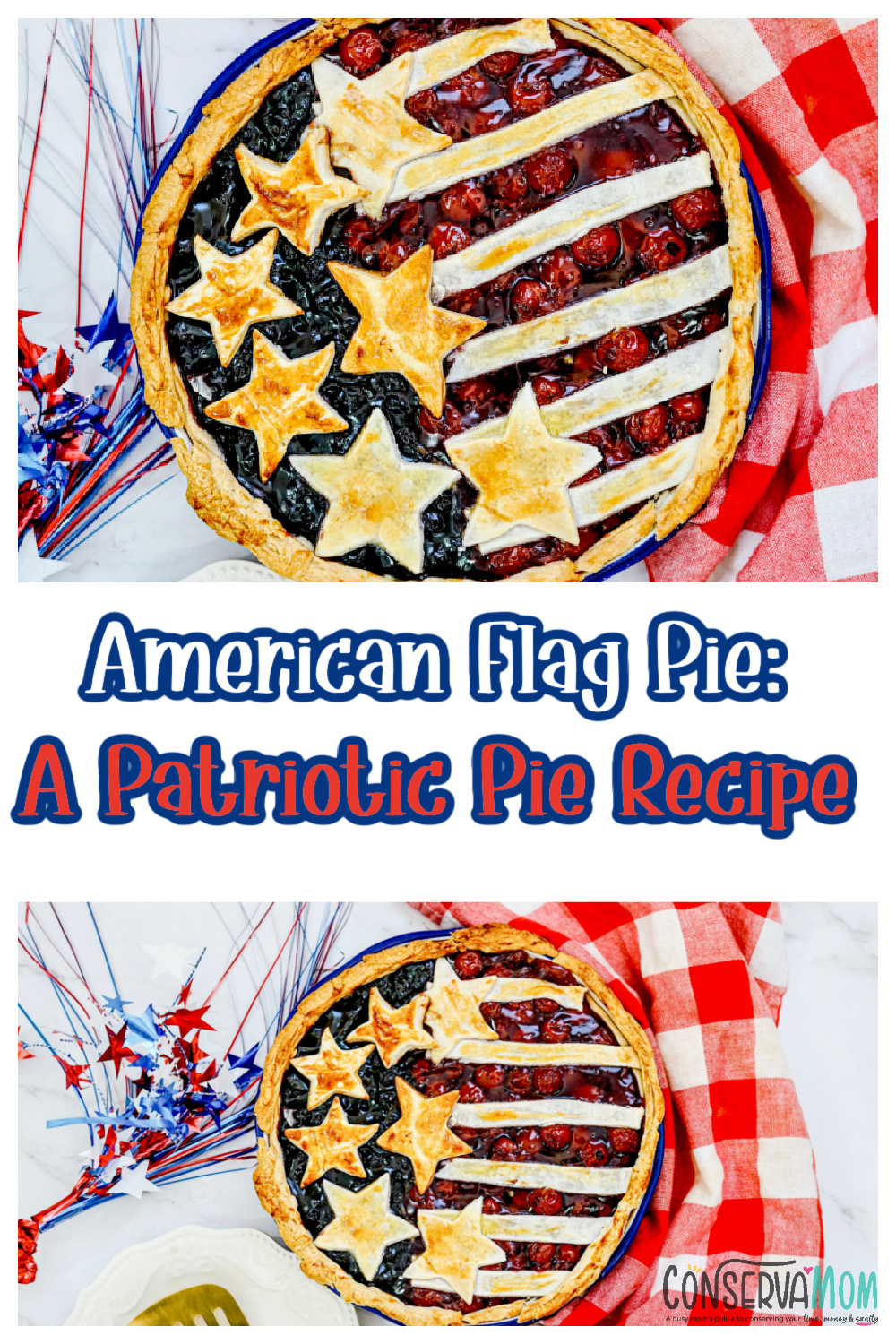 *This post contains affiliate links. That means that if you make a purchase after clicking on a link I may earn a small commission at no extra cost to you.
American Flag Pie: A Patriotic Pie Recipe
It's almost Memorial day which means summer is right around the corner and you'll find yourself smack dab in the middle of the Fourth of July and other Patriotic Holidays. What better way to celebrate these patriotic holidays than by putting together some delicious patriotic pies and desserts? I always enjoy this time of year because it's the perfect way to reward all the hard work we went through this year. Especially in the spring when we're running around trying to get so much done before school ends.
Best of all you get to celebrate the fact we live in this amazing country! As the daughter of immigrants, the importance of what we have in this country doesn't escape me and I want to make sure my children share the love we have for it. These patriotic parties do just that!
An Easy American Flag Pie Recipe
I am all about easy recipes because who has time to make complicated desserts when summertime is here and all we want to do is celebrate. Especially when there are so many delicious treats to enjoy at any patriotic event. That's why this American Flag Pie is the perfect dessert for any berry lover. Honestly, It's the perfect recipe for anyone looking for an easy dessert that's not just delicious but easy to make! This dessert couldn't be anyIt will become a favorite pie for any independence day celebration or patriotic celebrations.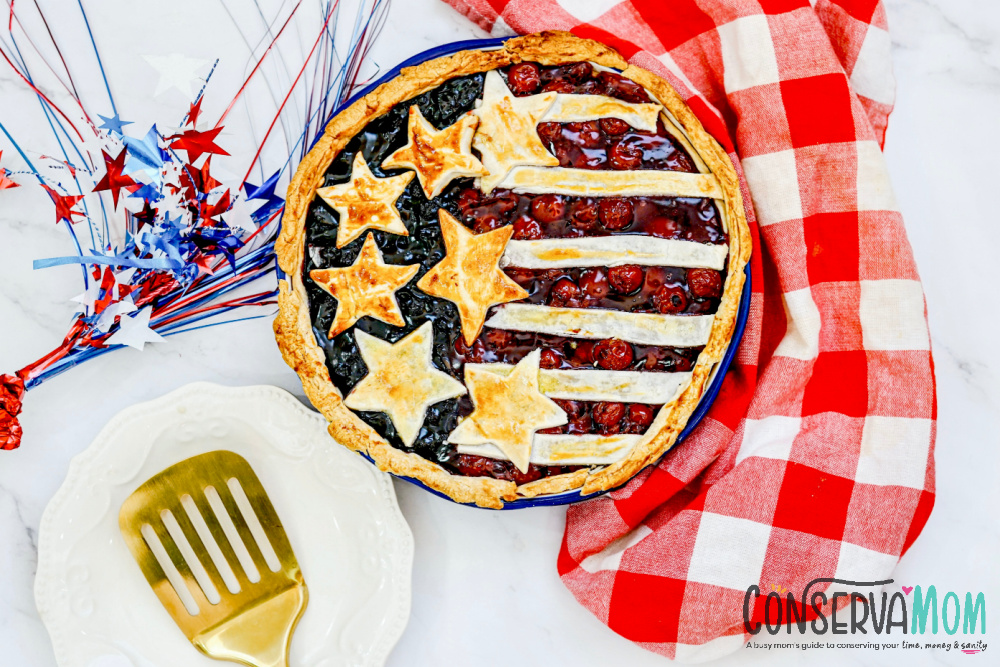 There are so many great red white and blue ideas to include at your next event! Some simple fruit pies and desserts you can include are raspberry pie, apple pie cheesecake bars, and some ice cream in a bowl that you combine strawberries with topped with whipped cream.
There are so many fun ways to bring patriotic celebrations home with easy recipes everyone will love. That's why I simply love this old glory pie. It brings together so many delicious and favorite summer fruits in one easy recipe. Combined with delicious pie dough cut into the stars and stripes of the flag! You can whip it together quickly and produce the cutest little dessert recipe around!
Looking for some fun plates to serve it in? Check out these ones below.
This delicious fruit pie is going to be a giant favorite in your home because of how easy it is!
What you need to make this American Flag Pie Recipe
15oz Package Pie Crust
21oz Blueberry Pie Filling
40oz Cherry Pie Filling
Small Star Cookie Cutter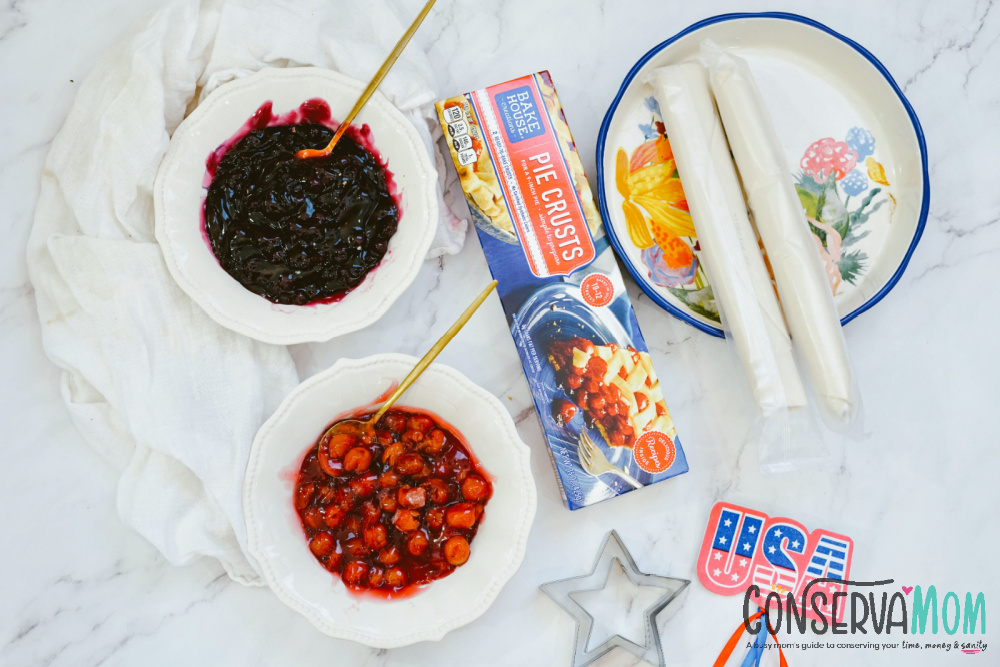 The Patriotic pie recipe and how to make it
Pre-heat oven to 350 degrees.
Put one layer of the refrigerated pie crust on the bottom of the pie plate.
Pour the blueberry pie filling onto 1/3 of the left side of the pie dish.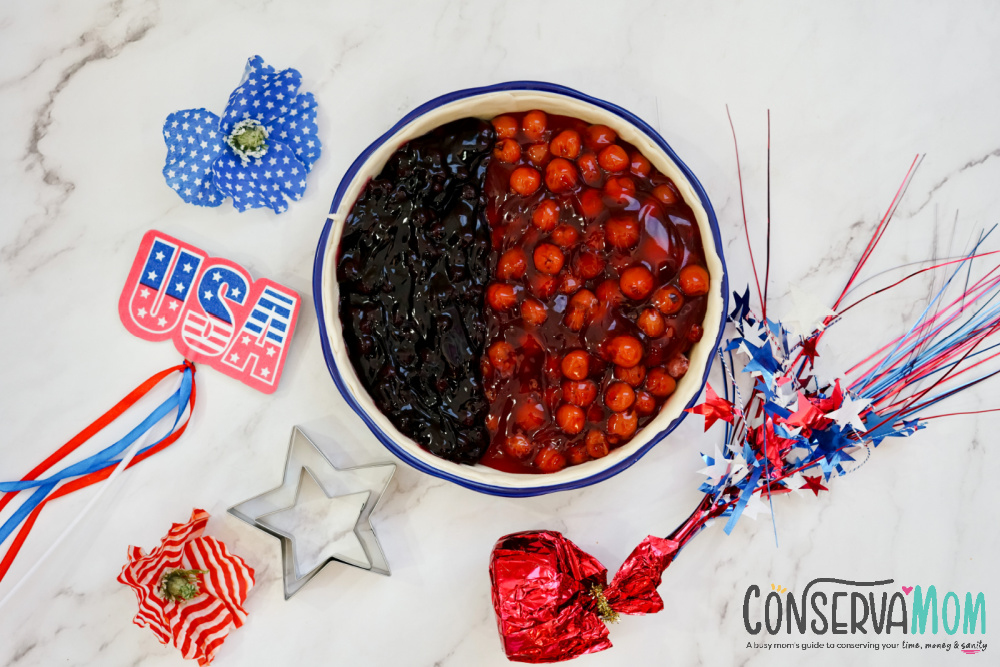 Fill the rest of the pie with cherry pie filling.
Roll out the second pie crust. Cut out 6-8 stars and cut out 6 stripes.
Place the Stars and Stripes on the pie.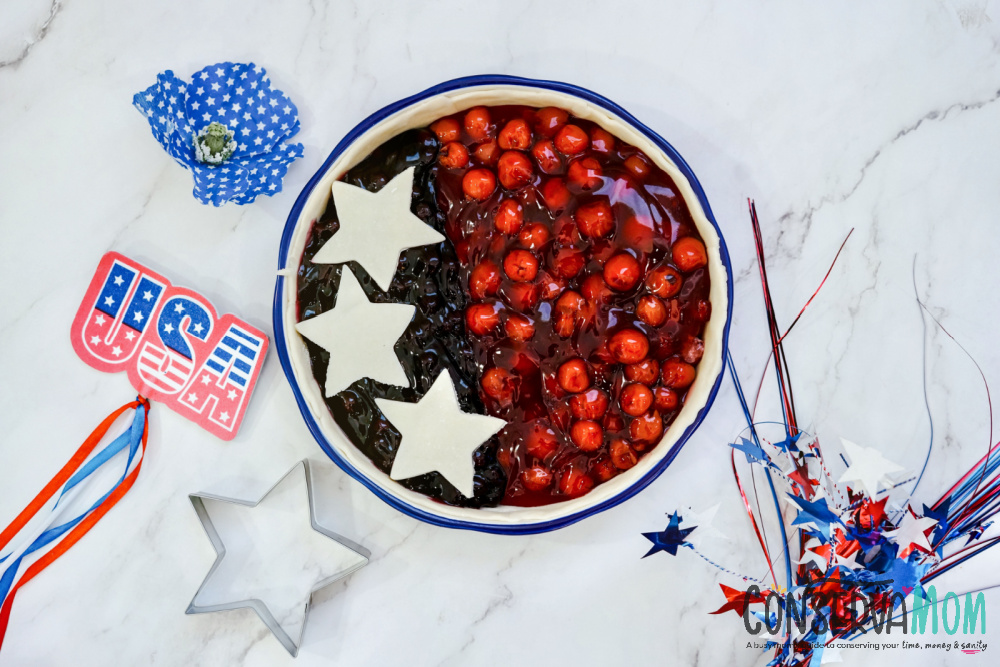 Use an Egg wash on the top. (see instructions below)
Bake for 45 minutes.
Enjoy.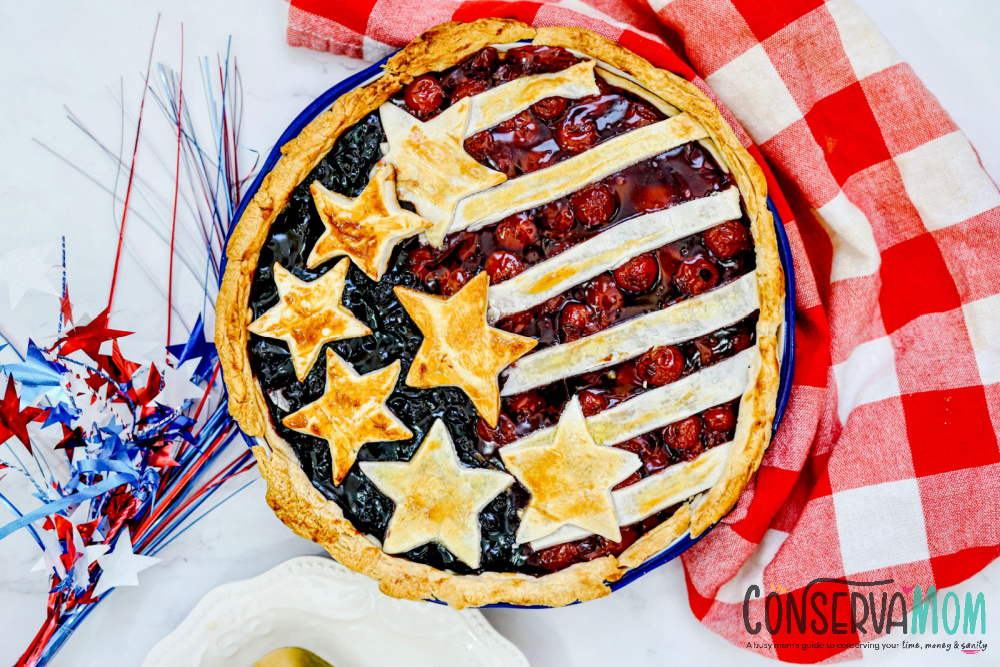 How to make the egg wash:
Egg wash can make all the difference in a pie or pastry. When brushed onto a pastry dough, egg wash is going to provide three things: shine, color, and structure. You know that perfectly golden-brown sheen you love on dinner rolls? Thank egg wash.
But egg wash is good for more than just aesthetics. It can also be used as a sort of glue to help attach two edges of pastry together. That's why it's important to make sure and include an egg wash to the flag cake in order to make sure everything sticks together nicely. To make the Egg wash Crack one egg into a small bowl. Add 1 tablespoon of water and a pinch of salt.
Beat mixture with a fork until combined.
Use a pastry brush or silicone brush to apply it to your dough.
Perfect Patriotic Recipes
Want to make this even more delicious? Serve it with a heaping scoop of cool whip or your very own Whipped cream (Heavy whipping cream mixed with sugar)
Make sure and cover any leftover pie in plastic wrap to enjoy later!
Looking for more Red, white and blue recipes? Head over here to check out Red White and Blue Desserts you will love. Need to bring a side? Don't forget to check out my delicious red potato salad that's perfect with any burger or hot dog entree!
There are so many great recipes to enjoy during this summer's patriotic festivities. All of them are easy and delicious and best of all tasty!