Making a delicious potato salad doesn't have to be impossible. As a matter of fact, this Easy Red Potato Salad recipe is so simple to make you'll never buy store bought potato salad again!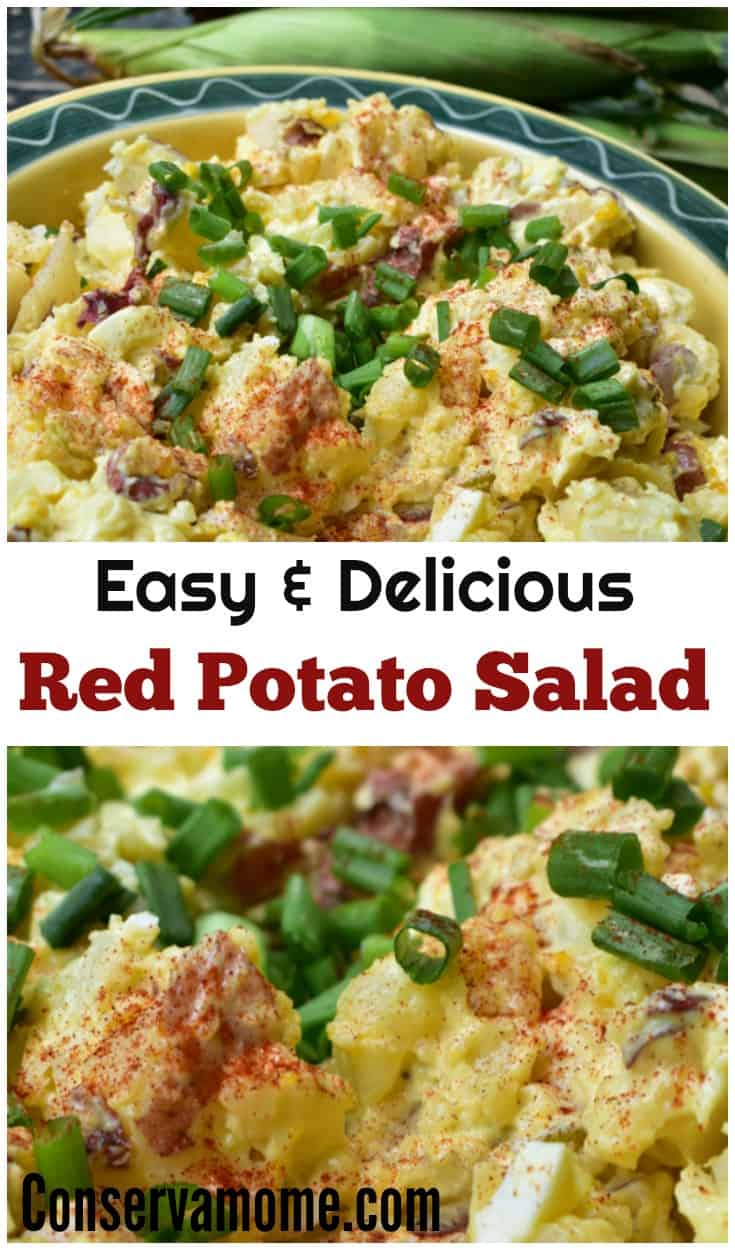 I've always bought potato salad for events because who has time to make it. I always worried about the time it would take to make potato salad and <ugh> the effort. However, after discovering this potato salad a few years back my whole view of potato saladas has changed drastically. This salad couldn't be easier! There really is nothing better than homemade potato salad and the ease of this salad proves it. So check out this incredibly EASY recipe below and incorporate this delicious Red Potato salad
17-18 red potatoes (skins left on)
2+ cups mayonnaise
2Tbs yellow mustard
4 large dill pickles, sliced and cubed into small pieces
6 hard boiled eggs, peeled and chopped
¼ cup finely chopped onions
2 tsp salt
1 tsp pepper
Optional: green onions, sliced for garnish and Paprika
In a large saucepan, cover potatoes with water, bring to a boil and cook on medium until they are fork tender. Should be about 20 minutes give or take.
Once cooked, drain water and set pan back on the stove to let potatoes cool.
While the Potatoes are cooling boil eggs.Drain and rinse with cold water. Cover with cold water to continue cooling the eggs until ready to use.
In a large mixing bowl, place chopped pickles, onions, mayonnaise, mustard, salt and pepper. Stir.
Add chopped eggs into mayonnaise mixture, stir until combined.
Cut each potato into small bite size pieces and place in mixing bowl. Gently mix until well coated.
Place in refrigerator until ready to serve.
I garnish with paprika and green onion but those can be optional if you don't care for them.
Seriously, this salad is a must for any BBQ,Picnic or just because.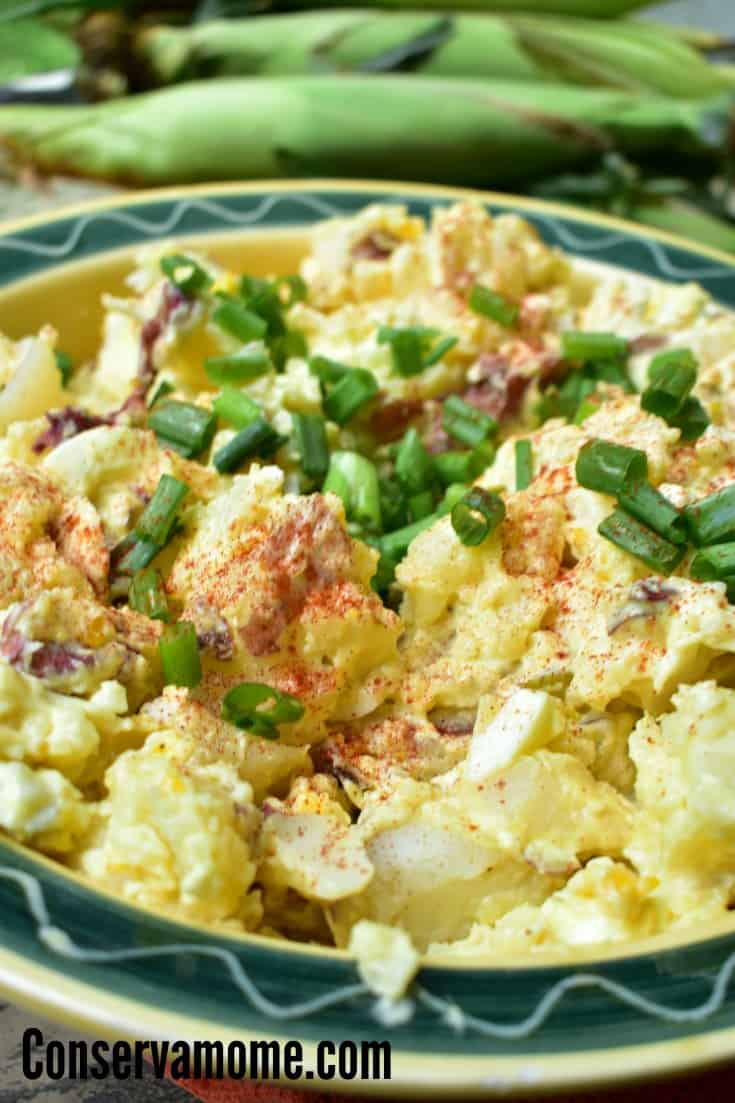 You'll Thank me when you try it for yourself!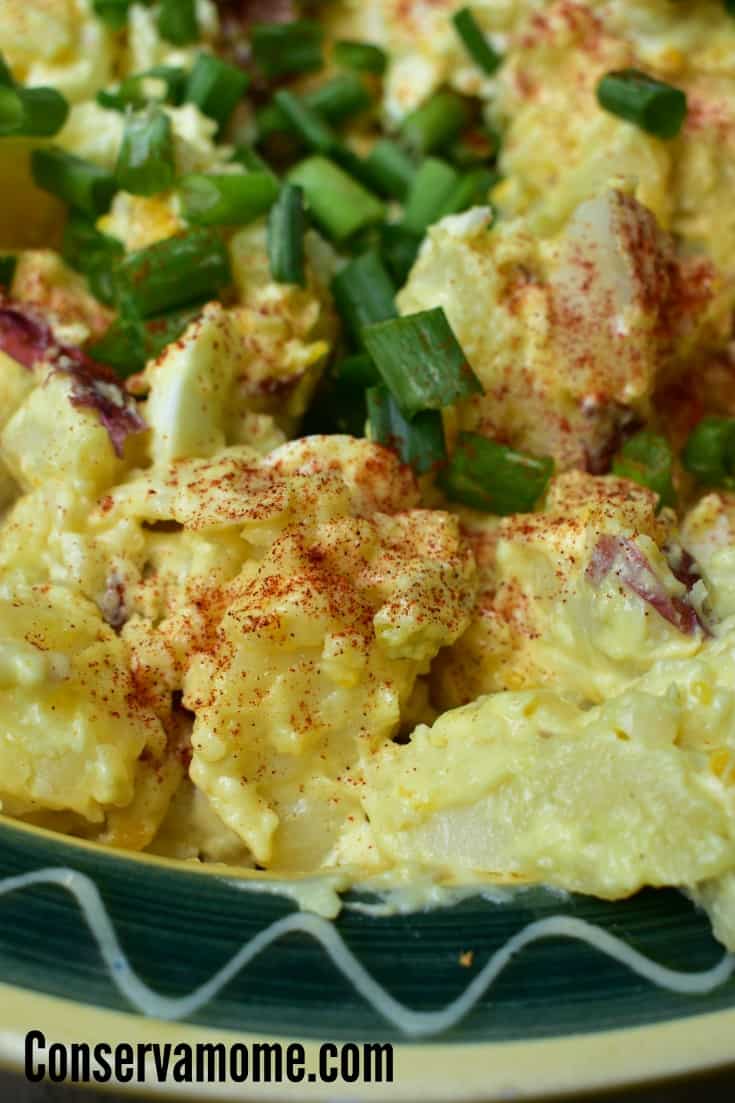 How can you possibly resist this delicious Potato salad?
Looking for more delicious salads? Check out 30 Easy Summer Salads here!