Do you have extra paper bags? Then check out this fun round-up of 10+ paper bag crafts for kids filled with some creative and fun ideas that will take boring paper bags to a fun new level!

10+ Paper Bag Crafts for Kids
The great thing about kids' crafts is that almost anything can make craft material. Regular paper lunch bags are a great way to open up a world of possibilities. A pack of lunch bags and some basic craft supplies are a fun way to bring together an easy craft. Best of all they are great for fine motor skills. One of the best benefits of paper bag crafts for kids is that they can actually be played with after the crafting is done. So brown paper lunch bags, ordinary brown paper bags, grocery bags, even simple brown bags or paper sacks, whatever you call them, there's no denying that paper sack crafts are a great source of fun and creativity. All you need are some great ideas and some simple supplies.
What can kids make with paper bags?
It might seem like there aren't that many options with paper lunch bags. But that couldn't be further from the truth. This list of paper bag crafts for kids has an assortment of ideas. There are all sorts of puppets that can be made and played with. You can even easily make paper bag stars or a paper bag turkey craft. There are some recognizable characters that kids will love. There are even simple options for when time is a bit of a factor. And finally, there are some really unique projects that wouldn't immediately leap to mind.
Common Craft Supplies
Obviously, paper bags are going to be needed. But there are a few other supplies that are common to many of the projects. Picking these up ahead of time will enable little crafters to make most of the projects on this list right away. Colored construction paper is key. Most of the embellishments on the bags are made of this. Paint is also needed for many of them. Acrylic is best, but watercolor would work as well. The glue goes hand in hand with construction paper. A glue stick is the easiest option to work with here. Scissors are another thing that will be totally necessary for almost all of the crafts.
Paper Bag Puppet Ideas
Paper lunch bags are ideal for making puppets. The way the bags come in the package, with the bottom pre-folded makes a perfect mouth for a puppet. And puppets leave so many different options open. Generic characters, animals, robots, the possibilities are limitless. With so many paper bag puppet ideas out there, there's just no reason not to start crafting.
Some colored felt (or construction paper for a cheaper, less durable option) can be cut up and glued into place to make a fierce pirate. Or changing his eyebrow can make him into a happy pirate. It doesn't take much to set up a really nice-looking pirate, and kids can act out adventures on the high seas all afternoon.
What is so much fun about these monster puppets is that all bets are off. Since monsters don't have a real, recognizable shape, anything can be used. The sky is the limit. Circles are coming out uneven and weird? Go with it! They can have any number of eyes, teeth, noses, or whatever works. Some colored construction paper, glue, and imagination are all it takes for unlimited fun. This is perfect for a Halloween party.
Closing things up on the puppets, we have Frankenstein's monster. A lot of people call the big green guy with the stitches Frankenstein, but that's a common mistake. Frankenstein was the doctor who made the monster. If making a monster sounds a little complex, no need to fear. This project includes a printable template to make things simple. And the best part is, no mountaintop lab with lightning rods attached is required to bring this fun little guy into the world.
Paper Bag Character Crafts
Now there are plenty of generic puppets that can be made. But some well-known characters are going to make an appearance, as well. Kids can bring the characters from movies they love into the paper bag and play with these paper bag crafts for kids.
This Wookie paper bag craft brings our favorite eight-foot-tall furry alien from the Star Wars series. What is really neat about this project is that the whole thing is accomplished with nothing but some colored construction paper, scissors, and glue. Googly eyes can be brought in as well, but they aren't necessary.
Encanto took some time to get started, but once it was on the scene, it really blew up for quite a while. And Mirabel, the loveable lead character from the movie is a popular favorite. The included template allows parents to pre-cut the shapes needed, so kids can glue them together. After it's done, they will love re-enacting the movie with the lead character. Just don't ask to make her uncle, 'cause we
don't craft about Bruno.
Baby Yoda Paper Lunch Sack Craft
Do you love Baby Yoda? Then get ready to turn a boring brown paper lunch sack into the adorable little creature star wars fans love! This fun craft project is so easy to make and is the perfect way to make a super simple craft.
Do you have a pokemon fan in your home? Then they are going to love this Pokemon easy activity. Just head over to grab the template and this is the perfect activity !
Easy Paper Bag Crafts
Sometimes kids need something to do, but you don't have much time. Or energy. So crafts that are quick and easy to complete can be quite handy. Well, the following crafts all have included templates, which makes them much easier and faster to do. Instead of going through a whole project, these just require a little printing, a little cutting, and a little gluing. And kids will still love the final results, so these easy paper bag crafts are totally worthwhile. Paper bag animal puppets are always a great craft idea that is perfect for imaginative play. So whether they are puppet crafts or simple paper bag crafts these are fun ideas below to check out.
These butterflies are so cute! The included templates mean they are so quick and easy to make. Craft a whole kaleidoscope of them, and the kids will be busy for hours. Paper bag animal crafts are always popular, and these butterflies simply can't be beaten.
Besides being loads of fun, this unicorn printout is totally blank, just an outline. Kids can color them in as they see fit, so everybody gets their own unicorn. Even a whole herd of unicorns. Maybe make both and let the unicorns play with the butterflies.
All these unicorns and butterflies are very colorful and pretty. On the other hand, there's nothing wrong with a nice little cow. Besides being insanely cute, this fun little guy can be used to teach kids about farm life, or where food is from. They will be amazed to find out that all those dairy foods come from the same animal. The cute, friendly cow will be an instant hit. That means these cow puppets make easy paper bag crafts for toddlers.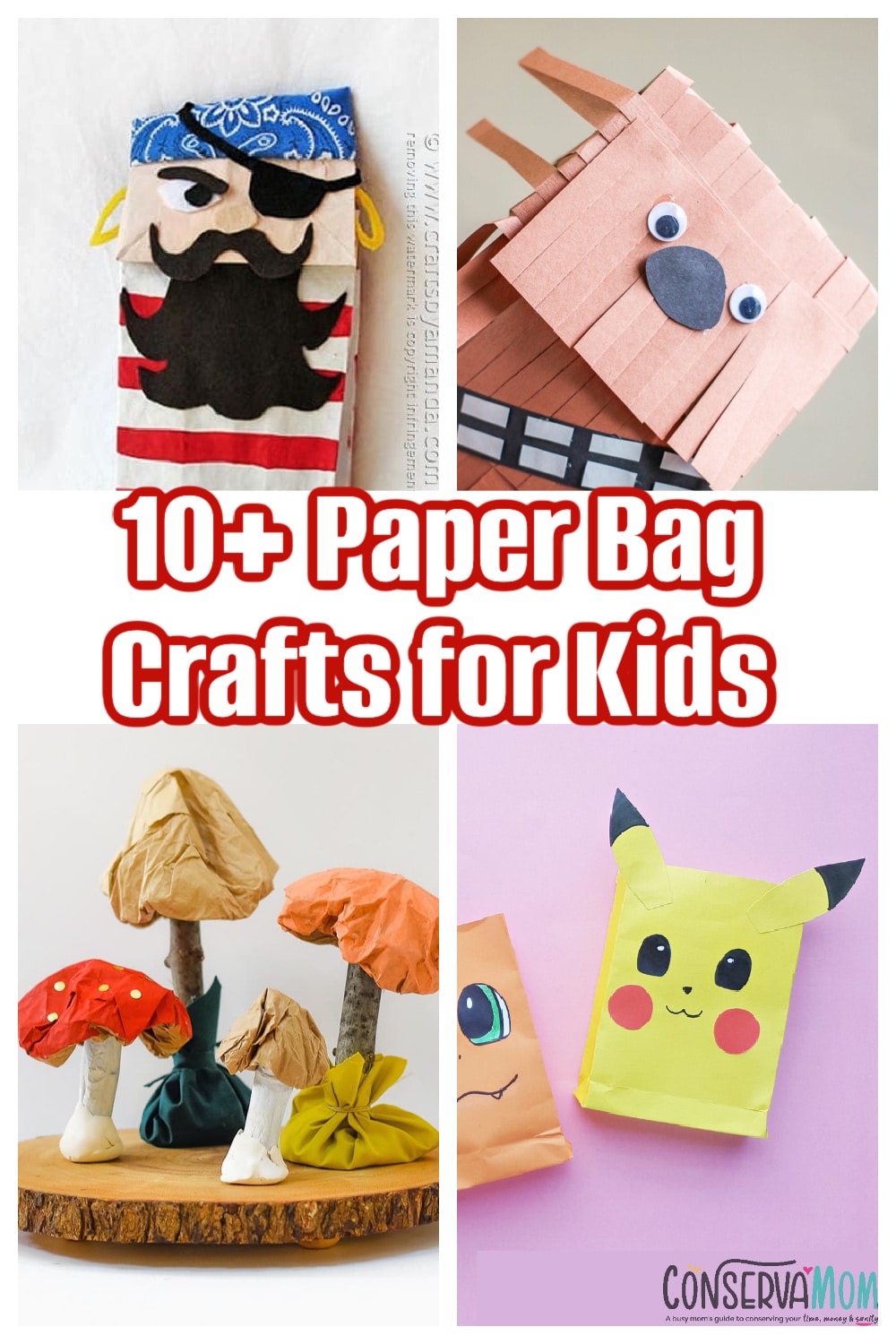 Unique Paper Bag Crafts for Kids
And then there are the projects that don't really fit into any easy category. These interesting and unique crafts are all worth making, but none of them are the standard puppet-style characters. They will take a little more work to finish, but kids will love the end result.
These paper bag mushrooms are a really interesting spin on the concept of paper bag craft ideas. Besides incorporating a bunch of elements from nature, the bags are bunched up in a very unusual way to help form the mushrooms. Kids can definitely help with this one, or adults can handle it solo. After it's finished, it would make a great decoration in a forest- or fairy-themed room. So head outside, start gathering some sticks, moss, and whatever other natural materials will fit in with it, and make some really striking mushrooms.
Paper snowflakes are an activity that every child has done in their lifetime. But making them out of paper bags will result in a really unique-looking paper snowflake. The big grocery store paper bags make giant brown snowflakes. This might seem odd, but they actually look very charming. They will compliment the winter decor this upcoming season for sure. Just imagine a Christmas tree, with softly twinkling lights, surrounded by giant paper snowflakes suspended from the ceiling. So, save a couple of bags after visiting the grocery store for some fun brown paper bag crafts.
10+ Paper Bag Crafts for Kids
This fun round-up of 10+ Paper Bag Crafts for Kids is a great way to upcycle paper bags in an easy and creative way!
Paper Bag Activities
Working through this list will result in a lot of paper bag characters, toys, and art. But once they are all done, what next? The fun only starts with the crafts. Kids and parents can put on a puppet show or have wild adventures starring monsters, dragons, unicorns, and a Wookie. Also, with the butterflies, monsters, or unicorns, kids can really experiment with colors and patterns to see what sort of variants they can put together. A group of kids could all make paper bag puppets and then play a game of paper bag tag. The list of paper bag activities goes on and on.
Crafting with Paper Bags
While paper bags aren't the first thing most people think of when picking up craft supplies, this list shows that there is plenty of potential in bringing them in. There are so many simple, easy possibilities, and also more advanced options available. On top of all that, the projects listed here are really only just a sampling of what's out there. So whether you go with a paper bag bunny craft or a simple paper bag puppet fun cute paper bag crafts are the perfect craft for any time of year.
So stop throwing away used lunch bags, dig out that half-pack of them that's been sitting in a closet for years, and get crafting!
Are you looking for some other themed crafts or fun things for little hands to do? Then check out my round-up of Toilet paper roll crafts!