Will you be heading on vacation this summer? Read on to check out some useful tips for planning your family vacation. These tips will help curve or plan for any surprises or issues that may arise making sure you all have a wonderful time.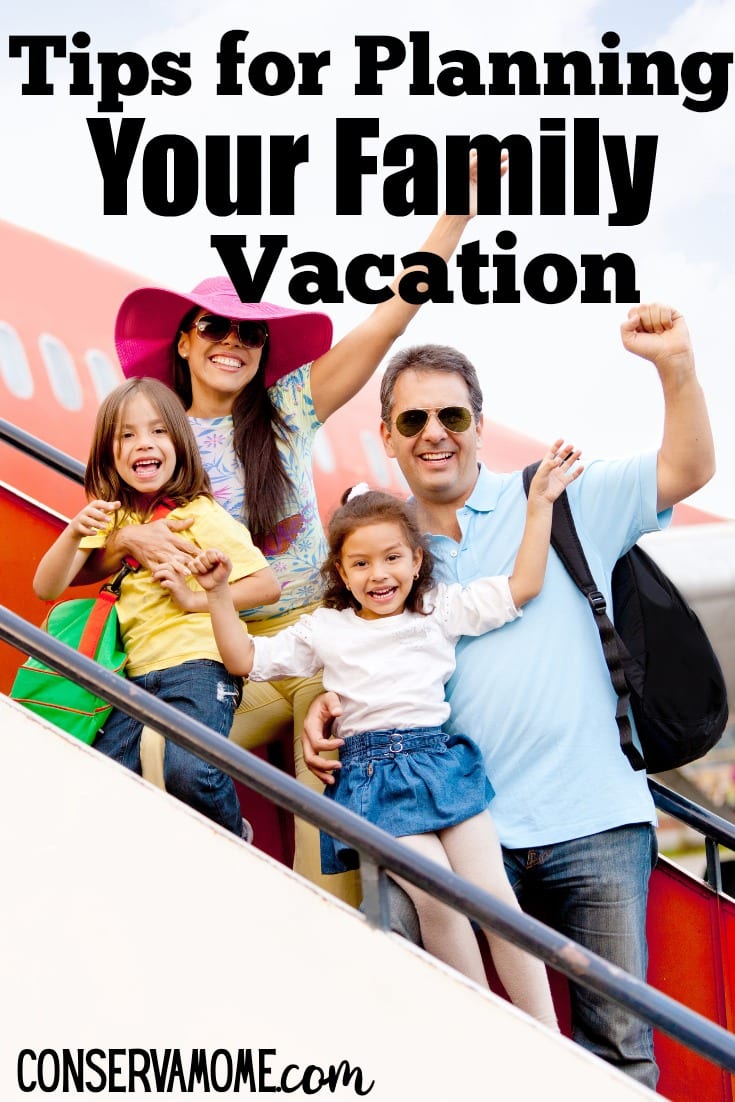 Tips for Planning Your Family Vacation
Are you planning your family vacation before school starts? Do you have Disneyworld in your sights? Or maybe the Beach? The kids will love it, and you will love the vacation too. Enjoying the last little bit of time as a family before the kids go back to school is a valuable time for your family. So where are you going to go?
Planning family trips is so fun and exciting, but at the same time can be a little overwhelming. Let's discuss some practical ways to make the planning and executing of your family vacation an exciting time for everyone.
Get out your calendar and make a preliminary plan. As you look at the calendar, plan your vacation where you can be gone the most days while taking the least amount of days off work. This will leave your family more time for fun and relaxation on your trip. Also, you will make the most of your to and from travel expenses.
Purchase travel insurance. This step is sometimes forgotten, but it is essential to remember to ensure your family's happiness. Travel insurance is not normally expensive and will cover your family while you are on vacation. Why is this so important? Say your family is having the time of their life in the great outdoors. You are at an amusement park, and your family falls victim to an unfortunate mishap. During the time of the accident, you make all the right choices:
Get your family to a safe place
Take photos of the area and the situation
Get the contact information of anyone who witnesses the accident.
Travel insurance can help take some of the financial strain of the unexpected costs you may incur from a personal injury accident while on vacation. You may have additional medical expenses or flight delays, and the right travel insurance plan will pay for those expenses.
Once you have the days you are going in mind, choose a method of travel. Depending on where you live and where you are going, it can sometimes be cheaper to fly than to drive your vehicle. This includes the rental car you will have to acquire in your destination city. Make sure to check out the value airlines if you are willing to fly without the frills.
Look at some travel websites and make a list of attractions in the area you are going to. Now you can enlist the help of the family. Show your children the list and your budget. Allow your children to work together and make a plan of the attractions they want to see within the family budget. Teaching your children to live on a budget is good training for your children. The trip also is now a part of them so they will be more willing to work toward the goal.
Find a B&B or other type of accommodation. Anymore, choosing suitable accommodations does not have to be expensive. Nowadays, people open up their homes and rent it out even when they are away on vacation themselves. A great big plus to renting someone else's house is all the amenities. The house is live-in ready, complete with a washer, dryer, cookware, eating utensils, and anything else you may need while being away.
Now that you have a solid plan, check all of your dates, the budget, and book it! Yes, it is time to make the final preparations for your family vacation.
Words cannot express how vital quality family vacations are. Before you know it, your children will be all grown up and taking their families on vacation. You and your children will be left with fond memories to reminisce about with the grandkids for many years to come.
Each summer vacation is a never to be repeated occasion in your family history. Make it fun and exciting! Make the most of your time with your children. Take lots of pictures wherever your travels take you. Start planning your family vacation for this summer now!