Disney World is a Magical place. It's also packed full of mystery and secrets. Check out Strange (but true) Facts about Disney World that will keep you looking and guessing when you go.

Strange (but true) facts about Disney World
Ever since I was a little girl, living in Florida had one giant perk, visiting Disney World. Back when I started going it was a very different place then what it has become now. So I've been able to see the progression of the magic.
Even as a child I knew this place was magical. But how magical is it? The architects behind this magical world have gone out of their way to make this place truly magical. Hence there's a lot of Strange things behind the scenes to help make this place amazing.
So I've put together this fun list of Strange (but true)facts about Disney World. Some are a little stranger than others but they're all pretty neat!
1.No structure at Disney World stands taller than 200 feet.
This includes both Animal Kingdom's Expedition Everest and Disney's Hollywood Tower of Terror are built just shy of 200-feet (199-feet to be exact).
This is due to the fact that any building over 200-feet would require red flashing aviation lights.
2.Cheaper than a Latte!
When Disney's Magic Kingdom first opened in October 1971, admission use to cost just $3.50; that would be about $21 today if you adjusted for inflation. Sadly, prices have gone up and a one-day pass now costs around $109.
3.No Straws for you!
Disney did away with all of their plastic straws and lids so now you get paper straws for all your beverages. If you have any dye allergies I suggest you invest in metal straws to take with you, because they are colored. Or just take metal straws so they don't disintegrate in your mouth either :).
4. Just like in Disney Films there are hidden Easter eggs everywhere:
Hidden Mickey's are everywhere! The Mickey silhouette can be found in décor, table settings, buildings and numerous other places. Keep your eyes open and make a game of it.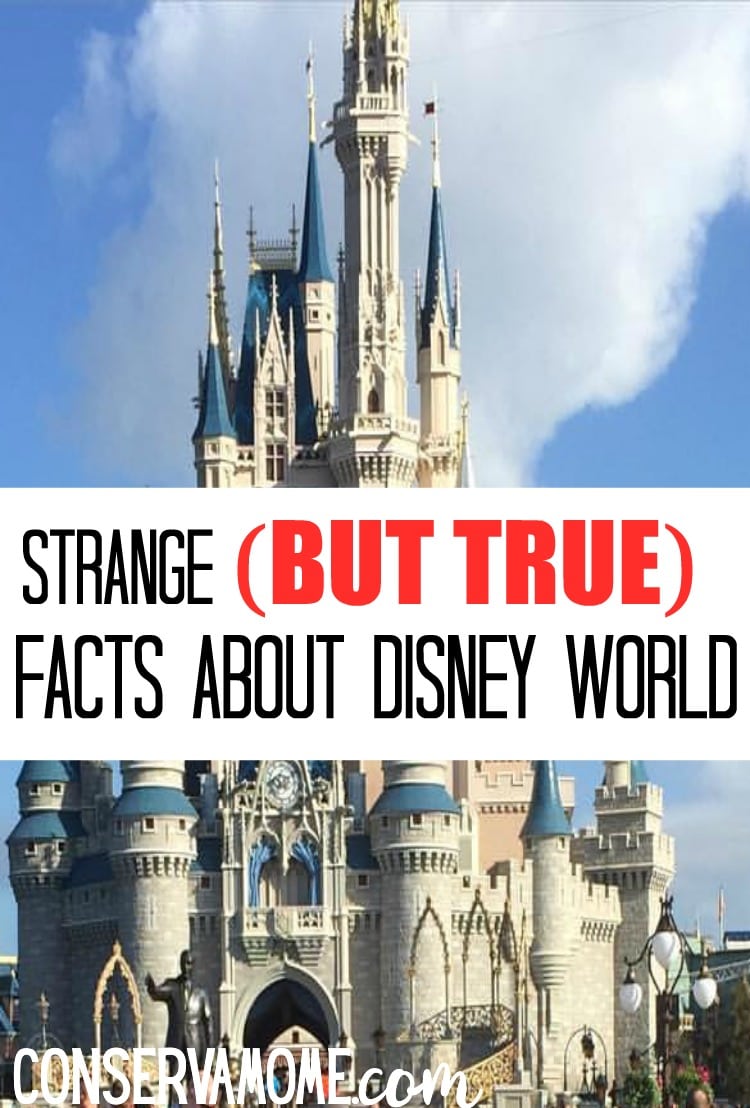 More Strange Facts about Disney World
5.Somethings are Historically accurate to the tee!
The Disney Imagineers took the historical accuracy of the Magic Kingdom's Liberty Square seriously. To maintain the essence of the colonial time period, Liberty Square was built without any restrooms. (Magic Kingdom itself boasts 23 public ones!) However, a sneaky loophole allowed for bathrooms to be installed at the Columbia Harbour House and the Liberty Tree Tavern, since they are technically not located in Liberty Square.
5.Underground Trash World
To remove trash from the park, the Magic Kingdom uses an automated vacuum collection (AVAC) system that functions in the park's vast underground utilidors, or underground tunnels. To use the system, custodians remove trash and dump it into special processors. From there, it's brought underground and pushed along at 60 miles per hour to a central location where it is processed, compressed, and transferred to a landfill or recycling center.
6.Main Street U.S.A. Isn't So Patriotic
American flags are required to be raised, lowered and flown at half-mast due to regulations. As a result, each flag on Main Street U.S.A. is missing a star and a stripe so they can be flown permanently. That being said there is one flag that is real and they have a flag retreat ceremony at 5pm everyday.
7. Disney's Hollywood Studios was a Real Studio
I actually remember growing up and seeing some shows filmed at (Disney MGM Studios). In its original form, Disney's Hollywood Studios was a real studio, not a theme park. Shows like "The Mickey Mouse Club" were filmed there before it was transformed into its current iteration.
8. Always open for business
Disney World has only closed four times since opening in 1971. The first was for Hurricane Floyd in 1999. The second was for the terror attacks on 9/11. And the third was a power failure in 2002. The fourth was for Hurricane Matthew in 2006. Interestingly enough, it took less than 30 minutes to evacuate thousands of guests on 9/11. *Edited to add that since the Closures in March it took 4 months for Disney to reopen again and was once again opened for business July 2020.
9. Steam from strange places
The steam engines on the Disneyland Railroad are fueled by old French fry oil. After a few days of use in the kitchens throughout the park, the oil is converted to biodiesel that the trains can run on.
10. Did I say they are historically accurate?
Each president in the Hall of Presidents wears clothes made using the techniques of his time. So, while George Washington's suit was hand-sewn, George W. Bush's suit was stitched together by a sewing machine.
11.More than Meets the eye
Did you know Cinderella's Castle isn't actually made of stone–it's fiberglass that Disney had to get special permission from the government to use, because it doesn't meet building code. Even stranger is that the castle is built on a slight incline so it looks bigger and sits higher than the rest of the park. (Still staying within the 200 feet minimum)
12. Your time is valuable
According to a Walt Disney World cast member, they overshoot wait times for rides by about five to ten minutes so that visitors are pleasantly surprised by the shorter-than-expected times.
13. Secret Hotel Suite
There's a hotel suite tucked away in Cinderella's Castle that can sleep up to six and has flat-screen TV disguised as magic mirrors. Unfortunately, you can't just make a reservation—overnight guests are winners that are chosen at random by the park each day.
14.This restaurant is hard to get into but totally worth it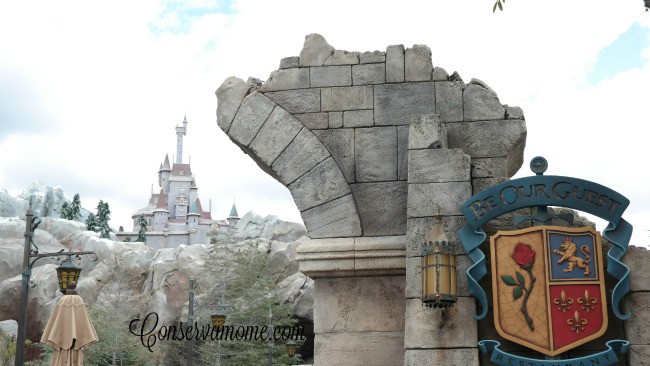 Be Our Guest is Walt Disney World's toughest restaurant reservation, but if you're lucky enough to end up inside, don't miss the artwork throughout the ballroom. The snow outside the ornate windows was created from original movie animation cells, and the lifelike cherubs lining the ceiling mural bear the faces of children of the Imagineers working on the project—as well as the Imagineers' baby faces themselves!
15. Secret Club 33
There has always been talk of the secret club in Disneyland but this one JUST opened up a few months ago in Disney world. It's right when you walk into Adventureland. Just like the other club you have to be a member of it. This is only for Club 33 members. There are 4 of these combined through the Walt Disney World /Disneyland parks. It stemmed from Walt Disney himself as a place to entertain special people and colleagues. You can read more about it here.
16. Recharge with Rapunzel
If your phone is running out of battery make sure and stop in the Tangled Restroom area because you can recharge your phones there! There are recharging stumps all over the area to help you get on your way with a full battery.
While there look for the hidden Pascale's 🙂
17. Secret Wedding ring
If you're in line for the Haunted Mansion make sure and look for the bride's wedding ring cemented to the floor. It's located near the water crypt that sprays water. It's by a big green trash can.
18. Mr. Toad's Wild Ride
If you went to Disney World Eons ago like I did, you can remember Mr.Toad's wild ride. It closed years ago and was replaced by the Winnie the pooh ride. If you see at the beginning of the ride you'll catch a picture of Mr. Toad handing the deed over to Owl. So make sure and keep your eyes open for this!
19. Mr.Toad's Grave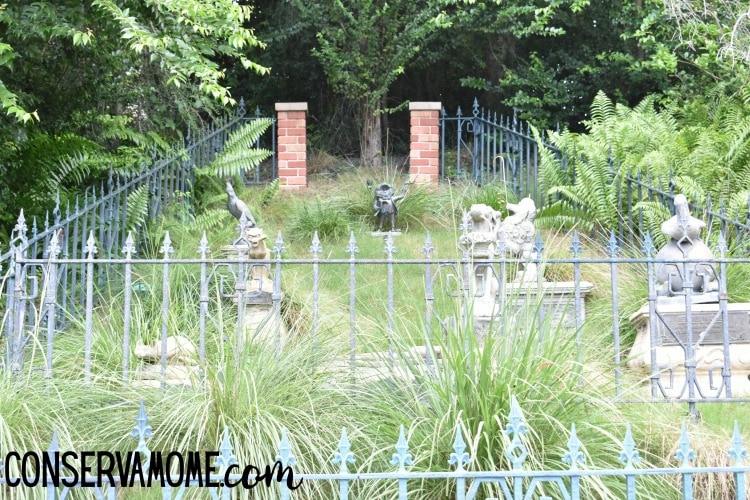 If you head to the Haunted Mansion Cemetery in the pet cemetery section you can actually find Mr. Toads' grave there.
20. Are you worthy of the sword?
Did you know there's a fun show that happens multiple times a day at the sword and the stone in front of the merry go round? One worthy person can actually pull it out 🙂 So keep your eyes open for the show.
21. The Kiss Goodnight
If you stay around the Magic Kingdom about 15 minutes after the park officially closes, you'll get a chance to watch what Disney veterans call the "kiss good night."
When the park is mostly empty, Cinderella's Castle lights up for the last time of the evening while "When You Wish Upon a Star" plays in the background. The same "kiss good night" message is played over the loudspeakers every night before the final guests exit the park:
"Ladies and gentlemen, boys and girls, on behalf of everyone here at the Magic Kingdom, we thank you for joining us today for a magic gathering of family, friends, fun, and fantasy. We hope your magical journey with us has created wonderful memories that will last a lifetime."
21. No Gum
None of the stores in Disney world will sell you gum. Just to keep the park cleaner. Chewing gum isn't sold anywhere on the property. So if you need to chew, make sure you bring your own gum. They won't confiscate it, they just won't sell it.
Finally, Disney world is truly a magical place filled with adventure, magic and fun. These are just some of the fantastic secrets you'll find in Disney world. There are many that I didn't mention here. That being said make sure and keep an eye out next time you're at the parks for these secrets.
Do you know any secrets or strange facts I didn't mention here? Did you enjoy these Strange (But True) Facts about Disney world?
Looking for more Disney Magic? Head over here to learn about Unusual Epcot Experiences you need to try out when you go.
Will you be planning a trip to Disney World? Here is a fun round up of DIY Crafts for your Next Disney Vacation!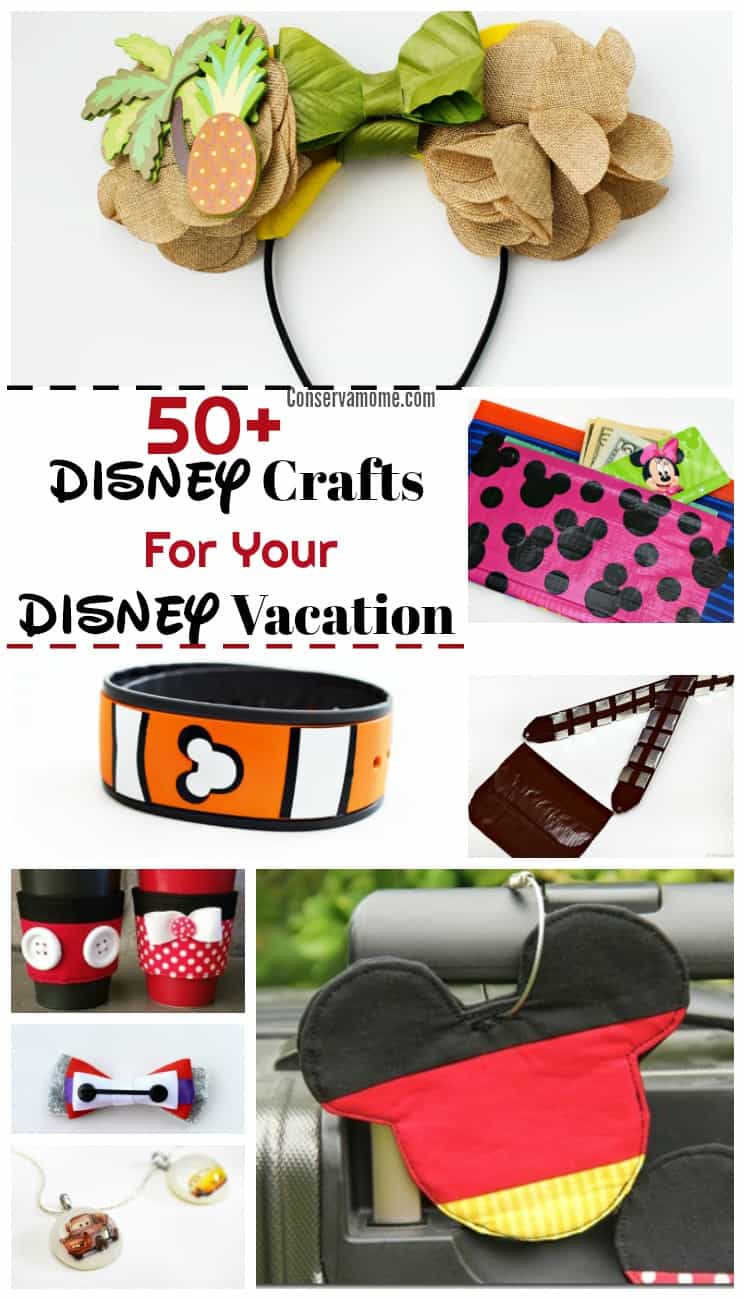 Looking for more Disney fun? Make sure and check out these Delicious Disneyland copycat recipes you can make