Are you a fan of all things Disney? Do you want a magical treat that is easy to make? Then here's the perfect Disney Themed Dessert. Check out these easy to make Mickey Mouse Krispie Treats.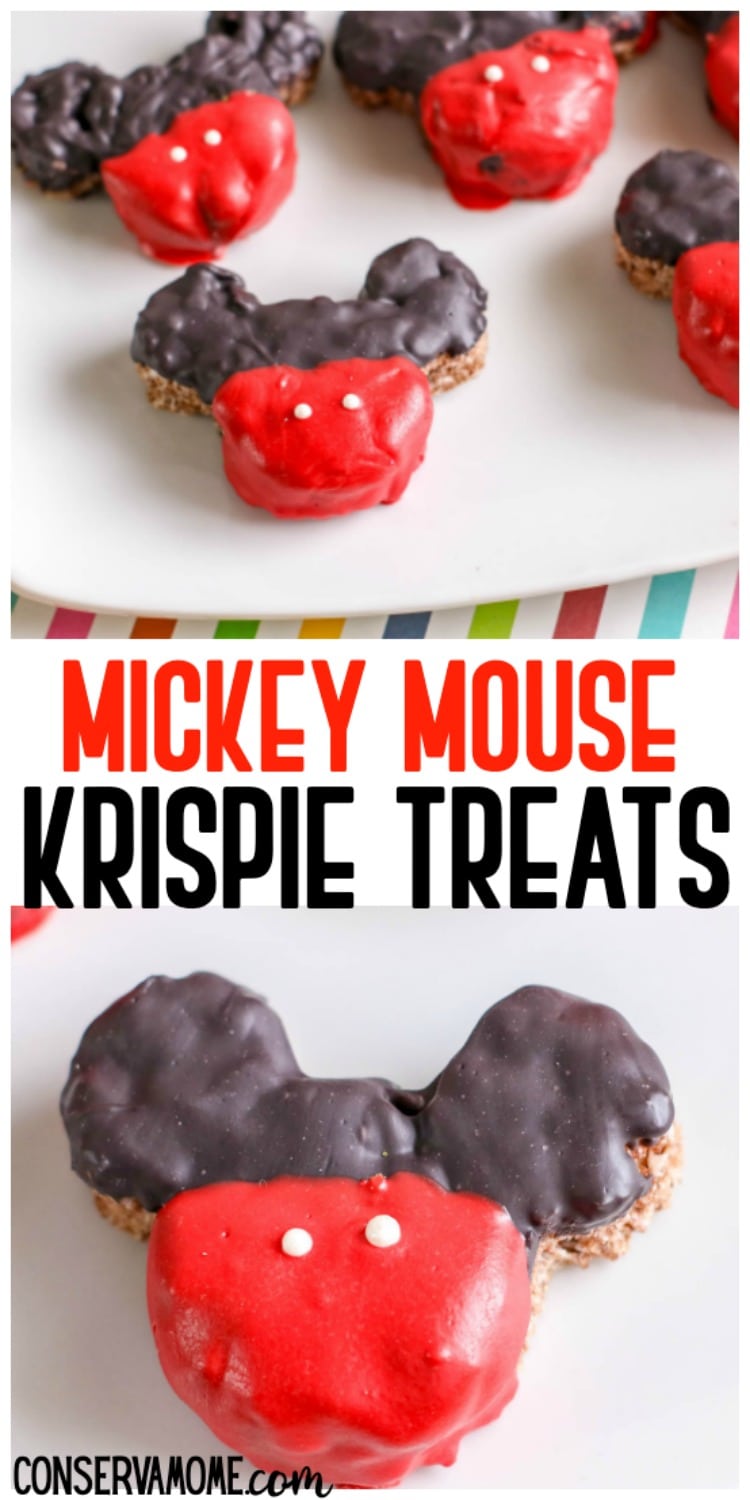 The Perfect Disney Themed Dessert
We've got big news in our home. This summer we're surprising the kids with a trip to Florida and then Disney World. So my brain has been in high gear these past few days with everything Disney related. Because who wouldn't be excited at the prospect of spending 3 days at the happiest place on EARTH!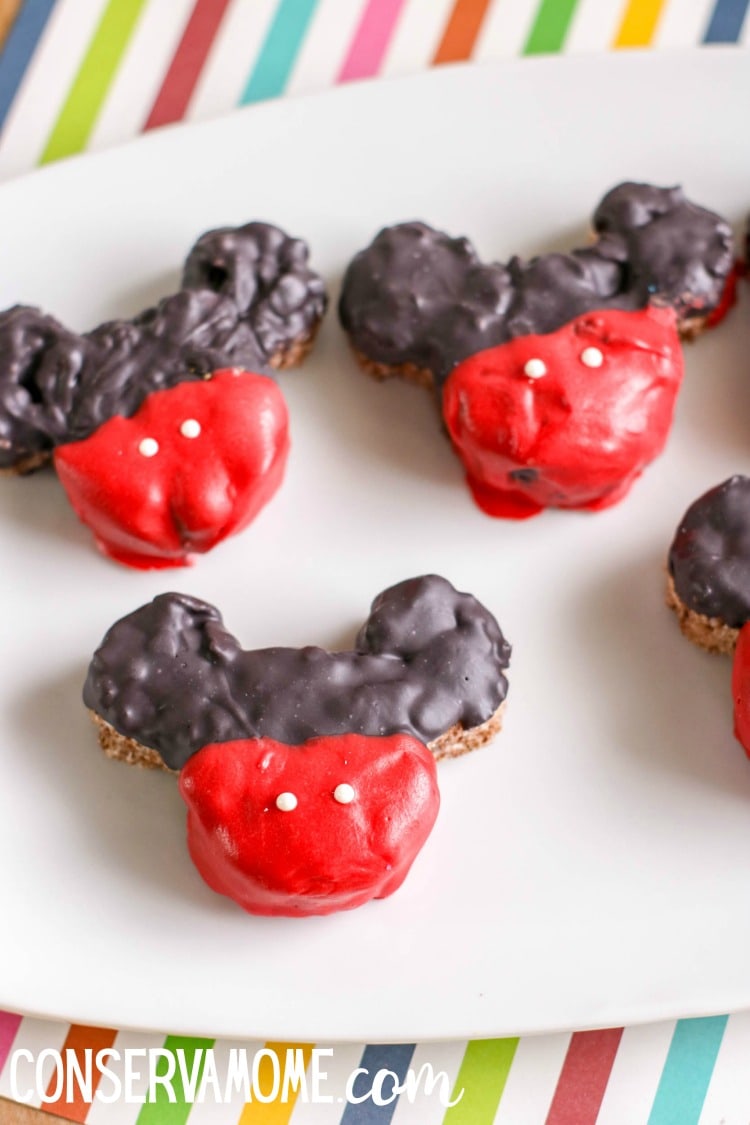 That being said I'm finding Disney inspiration everywhere I go and in everything I do. So when I was searching some cookie cut outs for my daughter's unicorn themed party somehow I found Mickey Cookie cutters. MAGICAL!
So what easier dessert to make then Mickey Mouse Krispy treats?
YES! You heard right the deliciousness of Rice Krispy Treats with a magical twist.
So read on to see how easy it is to make this delicious treat.

What you'll need:
6 cups crispy rice cereal (pictured with cocoa crispy rice cereal)
(10 ounce) miniature marshmallows
3 tablespoons butter
Black candy wafer melts
Red candy wafer melts
White nonpareil sprinkles
You will also need:
Waxed paper
Instructions for Making Mickey Mouse Rice Krispie Treats
Prepare a 13 x 9 baking sheet with wax paper and a spritz of non-stick cooking spray.

Melt butter in a large saucepan over low heat. When the butter is melted, add the marshmallows and melt, stirring constantly. Remove the saucepan from heat.




3. Fold in the cereal. Stir until the cereal is coated in the marshmallow.




4. Using a buttered spatula or greased wax paper evenly press mixture into baking sheet. Cool completely.

Use cookie cutter to cut treats. If the treats are loose, press additional krispy mixture into the cookie cutter before releasing the shape onto waxed paper. Reshape the remaining cereal in your baking pan until all is used.

Place black candy melts in a microwave safe bowl. Melt on high heat, stirring every 30 seconds until completely melted. Do not overheat. If the candy is too thick, add vegetable shortening or coconut oil in 1 teaspoon increments, up to 1 tablespoon, and stir well. Do not add water.

Lightly dip one side of a treat into the melted candy. Allow to set before proceeding to the next step.

Melt red candy melts. Spoon over bottom half of treat allowing excess to drip back into bowl. Immediately press two nonpareils into place as buttons.

Allow to dry completely before packaging or storing.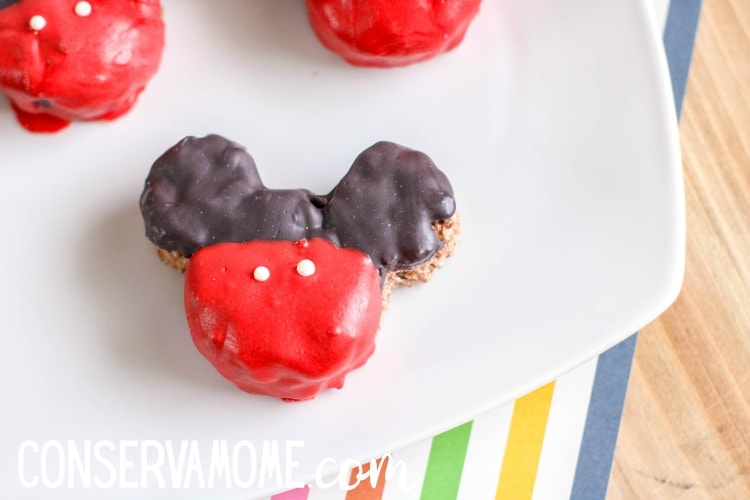 Could this possibly be any easier? Nope! You can easily package these up in cellophane and give them out as treats. You can also put them on a stick as Disney Pops. The possibilities are endless!
Looking for more delicious Disney Themed treats and desserts?
Check out this fun round up of 20 Creative Disney Inspired treats here.