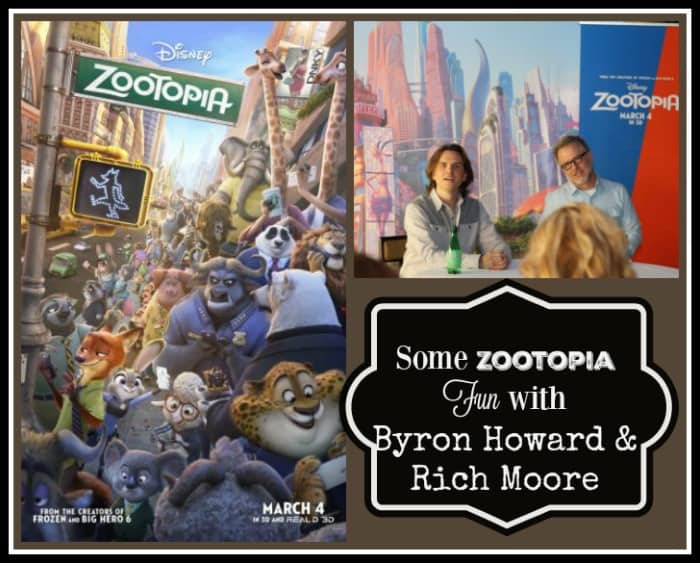 If you've seen the movies Tangled, Wreck It Ralph and Bolt you're very familiar with the awesome work of Byron Howard & Rich Moore.
This incredibly fun duo has come together to make one of the funnest films of the year. Zootopia is a modern mammal metropol.is of Zootopia is a city like no other. Comprised of habitat neighborhoods like ritzy Sahara Square and frigid Tundratown, it's a melting pot where animals from every environment live together—a place where no matter what you are, from the biggest elephant to the smallest shrew, you can be anything. So it was very exciting to sit down with Byron & Rich to talk about the process that went into directing Zootopia. This film really brings in so many elements, not only artistically but with lessons that are so important in our society, it's impressive how they were able to bring it all together so seamlessly.
When Byron Howard & Rich Moore pitched the idea, they knew this was going to be a hit. It's something that hadn't been done before. So when they began to research they decided to start off at gorgeous Animal Kingdom to start learning about all the fantastic animals they would be using for the film.   They started their research there, and to be honest what an amazing place to start. Animal Kingdom has one of the most amazing animal preserves. The Directors agree it's one of the best in the world.
Once they had researched a bit,because there's so much that goes into these movies, they went to John Lasetter who told them they needed to take that knowledge they learned and head to Africa and so they took 14 members of their leadership and headed off to Africa. It was amazing for them to see the amazing job Disney did with Animal Kingdom  because of how similar both were. Although I've never been to Africa I can honestly say staying at the Animal Kingdom Lodge is truly a memorable experience full of the most amazing sights. You can check out more here.
When Byron & Rich set foot on Africa it was mind blowing to see an environment that  has been the same for 40,000 years. It really made us feel like," okay, if we're gonna do this movie,we're gonna do it right.  And we came home just full of all this information and this great passio
Byron spoke about how right after  Nathan Greno and him finished Tango, they pitched this idea.They a had about six ideas and the one thing that almost all these ideas had in common  was a space rabbit– one was a space movie.It was called Pug, The Bounty Hunter, that had a space rabbit .One was called The Island Of Dr.  Meow.  Which was a sort of cheesy B movie version — like a Roger Korman film, if you knowwhat those are, from the 1960s.  Where there kind of teenagers went to this island and there was this six-foot tall cat that was turning these people into animals.  Then John saw that the — a lot of these films had these anthropomorphic animals in common, He said, I will do anything to support a film that features animals running in tiny clothing.  'Cause h loved the idea of doing this.  And he got so excited, he hugged hime and he picked him  off the ground like Simba in the Lion King.
"It had been a long time since they had done a movie with Animals in Clothing like Robin Hood, Jungle Book or Win in the Willows". Since they all loved these films it had to be done.It was amazing to see all the details that the artist put like the  amazing fur and detail and most important the claws! The important thing was to make sure and things were realistic. You know, and to pull off the scene where Bull is sticking his head out of the car window and the wind is blowing in his in his face.  And it's a big emotional scene in the movie and they couldn't do it because Because the technology just didn't know.
One big detail that was interesting was the way the fur moved, the way it interacted with the clothing, when they touched. It was important to show true movement.The Animators were not thrilled but managed to make it look amazing. It really was ground breking.
This Film Touches a lot with diversity, tolerance and acceptance. They wanted to make sure it wasn't just an adult movie with themes but that it played on some kind of lofty level to kids. That they understood some aspects of it and the journey the characterless went through. This story is about  discrimination and being put in a box, by other people and choosing to go against the grain. The directors felt this story needed to be told because we've all had those moments,  it's relatable. So, that's why it was important to make it relatable to both adult and child.
Making the animals was also difficult because they wanted it believable, like how would an armadillo really wear his/her clothing. Over the shell? Under? Also choosing what characters to put in the movie.  A lot of that came from research.  Howe
I agree, one of the best scenes in the movie is the one below.

It's amazing to think that it's a given that sloths should work at the DMV, yet it had never been done before so it's hilarious to see the outcome. It made them so happy to see that this joke was something that played so well in all the countries it showed. Apparently everyone has disdain for the DMV.lol
This movie really captures a fun,sweet movie for kids and brings in some great adult humor. From a tribute to the Godfather and some fun from breaking bad this movie is meant for all audiences.
It was such a treat to talk to these two creative geniuses. They were so easy to talk to and really explained so many small details about filming I would have never thought of. Most important they created one of this years' best hits. So In the meantime check out a fun preview below of  Disney's Newest Animated film Zootopia. It will be hit theaters March 4th! So Don't miss out!

Stay up to date with all the Zootopia fun and get social with it:
Like ZOOTOPIA on Facebook: https://www.facebook.com/DisneyZootopia

Follow ZOOTOPIA on Twitter: https://twitter.com/DisneyZootopia
Follow Disney Animation on Instagram: https://instagram.com/disneyanimation/
Visit Disney Animation on Tumblr: http://disneyanimation.tumblr.com/
Visit the official ZOOTOPIA website here: http://movies.disney.com/zootopia
Don't forget it hits theaters this Friday March 4th!