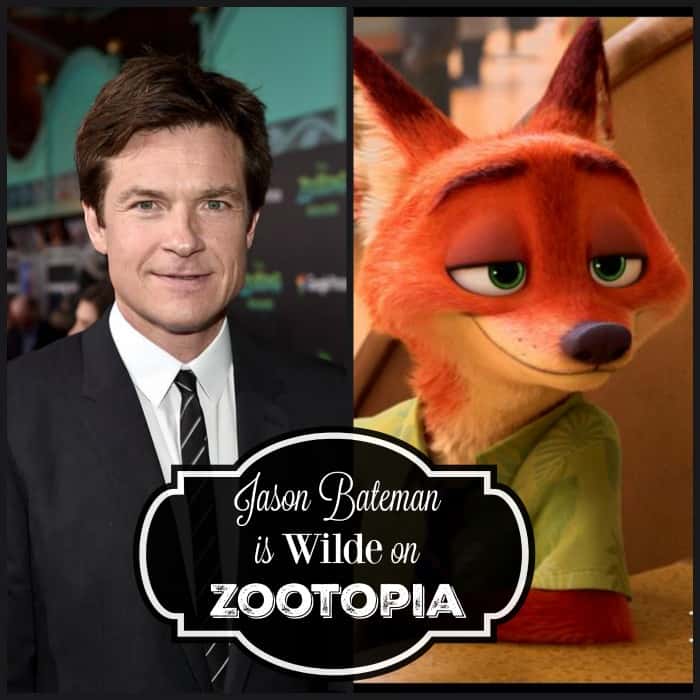 Chances are you've grown up watching Jason Bateman and if you're anything like me you've loved seeing him on tv and films. However, I bet you didn't know that Zootopia is his first animated full length film! Las week I had the opportunity as part of my Zootopia Event to sit down for an interview with Jason and talk about the "Wilde" time he had making Zootopia. In this fun new animated movie Jason Plays Sly guy Nick Wilde. Nick Wilde who happens to be a fox, is also a big conman ,always looking for the next way to make his next buck. In comes Judy Hopps played by Ginnifer Goodwin and that's when the fun ensues. This fun adventure is sure to be a hit and it hits theaters this Friday.
It was such a treat to sit down with Jason because we got to talk to him about his thoughts on playing Nick, and also as a parent see what his thoughts were on playing a character his daughters would see. Check out the fun interview below and I have to preface it by saying he was such a great sport opening up about parenting, his girls and the fun he had making this movie! So check out a few of the questions below!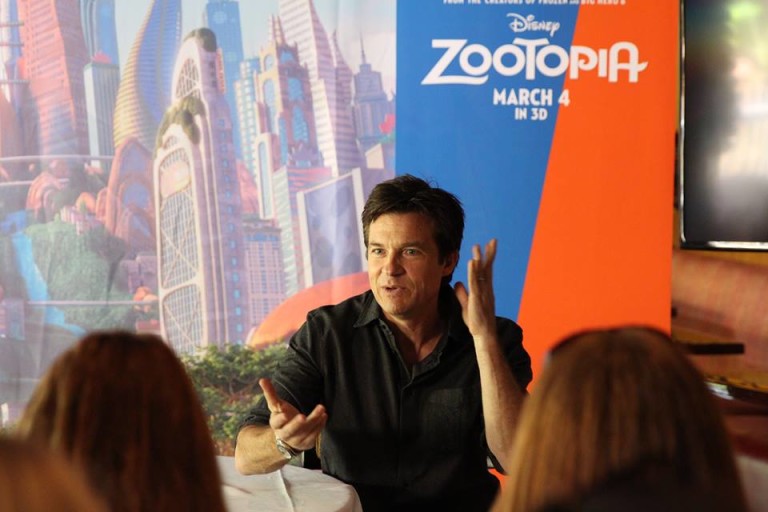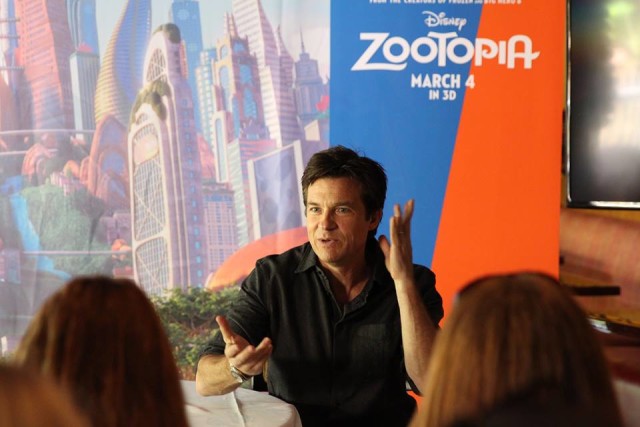 Q:This is your first animated film,how was this different?  
Jason:  The other animation work was really so quick.  This,for all intents and purposes was my first and it's a really interesting process because you know, as an actor you can say your line and then you've got your face and your body language and everything to kind of contribute to the whole thing. This obviously you just has your voice to use and then you hope that the animators that you pass that line reading off to are going  make the character do something that either supports what you've done or offset it or juxtapose it.Cause it's kind of a cocktail to make somebody laugh with
something.  You don't realize how many little components there are.  I mean, I don't mean to sound like some kind of a comedy scientist but its just is. When you tell a joke or a story there's inflection and then there's facial gestures and it's a pretty strange thing to just hope that the rest of the recipe gets cooked in the right way.There's not much of a fear in that with a Disney animation. So it's an exciting thing to be a part of.
Q:  For the dad, how do you go into a film like that?  Obviously the other films that you do are very opinionated roles but thisis different because we can all bring our families to this one, really the whole family from top to bottom. How do you go into a role like this as a dad?  Do you have a different mindset?  Because now, you know, you can bring your girls.
Jason:  Yeah, it's very, very cool to be leaving home to do a job that I can prove that I was actually doing.  It didn't happen that way with the other stuff, and it's even greater knowing that they are going to see it.  I have two little girls, nine and four, knowing that they are going to see it, gives you pride.  First of all, it's the only kind of movie that I see now, you know, that we all know, like a kid movie comes out, like you have to take them and you just hope that it's good. And if it's not good, you are still buying a ticket to it.  You still have to sit there.  You just might catch a little nap, you know?  But with this one there won't be any napping cause this movie is great and it includes jokes for all ages.  I don't know if my nine year old really picks up on some of the nuance and sophistication of some of these heady, highbrow issues in here yet, but I'll bet you some of it kind of permeates, and when the coin finally does drop maybe when she's another year older or something when we're watching it for the 20th time at home, as we all buy it again when it comes on.  It will be a  nice tool for me as a dad to talk about this film and all the important lessons it teaches on racism or xenophobia or fear mongering or bullying.  It's a nice tool for me as a parent, you know, I like that.
My Question was " I know my four year old believes that Mickie and Minnie are real, so was it strange for your four year old to think daddy is a cartoon now?  Or, did she kind of still have a tough time putting it together?
Jason:  Yeah, the, the nine year old thank God is smart enough to put it all together.  The four year old, we were at a movie theater a few weeks ago and there was one of those cardboard standees, I think they call them, you know, where they've got the fox and the bunny there and I walked her over to it and I squatted down next to her and I pointed out to the fox who is life size and I said uh, I said see this guy? He's in a movie, you know, and this bunny, they're going to
solve a mystery.  They are like, they're on an adventure.  And she said oh can we see that movie?  I said, yeah, yeah and you know this fox talks, you know?  It's a talking fox.  And, and she said oh yeah.  I said and when it talks it sounds like me and she said really?  I said yes.  I said and it's because I'm the voice of that fox.  I recorded all of his lines.  So she was trying to understand like what she doesn't know what a microphone is.  She certainly doesn't know the way movies are made.  So, she just looked at the fox and she looked at me, so she doesn't — I'm really excited to be sitting next to her in a movie theater and see how many minutes into the movie she's going to hear that familiar, you know, sound.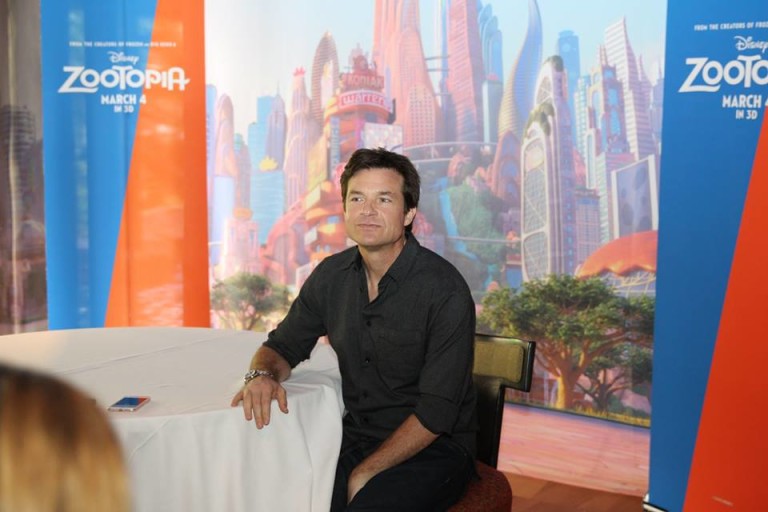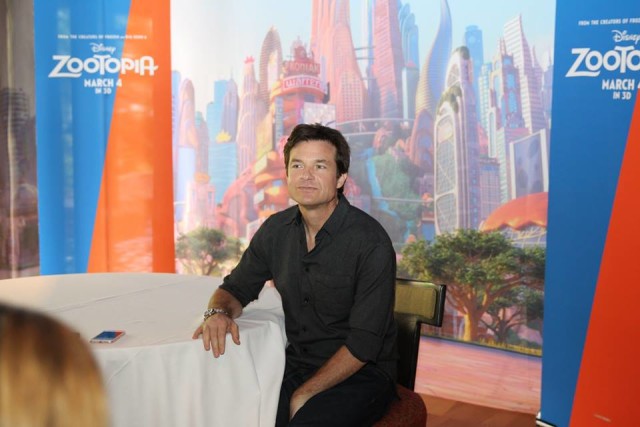 Jason also talked to us a bit about the inner workings of how one of these fun movies is made. What amazed us all was that the first time he saw the animation was at the premier. He saw tiny clips here and there, but he didn't see the whole product until the premier.
When you check out the movie you'll be surprised at how much they were able to get Jason's features on Nick Wilde and even when he speaks, you truly see Jason Bateman in the character. It turns out they video taped him while he was recording his lines. I didn't know that there are actually a couple of  cameras in there.  So, the animators use his face while recording as a guideline to help them with the animation of the character.
One thing I've always loved about Jason are his roles in films. He always has a way of grabbing that funny sweet role and making it pretty awesome. During the interview we learned he really isn't a big fan of seeing a lot of acting. So he likes to go for roles in which he can be as natural as possible and you don't really see a lot of acting.  He joked about being "pretty lazy"So he likes to play any character that's inside his skill sets. He feels that if he has to act too much then he really shouldn't play that character because then you're going to see acting. Which then made him say "I guess that means there is quite a conniving, sarcastic fatigued part of me" since that's pretty much who Nick Wilde is in Zootopia.
Some other great bits of knowledge we learned was that the movie took about a little over 3 years to make from when he got the call to the premier,which blew us away because of the length. He completed two hours sessions which included about  two or three scenes every few months. Between readings and mixing it all up together to form pure awesomeness on the screen this really is a neat process.
This was such a fun interview and It was such a neat treat getting the chance to sit down with him for this fun interview.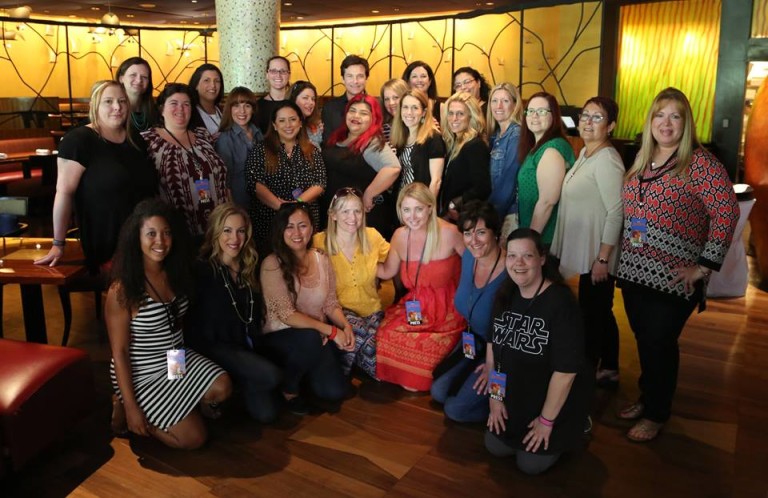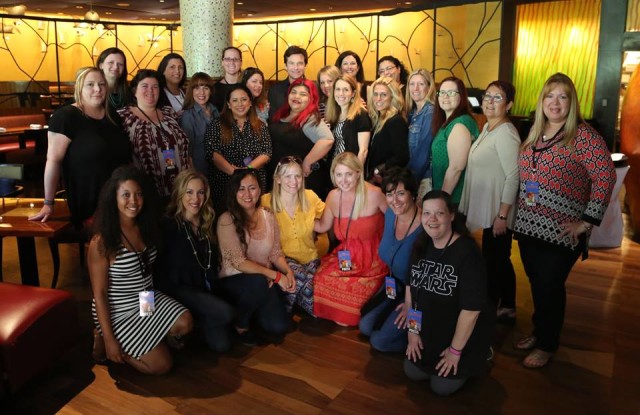 Don't forget to check out Zootopia in Theaters on March 4th! So Don't miss out! Check out the fun trailer below!

Stay up to date with all the Zootopia fun and get social with it:
Like ZOOTOPIA on Facebook: https://www.facebook.com/DisneyZootopia

Follow ZOOTOPIA on Twitter: https://twitter.com/DisneyZootopia
Follow Disney Animation on Instagram: https://instagram.com/disneyanimation/
Visit Disney Animation on Tumblr: http://disneyanimation.tumblr.com/
Visit the official ZOOTOPIA website here: http://movies.disney.com/zootopia

All Photos courtesy of Disney.