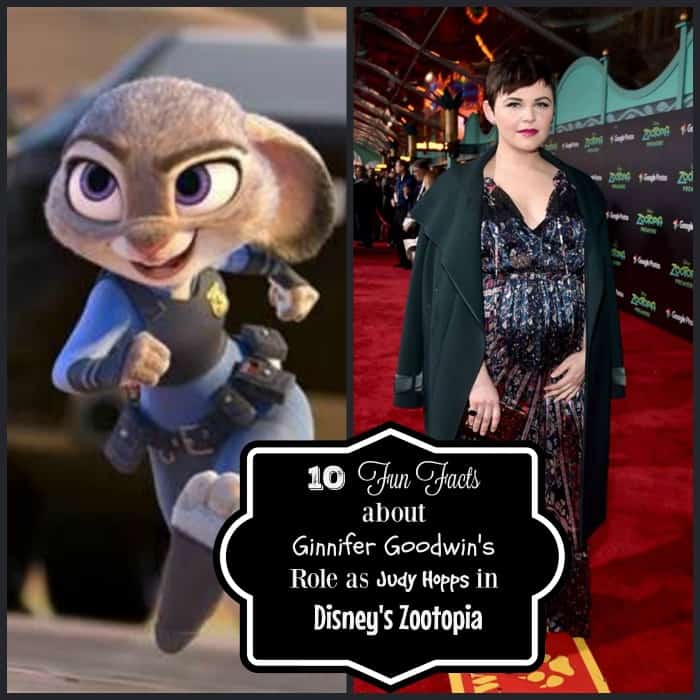 If you turn on your TV during the week chances are you'll get a glimpse of the amazing Ginnifer Goodwin. She's become a staple in everyone's home in the hit show Once Upon a Time.  What's not to love about this actress who always brings so much to each role, with her sweet charm and optimism that makes you want her character to succeed, it was only natural that she would become the  star of Disney's newest hit Zootopia. As a fun part of the Zootopia Event I had the opportunity to sit down with her via skype to talk motherhood, Hollywood and of course Zootopia. So what better way to bring you this fun conversation than sharing some fun facts about Ginnifer Goodwin's role as the fantastic and lovable Judy Hopps  in Zootopia.
While Ginnifer recorded the voice of Judy Hops  she wore sneakers so she could jump around and really get into the role. She said it was the most fun she had ever had and really no one should get paid for having so much fun!
She took the role as Judy Hops before she knew what the movie was about.  She was sitting in Mickey Mouse pajamas in her kitchen and was pregnant.  She had never even heard of Zootopia and she took it  immediately as soon as she heard it was a Disney film.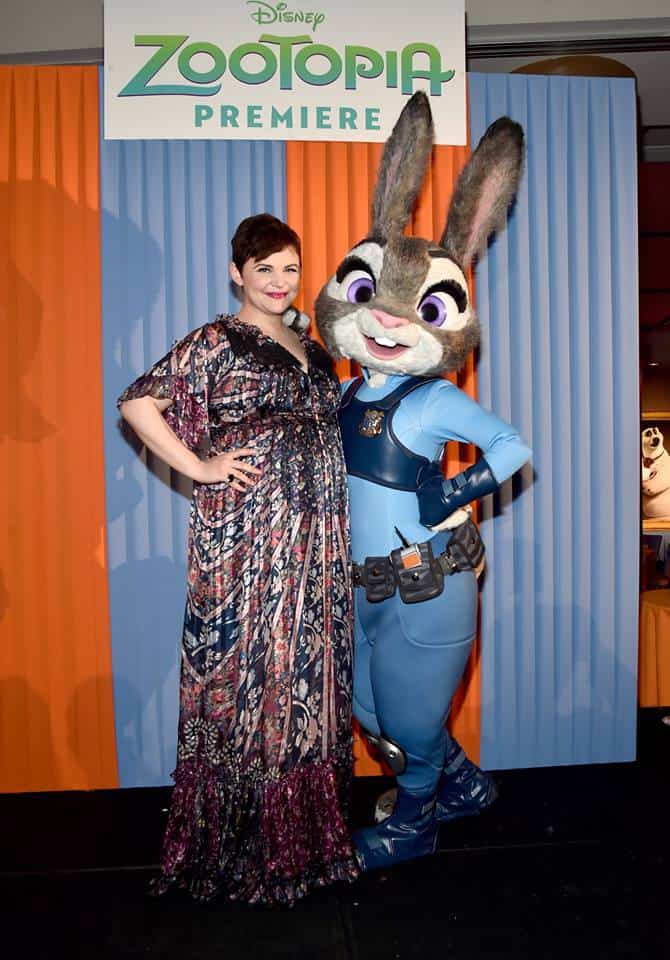 She very much related to the character Judy Hopps and truly understands why she was  cast.  When she first saw Judy Hopps she felt like it was a dream. She couldn't believe the way the animators made Judy so similar to her. Even as far as the way Judy  raised her eyebrows was the  same as the way Ginnifer raised her eyebrows. The animators did a fantastic job modeling Judy's mannerisms after Ginnifer.
During the Recording of her role, they always decorated the sound booth in artwork which was incredibly inspiring and anything new would go up for her to see.
Ginnifer said she won't take her son to see the movie Zootopia, not because of anything in the movie, but because he still believes in Magic and she doesn't want him to loose that sense of wonder by realizing his mom is a cartoon. So for the sake of keeping the magic alive in his mind, she's going to wait for him to see it.  Because of their love for this movie they're going to keep animated things of which she is a part of as parents from him.
As a mom the theme she wants her children to get the most out of the movie is that anyone can be anything just like Judy. It's important for her to defy people's expectation and believes that's in keeping true to yourself you can defy other people's expectations of you. There are infinite amounts of opportunities for everyone.
Becoming a parent has affected the kinds of roles she takes and it's important for her to take roles that her kids could watch her in later on. Even when she was on Big Love she wouldn't let boyfriend's at the time watch it so it really did affect her views on the roles she takes.
Once Upon a Time was the first role that helped her step into that "Disney genera" and from there she went to Tinkerbelle which in turn lead to Zootopia. That doesn't mean she doesn't want to go back to "Darker Roles" but she's really enjoyed doing these lighter movies and shoes.
Her favorite thing about playing Judy Hopps wasn't so much playing her but the affect she has on the audience.It  was really surprised when she saw the final product and seeing all the different pieces put together was wonderful. She loves that they created an action hero and a real butt kicker who is kind and generous and girly and uncompromising and frankly, didn't have to have any of what we associate with masculine qualities in order to be that action hero. She was feminine.
Ginnifer feels that both her and Judy are fiercely optimistic and idealistic.
It was so much fun sitting down and talking to Ginnifer about motherhood, Zootopia and so much more. She looks glorious in anticipation of the birth of her second little one. Make sure and catch her as Judy Hopps in Disney's Zootopia hitting theaters March 4th! In the meantime check out a fun preview below of Disney's Newest Animated film Zootopia.

Stay up to date with all the Zootopia fun and get social with it:
Like ZOOTOPIA on Facebook: https://www.facebook.com/DisneyZootopia

Follow ZOOTOPIA on Twitter: https://twitter.com/DisneyZootopia
Follow Disney Animation on Instagram: https://instagram.com/disneyanimation/
Visit Disney Animation on Tumblr: http://disneyanimation.tumblr.com/
Visit the official ZOOTOPIA website here: http://movies.disney.com/zootopia
Don't forget it hits theaters this Friday March 4th!