Making yummy corn dogs using a corn dog maker is a total breeze! Say so long to the store-bought corn dogs and make your very own homemade corn dogs instead!
*This post contains affiliate links. That means that if you make a purchase after clicking on a link I may earn a small commission at no extra cost to you
Simple Homemade Corn Dogs
Kids love corn dogs (adults do, too!) but the thought of making them just seemed like a ton of work. This is why when we used to have them in our house, we'd just buy them from the store.
But then one day I realized that my worry about making corn dogs was actually quite silly. During one of my Amazon shopping sprees, I noticed that there was a Corn Dog Maker just calling me to come and take a peek.
Once I realized that making homemade corndogs could be a real thing, I was beyond excited to get started! And since I've made our first batch of DIY corn dogs in our house, I'm using our corn dog maker almost every single week.
The kids love seeing it do its "magic" and I love that it's a super easy and pretty much mess-free way to cook up something easy and tasty for them as well.
Simple and Delicious Corn Dogs
Order your corn dog maker and gather up the simple ingredients to get started.
Ingredients needed to make homemade corn dogs
1 package of 8 hot dogs

1 egg
2/3 cup milk, non-dairy milk is acceptable
1 1⁄2 cup cornmeal
1⁄2 cup pancake mix, complete with no additional egg, oil, etc is best
2 tsp sugar
Additional Items needed
skewers (a package of skewers is included in corn dog maker)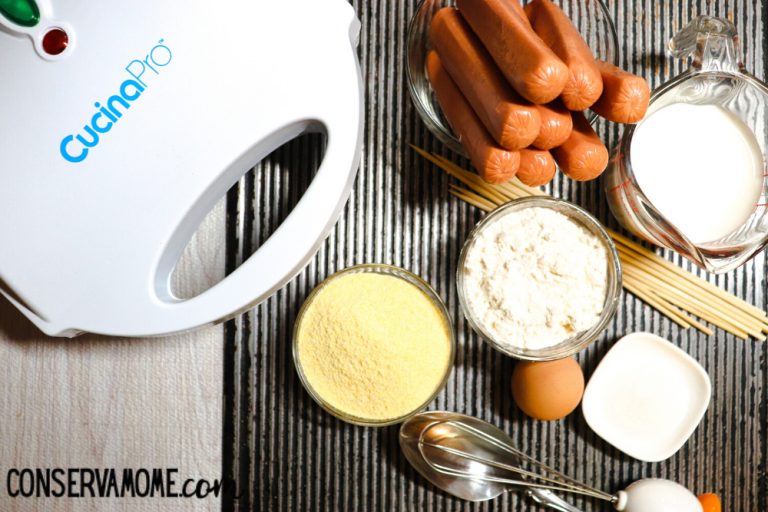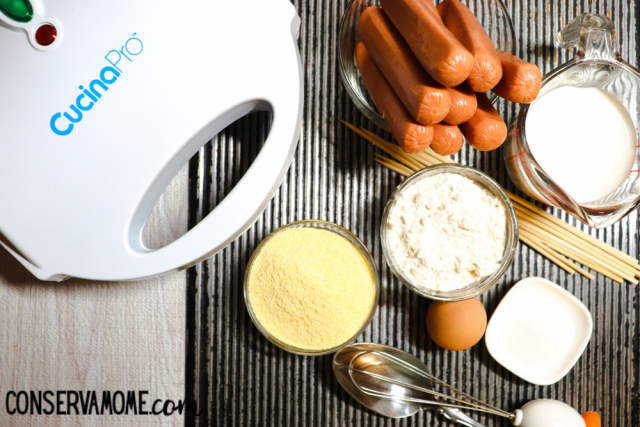 Directions to make corn dogs in your corn dog maker
Combine all ingredients in a shallow dish. The batter should be thicker than pancake mix.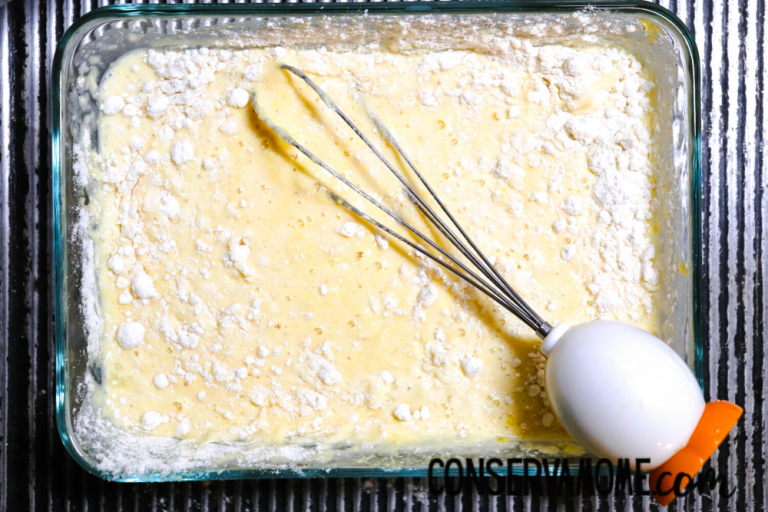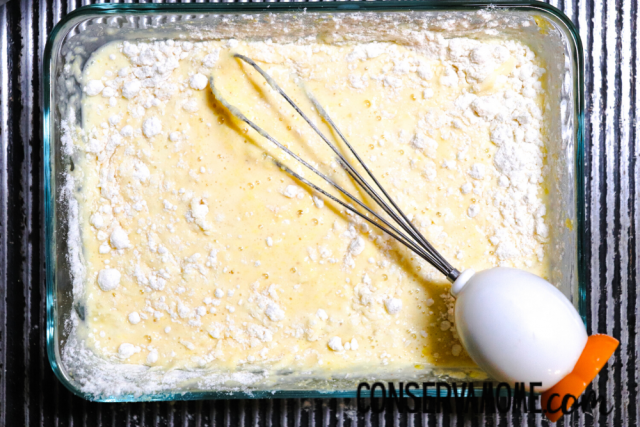 Cut hot dogs in half and insert a skewer in the cut end of the hot dog.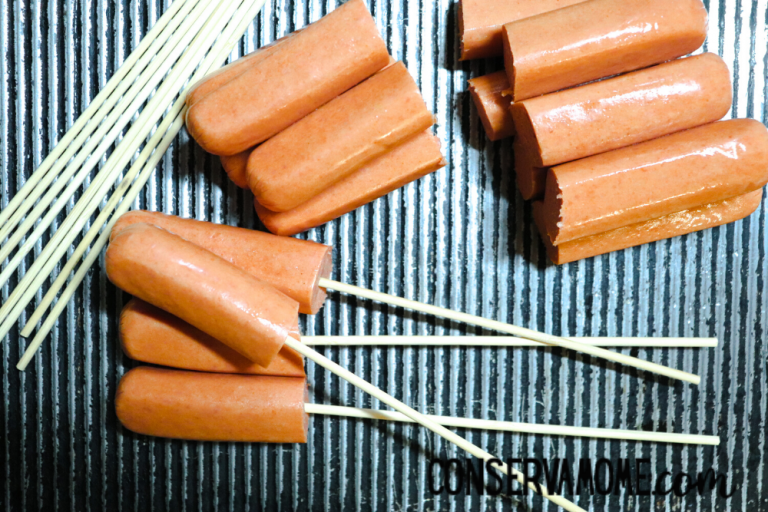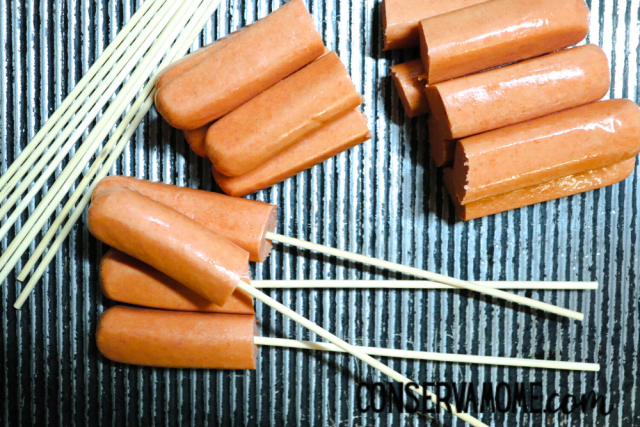 Turn on corn dog maker and allow to heat per instructions.
Dip corn dogs into batter several times, using a spoon to completely cover corn dogs.
Place in corn dog maker and close. *Tip: to get nicely rounded corn dogs, spoon more batter onto the corn dog before closing the lid. Also, when flipping the corn dogs, midway through the cooking time, spoon more batter on where needed. Cook until golden brown.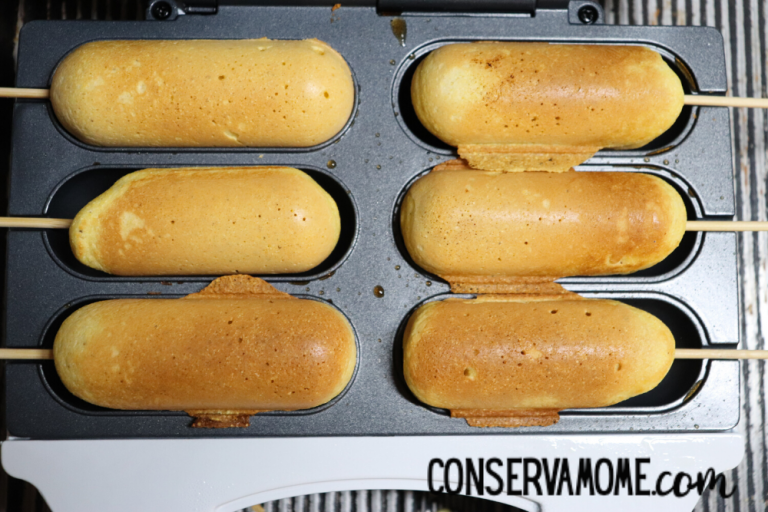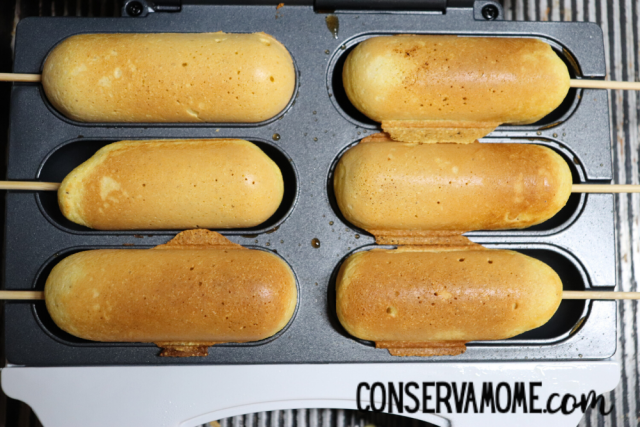 Dip in your favorite condiment! Enjoy.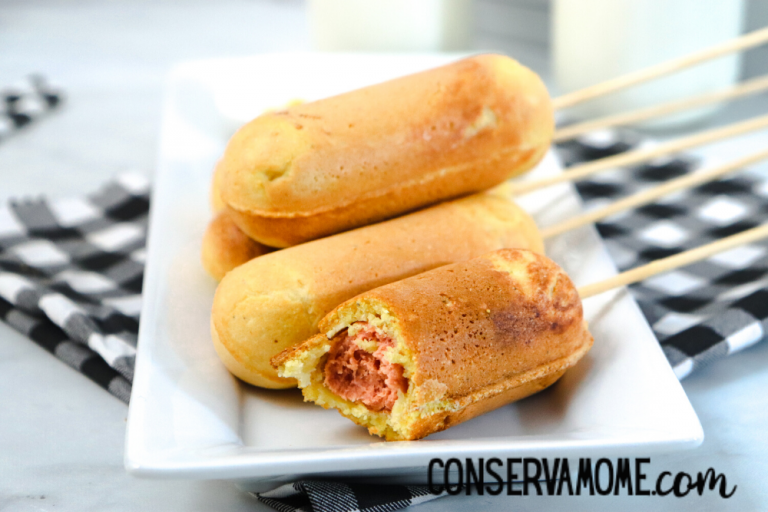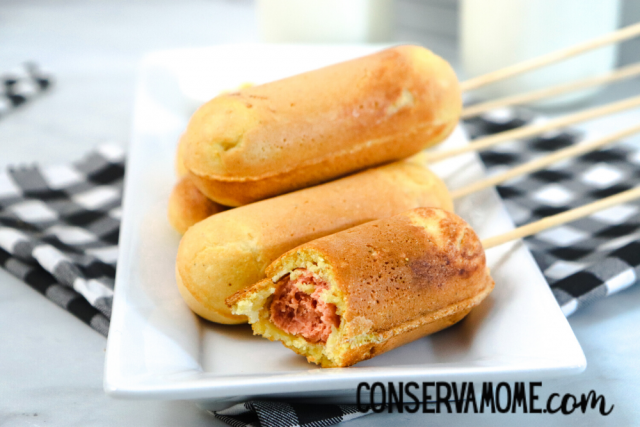 See how simple this is? And look how great they turn out! Such a fun and simple dinner idea for kids!
What kind of dip goes well with corn dogs?
This is all up to preference but some people like to dip their corn dogs in ketchup, mustard, or even a combination of the two. I've even heard that dipping in honey mustard is a totally tasty treat as well. Or, eat it like it's made to be eaten – walking around and eating it off the stick!
Are you looking for more simple, kid-friendly dinner recipes for your family?
Looking for more fun food ideas? Check out 20 Fair Foods you can make at home!