I would be lying if I told you I don't get excited for fairs, because I do! I mean how could you not get a little excited about all of the delicious foods that you can find there! Well, now you don't need to fight the crowds or spend a small fortune on a few treats because I rounded up recipes for 20+ Fair Foods You Can Make at Home!
I am especially loving this list for the off season when festivals and fairs are still a while away and a craving hits! This list of 20+ Fair Foods You Can Make at Home has everything you could desire from Fried Twinkies to Funnel Cakes and we can't forget the Blooming Onion Bites or Walking Tacos!
Is your tummy rumbling a little in anticipation? Mine definitely is!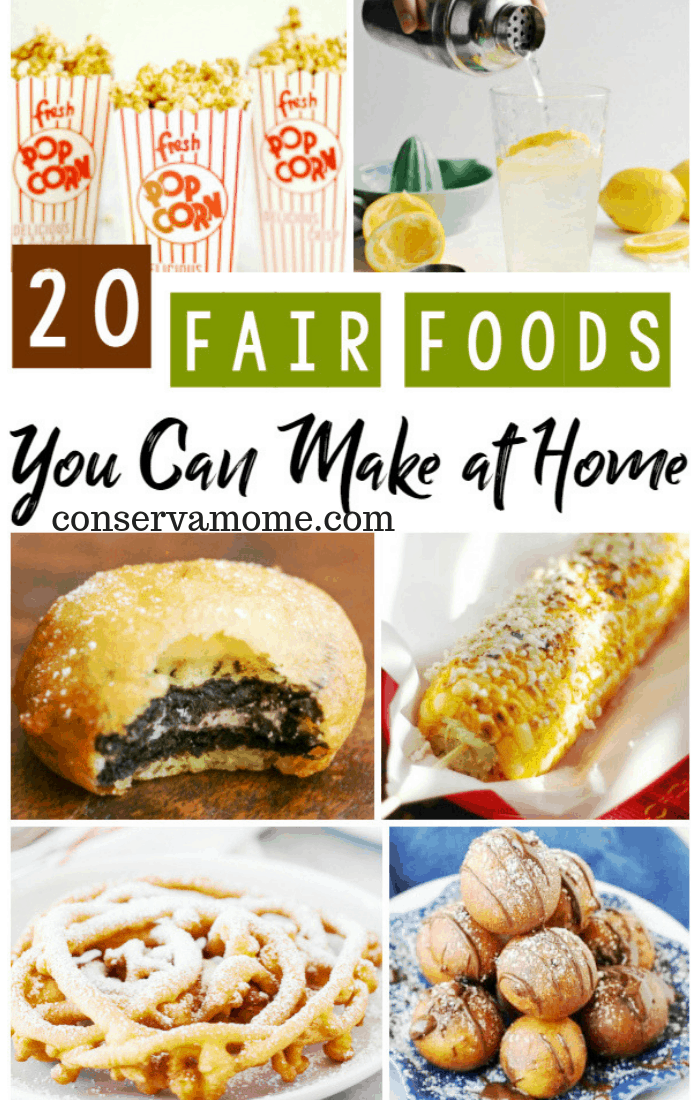 20+ Fair Foods You Can Make at Home
Ashlee Marie – Fried Twinkies
A Farmgirl's Dabbles – Fried Dill Pickles
Fantabulosity – Fried Cake Bites
Mom Endeavors – Homemade Caramel Corn
Meaningful Mama – Lemon with Candy Stick Straws
Made to be a Momma – Funnel Cake
Lil Luna – Deep Fried Oreos
Princess Pinky Girl – Deep Fried Cookie Dough
Cherished Bliss – Coke Slush
Fav Family Recipes – Grilled Mexican Street Corn
Cincyshopper – Walking Tacos
Our Best Bites – Fried Peaches and Cream
Spend With Pennies – Blooming Onion Bites
Cooking is Messy – Pretzel Dogs
Oh Sweet Basil – Deep Fried Grilled Cheese
Cooking With Janica – Deep Fried Pop Tarts
Fox Valley Foodie – Beer Battered Deep Fried Cheese Curds
Cincyshopper – Apple Pie Fries
Life Made Simple Bakes – Homemade Honey Corn Dogs
One Crazy House – Spiral Potato Sticks
The Gunny Sack – Bacon Mozzarella Sticks
Lady Behind the Curtain – State Fair Chocolate Strawberry Waffle Pops
Dimples and Tangles – Indian Tacos
I can't wait to try the Spiral Potato Sticks recipe! That sounds perfect for when the craving for something salty like chips hits! My kids want a deep fried twinkie as soon as possible, and I can't blame them! That does sound really good!
If you are in the mood for even more delicious recipes you won't want to miss this Easy Smoked Salmon Dip recipe.