Check out these DIY Sour Gummy Bears! Not only are they bright and colorful to look at but they pack a great taste and flavor, too! Such a fun treat to make with the kids! Best of all A Fun Sour Candy Recipe.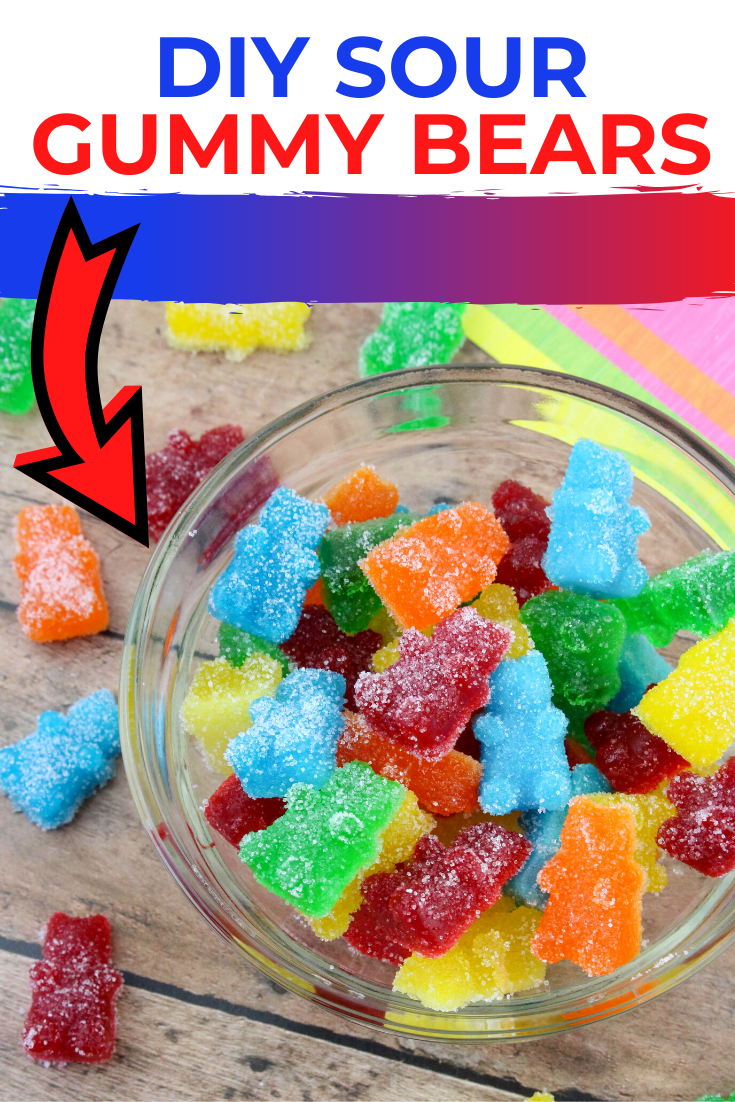 *This post contains affiliate links. That means that if you make a purchase after clicking on a link I may earn a small commission at no extra cost to you.
DIY Sour Gummy Bears
These DIY Sour Gummy Bears are just so cute. I'm pretty much obsessed with the bright colors and I love the fact that I can make these at home for the kids versus buying the ones at the store that are loaded down with a ton of additives and ingredients that I can't even pronounce or know what they are.
Plus, you literally only need 5 simple ingredients and supplies to make your very own gummy bears at home. What an awesome world we live in, right? These homemade gummy bears will have your children grabbing them left and right and quite possibly you as well.
Fun Fact: Did you know the first gummy bears were born in Germany? They were made by the Haribo who still makes them to this day. Ready to make your very own Sour Gummy Bears?
Pucker up, friends. These gummy bears are just a tad bit sour but they aren't over the top! They're just right!
DIY Sour Gummy Bears
Gather up the supplies and easy ingredients to get started!
Ingredients/Supplies needed to make DIY Gummy Bears
5–3 oz Box Jell-O (Any flavors will work)

10 packets of Unflavored Gelatin

Water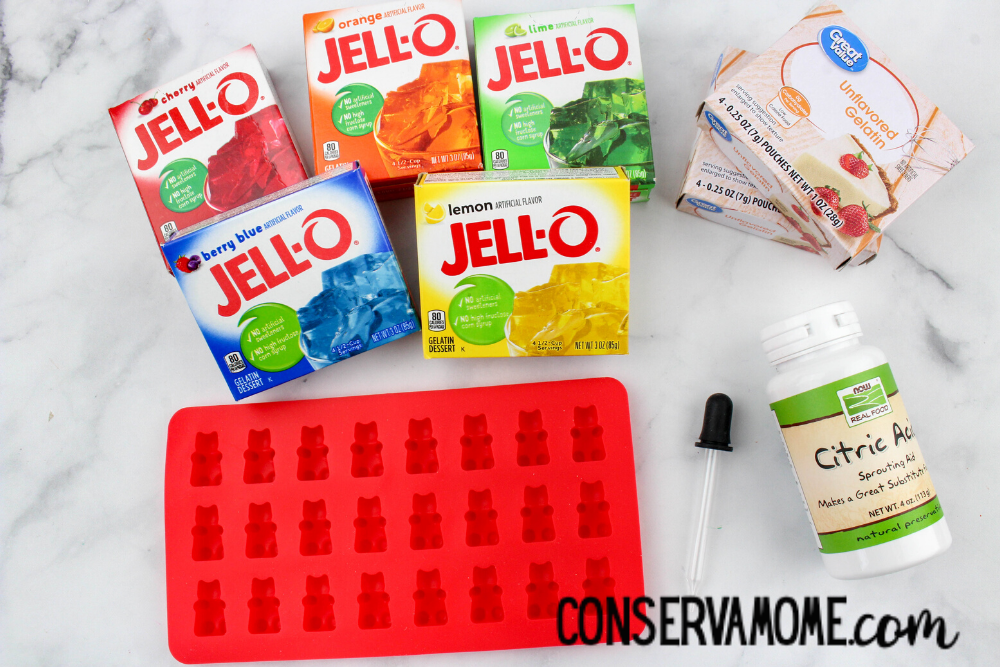 How to make homemade Gummy Bears
In a medium-size saucepan, add 1/3 Cup Cold Water, 1-3oz Jell-O box, and 2 packets of unflavored gelatin. Whisk together.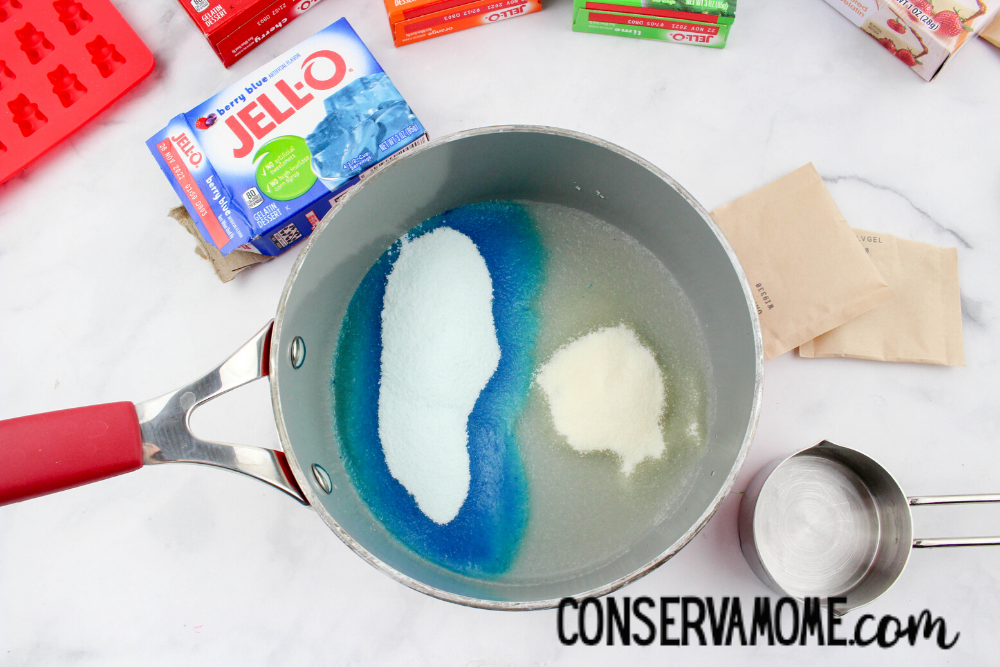 Cook mixture over medium heat, whisk continuously for 5 minutes. Make sure to whisk the whole time so the mixture doesn't burn.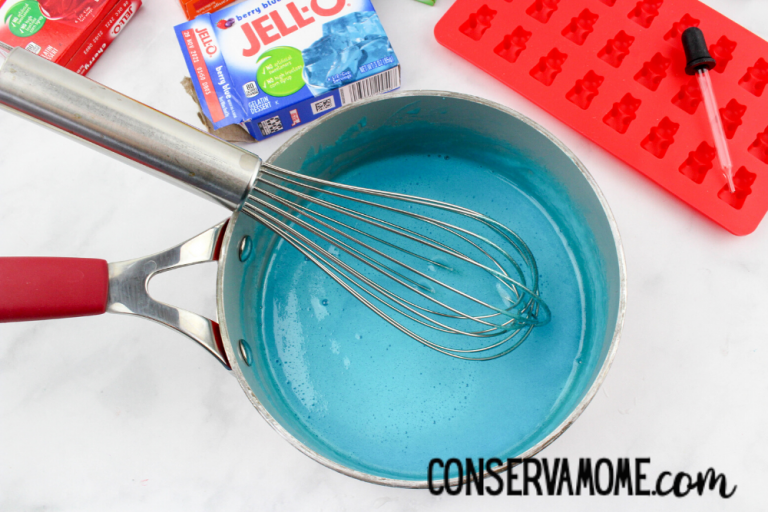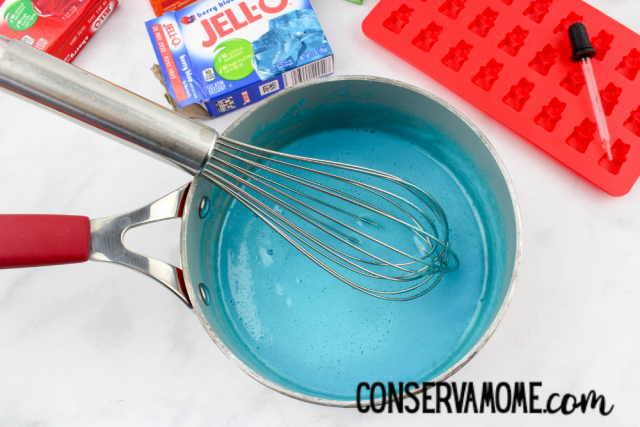 Remove from heat and pour into a glass measuring cup. Slowly pour the mixture into each gummy bear mold. A dropper can be used as well but I found the measuring cup to be much faster.
Place in refrigerator for 5-7 minutes. Remove from the fridge and pop out the gummy bears. Place them on a parchment-lined cookie sheet sprinkled with a little bit of citric acid to prevent sticking.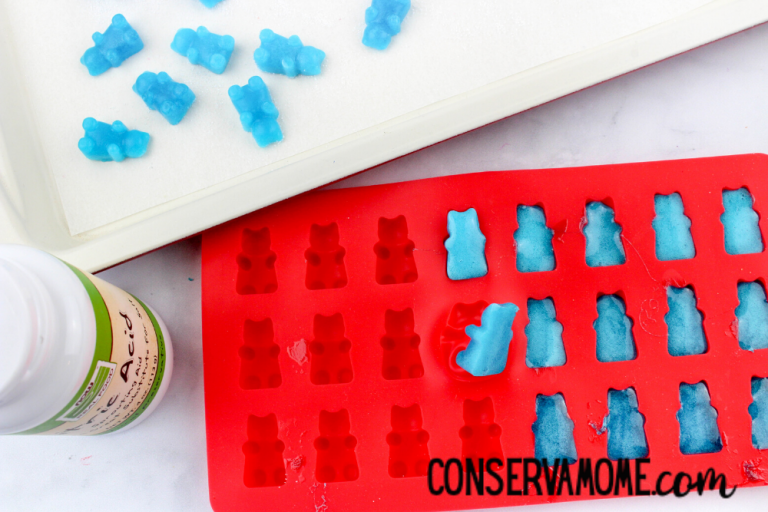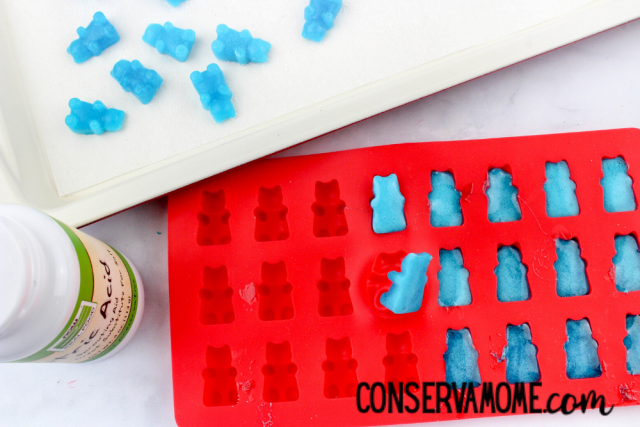 Repeat steps 1-4 for other flavors of Jell-O.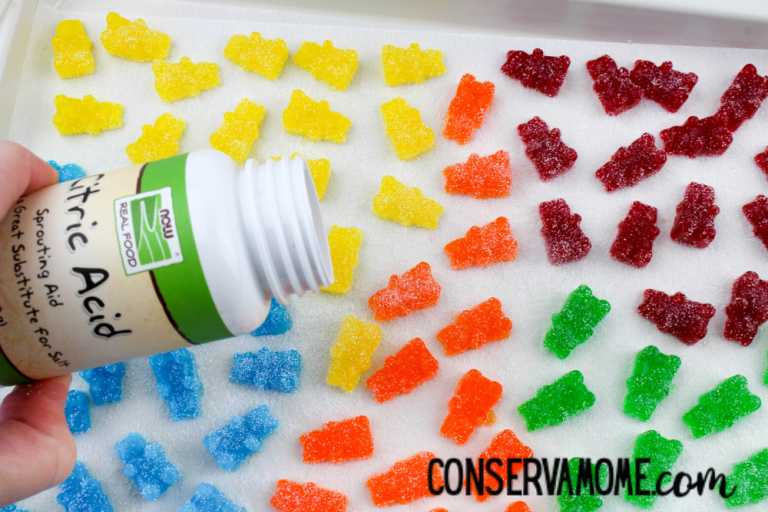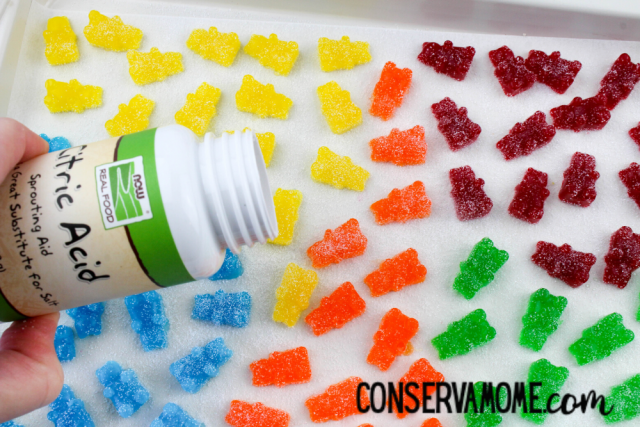 Once all gummy bears are on the cookie sheet, sprinkle a little bit more citric acid over the tops. Just be careful not to add too much, it'll be sour. Place in a bowl and enjoy!!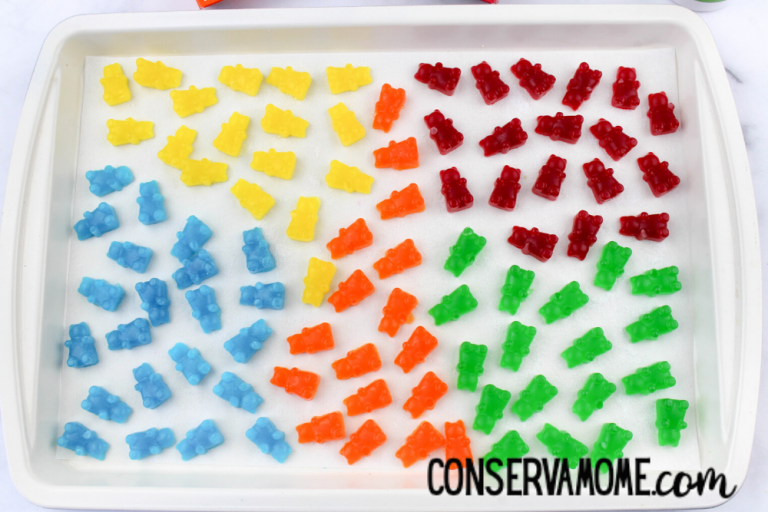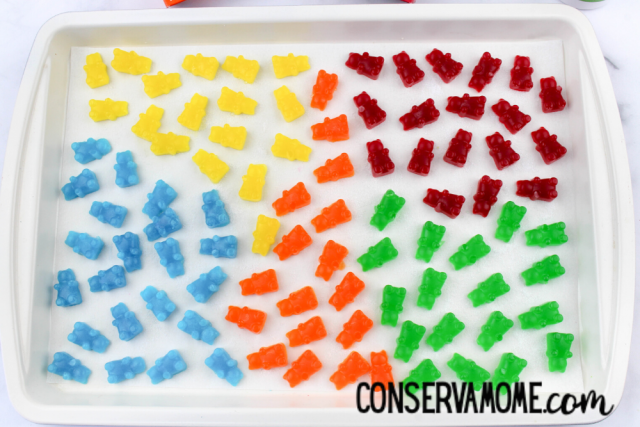 NOTE**If you do not want the sour taste, you can omit the citric acid and just dust the gummy bears with cornstarch. This will prevent them from sticking to each other.
Easy Gummy Bear Recipe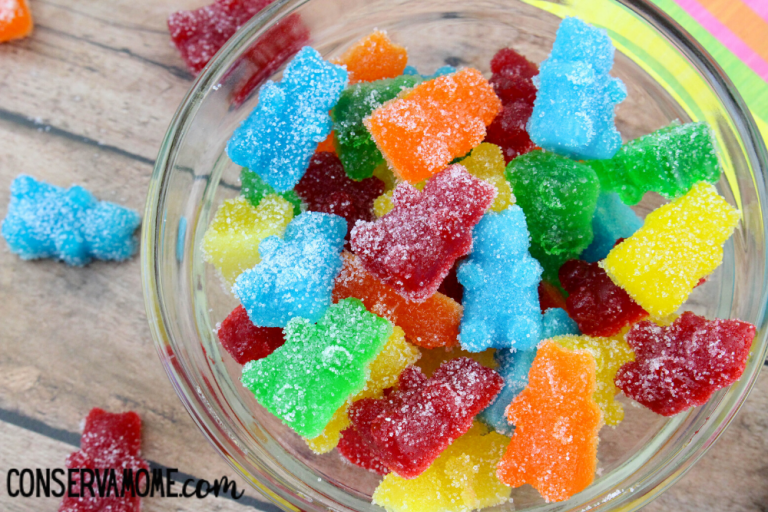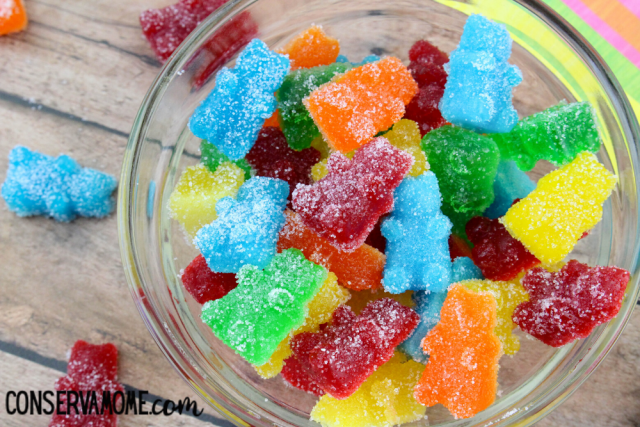 These gummy bears are so much fun to make! The bright colors are also a great way to get excited about the upcoming warmer weather!
Let your little ones create their very own gummy bear rainbow and then enjoy eating every single bite. When it comes to gummy bears, it's never wrong to play with your food!
Make sure and pin this fun recipe below.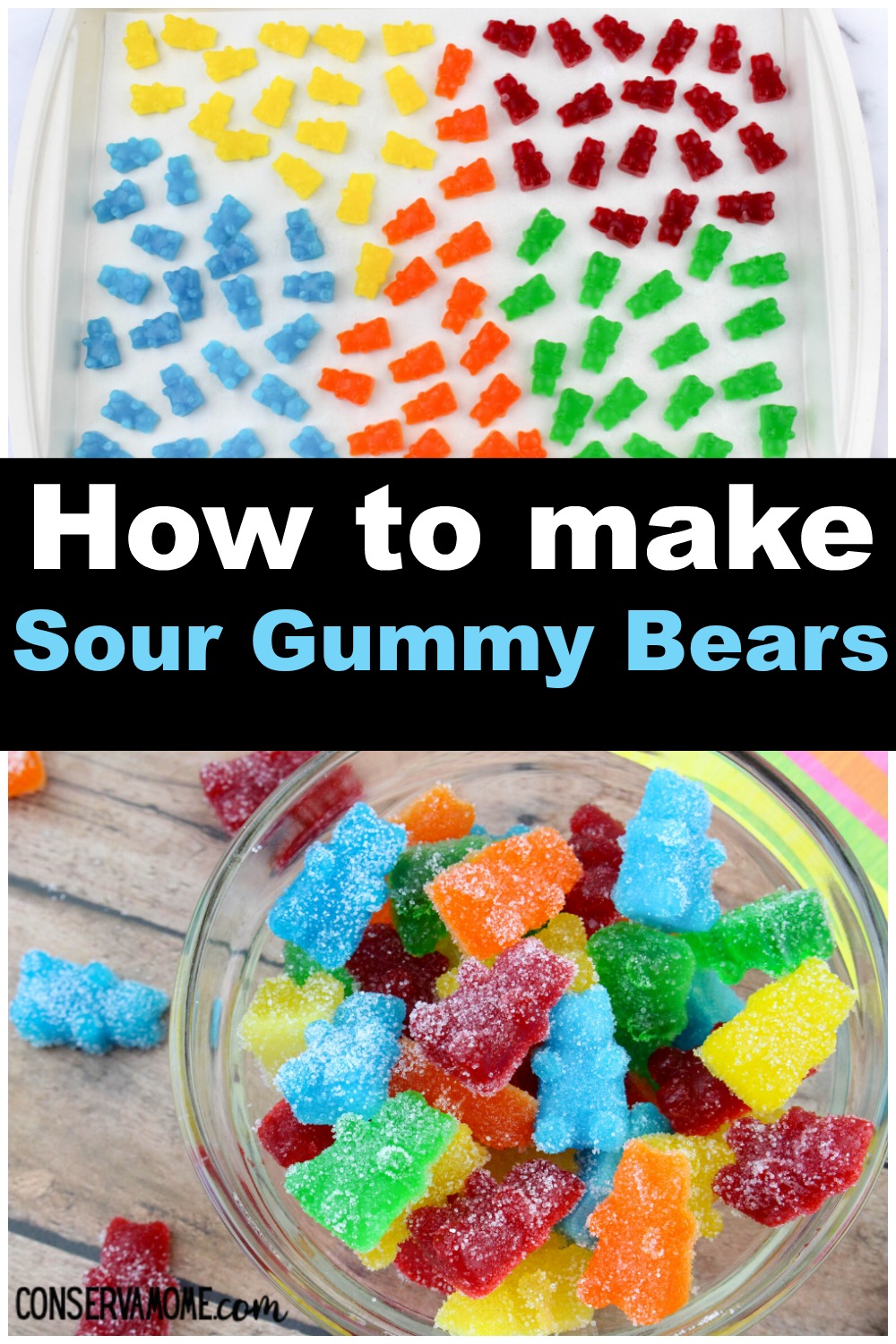 Are you looking for more kid-friendly snacks and treat ideas?
We've got you covered! Make certain to check out a No sugar added gummy bear recipe or our 30 Unique Treats & Cookies for Kids! And if that just isn't quite enough, don't miss out on these 20 Yummy Foods You Can Make In Your Waffle Iron!