This is a delicious Hot chocolate bomb recipe with a kick. These Rumchata Hot Chocolate Bombs are the perfect beverage fun for an adult gathering or just because. They are a unique spiked hot chocolate bombs.

*This post contains affiliate links. That means that if you make a purchase after clicking on a link I may earn a small commission at no extra cost to you.
RumChata Hot Chocolate Bombs
I love Rumchata it's one of my favorite liquors. The flavor is based on horchata which is a drink that's popular in Spain & Mexico. In Spain it's made using an almond base while in Mexico it's made using rice water. It's an incredibly refreshing drink served over ice and perfect for a hot summer day.
What is RumChata?
RumChata is a cream based liquor recipe that uses Caribbean rum and real dairy cream with cinnamon, sugar and some top secret ingredients to make it an amazing liquor.
There are many ways to use Rumchata . You can start off by drinking it alone over ice. You can also make a delicious dessert like these delicious Rumchata cupcakes or make it into a delicious cocktail by serving it over ice with a splash of you can drink it alone over ice or add some fireball and make it into a Cinnamon Toast crunch cocktail.
That's why I love this recipe.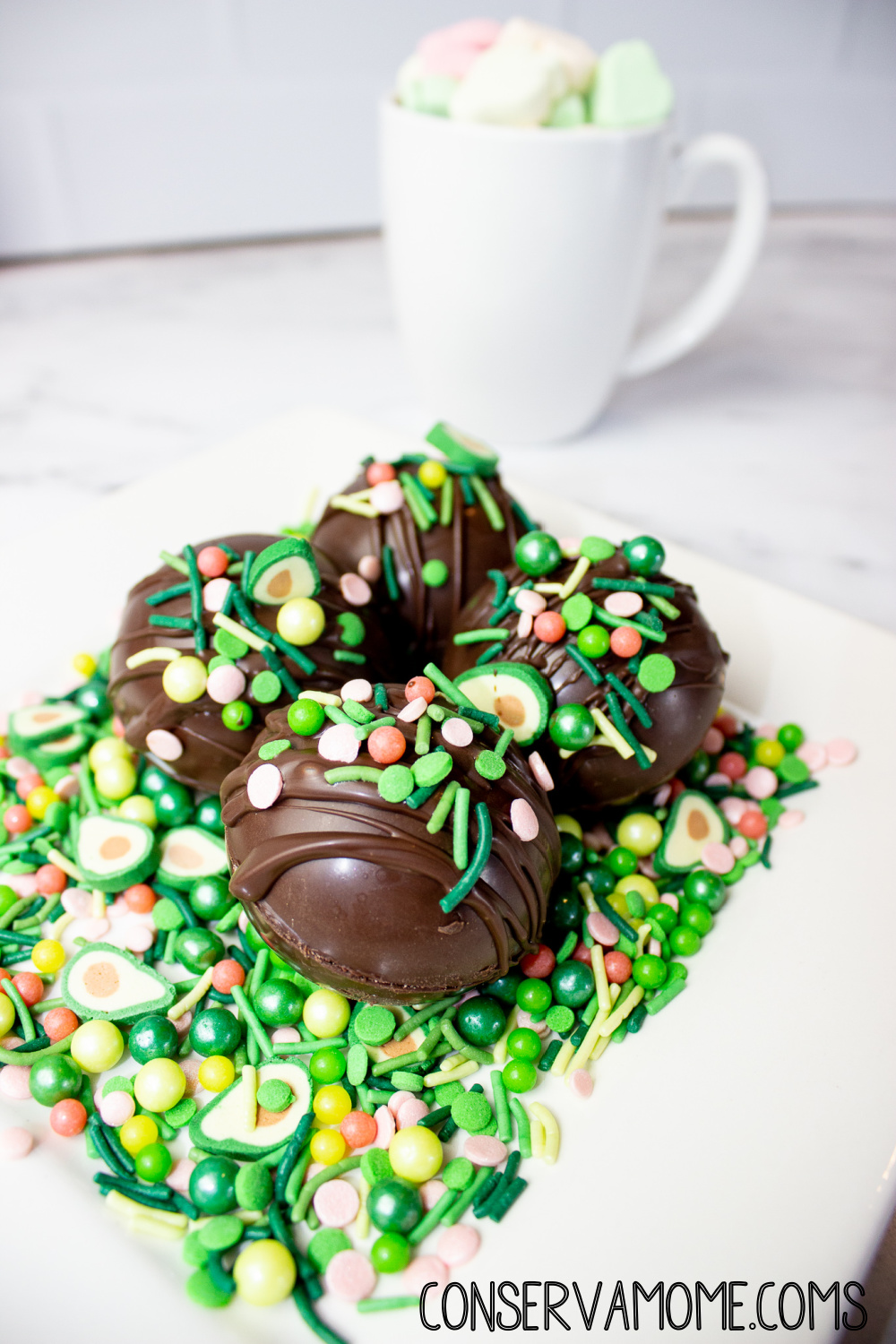 It's such a delicious and fun way to incorporate Rumchata into a spiked hot chocolate bomb.
It's perfect for an adult gathering or just because. So read on to see how easy this delicious hot chocolate bombs recipe is.
What you need to make RumChata Hot Chocolate Bombs
● 1 – 10 oz Ghirardelli Wafers
● 1 cup Hot Chocolate Mix or two packets of Instant Hot Chocolate Mix
● 2 cups Mini Marshmallows
● Jet Puff Llama and Cactus Marshmallows
● RumChata
● Avocado Shaped Sprinkle Mix – Wilton
Supplies Used:
● Prep time: 10 minutes
● Freezer time: 15 minutes
● Total time: 25 minutes
Servings – 3 (if you use one mold)
How to make Spiked Hot Chocolate Bombs
1. Place the mold(s) into the freezer while you are melting the chocolate.
2. Melting the chocolate:
You can either:
Follow the directions on the package to melt the chocolate in the microwave in a
microwave-safe bowl OR you can set up a double boiler to melt the chocolate.
How to make the Hot chocolate Bomb outer shell
3. Once the chocolate is melted, remove the candy molds from the freezer and place on
a small baking sheet. Next, add 1 tbsp of the chocolate into the mold. Use your spoon to
move the chocolate around the inside of the mold. Make sure that you apply the
chocolate evenly.
4. Repeat the process for the remainder of the molds. When you are done, lightly tap
the mold(s) to get any air bubbles out.
5. Place the mold on the baking sheet back into the freezer and let the chocolate
spheres set up for 10 – 15 minutes.
6. Remove the chocolate bomb molds from the freezer.
7. Carefully remove the chocolate from the molds.
8. Heat a plate in the microwave for approximately 60 seconds. Remove from the
microwave then as you work on each mold, turn one of the bomb halves upside down
and place it directly onto the hot plate for 5 to 10 seconds. You just want the rim to
gently melt.
How to Fill the Hot Chocolate Bombs
9. Fill the molds with 1 tbsp of the hot cocoa mix and top with mini marshmallows or one
large marshmallow.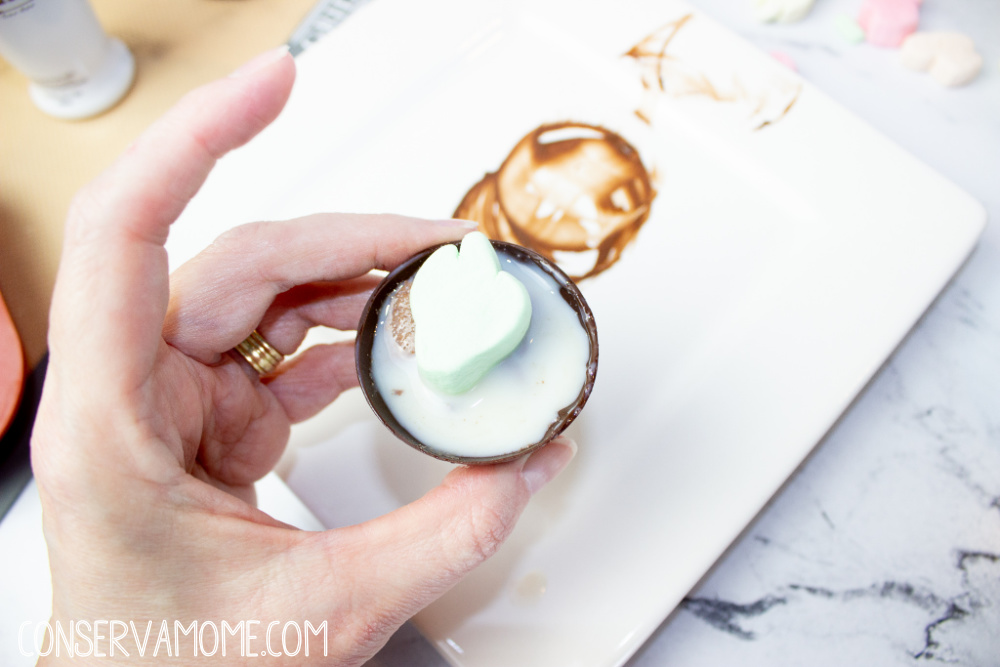 Then add 1 tbsp of RumChata on top.
10. Then repeat the step to melt the rim of the bomb you are using to top your hot
chocolate bomb.
11. CAREFULLY press the two halves together.
12. Repeat the process until all of the chocolate bombs are done.
13. Use the leftover chocolate and drizzle that over the top of your hot chocolate bombs.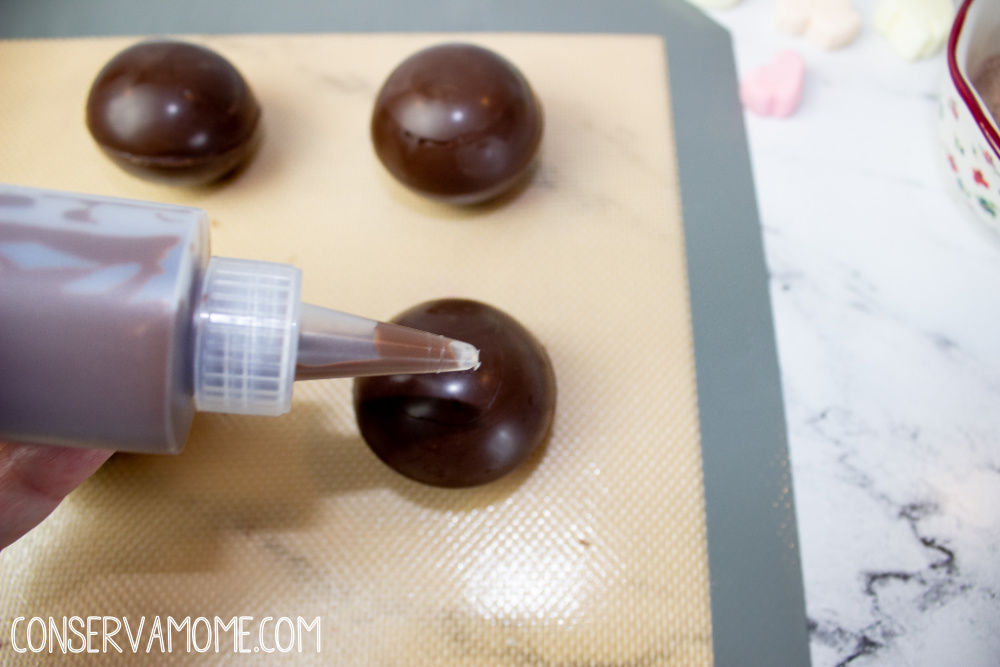 14. Top with the sprinkles.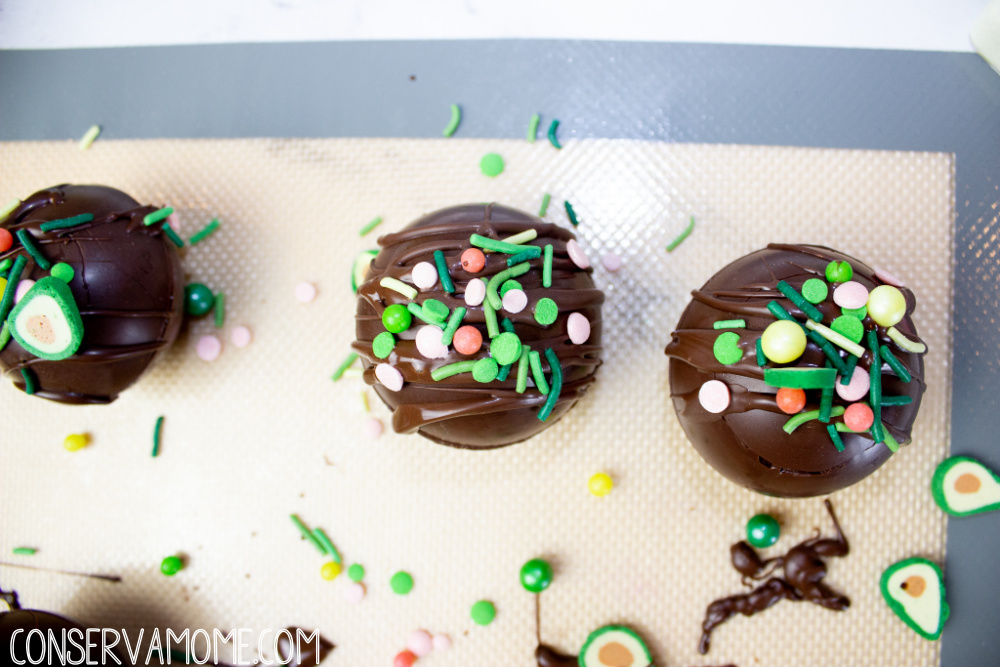 15. To use the bomb, place it in a large mug, pour warm milk over it and stir until
everything is mixed together and enjoy!
16. If you aren't using the Hot Chocolate Bomb right away, since it has alcohol in it,
place it in the refrigerator in an air-tight container until you are ready to use.
17. They are good for up to three days.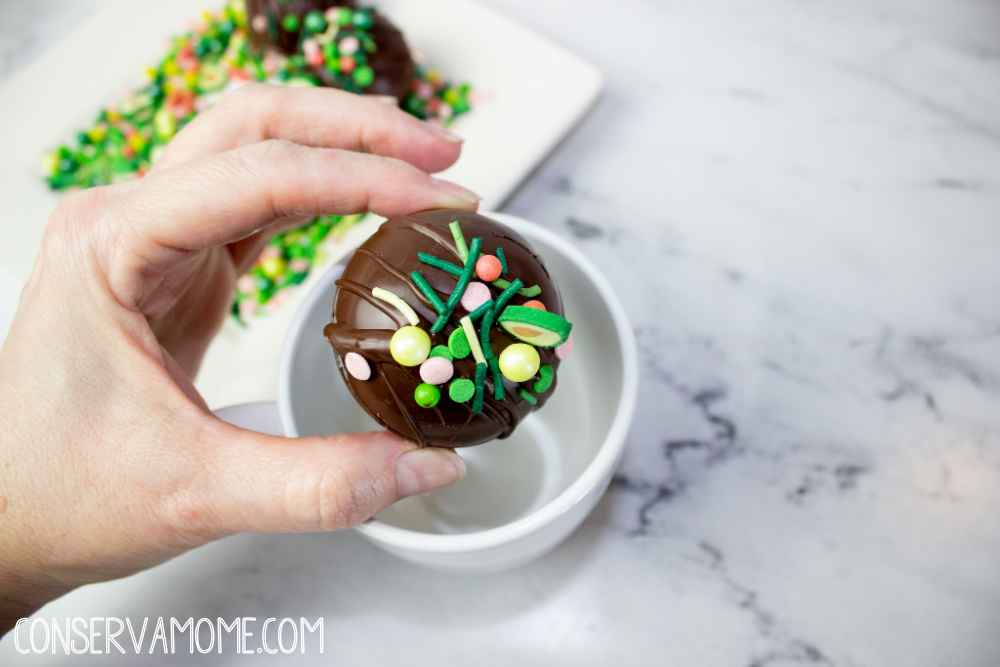 Love this recipe? Want to try other Hot chocolate bomb recipes? Check out my Snickers Hot Chocolate Bomb recipe or my Toffee Hot chocolate bomb recipe.