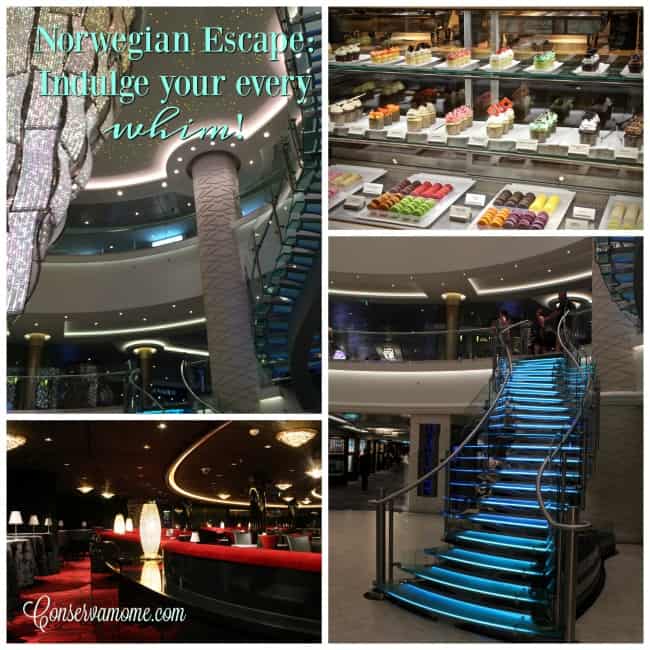 All aboard!  Last Saturday, on a gorgeous and sunny Miami day, I had a truly special and unique opportunity to tour the gorgeous Norwegian Escape while it was docked at the Port of Miami. The Escape is the newest ship in the Norwegian fleet.  Our tour included a fabulous lunch at Iron Chef Jose Garces' restaurant, Bayamo, a wine tasting at The Cellars hosted by Mr. Michael Mondavi of the Michael Mondavi Family Estate himself, and time relaxing at the luxurious Thermal Suites.
The first thing that strikes you when you see the Escape is the eye-catching artwork on the hull by Guy Harvey, a marine wildlife artist.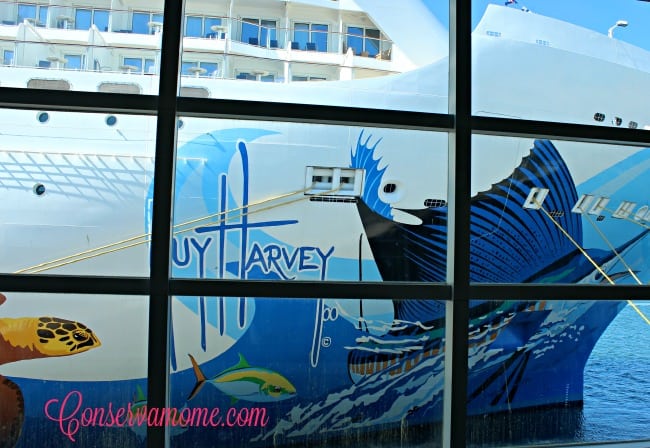 Once on board, our first stop was Guppies Nursery.  This is an adorably decorated nursery where parents can make reservations to drop off children between 6 months to 2 years.  The nursery provides parents the opportunity to have their children well cared for while they enjoy a nice romantic dinner or some time at the spa!  Some of the programs available are crafts, snack time, stories, singing, dancing, and more!  There is even a quiet room for children who need a nap.  I also liked that they give parents a "handy phone" which will help you keep in touch with the nursery at all times.  Parents who want to participate in fun activities with their little ones can sign up for that, too.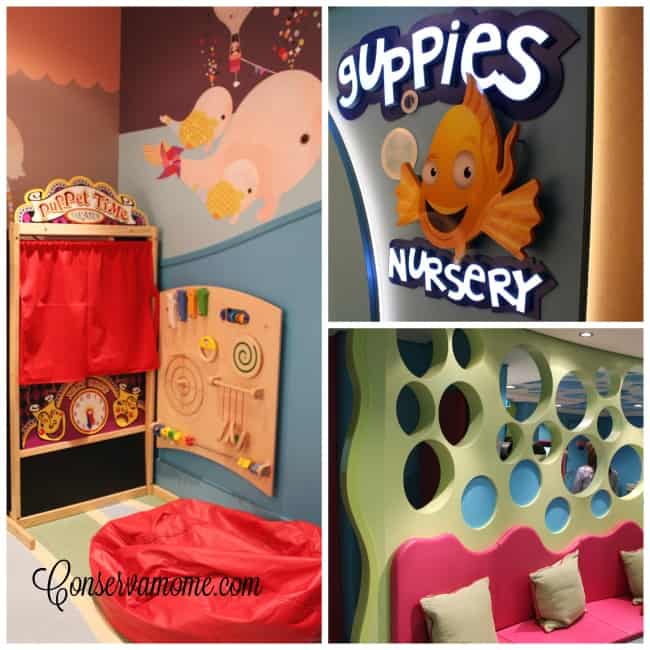 Next up was Splash Academy.  The academy is complimentary and has programs for different age ranges.  The Turtles program is for 3-5 year olds and has fun activities like finger painting, crafts, board games and puzzles.  The Seals program for 6-9 year olds includes video games, crafts, and treasure hunts.  The Dolphins program is for 10-12 year olds and includes games, video games, and sports.  When I walked in the first thing I noticed was how large and spacious the rooms are.  My kids would love playing here, especially with the cool interactive games!

Next we had a delicious lunch at Bayamo, a fine dining restaurant by Iron Chef Jose Garces.  Lunch was hosted by Michael Mondavi and we enjoyed two of his wines with our lunch, the Oberon Sauvignon Blanc and the Oberon Cabernet Sauvignon.  Our first wine was the Sauvignon Blanc which was the perfect pair for the "amuse bouche", which is a tiny little hors d'oeuvre selected by the chef.  This tiny bite was a corn croquette filled with a creamy corn filling, then topped with crème fraiche, caviar, and lime zest.  It was a perfect starter.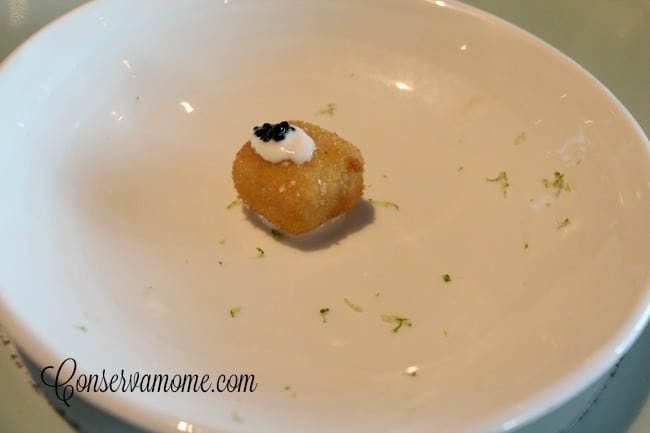 I chose the Matambre for my appetizer, which is a beef carpaccio with carrot chimichurri and quail egg.  The edges of the beef carpaccio were coated in a pepper crust and the slices were so thin that they would practically melt in your mouth!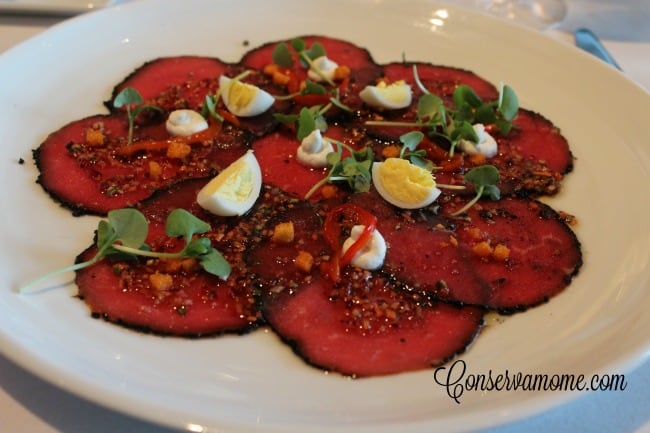 For my entrée I chose the Bife de Chorizo, which is a wagyu sirloin with salsa criolla, provoleta, and Nury potatoes.  The steak was cooked perfectly to my liking and the little dollops of salsa criolla, a creamy, intense-but-not-spicy tomato sauce was perfect when eaten with the steak.  The dish was served with some little potatoes and a very small portion of provoleta, which is a grilled piece of provolone cheese.  We were served the Oberon Cabernet Sauvignon.  This steak paired with the wine was fantastic!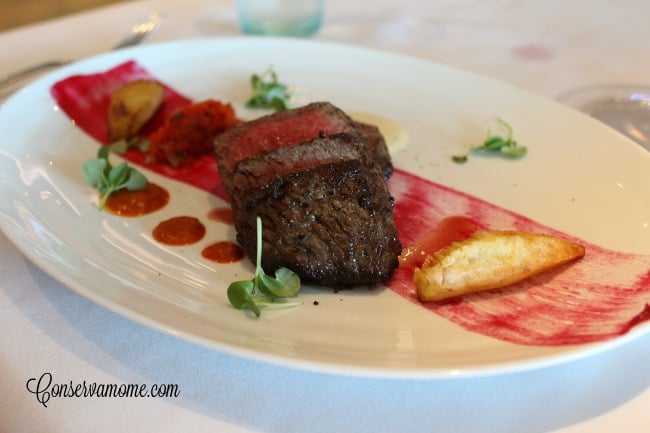 My husband had the Camarones al Ajillo, which was a dish of pan-roasted shrimp, charred tomato, lime emulsion, and fingerling potatoes.  I am a fan of perfectly cooked shrimp and these were amazing!  I was almost jealous of my husband for having chosen the shrimp!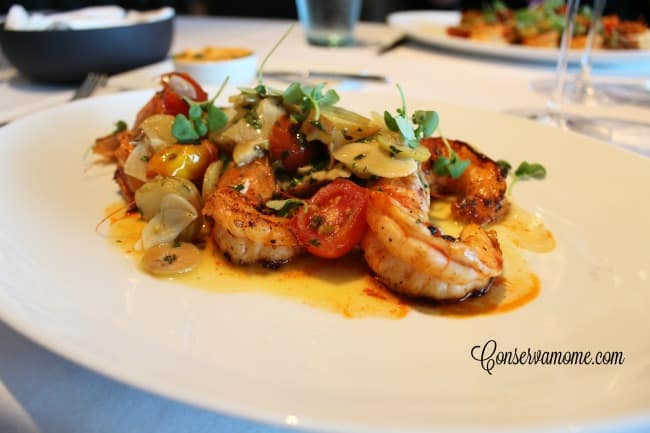 Dessert was Parfait de Limon Verde with an avocado cream, meringue, mint, and grapefruit tequila sorbet.  It was a light, refreshing dessert with a little kick!  After that, coffee was definitely in order!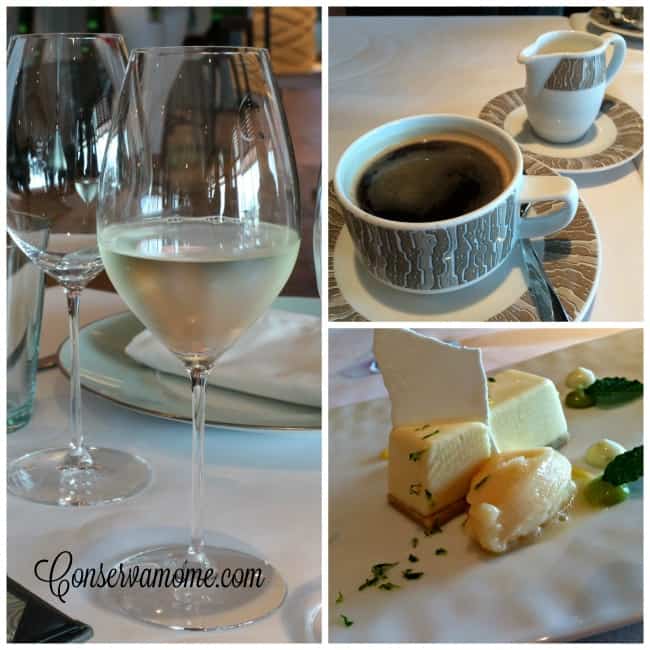 My favorite part of the tour was our wine tasting at The Cellars – A Michael Mondavi Family Wine Bar.  The Cellars is a beautiful and intimate setting where you can enjoy a glass of wine or sign up for a wine tasting at The Tasting Table.  Michael Mondavi gave an excellent lesson on the different grapes grown at their Napa Valley estates and what goes into creating their unique wines.  We tasted four wines and had a great time chatting with the guests and our hosts.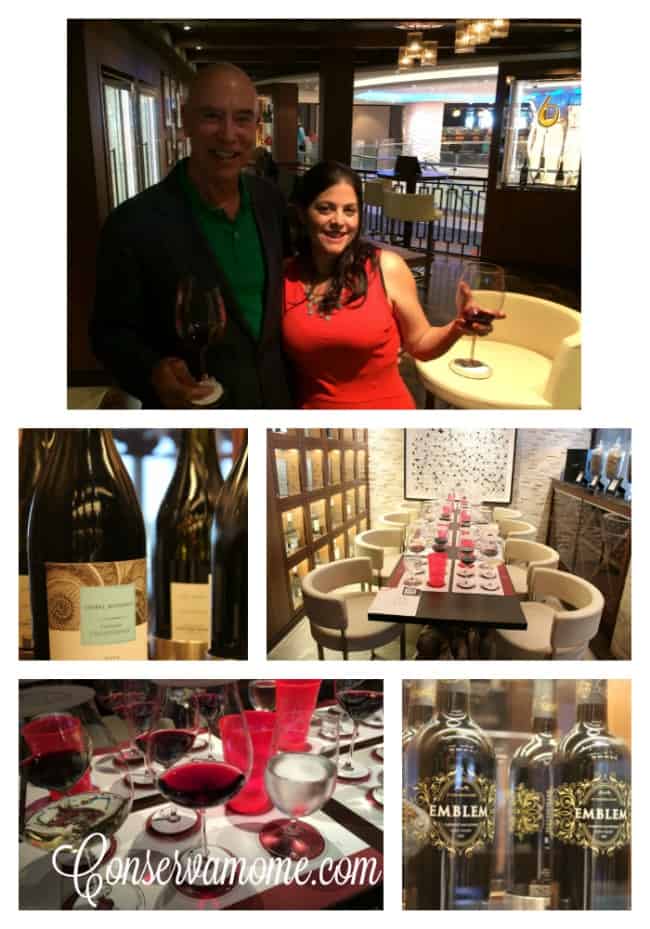 Our last stop was the Thermal Suite at the Mandara Spa.  The suite has heated lounge chairs, heated pools and hot tubs, a salt room, a steam room and even a snow room!  I took a dip in the Thalasso therapy pool and relaxed in the sauna.  We took a few minutes to enjoy the snow room, too!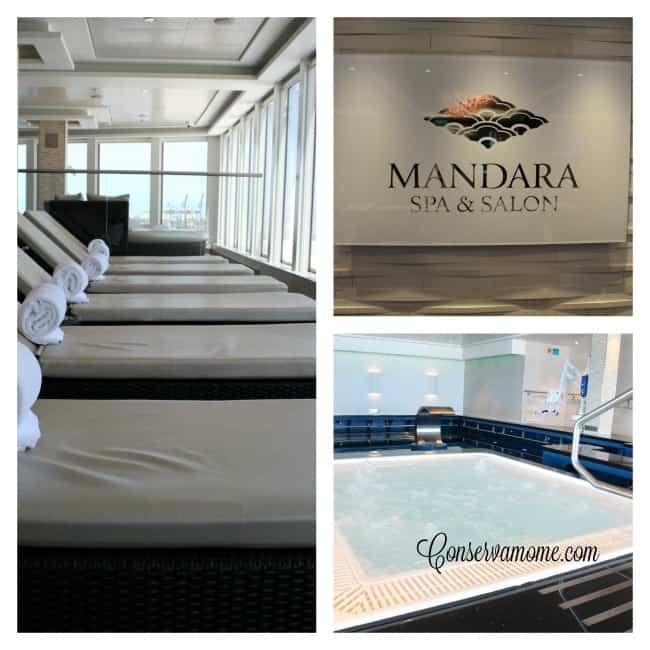 This ship has so many entertainment options, dining, experiences, and amenities and I was able to tour just a handful.  A whole week on this ship would be absolutely amazing!  The ship is elegantly decorated and feels luxurious, down to the last detail.  My experience on the Norwegian Escape was only a few hours long but I can't wait to book a cruise on this ship to truly enjoy all the Norwegian Escape has to offer!  Bon Voyage!
Make sure and get social with Norwegian Escape and most important plan your next escape from the stress on:
Facebook, Instagram  Youtube  Youtube
Save
Save
Save
Save