Dive into Summer with these layered Patriotic Cupcakes. These delicious Red,White and Blue Layered cupcakes will be a favorite at any gathering!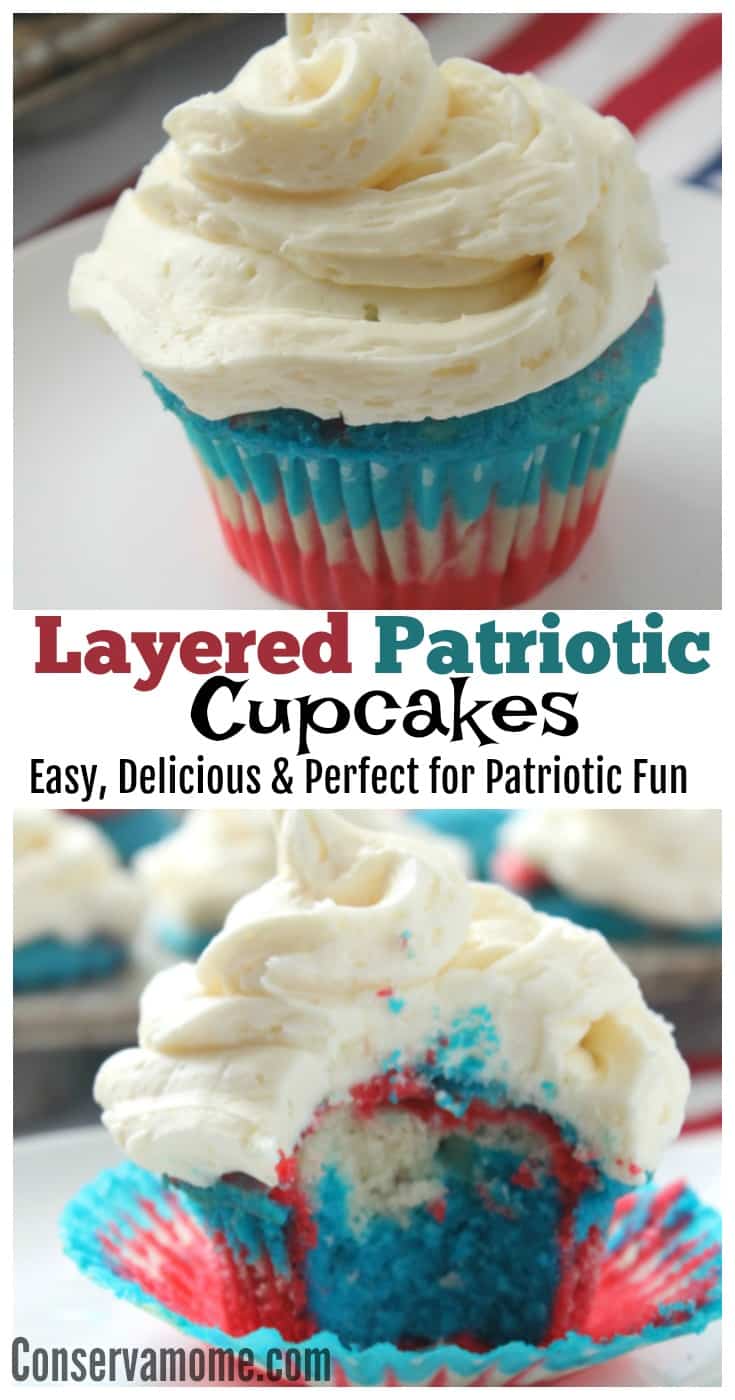 I love getting ready for 4th of July festivities. There's something so fun about the 4th of July and the fact that you realize you're in the heart of summer. Most kids get out where I live until end of June so this is the first big event that rings in the summer. Since moving out to New England a year ago, the epicenter of the Birth of our Country a lot of the more historical significance has made this holiday even more exciting for my family. So in honor of the 4th of July, check out this fun,delicious and did I mention easy recipe for layered patriotic cupcakes that will be the hit at any gathering!
30 drops red food coloring
30 drops blue food coloring
Your favorite frosting recipe or premade frosting
Ingredients:
1/2 cup unsalted butter, softened
1 1/2 teaspoons vanilla extract
2 cups confectioners' sugar, sifted
2 tablespoons milk
Cream room temperature butter with a mixer until smooth and fluffy.
Gradually beat in confectioners' sugar until fully incorporated.
Mix in vanilla extract.
Pour in milk and Mix for an additional 3-4 minutes.
Preheat oven to 350. In a medium sized mixing bowl, beat the cake mix, water, oil, and eggs.
Split the batter between three bowls so each of them has an equal amount.
In one bowl, add in the red food coloring and stir until combined. In the second bowl, mix in the blue food coloring in.
Leave the third bowl white. Line a muffin tin with paper cups, and distribute the red batter into the bottom of the cups using a 2 tablespoon scoop.
Rinse the scoop well and start gently layering the white batter on top of the red.
Rinse the scoop once more and layer the blue batter on top of the white.
Bake for 15-17 minutes or until a toothpick can be inserted and come out clean.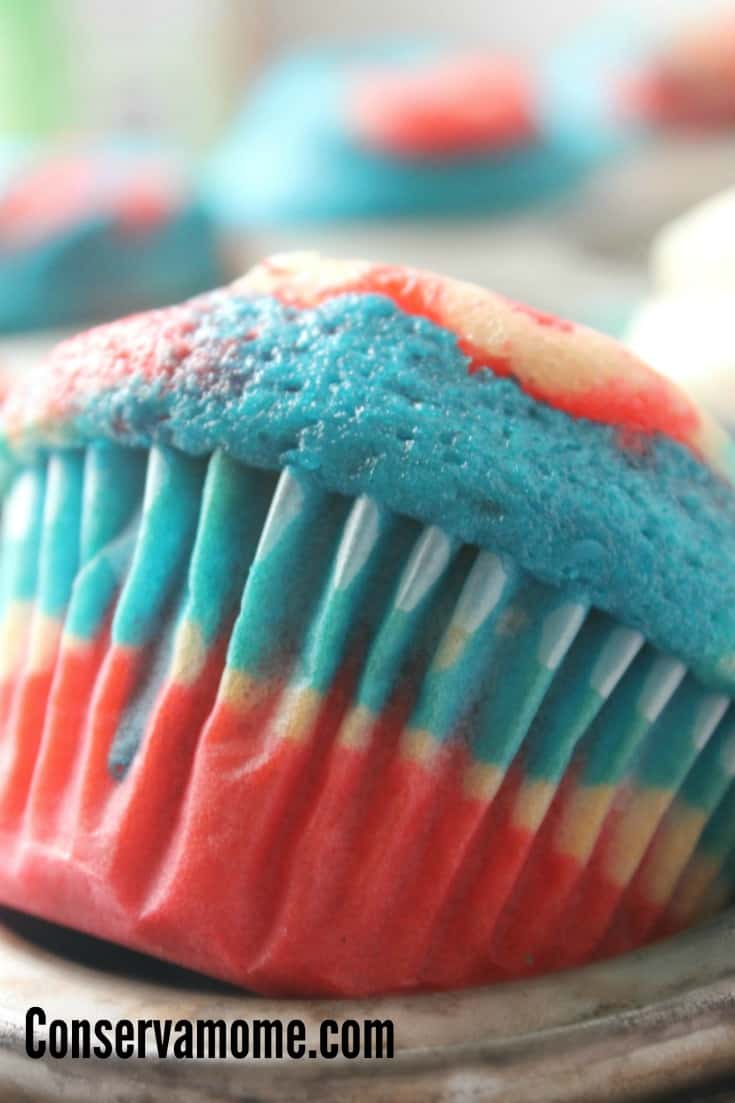 Let cool completely before topping with frosting.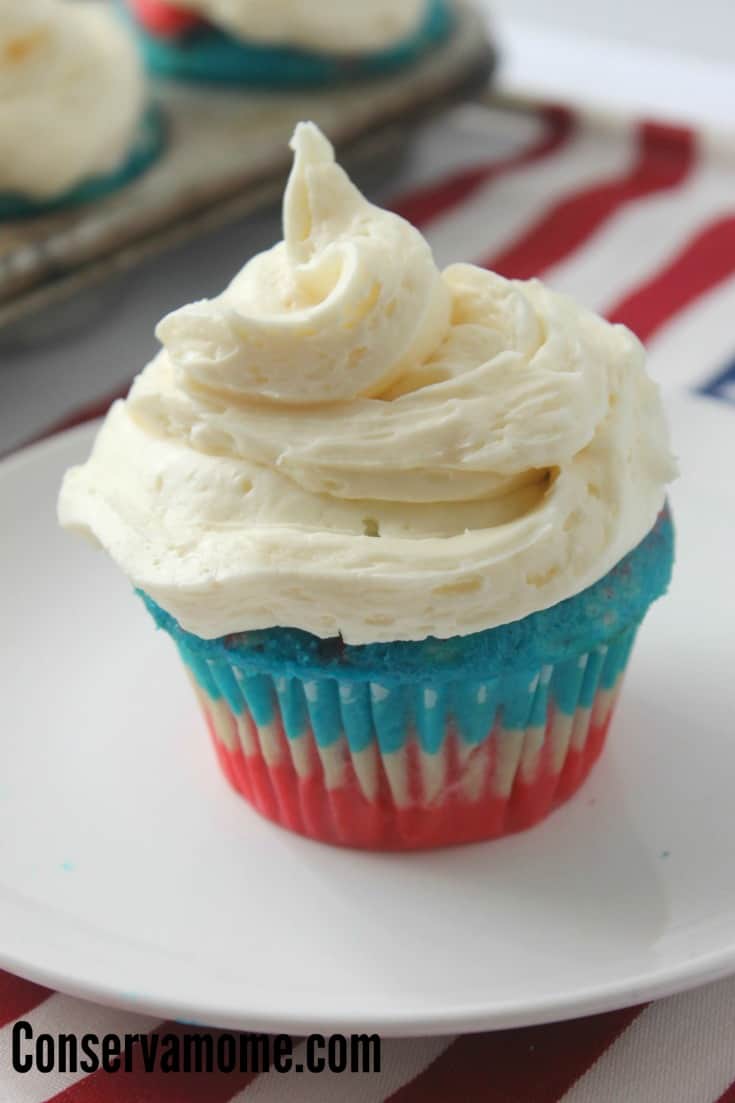 Isn't it cool the way it layers up? The best part is the fact that people will think it look mad skills to make these and you and I will know the secret was just a little Red,White and blue, Layering fun!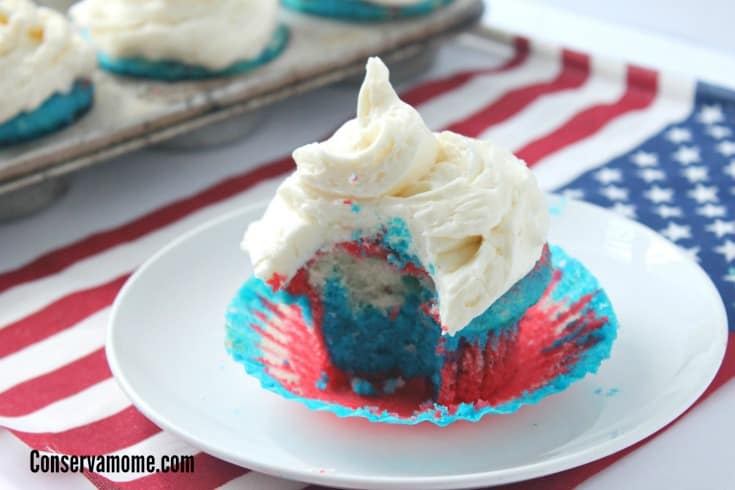 Looking for more patriotic recipes? Check out this round up of Patriotic Crafts.