Reindeers are such a fun part of Christmas. There are so many fun ways to celebrate these fun animals that help Santa spread cheer on Christmas Eve. Check out these 30+ Reindeer Craft & Recipes for kids that are perfect fun for an afternoon of crafting and Christmas cheer.

*This post contains affiliate links. That means that if you make a purchase after clicking on a link I may earn a small commission at no extra cost to you.
Fun & Easy Reindeer Craft & Recipes for Kids
Who doesn't love reindeers? They are so much fun. They work hard each year to get Santa Claus to where he needs to and spread Christmas cheer. They are such amazing creatures that bring magic where they go. Even non magical reindeer have an air of magic just by their beauty. Yet how did these majestic creatures become part of the Christmas story?
When did Reindeers become part of Christmas?
How Reindeers became synonymous with Christmas isn't known exactly, although there are some stories that might let people know how. Caribou and Reindeer are the same animal although "Reindeer" is often used to describe the domesticated animals, the ones that are herded and employed by humans to pull sleds.
While reindeer seem to be a pretty obvious animal to help Santa on his Christmas travels, they didn't become part of the y St. Nick story until the 19th century. In 1821, a New York writer named William Gilley published a children's booklet where Santa and reindeer were first mentioned together. Later, Gilley would write that he knew about reindeer living in Arctic lands from his mother, who was from the area.
A year later, Clement Clarke Moore would anonymously publish his poem "A Visit from St. Nicholas," otherwise known as "The Night Before Christmas," co-opting the idea and popularized it as part of Christmas Legend.
Later on Department stores like Macy's & Montgomery ward really started pushing the popularity of reindeers associated with jolly old St.Nick. Macy's even went as far as making a Christmas display featuring Santa, a sleigh and real reindeer in 1926.
Amazingly enough a fun fact about reindeers is that reindeer noses can actually turn red.
So although although reindeers have a colorful history they really are amazing creatures filled with lots of fun details. This makes them an amazing animal to celebrate all the fun of Christmas.
Looking for more fun ways to incorporate reindeers into your crafting fun?
Check out these fun books before creating all the fun reindeer crafts & recipes
So read on to check out some fantastic .
Reindeer Crafts & Recipes for Kids
Fun & Easy Reindeer Craft & Recipes for Kids
Everyone loves reindeers. They're a fun & whimsical part of Christmas and the Holiday season. That's why I've put together this fun round up of the best Reindeer Craft ideas and Recipes for kids. These are some of the funnest reindeers you'll find online so check out how sweet and fun reindeers can be!

Make sure and pin this fun post below to share with others or to keep for more creative ideas.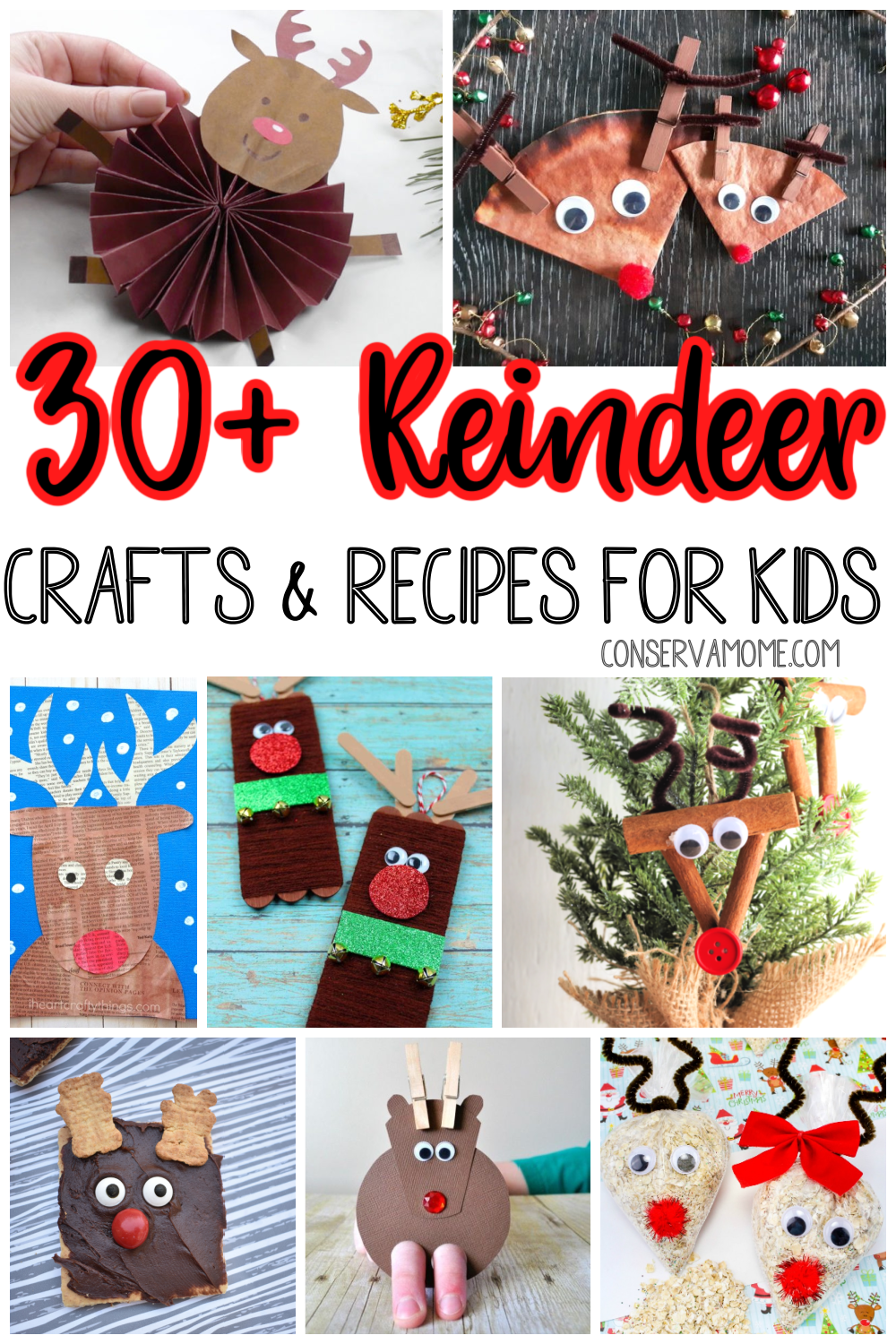 Looking for more fun ideas? Why not incorporate the fun of Christmas with Jolly old St.Nick? Check out this fun toilet paper roll Santa Claus or Santa Claus gift spinner!