Are you invited to a black tie event? Find out some easy Dos and Don'ts At Black Tie Events so that you'll have a great time and enjoy while staying in style.

Dos and Don'ts At Black Tie Events
When you get an invitation to a black-tie event, it can be exciting—thinking about a ballroom-style celebration with gorgeous lighting, beautiful floral arrangements, and delicious meals can be thrilling. It's an excuse to dust off that pair of heels, dress to the nines, and go all out for an evening. Black tie events can also be terrifying if you don't know what to expect or how to obey the dress code and etiquette expectations. The following will explore some of the big dos and don'ts that you need to adhere to while attending a black-tie event.
Do Read Your Invitation Thoroughly
Before you start any preparation work, you need to read the invitation to the event carefully. Black tie is a standard of dress that is on the formal end of the spectrum, but the invitation might specify more details, sometimes going into teeny particulars like colors that people are encouraged to wear and suggestions about footwear giving the type of flooring at the event location. Make sure that you follow the instructions laid out in the letter. If you have any questions, call ahead of time and get them straightened out.
Do Understand The Dress Code
Black tie events are occasions that require a dress code. In the broadest sense, it means a semi-formal western-style dress code for an evening event. Men typically wear a dinner suit or dinner jacket and, you guessed it, a black-tie. Women typically wear evening gowns, which are one of the following longer dresses:
Ballerina gowns—which are dresses that reach somewhere between the middle of your calf and just above the ankles
Tea dresses—which extends to above the ankles
Full-length gowns—which reach the floor or settle just above the floor
Don't Wear Short Dresses
For women's attire, the length is the primary feature of black-tie standards. This means no shorter dresses—nothing above the knee or even just below the knee. Often evening gowns are made of luxurious fabrics as well, like satin, silk, velvet, or chiffon, although this isn't followed so strictly anymore. Keep your shoe choice in mind if you go with a floor-length dress—include those extra inches the heels give you when selecting a length.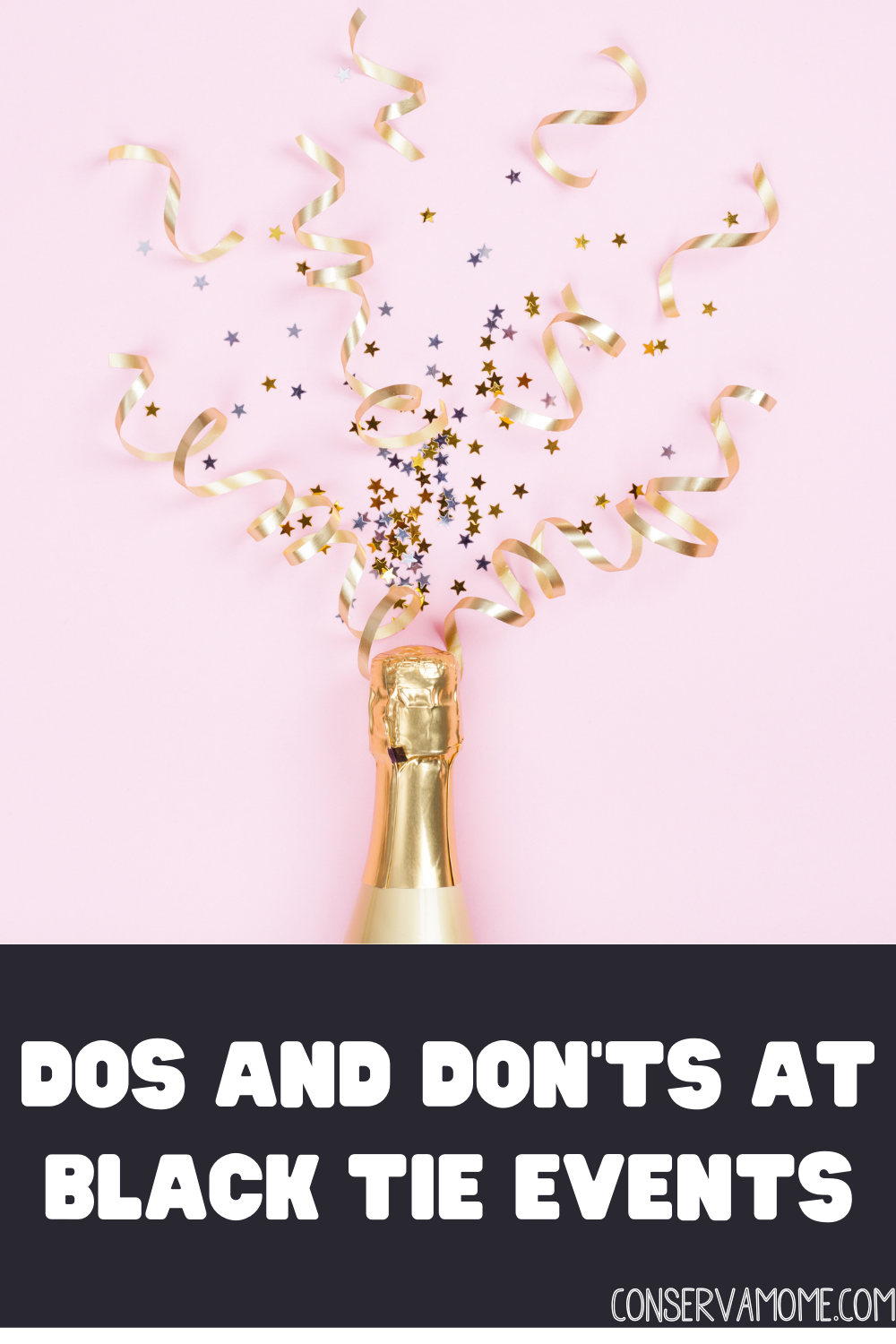 Do Experiment With Silhouettes
Evening gowns are not to be confused with ball gowns. Ball gowns always have a full skirt coupled with a fitted bodice (think of the shape of Cinderella's dress in the Disney movie). In comparison, evening gowns can have any silhouette and are allowed to have straps, sleeves, or halters. If you're having trouble picturing an evening gown, you can take a look at these black tie dresses by Jovani. That should help you discern what is typically worn at a black-tie event.
Do Maintain Excellent Hygiene Standards
In addition to the strict dress code, black tie events expect you to show up clean (and stay that way throughout the evening)—think of it as part of your outfit. This means nails must be cleaned and trimmed an appropriate length (no spider nails, please) and hair needs to be washed recently and kept tidy.
Perfume, deodorant, or other fragrance assisting product is encouraged, unless, of course, the invitation specifies it's a fragrance-free venue. Many people are allergic to things containing the ingredients of fragrance or perfume. But there are lots of scent-friendly alternatives like essential oils or hypoallergenic deodorants. It's a good idea to spend a little time caring for and cleaning your skin before the event. One spectacular life hack is to use epsom salts in the process. Not only are they fantastic and keeping things clean, but they boost your magnesium levels and can also help relax you, which means you'll be able to enjoy the evening more!
Don't Leave Your Phone Out
Formal events have different standards than regular parties. Keep your phone turned off and in your purse or pocket. Unless otherwise specified, it's usually okay to take photographs, but you don't want your phone ringing in the middle of a speech, toast, or dinner. If this feels like a strange or uncomfortable rule for you to follow, take a moment to brush up on your cell phone etiquette. Understanding these rules is crucial in today's society—it will help you maintain stronger relationships and perform better at work.
Typically an evening dress will not have pockets, meaning, if you want to bring your phone inside, you need to figure out where you're going to keep it. If you're wearing a jacket, it will likely be kept in a coat room, so you won't have it with you during the majority of the event. A purse is an excellent choice as long as the bag suits your outfit and isn't offensive or aggressive in some way. If you are attending the event with someone who does have pockets, you can ask him to keep your phone in his dinner jacket.
Do Brush Up On Your Table Etiquette
Part of wearing an evening dress well is carrying yourself with grace and confidence. If there's a dinner portion to the black-tie event, be prepared for an extra fork or two. Take the time to review table etiquette before showing up at the event and "winging it." If you didn't manage to brush up on your skills beforehand, wait and see what everyone else is doing before you dive into a meal—note which fork and glass are being used. Never state that you didn't like the meal at a formal event, ever. Be like Thumper and remind yourself that at a black-tie event, if you can't say something nice, don't say anything at all.
Don't Drink Too Much
Nothing can ruin an otherwise glorious outfit faster than a mess inside of it. Sorry, but that's how it is. Keep things classy at black-tie events by watching how much you drink. You know your limits, so respect them. As a side note, if you're recent of age and don't know your limits, don't use a black-tie event as the occasion on which you discover them. Someone went through a lot of trouble to plan the celebration; they don't want everyone still talking about how you threw up in the plant next year.
The above tips should help you navigate the world of a black-tie event with grace and poise. Again, if you have any questions, it's always better to ask than to commit a faux pas. Have a lovely evening!