This Delicious Authentic Mexican Pozole Recipe will be a huge hit in your home. A wonderful Mexican family recipe that has been passed down to me and I'm now sharing with you!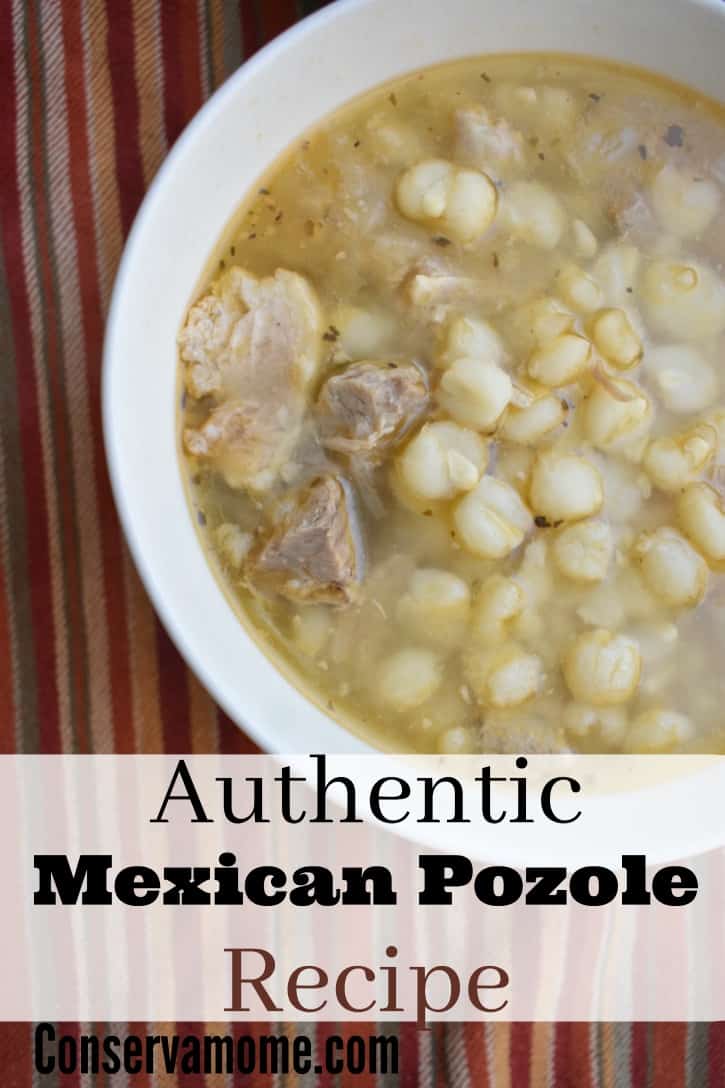 Delicious Authentic Mexican Pozole Recipe
Mexican Pozole is synonymous in our home with holidays. Ever since I was little I remember my grandfather cooking it on Christmas Eve to be served alongside of Tamales. It was something that we enjoyed eating so much because of how special the dish was. You didn't get Pozole every day,it was reserved for special occasions.
So when you smelled it in the air or saw the fixins set up on the table we all use to get so excited. As an adult this was one of those dishes I wanted to carry on to my family. Because my grandfather died when I was 18 I never asked him for the recipe, thankfully one of my uncles still makes if every holiday and so I grabbed the recipe when I first got married so that I could make it in our home and now I'm bringing the Authentic Mexican Pozole Recipe to you guys for your enjoyment.
Pozole in essence is a stew that can be made to your liking. The basic stew is just basics of pork,hominy and lots of flavors. What you put into it makes the soup unique and delicious. (Although some people are purist and just like it on it's own) There are different types of pozole you will find in Mexico from Red to green. Mine is the basic one which I do add some Ancho chile to the end but it's all optional since I have little kids that aren't big into spicy. So without further ado, enjoy! Buen Provecho!
What you'll need to make Pozole:
1 1⁄2 lbs pork shoulder
2 garlic cloves, peeled
1 tablespoon cumin powder
1 onion, chopped
2 garlic cloves, chopped
1⁄2 teaspoon black pepper
2 tablespoons oil
1 teaspoon cayenne
1 tablespoon salt
1 teaspoon oregano
4 cups canned white hominy, drained and rinsed- I buy the large can I think it's like 105 oz.
3-4 Cups of Chicken broth
3 -5 cups pork broth, from cooking pork shoulder
salt to taste
Fixings
For Red Sauce to be used at the end
3 whole ancho chilies, seeded and stemmed (see below for recipe)
1 Clove of garlic
1/4 Cup of onion
Salt + pepper to taste
Fixings that are always served with are:.
lots of lime/lemon wedges.
sliced radishes.
chopped cilantro.
How to make Authentic Mexican Pozole
Place the meat in a large saucepan and cover with water and add a dash of salt.
Add 1/2 of the chopped onion, the 2 cloves peeled garlic, pepper, cumin, and oregano.
Bring to a boil over medium heat, skim off any foam that rises, reduce heat, cover and simmer for 45 minutes.
Remove meat and broth, reserving both.
Add the remaining ingredients, stir for a minute.
Cut the reserved pork into 1 inch cubes and add to the pan.
Stir in the canned hominy, pork broth. You may need to add about 2-4 cups of Chicken broth as well. To create the soup feel.n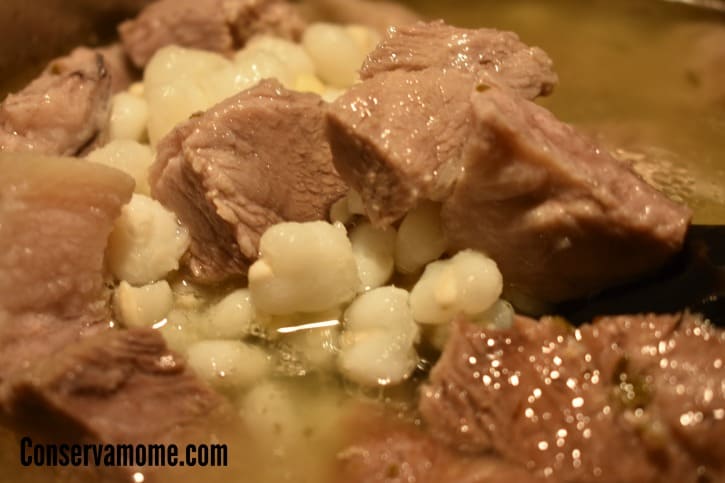 Cook at a simmer, covered, for 45 to 60 minutes until the meat and hominy are tender.
I usually just leave it cooking until everything is pretty tender. It may take up to 1-1/2 hours for it to be ready to eat after the pork has been cooked.
It's not that difficult today and is really just something that takes a while to make.
It's such a delicious dish you will love!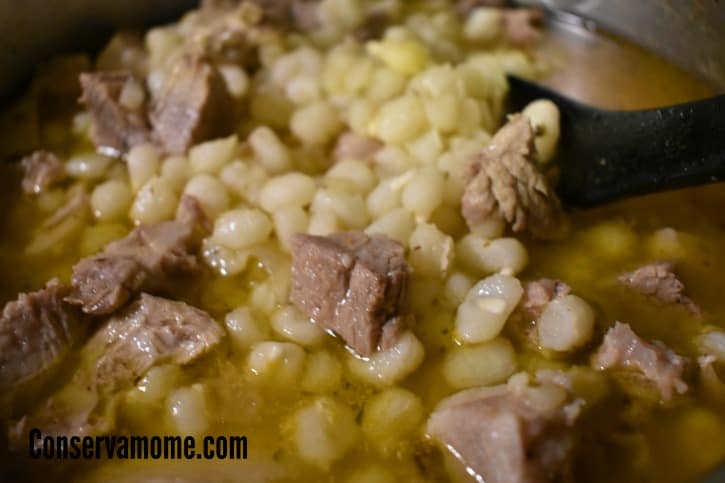 For Red Sauce
You will probably find the ancho chillies in dried form in plastic bags at store. Once ancho chilies are soft from boiling (approx 15-20minutes) then blend with 1 1/2cups of water,garlic and onions. Add Salt and pepper to taste. Blend this thin. I always add 1/4 of a cup of this mixture to the Pozole for taste. Once it's done make sure and put in a bowl so it can be added to pozole.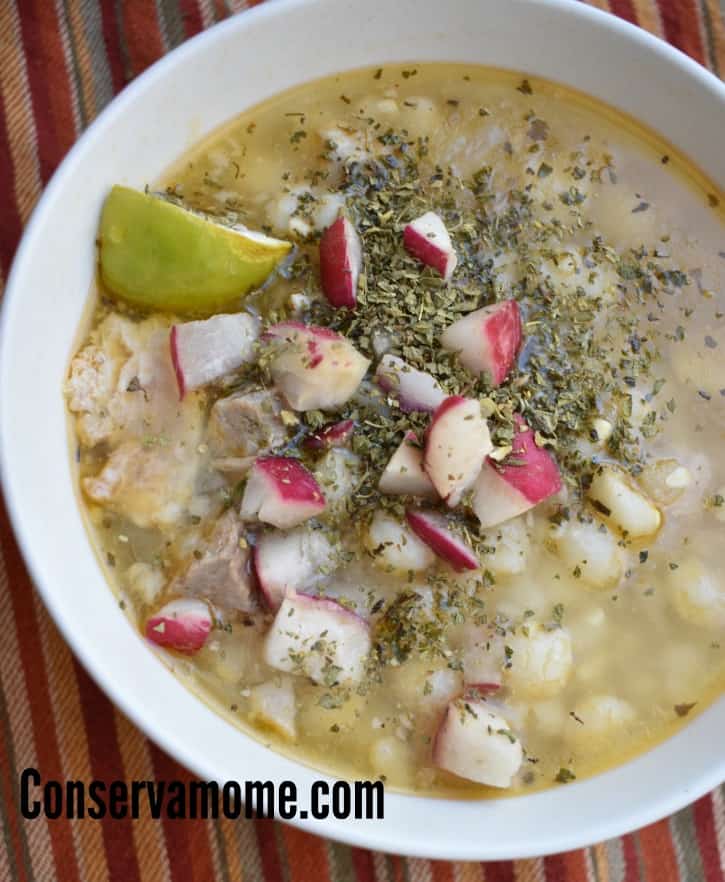 Everyone Eats pozole differently. My family does something NO ONE ELSE DOES, but my kids and husband love this and have adopted this as well and that's to add some Mexican Mayo to it as well. (about a table spoon) Yeah this is not a lean meal. However, it's so delicious and such comfort food.
Add a side of warm corn tortillas and You'll be in heaven.
Enjoy!
Looking for a delicious dessert that goes wonderful with this meal? Check out my Easy Cuban Flan Recipe.