A fun and easy way to make delicious and creative and easy Easter Treat . These Crispy Bunny Treats that will put a smile on everyone's face!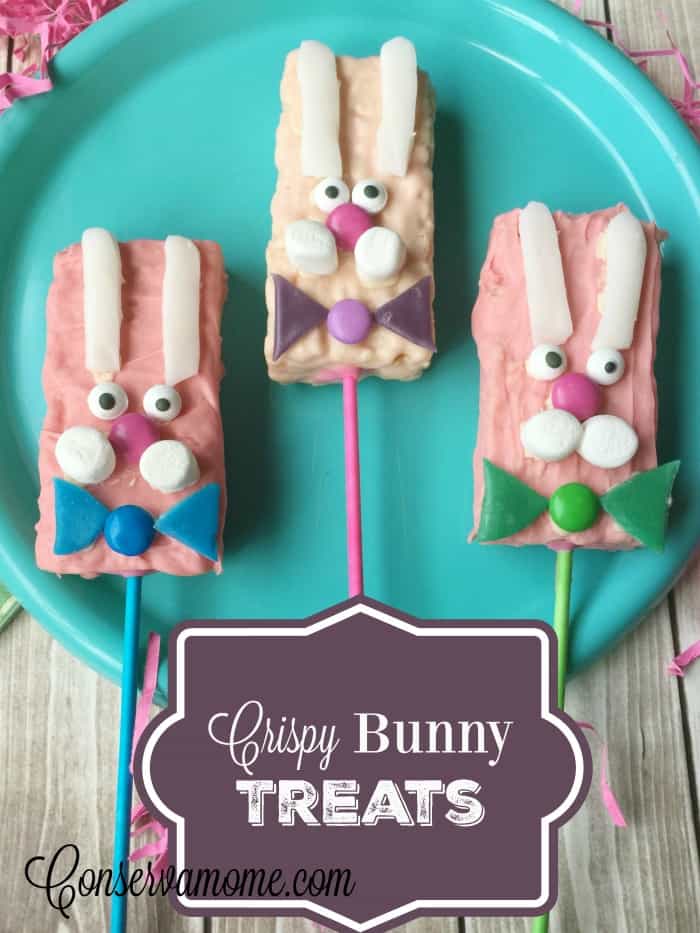 There are so many possibilities when it comes to Rice Crispy Treats. I mean I don't know about you but man do I love to eat them. Here's a fun way to get that delicious treat into a fun Easter/Spring treat. This is a fun easy recipe for Crispy Bunny Treats, sure to put a big smile on your little bunnies faces.
This is easy to make and chances are they'll hop away quickly with how tasty they are.
This recipe will make 8 bunny bars:
INGREDIENTS FOR RICE KRISPIES
1 cup (2 sticks) unsalted butter
2 (10 oz.) bags of mini marshmallows
10 cups Rice Krispies cereal
1/4 teaspoon salt (optional)
DIRECTIONS FOR RICE KRISPIES
1. Spray a 9 x 13 pan with vegetable spray and set aside.
2. In a large sauce pan, melt the butter over low heat.
3. Add the marshmallows and stir until melted.
4. Once the marshmallows are melted, remove from the heat.
5. Using a rubber spatula, transfer the cereal mixture into the prepared pan and press down firmly and evenly.
6. Allow the Rice Krispies to cool in the pan completely.

INGREDIENTS FOR BUNNY POPS
Prepared Rice Krispies bars (recipe above)
One T solid shortening
1 cup Wilton pink chocolate melts (I used dark and light pink ones)
A pouch of cookie icing (any color)
4 large white Airheads candies
16 small Wilton candy eyes
8 pink M&M's
16 mini marshmallows
A blue airheads candy
1 green airheads candy
A purple airheads candy
M&M's – 3 blue, 2 green and 2 purple
8 cookie sticks
PREP WORK FOR ASSEMBLY OF BUNNY BARS
1. Line a baking sheet with waxed paper. Set aside.
2. Cut the prepared Rice Krispies into eight bars.
3. Take the white airheads candies and cut out 4 bunny ears per piece (16 total).
4. Cut out 6 triangles from the blue airheads candy. This will be for 3 bowties.
5. Cut out 4 triangles from the green airheads candy. This will be for 2 bowties.
6. Cut out 4 triangles from the purple airheads candy. This would be for 2 bowties.
7. In a double boiler, melt the solid shortening.
8. Add the pink chocolate melts and stir occasionally until melted. Remove from heat.
9. With a spoon, coat each Rice Krispies bar with the melted pink chocolate. Place on baking sheet to "set" for at least 20 minutes.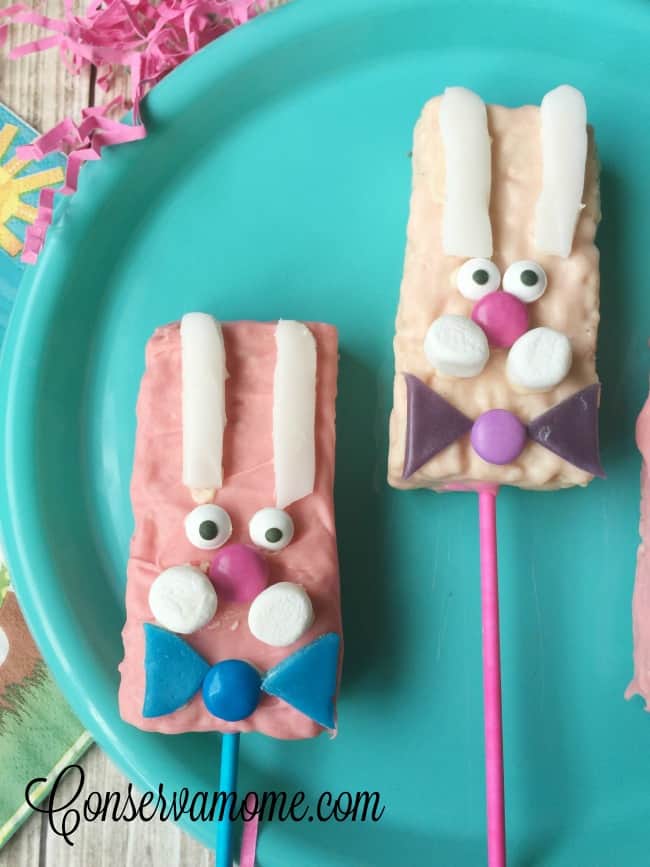 HOW TO ASSEMBLE A RICE KRISPIES BUNNY BAR
1. Lightly pipe cookie icing on the back of 2 ears and place on the front of bar.
2. Dab a small amount of icing on the back of 2 candy eyes and place on the bar right underneath the ears.
3. Dab a small amount of icing on the back of a pink M&M and place it on the bar for the nose.
4. Apply icing to the back of 2 mini marshmallows and place them below the nose, side by side.
4. Dab a small amount of icing on the back of a blue M&M and place it on the bottom of the bar. This will be the middle of the bow tie.
5. Apply icing to the back of 2 blue triangles and place one on each side of the blue M&M for the bow tie.
6. Repeat these steps for each bar. If you want the bow tie to be green, use a green M&M and 2 green triangles. IfYou want it to be purple, use a purple M&M and 2 purple triangles.
7. Insert a cookie stick into the bottom of the pop halfway through.
8. ENJOY!

Looking for other Easter Treats? Check out this round up of 20 Fun Easter Treat Ideas!