Have you been wanting to try Cloth diapers & camping together? Here's your chance to see how easy it can be to do both with some helpful tips and tricks.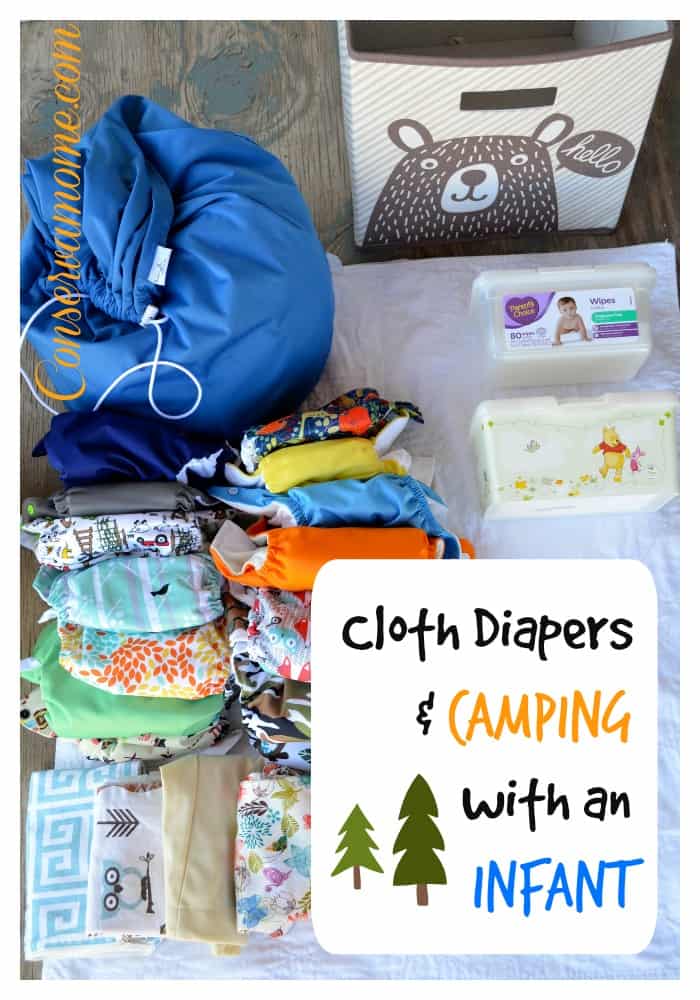 Cloth diapers & Camping with an infant
The National Park Service celebrated its 100th birthday on August 25th and what better way to celebrate with them than a post about camping? After you read this go pack your bags for Labor Day weekend and find the nearest National Park! Because even cloth diapers & camping shouldn't be a problem.
Before we became a family of three my husband and I loved to grab our backpacks and wander off into the woods for a day or two (or ten) of back country camping. Enter baby and no more primitive camping for us. At least for now.
We first took our little fella camping when he was three months old. I wanted to cloth diaper the whole trip but I packed disposables too, ya know, just in case. We have been camping several times since our guy made his debut in March and I must admit, he has been in disposable diapers a few times while we camp. Thank goodness I learned that cloth diapering while camping really isn't that hard.
The wonderful part about cloth diapering a newborn, especially an exclusively breastfed newborn, is that spraying and/or scraping the poo is not necessary. So it follows that camping with a newborn in cloth diapers is not too entirely different than cloth diapering at home since you don't have to figure out what to do with the doo while you're in the wilderness. If you don't want to be washing your diapers while you're away, keep your camping trips short (3-4 days max).
This is how camping looks for us now that we have an infant:
We still usually camp in places without running water or electricity but we make sure to always stay near our vehicle. If the truck is really close to our campsite I set up a changing station on the backseat. I lay down a changing pad or blanket to protect the fabric of the seat from any wayward excretion and I keep a bin of diapering needs in the floorboard for easy access. It's also nice to keep your baby's clothes in this same area for quick changes. My little guy spits up a lot so when we camp I end up changing his shirt at least five times a day to keep him dry. We live in the high desert and even in July the temperatures will drop into the 50s at night.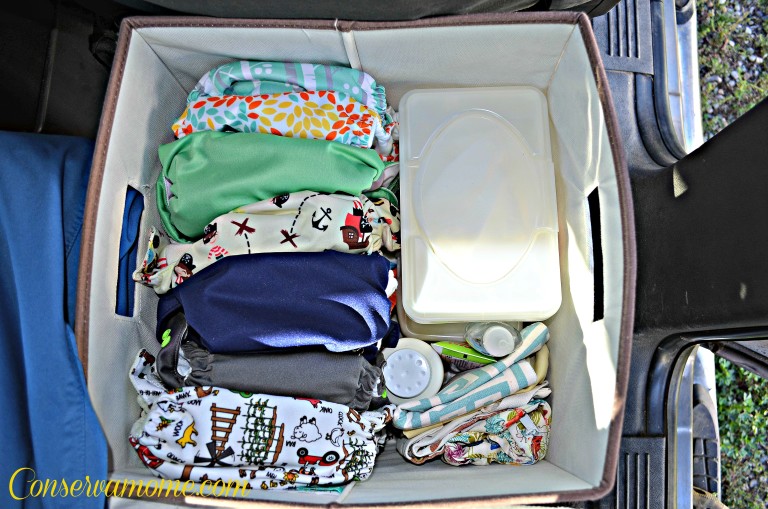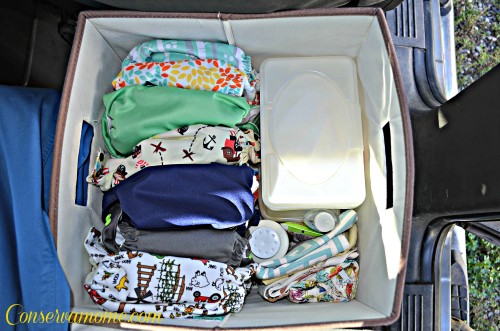 For dirty dipes we only bring a pail liner. We don't have a zippered or hanging wet bag, but I have heard that they are super handy to have while camping. My favorite pail liner right now is a Kanga Care with a drawstring closure. If the diaper is wet it goes straight in the bag but for particularly stinky diapers I always put it in a small wet bag first to contain the smell before throwing it in the pail liner with the other diapers. If you don't have enough small wet bags you can also use plastic grocery bags. I also put the dirty wipes in the pail liner. It doesn't hurt your machine if they go through the wash with your diapers and it is really easy to pick the wipes out when you transfer things to the dryer or the clothes line. I like to keep the dirty diapers in the bed of the truck during the day. At bedtime they usually get moved inside the truck.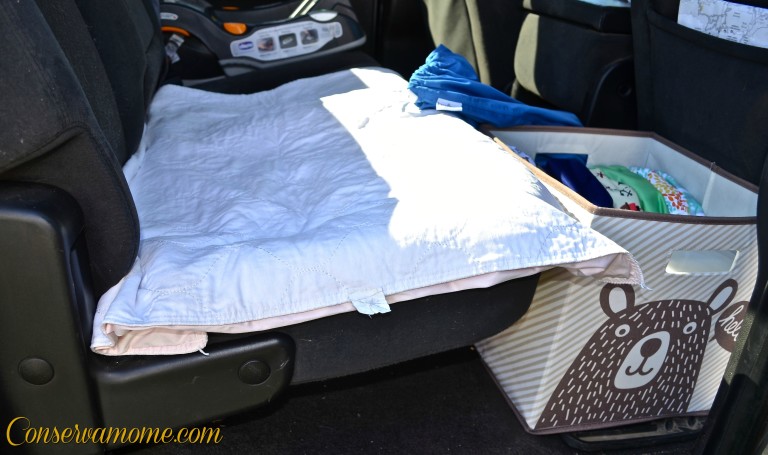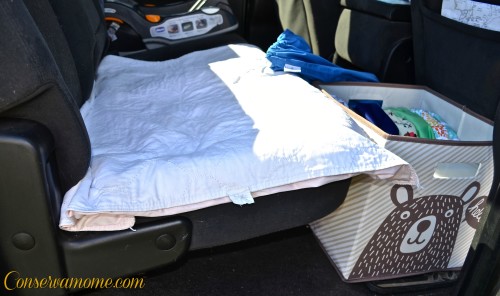 For overnight diapering I move the changing pad, three diapers, a small wet bag, and the box of wipes into the tent. I have been blessed with one of those magical babies that has been sleeping through the night pretty regularly since he was three months old so three diapers in one night is a little excessive for him. It is always, always, always, better to be over prepared when it comes to diapering.
Here's a little list of things I've learned about camping with an infant:
Don't forget to bring the wipes. In fact, bring triple the amount of wipes you think you might need. When our family goes camping I bring disposable wipes even though we use cloth ones at home. Baby wipes can be used on the whole family for a multitude of things. You probably don't want to know how many baby wipe baths I've had in the woods – even before kids.
Do overestimate the number of diapers you'll need. Trust me, you would rather bring home a few clean diapers than run out of clean ones at 3am and have to rummage through the back of the van for those disposables you thought you packed… somewhere.
Don't take your favorite diapers. Unless you want to risk something happening to your favorite dipe, don't bring it. There's always a possibility it could become stained, ripped, or lost.
Do bring lots of wet bags. This is not only for diapering purposes but also for soiled clothing that you don't want mixing with your clean laundry. Having multiple wet bags while you camp and cloth makes life so much easier for everybody and the cleanup when you get home is easier too.
Don't forget to bring all those wet bags that are full of dirty diapers into the house when you get home. Start laundry as soon as you walk in the door from your trip. Dirty diapers have a way of ripening in hot cars on warm summer days. I'm sure you know that particular aroma.
Do prepare yourself mentally to have a dirty child. Dirt and camping are best pals and when you take a baby camping dirt is going to cling to him like spandex on a hippopotamus.
Don't forget the cloth diaper safe rash cream! Its good for the bum, it' good for chafing, blisters, even mosquito bites. Bring it.
Do be nice to yourself. If cloth diapering and camping intimidates you, don't stress out about it. Putting your precious little Petunia in disposable dipes for a few days is not going to kill you, her, or the environment. The important part about camping with your family is being with your family. Don't stress.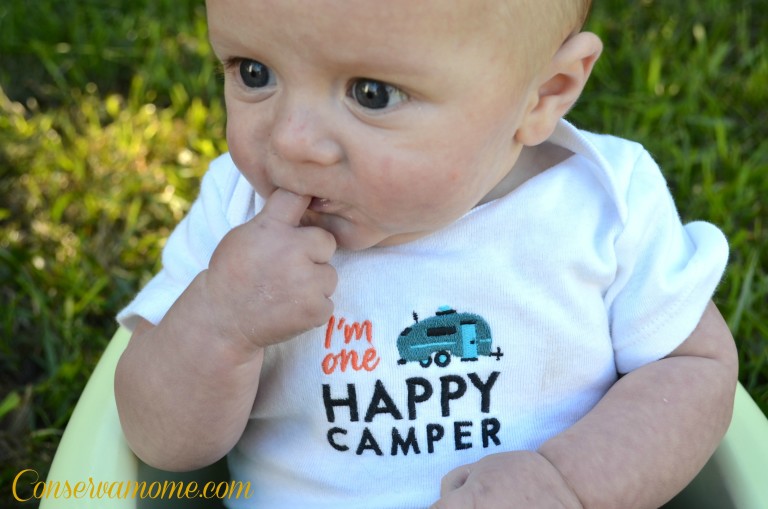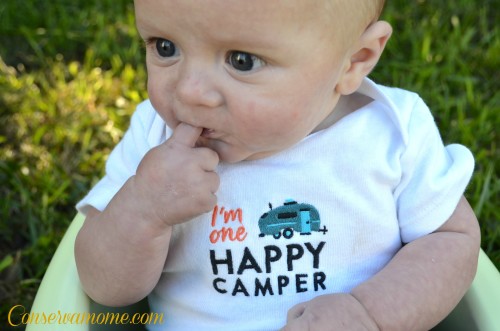 So get on out there, Mama! Enjoy your family, celebrate nature, and don't forget to wish the Parks a happy birthday.
What are your favorite tips and tricks for cloth diapering while you camp?
How many National Parks have you been to and which one is your favorite?
Looking for more cloth diapering ideas? Check out how to make your own cloth diaper safe wipe solution here
Save
Save
Save