Did you know there are certain foods that Boost immunity? Check out Broths & Soups for immunity. Do they work and some recipes.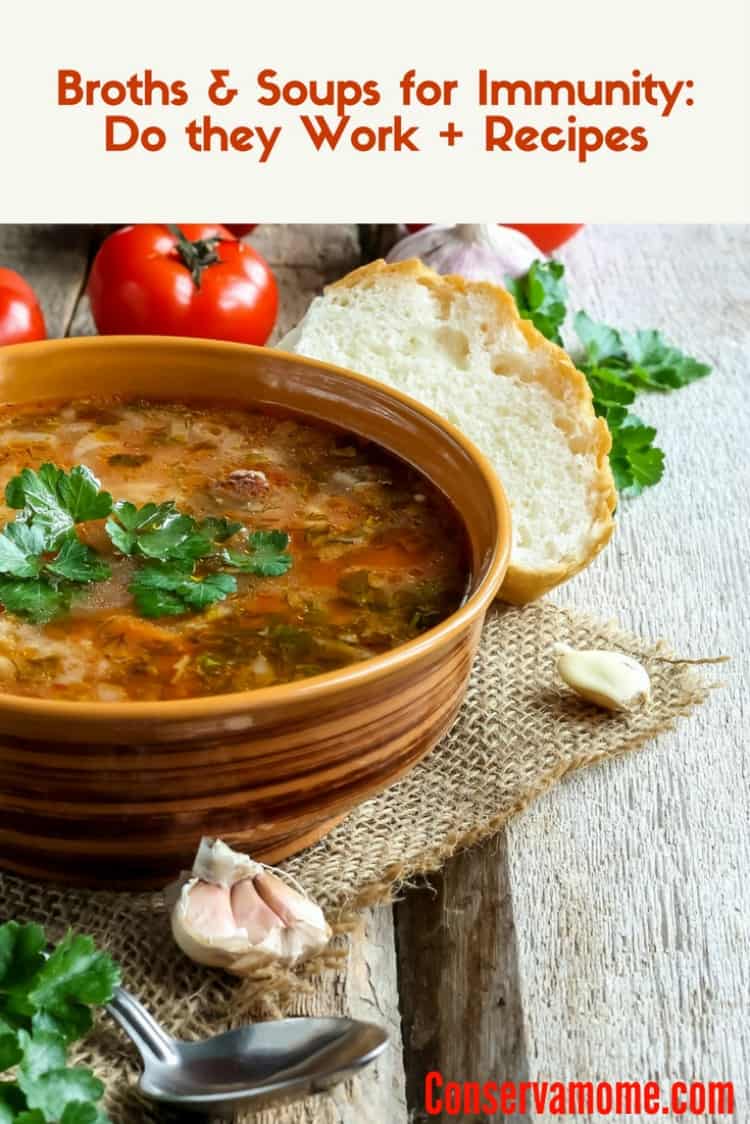 There's nothing better than having a bowl of soup when you're feeling under the weather- they're comforting and soothing and end up making you feel better in a million ways. With the right ingredients, soups can also boost your immunity and help your body recover from sickness faster than you'd expect.
So how exactly do they work? Keep reading to find out that and a lot more!
How Do they Work?
Most broths and soups pack in healthy ingredients- chicken, mushrooms, lentils, veggies and spices. Most of these ingredients give your body a good dose of fiber, protein, vitamins and antioxidants which heal your body and give it that nourishment it needs so much. Some ingredients in particular, are known for strengthening the immune system, which is exactly what they do.
Chicken Noodle Soup
This one's a classic chicken soup but with a twist. This soup is packed full of flavors and all the feel-good ingredients that you need when you're recovering from an illness. Here's how you can make it!
You will need:
Onion, thinly sliced
Vermicelli noodles, boiled
Chopped cilantro
Chicken stock
Sliced ginger
Sliced garlic
Thai fish sauce
Lemongrass, roughly chopped
Scallions, chopped
Bean sprouts
Method: In a large pot, heat oil, add the onions and cook until transparent and then add all the remaining ingredients except for the cooked noodles and the chopped cilantro and bring it upto a boil. Right before serving, add in the noodles and sprinkle some cilantro over the top!
4 Ingredient Healthy Soup
With just 4 ingredients, this healthy soup is super easy to make, and you can also prepare it beforehand and freeze it to use it for the days when you aren't feeling great. Plus, it is super comforting too- you'll end up loving it so much you won't even believe it. Follow these quick instructions on how to make it.
You will need:
Chicken broth
Whole wheat
Eggs
Parmesan cheese
Chives (optional)
Method: Bring the chicken broth to a boil in a medium pot, and then add the whole wheat and let it cook until it is extremely soft. While this is cooking, beat the eggs together and then add some cheese and combine. Season with salt and pepper, and then add it to the chicken broth mixture one forkful at a time and keep stirring. Remove from heat, and some chopped chives if you have them, and you're done!
Comfort Chicken & Rice Soup
Chicken soup is the ultimate comfort food, and what could be better than taking it up a notch by adding some rice to it and making it a complete meal? This recipe could be your next best immunity soup and takes just around 15 minutes to whip up. Here's how to do it.
You will need:
Cooked rice
Chicken broth
Boneless chicken, shredded
White onion, chopped
Carrots, finely chopped
Bell peppers, finely chopped
Turmeric powder
Minced garlic
Grated ginger
Method: Bring the chicken broth upto a boil and add the shredded chicken to it. Then add the onions, carrots, bell peppers, ginger and garlic and let it cook for 5 minutes on medium heat. Now add the turmeric powder and season with salt and pepper and again, cook for 5 minutes. Just before serving, add some cooked rice to the soup, let it cook on high heat for a couple of minutes, and then serve. You can also top it with some freshly chopped coriander for a touch of freshness.
Mushroom Broth Soup
Packed with the goodness of mushrooms, this simple soup is rich with immune system boosting ingredients like turmeric, bok choy and kale. You'll also be getting your dose of vitamins, minerals and antioxidants. So go ahead and give this one a try. It's pretty easy to make. Here's how to do it.
You will need:
Onion, chopped
Garlic, chopped
Shitake mushrooms
Grated ginger
Bok choy, bottoms chopped off
Chopped kale
Method: Heat the coconut oil in a medium pan and add the onions and cook until transparent. Now add the garlic and cook again for a minute, followed by mushrooms and then cook for 10 minutes. Add the spices of your choice, add some water, and let it simmer for at least an hour on low heat. Add the bok choy and kale towards the last and that's it!
Looking for more ways to boost your immunity? Check out these immunity boosting herbs.
Here's another great article on  10 foods to eat when you're sick.