Are you a Doctor who fan? Then you've come to the right place. Check out 15 Doctor Who Delicacies that will be the perfect treats for any Doctor Who party or Gathering.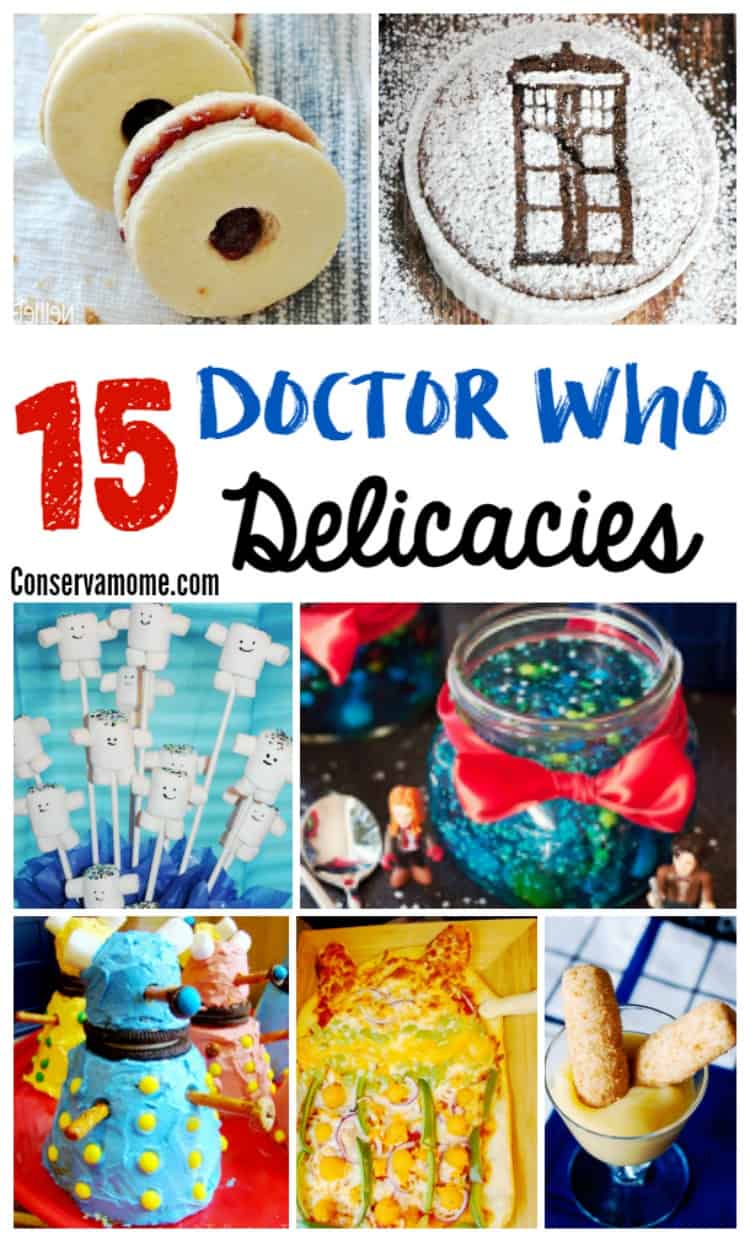 15 Doctor Who Delicacies
We're huge Doctor Who fans in our home. It's a show that I'll sit down with my kids to literally binge watch. I never thought I would love it as much as I do but it's fantastic! My kids agree. Although the effects are over the top and pretty cheesy this show has such a fantastic and over the top story line you can't help but get wrapped up in it.
Perfect treats for any Doctor Who Party
So it's no wonder it's inspired some delicious treats in the kitchen of many. That's why I've put together a fun post showing off some of my favorite Dr. Who inspired delicacies so if you want to eat a Dalek or take a ride of deliciousness in a Tardis you came to the right place. Casandra the last human even inspired a dessert treat as well. So head below and check out this fun assortment of goodies inspired by this longtime running show.
Haven't seen this fun show yet? Amazon Prime has episodes streaming starting from the newer Season 1. Check it out for yourself and you'll see what a great show it is. In the mean time check out some delicious recipes to try for yourself or a party that will be out of this world!
Doctor Who Wibbly Wobbly Timey Wimey Jello-in-a-Jar from Bakingdom
Eploding Tardis Cookies from Kitchen Overlord
Adipose Pops from Doodle Craft
Buffalo Chicken Dalek Pizza from Treats n' Trinkets
Jammy Dodger Cookies from Nellie Bellie
Doctor Who Inspired Chocolate Souffle from Some of This and That
10-Minute Tardis Pie from Kitchen Overlord
Fish Fingers and Custard (cookies in pudding) from Bakingdom
Cassandra Fruit Leather from Tikkido
Weeping Angel Cookies from Just Jenn Recipes
Adipose Tofu with Bowtie Pasta Salad from Cadry's Kitchen
Doctor Who Cupcake from The Baker upstairs
Silence Will Fall Bento from Chaos and Confections
Doctor Who 3-D Glasses Cookies from Sugar Bean Bakers
Dalek Cupcakes from Treats n' Trinkets
Looking for some more sci-fi themed fun? Check out these 100 +Star Wars Crafts & recipe ideas