Find out all the great adventures you can have in 48 hours in Orlando in the Fall. Disclosure: Although this was part of a press trip from Visit Orlando, all opinions and experiences are 100% mine.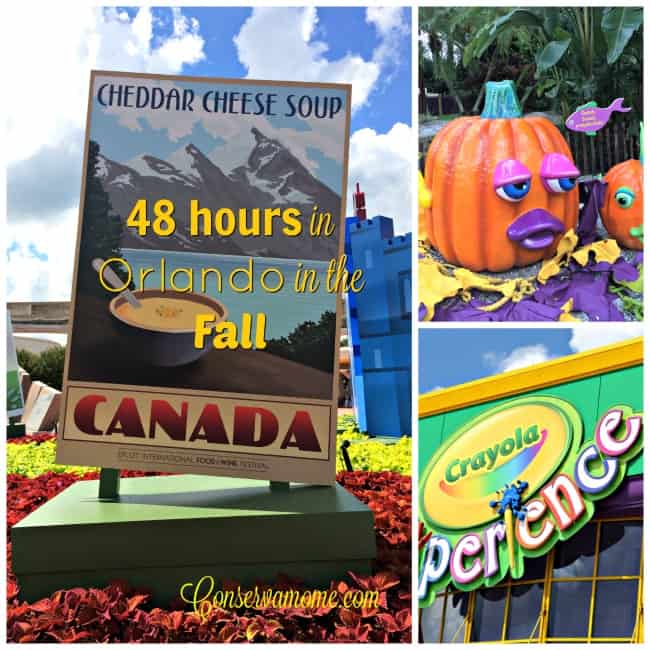 What do you do when you want to get away for a fun-filled weekend during the fall months?  Head to Orlando, Florida of course! Orlando is packed with family friendly destinations that are sure to please everyone in your family!  While Orlando has exciting options for things to do year round, there are plenty of fun fall activities to enjoy!
DAY 1: The Crayola Experience/B Resort & Spa/Disney Springs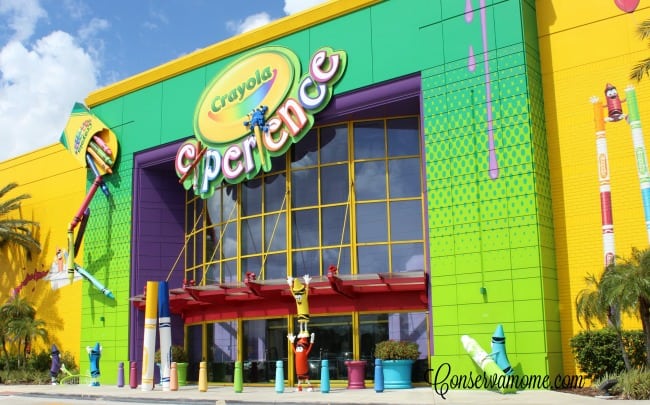 THE CRAYOLA EXPERIENCE
Friday afternoon, we headed over to The Crayola Experience for an afternoon of color and creativity.  Located in the Florida Mall with 70,000 square feet of attractions, this destination is a place where families can easily spend a few hours enjoying 26 different attractions.  Kids can name and wrap their very own Crayola crayon, paint with melted crayons, create and cut their own puzzle, make drip art with melted crayons, and even play in the Color Playground!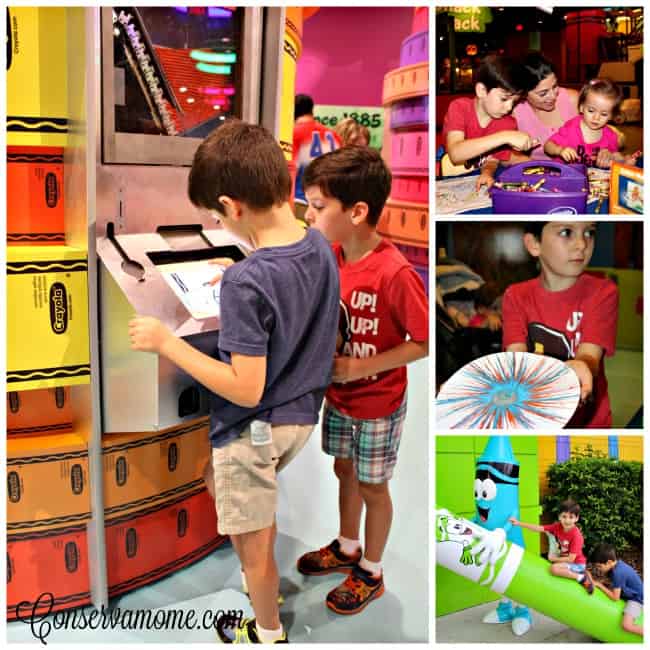 The kids had a great time here and even got to name their very own crayons!  They had a blast choosing what color and what to call their crayons.  At Color Magic, the kids colored dragons which they were then able to "virtually" control on a computer screen.  After spending some time getting their creative juices flowing, they needed to run around for a bit.  That's where the Color Playground comes in!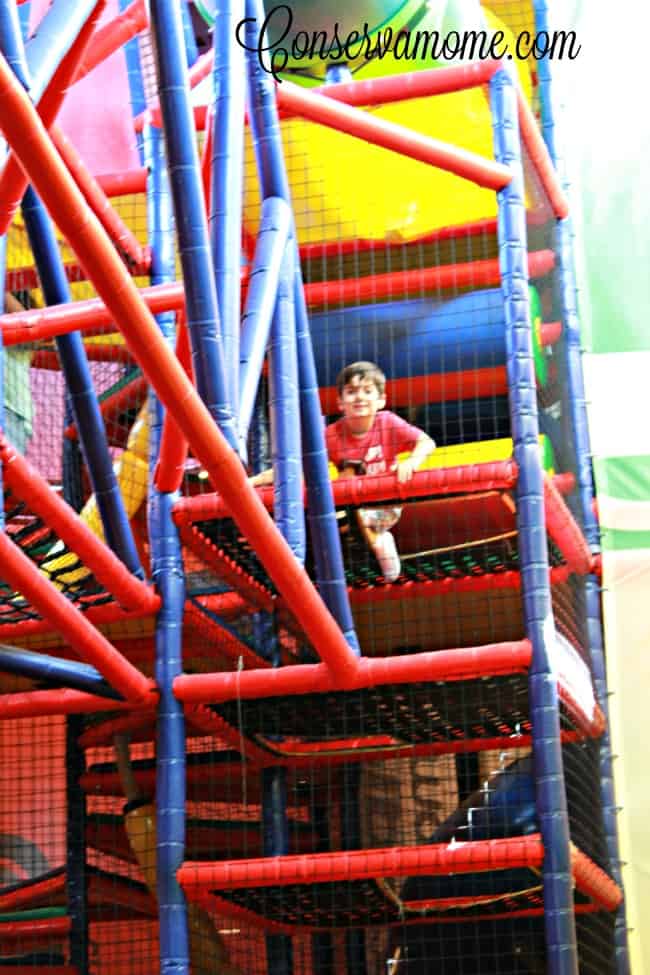 Want a bite to eat? Check out Cafe Crayola, where you can choose from pizza, salads, and even gluten-free options.
If you are in Orlando from October 7 – 31st, you can experience the Screamin' Green Hauntoween Event where kids can take part in a themed scavenger hunt, make Halloween themed crafts, take character photos, and even go trick-or-treating (weekends only).  This event is included in the price of regular admission, but you can click here for $5.00 off admission!
B RESORT & SPA
After spending a great afternoon at The Crayola Experience we headed over to the B Resort & Spa to check in and relax before getting our evening activities going.
The B Resort & Spa is Disney Spring's Resort area's newest hotel and is located inside the Walt Disney World Resort.  We love staying inside the resort area because it's a great perk to be so close to Disney Springs and also because you are close to all the Disney theme parks.  The hotel also provides complimentary transportation to all four theme parks and Disney Springs.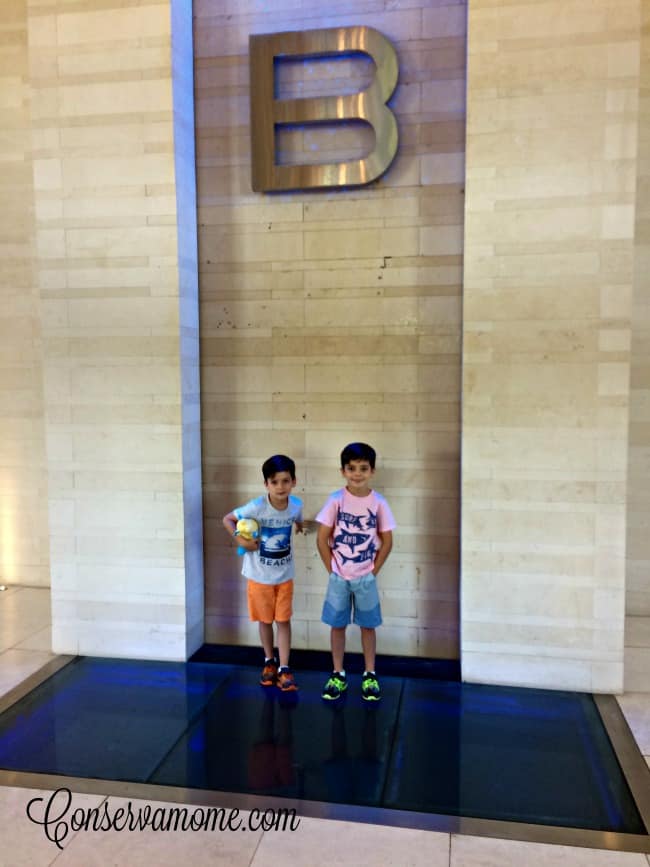 This hotel has some very cool features that our kids loved and I'm sure yours will as well!  The Kids Zone is where kids can play video games, watch movies, or just hang out.  My boys even played outside on a giant checkers/chess board before spending some time enjoying the walk-in swimming pool.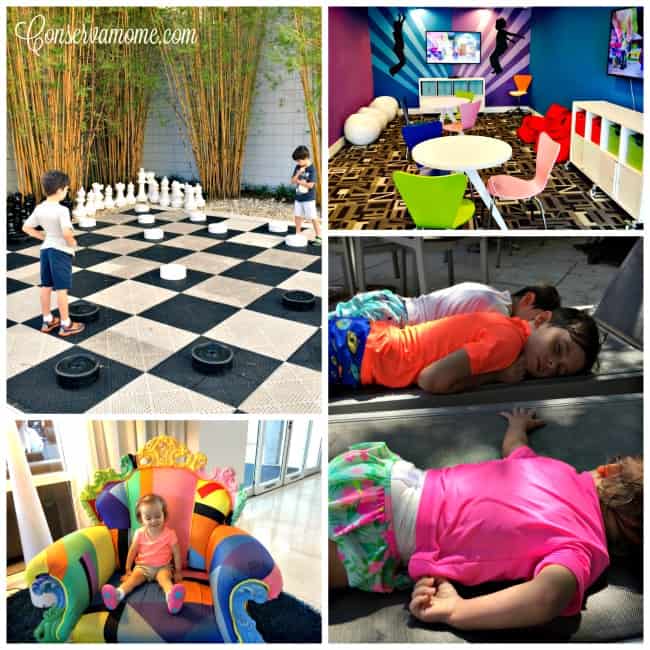 Since the resort is so close to Disney Springs, we spent our evening having dinner at the Rainforest Cafe and strolling around the newly renovated Disney Springs.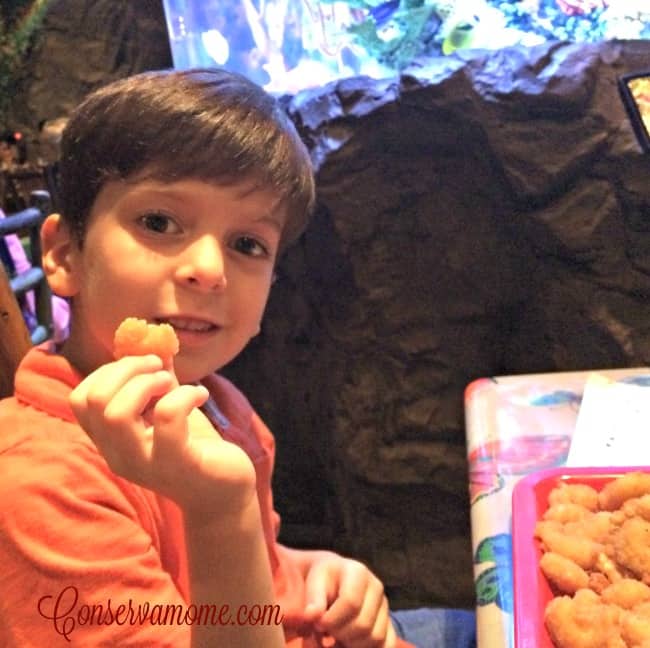 Day 2: EPCOT 2016 Food & Wine Festival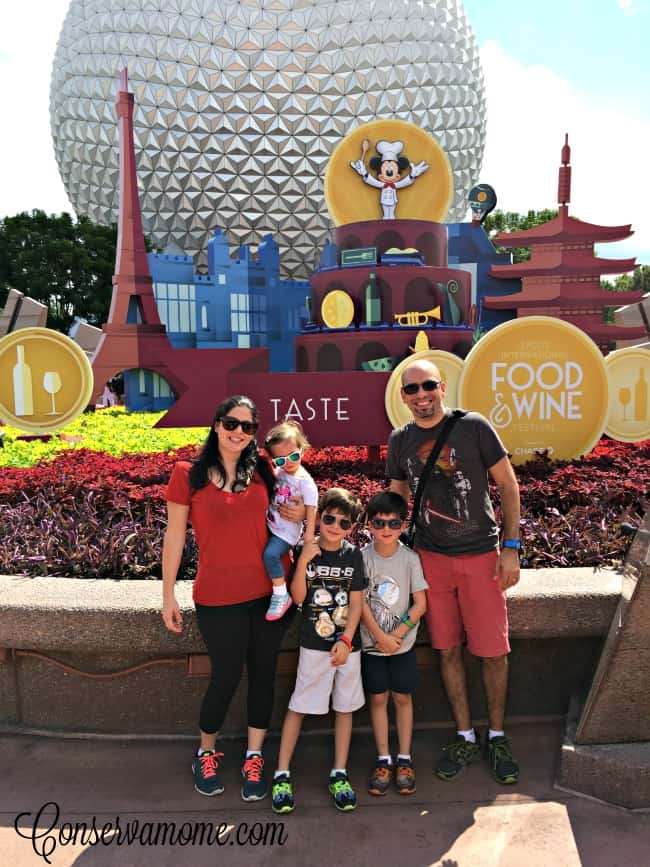 Fall is one of the best times of the year to come to Orlando to experience some of the  many great food and wine events that take place between late September through November.  The EPCOT Food & Wine Festival is one of my absolute favorites!  Here, you can sample foods and beverages from 30 different kiosks.  It is a food-lover's dream!!  Stop at the Belgium kiosk for Beer-braised Beef served with Smoked Gouda Mashed Potatoes or head over to Canada for their famous Cheddar Cheese Soup, the same soup they serve at Le Cellier at the Canada pavilion.  Grab a great craft beer at the Craft Beers located in the Odyssey Center.
In the mood for something sweet? The Greece kiosk serves an Oikos Greek Yogurt Vanilla Cake Soaked in Ouzo with Yogurt Whipped Cream and Pistachios!  Or, if you are a chocolate lover, sample the chocolate Crème Brûlée topped with Caramelized Sugar at the France kiosk.
One of my favorites was the Buttered Chicken with Micro Cilantro and Naan Bread, which I paired with a very refreshing Indaba Chenin Blanc from the Western Cape, South Africa.   We also very much enjoyed the Chicken Potstickers and Tsingtao Lager from China.  The potstickers were a hit with the kids, too!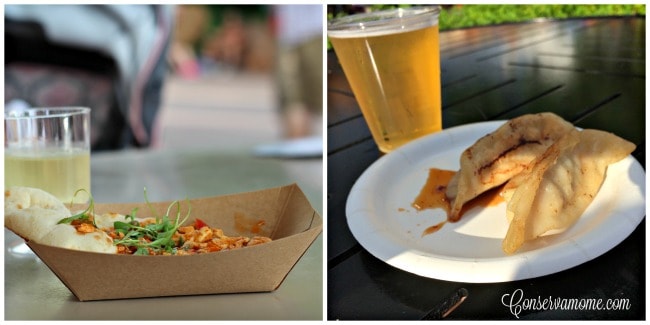 You may wonder if you can enjoy the Food & Wine festival with your little ones along.  I say, YES!! Who says you can't have fun with the whole family in tow?  The kids liked tasting different foods, too! One of our strategies is to keep the kids engaged while we make our stops at the different kiosks.  The boys participated in Remy's Ratatouille Hide & Squeak, a game where kids "collect ingredients" for Remy's ratatouille.  The statues of Remy are hidden all over the world showcase, and once the kids spot Remy, they place a sticker on their special map until all the ingredients have been found.  Once you are done, turn in your map at the Port of Entry to receive a special pin.  Don't worry, you can still get the special surprise even if you don't have time to complete the hunt.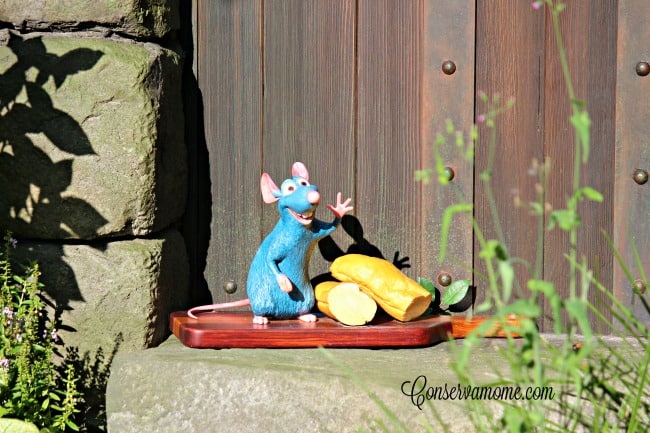 Another fun activity for kids is to stop at the Kidcot Fun Stops located at each country's pavilion.  Kids can choose a cardboard Duffy the Disney Bear to color.  Then they can take their bears to be stamped at each Fun Stop around the World Showcase.  Not only that, but Cast Members at each country can share information about their country, making this both a fun and educational activity.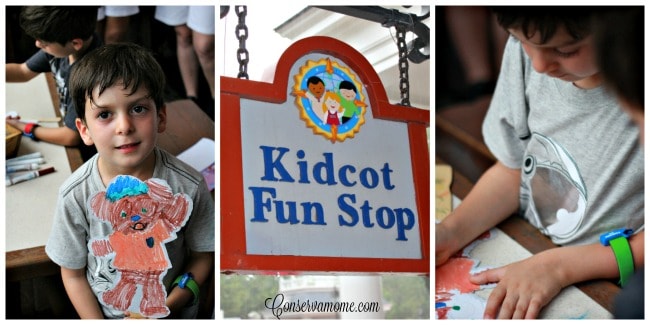 If you want a break from all the food and drinks (break???), don't forget to take your kids to all the fun attractions such as the new Frozen Ever After ride at the Norway Pavilion or the Gran Fiesta Tour starring the Three Caballeros at the Mexico Pavilion.  On your way out of the park, head to Spaceship Earth located inside the iconic geosphere.  No visit to Epcot is complete without it!
Day 3: Breakfast at American Kitchen and SeaWorld's Halloween Spooktacular
On our last day, we had a delicious breakfast buffet at the American Kitchen located inside the B Resort & Spa.  This restaurant serves breakfast in a pretty unique way with all the dishes laid out on the bed of a truck!  With our tummies full, we were ready for our final day of fun!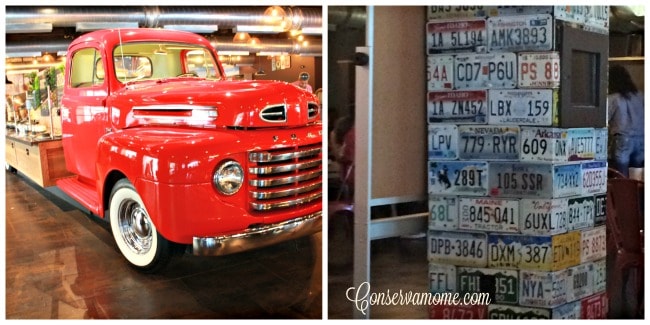 SeaWorld
Next up was SeaWorld's Halloween Spooktacular.  This event is a kid-friendly Halloween themed event where kids participate in fun coloring activities, see spooky live shows, and go trick-or-treating at several stations located throughout the park.  This event is included in the admission to the theme park.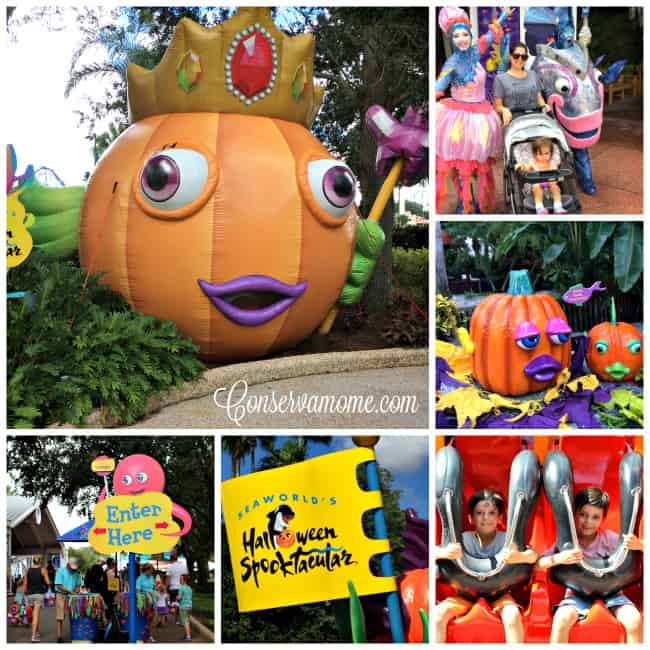 In addition to the Halloween events, you can enjoy all the rest SeaWorld has to offer, which is a lot!  Kids will love Shamu's Happy Harbor where there are kid-sized rides and activities or they can see animals up-close such as dolphins, walruses, beluga whales and more.
For big kids and grown ups, there are some great roller coasters!  I was thrilled to experience Maku for the first time since it is Orlando's tallest, fastest, and longest roller coaster.  It is actually classified as a hypercoaster which means the coaster reaches at least 200 feet!!  Whew!  This one took my breath away!
Did you know Orlando is the Halloween Capital of the World? You can check out  over 130 Halloween theme park event nights – plus destination-wide festivities – that range from extreme scares for adults and teens to frights for the family.
We had such a fabulous time in Orlando that I hope you will consider coming in the fall for all the activities Orlando has to offer! Are you ready to take your Orlando Vacation? Fall offers some of the best deals, which you can check out at VisitOrlando.com/deals or by downloading the new Visit Orlando App in Apple App and Google Play stores.
Save
Save