Does your toddler baffle you? Understanding toddlers can be tough. Especially when half of the things they do have no rhyme or reason. That's why I've put together a list of 13 insane (but true) facts about Toddlers to help you understand why they do what they do.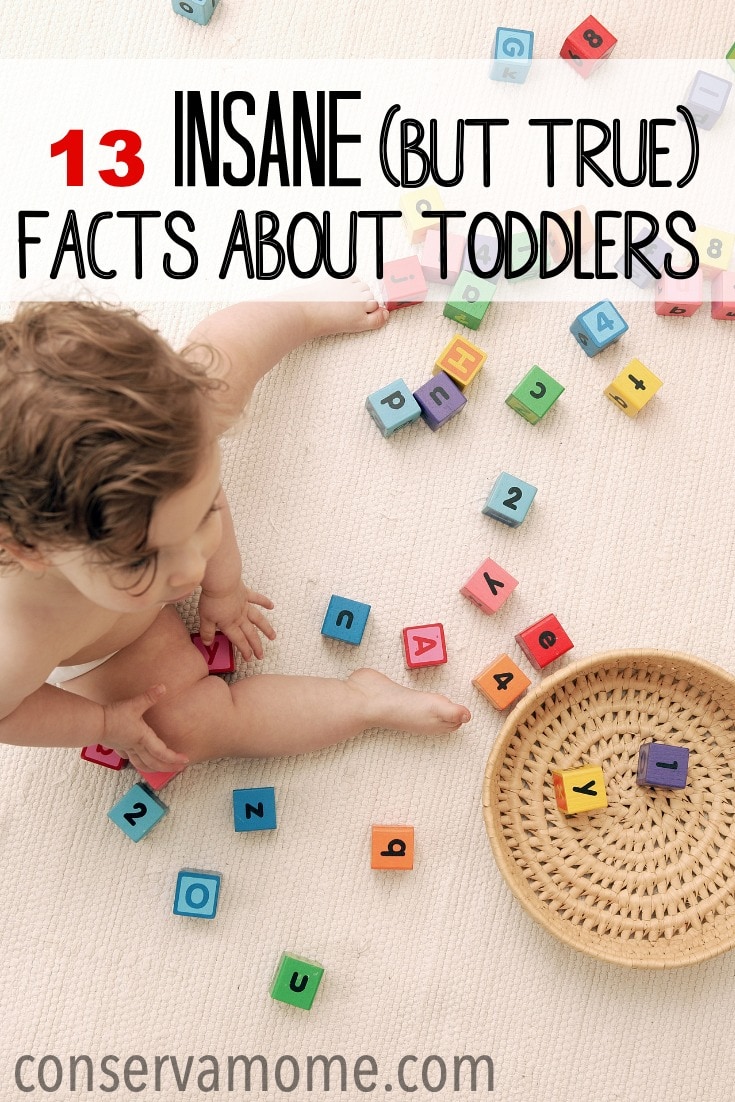 Insane (But True) Facts about Toddlers
Toddlers have always been a pure enigma. They really are strange little creatures. No matter how much one tries to understand them, usually people are left at a loss.
Most of the time it's their inability to express what they feel leaving parents shocked and in the fetal position. Other times it's their impulsivity and recklessness that leaves you at a loss for words.
The one thing that is for certain, the toddler years are a true adventure. However, toddler behavior actually has an ends to the means. There's a reason why they do what they do, even if we don't get it.
That's why I've put together this list of 13 insane (but true) facts about Toddlers to surprise you and maybe even make sense of the toddler years.
1. A work in Progress
Toddlers have no kneecaps! What they do have is cartilage, and it will become bone at around three years of age. Babies are born with over 300 bones but only have 206 by adulthood. That's because most fuse together.
2. They have more brain connections than adults do
From birth to three years of age, a child's brain is developing at a rate faster than any other time of their life. In fact, according to researchers, by the time they are three years old, a child has formed 1000 trillion brain connections – This is twice as many as adults have.
Talk about brainy little ones. 60% of all the energy a baby expends is concentrated in the brain. This time is also the fastest rate of brain development across the entire human lifespan.
3. On average, a 4-year-old child asks 437 questions a day.
Which makes total sense, have you ever sat with a toddler for 15 minutes?
4.Your toddler's high chair has around 1500 times more germs on it than his potty.
So clean up! Think about it, they have caked on food and many times it hides between the crevices. No matter how much you clean them some food gets nestled in there nicely.
Restaurant high chairs are even worse because those are rarely cleaned thoroughly. They even say they're worse than a public restroom.
5.They are ambidextrous!
Does your toddler draw with his left hand, but swing a bat with his right? You're not alone in being confused about your child's handedness.
Toddlers don't usually begin to favor a specific hand until somewhere between the age of two and four. Usually by school age the child will have established their preferred hand. (Unless your child is in the one percent of the population who will remain ambidextrous for life!)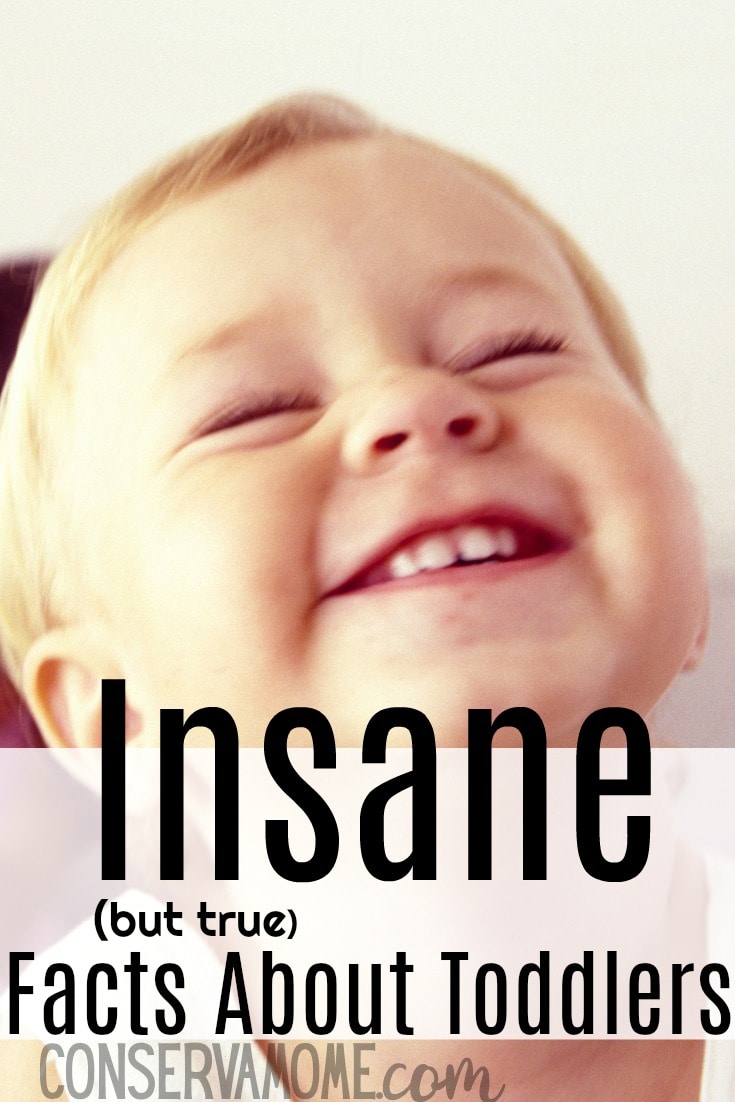 6.The average toddler takes 176 steps a minute.
Which makes complete sense when you're trying to keep up with a toddler. Just thinking about it is exhausting!
7. Toddlers can hear everything.
As a matter of fact, toddlers have far better hearing than adults. Due to everyday wear and tear, your ears naturally decrease in sharpness over the years.
Plus, adults tune out certain high frequencies that children have not learned to block out yet
8.Toddlers are attracted to shapes that resemble the human face.
Ironically enough as babies they're actually more biased. There are a few studies to back up the fact that babies will look at prettier faces longer. They are actually attracted to them.
9. A toddler's stomach is very small – usually only the size of a small fist.
So don't get stressed when they won't eat, chances are they really aren't hungry.
10. They get bigger overnight
If you swear your toddler wakes up taller one day, you are probably not imagining things. Children grow in spurts, up to half an inch (1.2 cms) in one day, and it occurs during their sleep.
Also, a child's body grows in a segmented fashion, with arms, legs, feet growing at their own pace.
11. Cognitive Explosion
Between 12 and 24 months your toddler's cognitive development really starts to blossom, this is when they will start to develop memories, as well as understand symbols, imitate, and play imaginatively.
12. Their brains are pretty large
Babies grow like plants in the springtime, incredibly fast! By the time your little one turns one-year they have likely tripled their birth weight and grown around 12 inches (or 1 to 1 ½ inches per month).
If your baby's body kept pace with how quickly their brain is growing they would weigh a whopping 170 pounds by their first birthday.
13. Learn something new all the time
The average two-year–old adds around five new words to their vocabulary every day. At about 18 months, your toddler's spoken vocabulary starts to explode, adding new words at the astonishing rate of one every two waking hours.
So whether this is your first go at the toddler rodeo, or you've done this a lot of times like me.
Toddlers never cease to amaze. But it's no wonder, check out all the craziness they're experiencing!
Looking for more ways to understand toddlers? Check out these books below:


Feeding a toddler is tough, Check out 75 Delicious & Healthy toddler snack ideas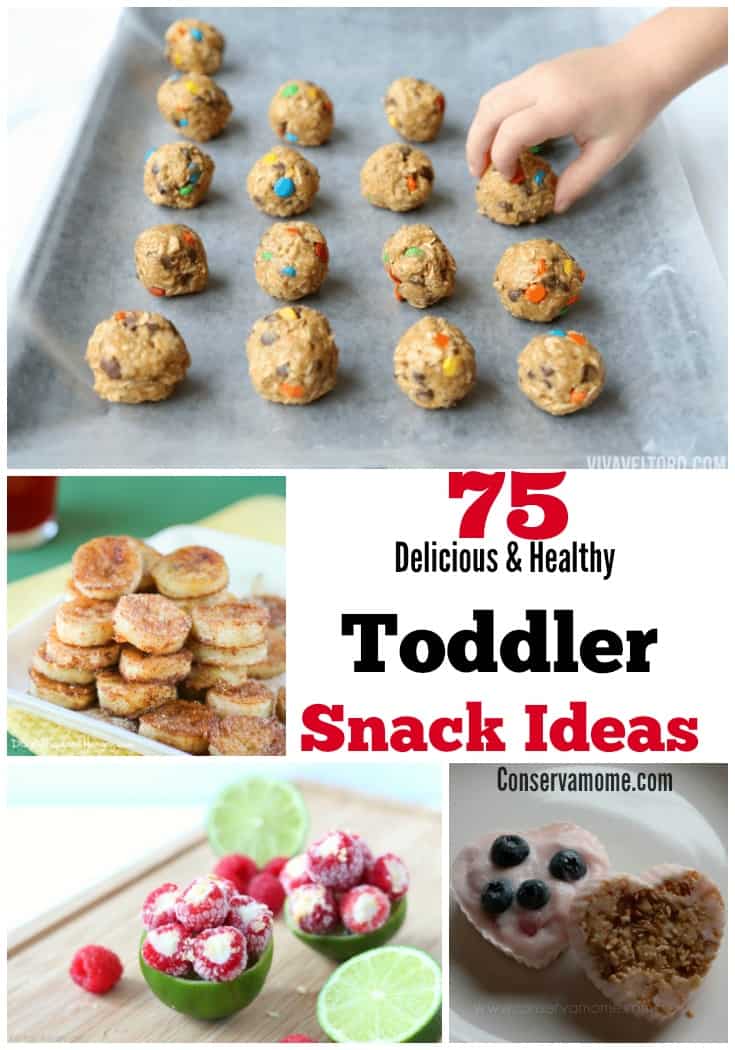 Bath time giving you a hard time? Check out tips to make toddler bath time a breeze!