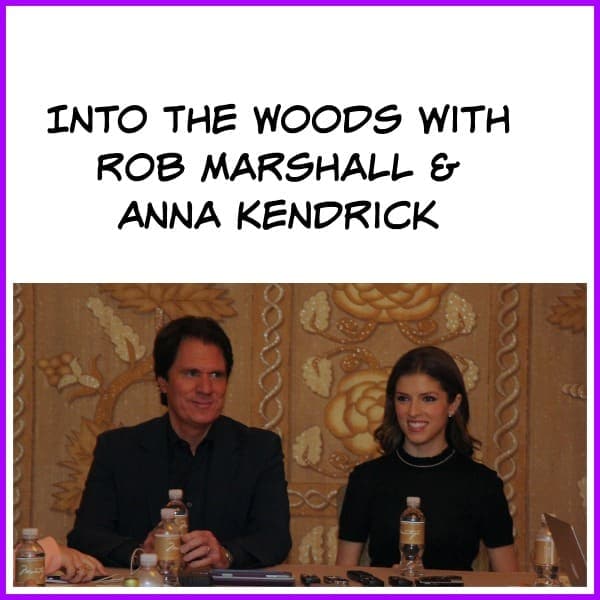 When you watch a movie one can get so much from ones own thoughts and ideas on a movie. However, to watch a movie and then find out what the Director was thinking and feeling when in production is something so grand because it allows you to re-see the movie in a new light. Recently, I was lucky enough to have the opportunity to sit down with not only the INCREDIBLY talented Anna Kendrick but with Into the Woods Director Rob Marshall. This was such a fantastic experience that really gave me even more understanding of Into the Woods and also gave me a behind the scene look into what went into production, something this mama of 4 never gets to experience 🙂
Rob Marshall is truly a talented individual with such an amazing arsenal of movies under his belt it's amazing to think how much creativity can fit into someone so quiet yet empowering personality you can't help but admire as soon as he walks into a room. Then you have Anna Kendrick who's vocals are so powerful they will leave you blown away and you won't know what hit you. Yet both were such surprising personalities to meet because of their warmth and modest natures.
We began the interview by touching on Rob Marshall's surprise when he realized the talent of his cast. So what was the one thing that surprised him the most about Anna?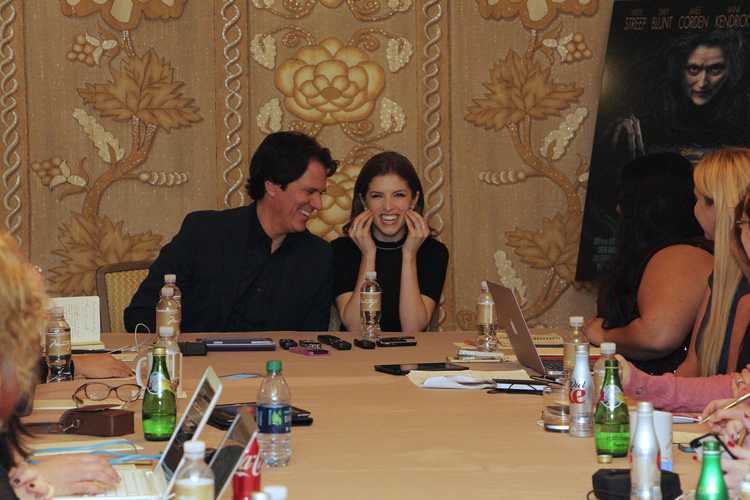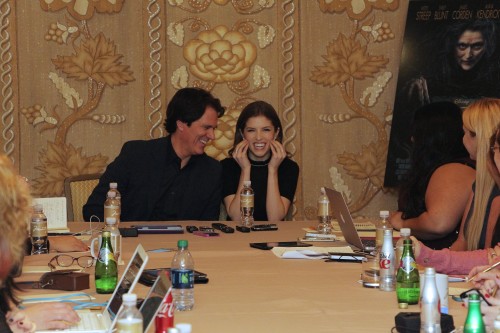 Rob:It's easy to talk about Anna 'cause I adore her. Uh, the truth is, you know, she really — that voice is extraordinary and I think everybody looked up to her in the cast because of that, everybody because, you know, she comes from that in a very rich background with her Broadway experience as a child. So to have that gift is amazing and, you know, the thing I guess what surprised me the most about Anna is her range as an actor, you know. The fact that she was able to with this piece open up and show such depth and vulnerability and agility and complexity.Meryl Streep called her role the most complex character in the film because of what she's dealing with and she's right because and it needs a great internal depth and I knew Anna. Listen, Anna's an Oscar nominated actor who's done enormous amount of beautiful work on film and on stage but to see the full range of what she has and to be able to open that up, you know, it's an exposing thing as an actor, to be able to let you in and Anna lets you in this movie. She lets you into this person who's indecisive and not sure and wrestling with her, with what she's feeling and it's a very brave personal, beautiful performance and I'm very proud of it. Very proud of her.
Something that was interesting was the fact that they literally rehearsed for 6 weeks. I didn't realize it took that long to rehearse for movie. It's interesting to put it all into perspective.
In the movie Anna plays Cinderella, but a more modern day independent version. I had the chance to ask her What it felt like playing a different kind of Cinderella, almost like a modern day Cinderella in a way? What's the thought process?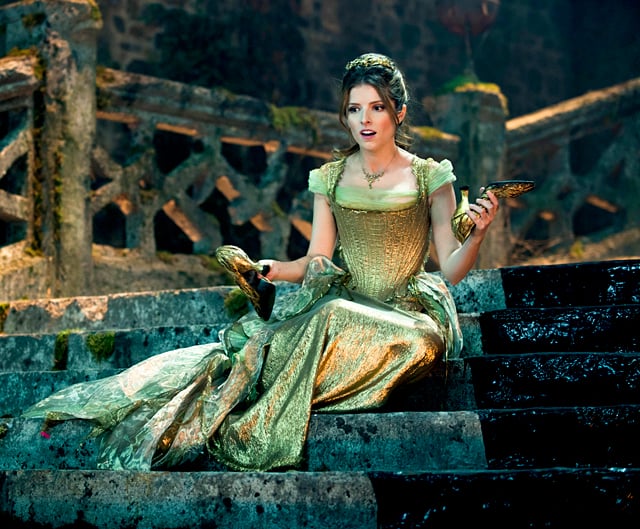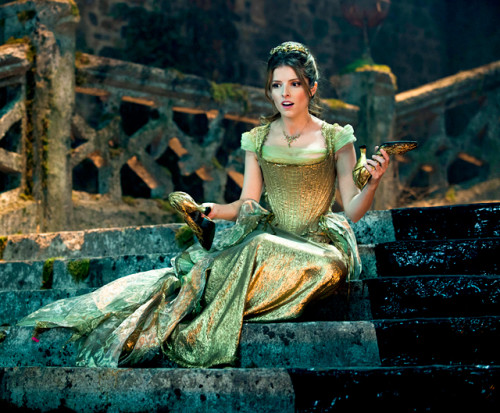 Anna:It's funny because I think a lot of girls' dream of playing Cinderella and a certain kind of girl dreams of playing Sondheim Cinderella. And, yeah, and we love those kinds of girls and I think that she is very modern, you know. I mean I'm glad that some people are surprised by her but, you know, it is a Cinderella that has existed since about 1987 you know, so I didn't have that sense of responsibility or anything about it. But, I think that something that we do to ourselves as women, especially modern women we instead of trusting our instincts I think we have a tendency to feel a responsibility to weigh every option and look at things from every angle and ask our mom and ask our sister and ask our friends and we find ourselves in situations or committing to certain things that, you know, our gut is telling us is not gonna make us happy or is gonna be harder in the long run. So that was kind of really fun to play that she's talking herself into things and out of things and, you know, I think that by the end of it for her to really realize what's important, uh, once she is in a situation where an entire community has to come together, uh, and decided what's really important to them then it becomes pretty easy to say goodbye to this guy who's sort of a tool.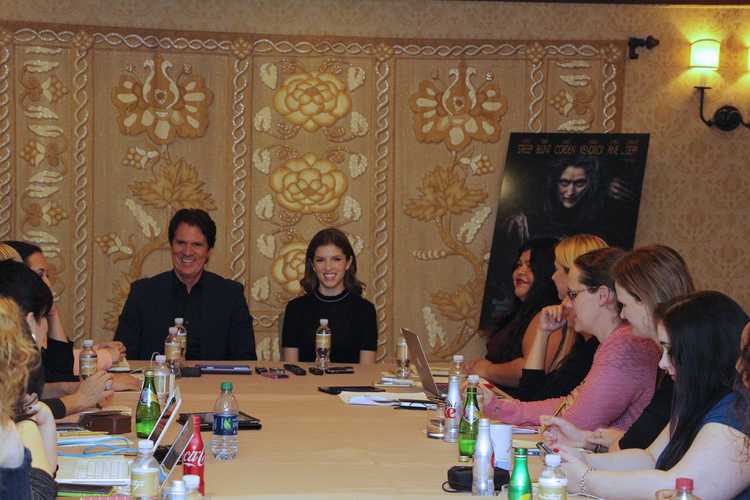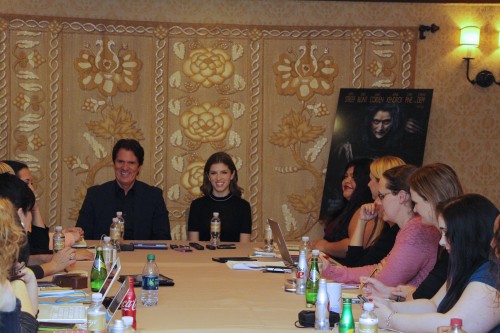 Rob & Anna Both also talked about their background in theater. Their love for that genera was obvious during the interview. Even when talking about how lucky they are to be doing so many great musicals they realized its something people do love and well and it works and as Anna Said "They're making them".
Rob showed such an immense respect for his whole Company (as he called the cast of the film). To him this was a group of people he enjoyed not only working with but being around. From Anna to Meryl he felt their talent was so abundant and such important pieces of the film that he felt so honored to work with them. Coming from a man with such talent you can truly garner the immense talent this group as a whole has.
Rob: "Listen, it's been joyous working with this amazing woman next to me who is very special and I would say the best word about her is authentic, you know, and I think people feel that and embrace that and that's why she's so loved and that's why she's so great on film as well. I feel very lucky to have worked with this company across the boards starting with Meryl Streep who sets the bar incredibly high for everybody and it was just, it was one of those projects we were all very aware the entire time we were working on it that we were very lucky to be there, all of us serving this piece and we were careful with it and there was a joy every day and we worked really hard 'cause it was a fast shoot. We had a limited budget and a limited amount of time but that never stopped us. We were all there to do the right thing and it was, it was one of those special ones for sure.
As for Anna, I can't wait to see her in future films. I know when I saw that she would be playing Cinderella I was intrigued because I remembered her more from What to Expect when Expecting, The Twilight Saga and Up in the Air. I was one of the few that never saw Pitch Perfect nor was privy to her amazing vocals. After seeing her in Into the Woods my respect for her not just as an actress but as an entertainer has grown immensely.  I hope Rob Marshall decides to grasp another musical or maybe even join together with Sondheim and create a musical fit for the ages and bring it to life on Screen. I know that with all the artistic talent flowing around them all they would be able to create another masterpiece.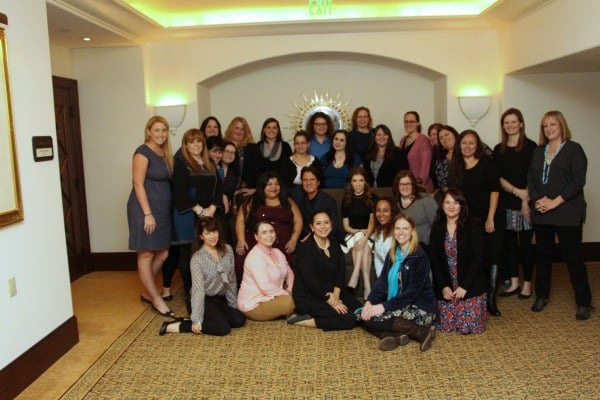 Don't forget to Like INTO THE WOODS on Facebook: https://www.facebook.com/DisneyIntoTheWoods
 Follow INTO THE WOODS on Twitter: https://twitter.com/intothewoods
Disclosure: This post is part of my press trip to LA, CA with expenses provided by Disney. All Opinions are 100% mine.