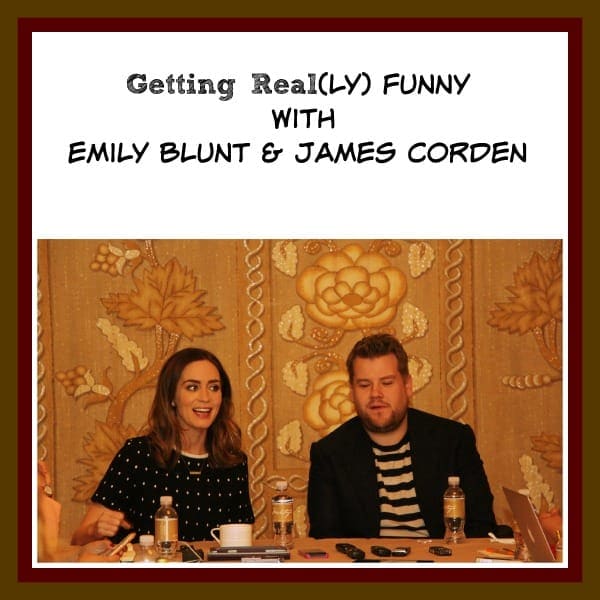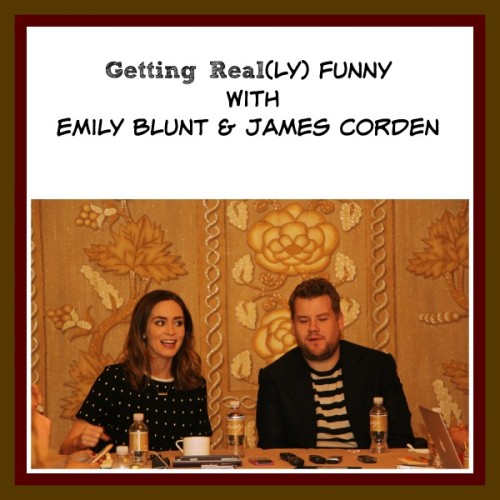 If you've been following my other Into the Woods Adventures you know by now what an amazing time I had. Between watching this incredible movie to interviewing some of the fantastic (And incredibly talented) actors and actresses from the film. So when it was our turn to spend some time with Emily Blunt and James Corden I couldn't have been more excited. Not only because I love them both and find them to be two of the funniest actors but because I knew anytime with them would be a blast. I couldn't have been more right!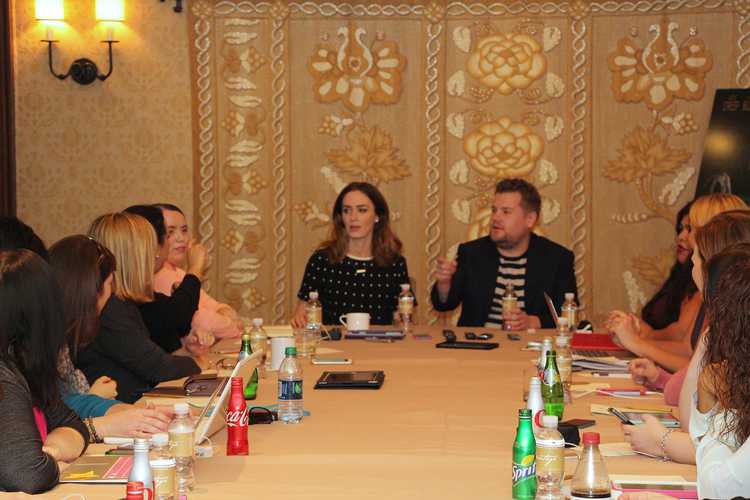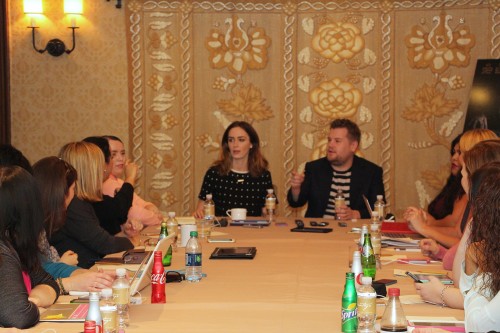 The interview literally started off with James asking us all who had the most kids. Having 4 little ones and one on the way I figured I was the winner of that title. What I wasn't prepared for was the expression on both of their faces when they realized how many I had. It was actually pretty funny. I am usually pretty annoyed when people make comments about the number of kids I had, but they were so funny about it I couldn't help but laugh. Considering James then told us about the fact that him and his wife have a 3 1/2 year old and a 5 week old I couldn't help but sympathize. Those are hard ages buddy, it gets a little better.
From there the interview took a hilarious turn when Emily pointed out to James that he had something black in his teeth and began helping him pick it out. This showed you the insanely funny combination these two make. These two are truly a comedic duo not only on screen but off screen as well. These two are truly a comedic duo, maybe something you don't really get to experience on screen but off screen these two have you in stitches!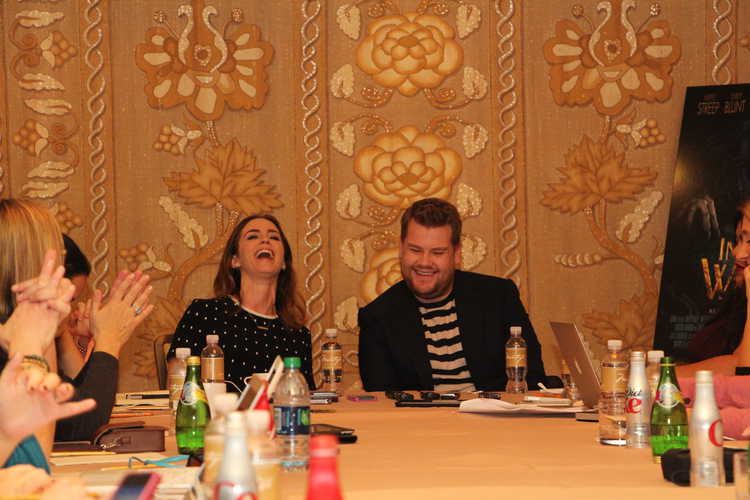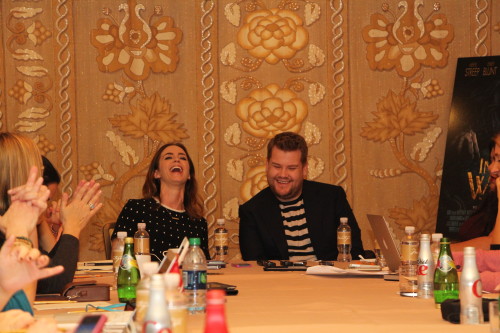 Then we began to get real…or as real as one can get with this funny duo. We all wanted to find out what it was like for Emily, who happened to be pregnant during the filming of Into the Woods. She actually found out she was pregnant the week she found out she was doing the movie. Which she said was fine considering she was the Bakers wife and well "She could have a few pounds extra"and get away with it. Of course what she wasn't prepared for was the fact that she would be running around, and doing all sorts of physical stuff like body slamming Anna Kendricks down("nearly killing the poor thing"), and Pulling Rapunzel hair off to name a few. Thankfully ,when rehearsals began she was over the 1st trimester when morning sickness hits and was filming during second trimester when all the energy hits. Filming wrapped up right when she was hitting her 3rd trimester and the "bigger" stage. However, I can't imagine her looking big at all…nothing but beautiful!
During the film there were a lot of parenting methods shown and we wanted to find out if any of those parenting methods impacted either Emily or James since they are practically new parents themselves. James right away said it made him want to be more honest with his kids.  James felt there was a strong message in that we always teach children that Happily Ever after is what will always happen but in reality it isn't always the case.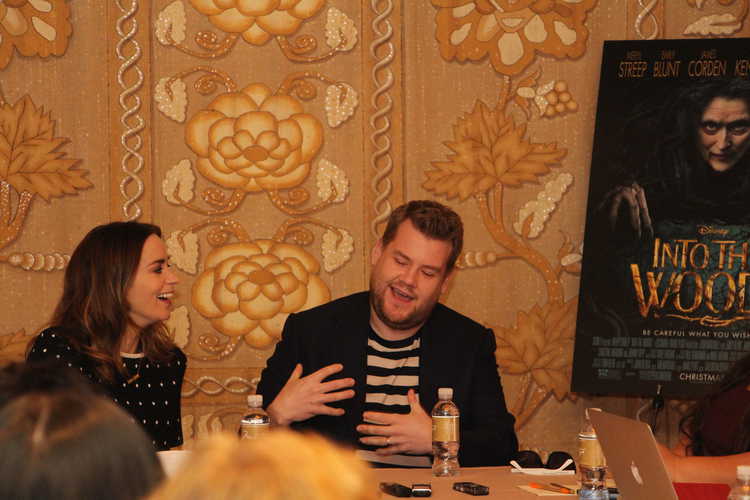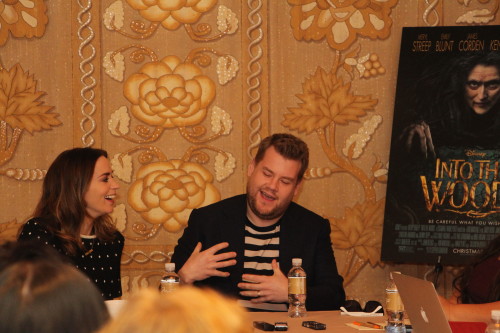 James:"And I feel like- that's not to say you won't be happy, but like that song, No One is Alone, which at the end of the film, I sort of feel like what that song is saying is, it's two adults talking to two children saying, there's some screw-ups coming your way, and that's true of all of us. There's screw-ups, and they're coming for you, and there's nothing you can do about it. But when they do, you might feel like you're completely on your own in the world. You will feel like you are completely alone, and you're not.And you never will be. And these things are just part of your life and what ultimately make you better and stronger. And it
has made me think that that's a positive message to tell your children, that mistakes are gonna happen."
This message was one that impacted most of the actors in the film and showed what a deep message is in this film. That although things happen we can all come out stronger in the end.
As for parenting they both discussed many of the things that they have found interesting in parenting and  how kids are like little sponges.
Emily:"They see everything, they're like little sponges, they  pick up- even babies, I've noticed, they pick up on your energy, they pick up on, like, if someone walks in the house that Hazel hasn't met before, and they, and they've had a bad day, she-she doesn't want to go to them. She doesn't want to be around them, you know. And so even at- from a young age, they're so perceptive. And, and I just feel that it's important to teach your children that life is not always going to be easy, you know, and that is what this film is about."
As for the friendship between the two, they've actually known each other for about nine years. They actually met at a Polo Match in England that the princess put on. They hit it off so well they even did a duet of Something Stupid by Frank Sinatra.  So when they found out they would be working together on this film as the Baker and Wife they knew it would be perfect.
From working with the Kids in the movie to all the fantastic talent in the film this was obviously a great combination of elements that bring together a theatrical masterpiece.  It was so much fun spending time with Emily and James during this interview from all the joking around to finding out about their parenting goals,techniques and methods. It's not everyday you meet actors that are so  real, funny and quick witted  like Emily and James. You really  can't help but love these two.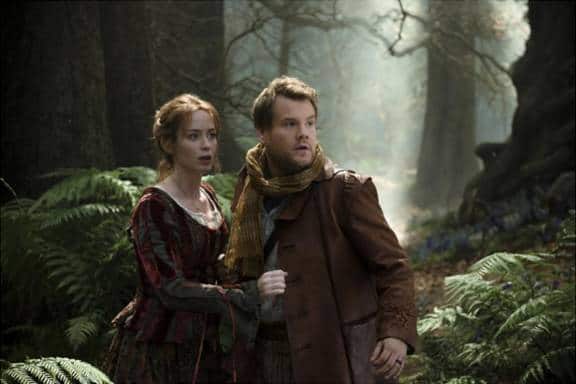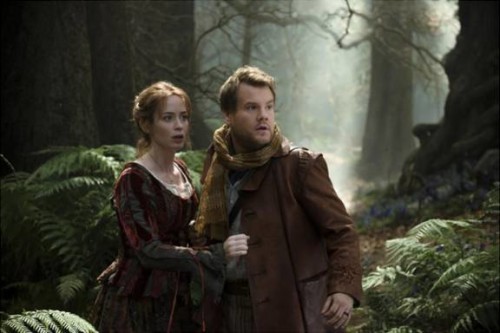 I was a fan of these two before meeting them and now I love them even more. I can't wait to see what the future has in store for them. You will be able to catch James every night when he takes over the Late Late Show. But most important don't forget to check out this fantastic duo in Disney's Into the Woods. Now playing in theaters across the country!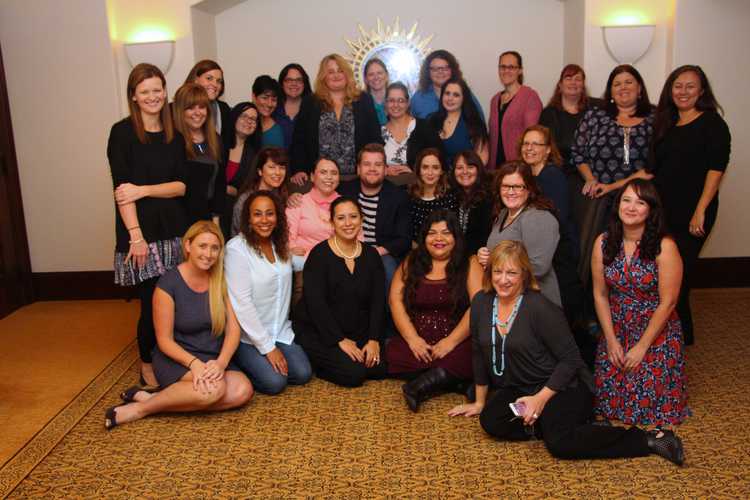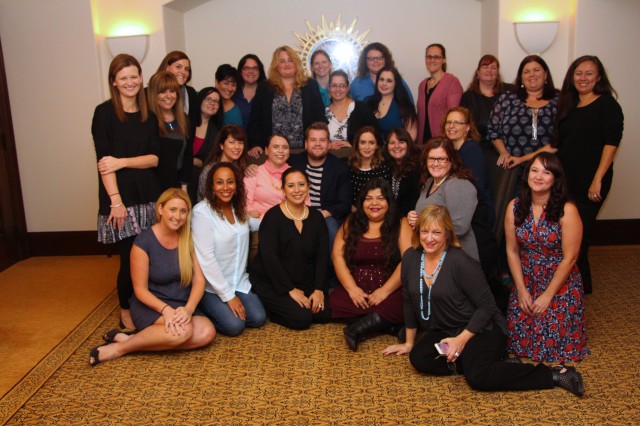 Don't forget to Like INTO THE WOODS on Facebook: https://www.facebook.com/DisneyIntoTheWoods
 Follow INTO THE WOODS on Twitter: https://twitter.com/intothewoods
Disclosure: This post is part of my press trip to LA, CA with expenses provided by Disney. All Opinions are 100% mine.